This website uses cookies to ensure you get the best experience while browsing it. By clicking 'Got It' you're accepting these terms.
20 Attorneys General Launch Climate Fraud Investigation of Exxon
Mar. 30, 2016 08:31AM EST
Climate
In a move many are hailing as a "turning point" in the climate fight, 20 state Attorneys General on Tuesday launched an unprecedented, multi-state effort to investigate and prosecute the "high-funded and morally vacant forces" that have stymied attempts to combat global warming—starting with holding ExxonMobil and other industry giants accountable for fraud and suppression of key climate science.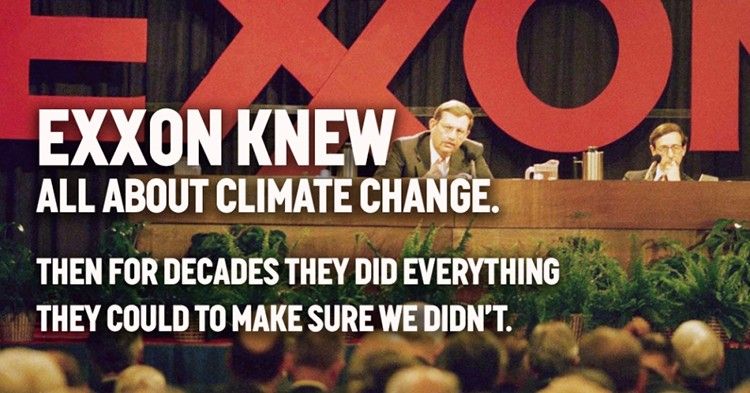 "This is about facts, and science, and transparency," said Massachusetts Attorney General Maura Healey, who spoke at a press conference alongside New York Attorney General Eric Schneiderman, former Vice President Al Gore and seven other Attorneys General.
"Fossil fuel companies that deceived investors and consumers about the dangers of climate change should be, must be held accountable," Healey continued, saying there is a "troubling disconnect between what Exxon knew, what industry folks knew and the company and industry chose to share with investors and the American public."
The coalition of Attorneys General from 16 states and the U.S. Virgin Islands was convened by Schneiderman, who in November announced a state investigation into Exxon after reporting revealed that the oil giant had for decades known and suppressed evidence about the dangers that fossil fuels posed to the environment and then purposely disseminated false information in order to boost its profits.
California has also launched an investigation and on Tuesday Healey and U.S. Virgin Islands Attorney General Claude Earl Walker confirmed their states have as well. Schneiderman said that additional states were pursuing similar action and that the purpose of the coalition is to work together in this "common interest."
"The scope of the problem we are facing, the size of the corporate entities and alliances and trade associations [working against science and public interest] is massive and it requires a multi-state effort," Schneiderman said.
AG Walker said that Puerto Rico and the Virgin Islands are already "experiencing the effects of global warming," from coral bleaching and the proliferation of seaweed, to ever-more powerful hurricanes.
"It is troubling that, as the polar caps melt, there are companies that are looking at that as an opportunity to go and drill, to go and get more oil. How selfish can you be?" Walker asked. "Your product is destroying this Earth and you want to do what? Destroy the planet further," he added, saying they have "documents" showing just that.
"We will not stop until we get to bottom of this and make it clear we have to do something transformational," he added. "We cannot continue to rely on fossil fuels."
Environmental groups that have spearheaded the call for accountability and investigations into what Exxon knew heralded the announcements and the new AG climate coalition.
"This creates a huge sense of momentum. Exxon may have been able to brush aside a few isolated inquiries, but with more states jumping on board, these investigations are sure to generate some serious waves," said May Boeve, executive director of 350.org, which on Tuesday launched the website ExxonKnew.org to share information about the investigations and petition the U.S. Department of Justice and state Attorneys General to "hold Exxon accountable."
"The Exxon revelations may turn out to be the largest corporate scandal in history," Boeve continued. "Everyone is impacted by climate change, which means everyone has a stake in these investigations. A trial of ExxonMobil and the fossil fuel industry would be even bigger than the cases against Big Tobacco."
As Katherine Sawyer, senior international organizer for watchdog group Corporate Accountability International, explained in an emailed statement following the press conference:
"In the '90s, investigations by attorneys general were the beginning of the end for Big Tobacco as we knew it and ushered in a series of lawsuits that shuttered its front groups, forced the release of internal documents and held it liable to pay the high cost of its impacts on society. Just as a similar coalition did with Big Tobacco, this powerful coalition of state Attorneys General are leading the way in holding Exxon and the rest of the fossil fuel industry accountable for their decades of deception and protecting climate policy from their profit-driven interference."
"Big Polluters have done everything in their power to deny climate change, it is time for our justice system to take back the climate debate," declared Annie Leonard, Greenpeace USA executive director, who said the AGs' announcement was "a clear demonstration of climate leadership."
The coalition includes Attorneys General from California, Connecticut, District Of Columbia, Illinois, Iowa, Maine, Maryland, Massachusetts, Minnesota, New Mexico, New York, Oregon, Rhode Island, Virginia, Vermont, Washington state and the U.S. Virgin Islands.
Appearing alongside members of that group, former Vice President Al Gore, whose 2006 documentary film An Inconvenient Truth is credited with spurring public debate about climate change, said, "I really believe that years from now this convening ... may well be looked back upon as a major turning point in the effort to hold to account those commercial interests ... who have been deceiving the American people about the dangers of climate change."
Watch the full press conference here:
YOU MIGHT ALSO LIKE
Arctic Sea Ice Hits Yet Another Record Low
Induced Earthquakes Increase Chances of Damaging Shaking, Wastewater Disposal From Fracking Primary Cause
Induced Earthquakes Increase Chances of Damaging Shaking, Wastewater Disposal From Fracking Primary Cause
EcoWatch Daily Newsletter
A vegan diet can improve your health, but experts say it's important to keep track of nutrients and protein. Getty Images
By Dan Gray
Research shows that 16 weeks of a vegan diet can boost the gut microbiome, helping with weight loss and overall health.
A healthy microbiome is a diverse microbiome. A plant-based diet is the best way to achieve this.
It isn't necessary to opt for a strictly vegan diet, but it's beneficial to limit meat intake.
New research shows that following a vegan diet for about 4 months can boost your gut microbiome. In turn, that can lead to improvements in body weight and blood sugar management.
Students gathered at the National Mall in Washington DC, Sept. 20. NRDC
By Jeff Turrentine
Nearly 20 years have passed since the journalist Malcolm Gladwell popularized the term tipping point, in his best-selling book of the same name. The phrase denotes the moment that a certain idea, behavior, or practice catches on exponentially and gains widespread currency throughout a culture. Having transcended its roots in sociological theory, the tipping point is now part of our everyday vernacular. We use it in scientific contexts to describe, for instance, the climatological point of no return that we'll hit if we allow average global temperatures to rise more than 2 degrees Celsius above preindustrial levels. But we also use it to describe everything from resistance movements to the disenchantment of hockey fans when their team is on a losing streak.
samael334 / iStock / Getty Images
Berries are small, soft, round fruit of various colors — mainly blue, red, or purple.
A glacier is seen in the Kenai Mountains on Sept. 6, near Primrose, Alaska. Scientists from the U.S. Geological Survey have been studying the glaciers in the area since 1966 and their studies show that the warming climate has resulted in sustained glacial mass loss as melting outpaced the accumulation of new snow and ice. Joe Raedle / Getty Images
By Mark Mancini
On Aug. 18, Iceland held a funeral for the first glacier lost to climate change. The deceased party was Okjökull, a historic body of ice that covered 14.6 square miles (38 square kilometers) in the Icelandic Highlands at the turn of the 20th century. But its glory days are long gone. In 2014, having dwindled to less than 1/15 its former size, Okjökull lost its status as an official glacier.
Members of Chicago Democratic Socialists of America table at the Logan Square Farmers Market on Aug. 18. Alex Schwartz
By Alex Schwartz
Among the many vendors at the Logan Square Farmers Market on Aug. 18 sat three young people peddling neither organic vegetables, gourmet cheese nor handmade crafts. Instead, they offered liberation from capitalism.
Hackney primary school students went to the Town Hall on May 24 in London after school to protest about the climate emergency. Jenny Matthews / In Pictures / Getty Images
Bird watching in the U.S. may be a lot harder than it once was, since bird populations are dropping off in droves, according to a new study.