This website uses cookies to ensure you get the best experience while browsing it. By clicking 'Got It' you're accepting these terms.
180+ Infrared Videos Show Methane Pollution All Across America
Feb. 24, 2016 02:20PM EST
Climate
Just as the worst methane leak in California's history is sealed and the U.S. Environmental Protection Agency (EPA) acknowledged that America pollutes much more methane than previously estimated, Earthworks—the group that filmed the videos revealing the scope of the methane disaster in Los Angeles County—released a map of 180+ infrared videos of oil and gas methane pollution events across the country.
The map, created with the help of FracTracker Alliance, includes two new videos that epitomize the national methane pollution problem.
The first is of a well near Longmont, Colorado:
The second one is of a massive pipeline blowdown in North Dakota's Bakken shale region:
"In November of 2012, the voters in Longmont banned fracking to protect our health, safety and wellbeing, especially because of air pollution," said Kaye Fissinger, president of Our Longmont.
"The air we breathe in Longmont is still subject to 'toxic trespass' from extreme extraction in communities nearby. It's long past time for government to stop tinkering around the edges and genuinely address the ever-growing damage that fracking and drilling inflict."
"For the past eight years I have witnessed the rapid increase of oil and gas industrialization and the environmental destruction that comes with it," said Lisa DeVille of Dakota Resource Council and the Three Affiliated Tribes. "Finally we can see the air pollution that's all around us. We are concerned about the harmful health and environmental impacts of methane and other air pollutants released from well sites. This is an unmeasurable cost to tribal members on Ft. Berthold and those downwind. We value our health and our lands."
With more being added every month, the 180+ infrared videos—filmed starting in September 2014—expose otherwise invisible air pollution from oil and gas development. Earthworks uses a FLIR (Forward Looking InfraRed) GasFinder 320 camera that is specially calibrated to detect approximately 20 pollutants associated with oil and gas development including methane (a climate pollutant more than 80 times as powerful as carbon dioxide over 20 years), benzene (a known carcinogen) and other volatile organic compounds (VOCs). Earthworks ITC-certified thermographers have documented air pollution from wells, compressor stations, transmission infrastructure and storage facilities.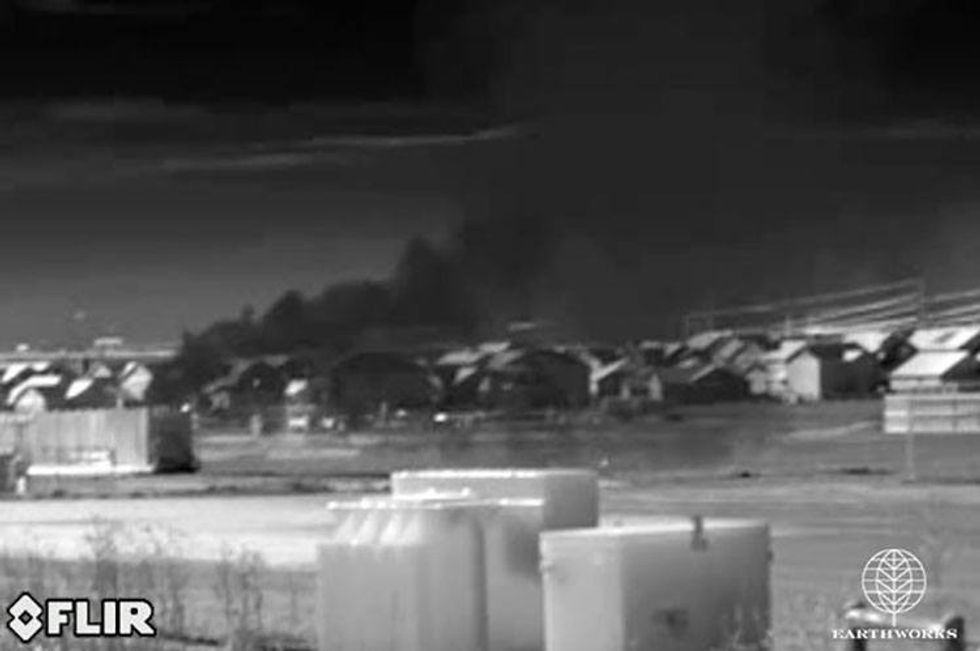 "After crisscrossing the country for more than a year collecting these videos, we've learned oil and gas air pollution is inevitably associated with oil and gas development," said Bruce Baizel, Earthworks energy program director. "These videos show we need strong state and federal rules for all new and and existing sources of this pollution. The Environmental Protection Agency in particular needs to propose rules covering existing pollution sources to accompany their proposal to cut pollution from new oil and gas facilities."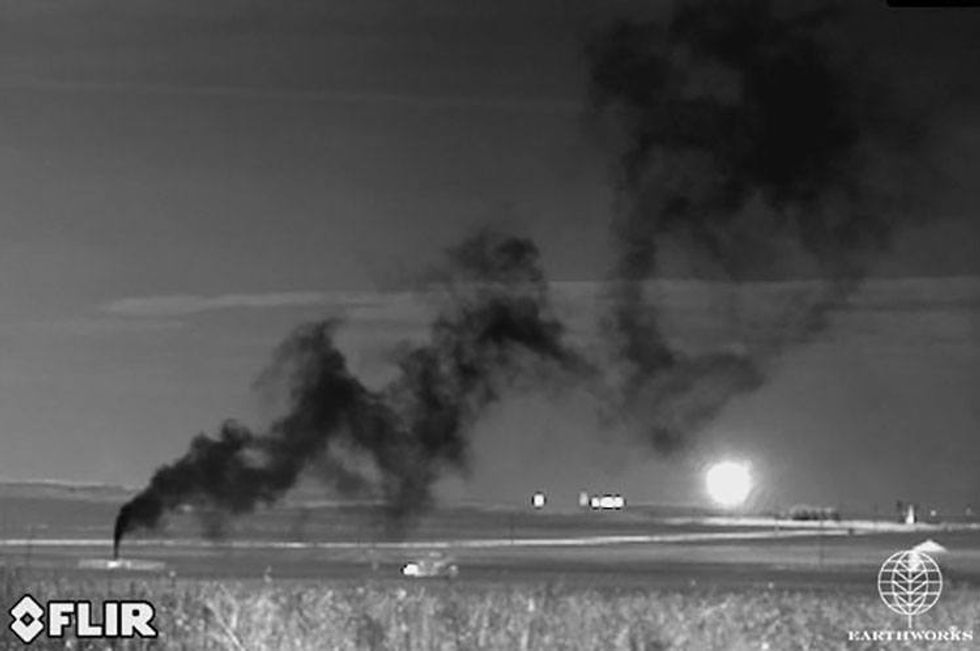 The map comes on the heels of the Bureau of Land Management's proposal to cut methane pollution from oil and gas development on public lands from new and existing sources. Late last year the U.S. EPA proposed rules to cut methane pollution from new and modified oil and gas facilities. If the EPA does not begin a new rulemaking to address existing sources of air pollution, communities living next to this invisible oil and gas pollution will be left to breathe dirty air. Earlier this week in a draft, the EPA revised its estimate of U.S. oil and gas methane pollution upward by more than 25 percent.
"Infrared videos allow us to see the magnitude of EPA's draft Greenhouse Gas Inventory revision in black and white. Oil and gas methane pollution is more severe than previously thought, and more widespread," said Lauren Pagel, Earthworks' policy director. "We need EPA to step up and set standards for oil and gas climate pollution from all facilities. But frankly the best way to eliminate this pollution is to keep dirty fossil fuels in the ground."
YOU MIGHT ALSO LIKE
Erin Brockovich on Oklahoma Earthquakes: 'It's Fracking, Let's Just be Honest'
Fracking Cases in Pennsylvania Expose the Human Cost of Drilling
Massive Methane Leaks From Texas Fracking Sites Even More Significant Than Infamous Porter Ranch Gas Leak
The Biggest Oil Leak You've Never Heard Of, Still Leaking After 12 Years
EcoWatch Daily Newsletter
A harbour seal on an ice floe in Glacier Bay, Alaska. A new study shows that the climate crisis has warmed waters, changing ecosystems and crippling sea ice growth. Janette Hill / robertharding / Getty Images Plus
Doctors report that only 1 in 4 children are getting the recommended 60 minutes of physical activity per day. Ronnie Kaufman / DigitalVision / Getty Images
By Dan Gray
Pediatricians are being urged to start writing "exercise prescriptions" for the children they see in their office.
A First Nations protester walks in front of a train blockade in Tyendinaga, near Belleville, Ontario, Canada on Feb. 21, 2020. LARS HAGBERG / AFP via Getty Images
An indigenous rail blockade that snarled train travel in Canada for more than two weeks came to an end Monday when police moved in to clear protesters acting in solidarity with another indigenous community in British Columbia (B.C.), which is fighting to keep a natural gas pipeline off its land.
A rainbow snake, a rare reptile spotted in a Florida county for the first time in more than 50 years, seen here on July 5, 2013.
Kevin Enge / FWC Fish and Wildlife Research Institute / Flickr
A Florida hiker recently stumbled across a slithering surprise — a rare snake that hadn't been spotted in the area for more than 50 years.
We need our government to do everything it can to stop PFAS contamination and exposure from wreaking havoc in communities across the country. LuAnn Hun /
Unsplash
By Genna Reed
The EPA announced last week that it is issuing a preliminary regulatory determination for public comment to set an enforceable drinking water standard to two of the most common and well-studied PFAS, PFOA and PFOS.
This decision is based on three criteria:
PFOA and PFOS have an adverse effect on public health
PFOA and PFOS occur in drinking water often enough and at levels of public health concern;
regulation of PFOA and PFOS is a meaningful opportunity for reducing the health risk to those served by public water systems.