This website uses cookies to ensure you get the best experience while browsing it. By clicking 'Got It' you're accepting these terms.
180+ Infrared Videos Show Methane Pollution All Across America
Feb. 24, 2016 02:20PM EST
Fracking
Just as the worst methane leak in California's history is sealed and the U.S. Environmental Protection Agency (EPA) acknowledged that America pollutes much more methane than previously estimated, Earthworks—the group that filmed the videos revealing the scope of the methane disaster in Los Angeles County—released a map of 180+ infrared videos of oil and gas methane pollution events across the country.
The map, created with the help of FracTracker Alliance, includes two new videos that epitomize the national methane pollution problem.
The first is of a well near Longmont, Colorado:
The second one is of a massive pipeline blowdown in North Dakota's Bakken shale region:
"In November of 2012, the voters in Longmont banned fracking to protect our health, safety and wellbeing, especially because of air pollution," said Kaye Fissinger, president of Our Longmont.
"The air we breathe in Longmont is still subject to 'toxic trespass' from extreme extraction in communities nearby. It's long past time for government to stop tinkering around the edges and genuinely address the ever-growing damage that fracking and drilling inflict."
"For the past eight years I have witnessed the rapid increase of oil and gas industrialization and the environmental destruction that comes with it," said Lisa DeVille of Dakota Resource Council and the Three Affiliated Tribes. "Finally we can see the air pollution that's all around us. We are concerned about the harmful health and environmental impacts of methane and other air pollutants released from well sites. This is an unmeasurable cost to tribal members on Ft. Berthold and those downwind. We value our health and our lands."
With more being added every month, the 180+ infrared videos—filmed starting in September 2014—expose otherwise invisible air pollution from oil and gas development. Earthworks uses a FLIR (Forward Looking InfraRed) GasFinder 320 camera that is specially calibrated to detect approximately 20 pollutants associated with oil and gas development including methane (a climate pollutant more than 80 times as powerful as carbon dioxide over 20 years), benzene (a known carcinogen) and other volatile organic compounds (VOCs). Earthworks ITC-certified thermographers have documented air pollution from wells, compressor stations, transmission infrastructure and storage facilities.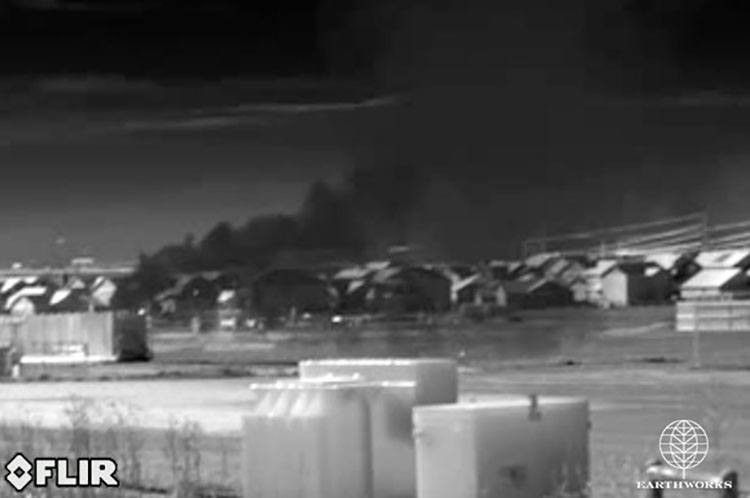 "After crisscrossing the country for more than a year collecting these videos, we've learned oil and gas air pollution is inevitably associated with oil and gas development," said Bruce Baizel, Earthworks energy program director. "These videos show we need strong state and federal rules for all new and and existing sources of this pollution. The Environmental Protection Agency in particular needs to propose rules covering existing pollution sources to accompany their proposal to cut pollution from new oil and gas facilities."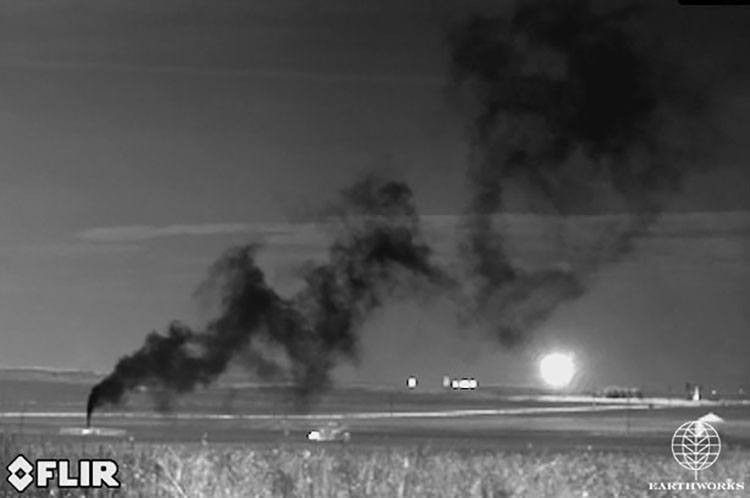 The map comes on the heels of the Bureau of Land Management's proposal to cut methane pollution from oil and gas development on public lands from new and existing sources. Late last year the U.S. EPA proposed rules to cut methane pollution from new and modified oil and gas facilities. If the EPA does not begin a new rulemaking to address existing sources of air pollution, communities living next to this invisible oil and gas pollution will be left to breathe dirty air. Earlier this week in a draft, the EPA revised its estimate of U.S. oil and gas methane pollution upward by more than 25 percent.
"Infrared videos allow us to see the magnitude of EPA's draft Greenhouse Gas Inventory revision in black and white. Oil and gas methane pollution is more severe than previously thought, and more widespread," said Lauren Pagel, Earthworks' policy director. "We need EPA to step up and set standards for oil and gas climate pollution from all facilities. But frankly the best way to eliminate this pollution is to keep dirty fossil fuels in the ground."
YOU MIGHT ALSO LIKE
Erin Brockovich on Oklahoma Earthquakes: 'It's Fracking, Let's Just be Honest'
Fracking Cases in Pennsylvania Expose the Human Cost of Drilling
Massive Methane Leaks From Texas Fracking Sites Even More Significant Than Infamous Porter Ranch Gas Leak
The Biggest Oil Leak You've Never Heard Of, Still Leaking After 12 Years
EcoWatch Daily Newsletter
Large food companies are following in the footsteps of fast-food restaurants such as Burger King and KFC by offering meat alternatives. Getty Images
By Elizabeth Pratt
Hormel, Kellogg's, and Kroger are among the large companies now planning to offer "fake meat" products at grocery stores.
Experts say the trend toward plant-based meats coincides with consumers' desires to eat less meat.
However, experts urge consumers to closely check package labels as a product isn't necessarily healthy just because it's described as plant-based.
In grocery stores and fast-food outlets around the U.S., a revolution is taking place.
Colombia rainforest. Marcel Oosterwijk / CC BY-SA 2.0
Many of us think of the Amazon as an untouched wilderness, but people have been thriving in these diverse environments for millennia. Due to this long history, the knowledge that Indigenous and forest communities pass between generations about plants, animals and forest ecology is incredibly rich and detailed and easily dwarfs that of any expert.
picture-alliance / Newscom / R. Ben Ari
By Wesley Rahn
Plastic byproducts were found in 97 percent of blood and urine samples from 2,500 children tested between 2014 and 2017, according to a study by the German Environment Ministry and the Robert Koch Institute.

Pexels
Medically reviewed by Daniel Bubnis, MS, NASM-CPT, NASE Level II-CSS
Hot yoga has become a popular exercise in recent years. It offers many of the same benefits as traditional yoga, such as stress reduction, improved strength, and flexibility.
Lara Hata / iStock / Getty Images
By SaVanna Shoemaker, MS, RDN, LD
Rice is a staple in many people's diets. It's filling, inexpensive, and a great mild-tasting addition to flavorful dishes.
An image of the trans-alaskan oil pipeline that carries oil from the northern part of Alaska all the way to valdez. This shot is right near the arctic national wildlife refuge. kyletperry / iStock / Getty Images Plus
The Trump administration has initialized the final steps to open up nearly 1.6 million acres of the protected Alaskan National Wildlife Refuge to allow oil and gas drilling.