This website uses cookies to ensure you get the best experience while browsing it. By clicking 'Got It' you're accepting these terms.
15 Best Foods for Detoxing Your Body
Jan. 22, 2016 01:21PM EST
When it comes to cleansing your body of harmful toxins, food really is the best medicine. You'll be amazed to learn that many of your favorite foods also cleanse the body's detoxification organs like the liver, intestines, kidneys and skin, preventing harmful toxic buildup. Help ward off the harmful effects of pollution, food additives, second-hand smoke and other toxins with delicious fruits, vegetables, nuts, oils and beans.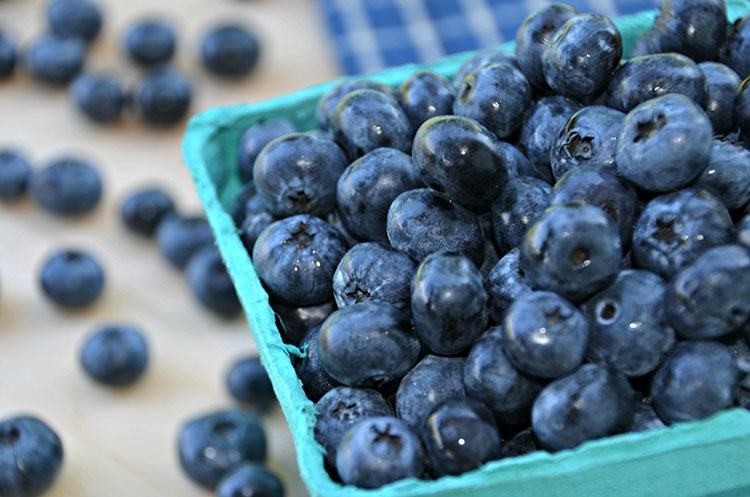 1. Apples. Because apples are high in pectin, a type of fiber that binds to cholesterol and heavy metals in the body, they help eliminate toxic build up and to cleanse the intestines.
2. Avocados. We rarely think of avocados as a cleansing food but these nutritional powerhouses lower cholesterol and dilate blood vessels while blocking artery-destroying toxicity. Avocados contain a nutrient called glutathione, which blocks at least thirty different carcinogens while helping the liver detoxify synthetic chemicals.
3. Beets. Time to whip up some delicious borscht soup since its main ingredient, beets, contain a unique mixture of natural plant compounds that make them superb blood purifiers and liver cleansers.
4. Blueberries. Truly one of the most powerful healing foods, blueberries contain natural aspirin that helps lessen the tissue-damaging effects of chronic inflammation, while lessening pain. Blueberries also act as antibiotics by blocking bacteria in the urinary tract, thereby helping to prevent infections. They also have antiviral properties and help to block toxins from crossing the blood-brain barrier to gain access to the delicate brain.
5. Cabbage. Cabbage contains numerous anticancer and antioxidant compounds and helps the liver break down excess hormones. Cabbage also cleanses the digestive tract and neutralizes some of the damaging compounds found in cigarette smoke (and second-hand smoke). It also strengthens the liver's ability to detoxify.
6. Celery and Celery Seeds. Celery and celery seeds are excellent blood cleansers and contain many different anti-cancer compounds that help detoxify cancer cells from the body. Celery seeds contain over twenty anti-inflammatory substances. It is particularly good for detoxifying substances found in cigarette smoke.
7. Cranberries. Cleanse your body from harmful bacteria and viruses that may be lingering in your urinary tract with cranberries since they contain antibiotic and antiviral substances.
8. Flaxseeds and Flaxseed Oil. Loaded with essential fatty acids, particularly the Omega-3s, flaxseeds and flaxseed oil are essential for many cleansing functions throughout the body.
9. Garlic. Eat garlic to cleanse harmful bacteria, intestinal parasites and viruses from your body, especially from the blood and intestines. It also helps cleanse build-up from the arteries and has anti-cancer and antioxidant properties that help detoxify the body of harmful substances. Additionally, garlic assists with cleansing the respiratory tract by expelling mucous build-up in the lungs and sinuses. For the health benefits, choose only fresh garlic, not garlic powder, which has virtually none of the above properties.
10. Grapefruit. Add a ruby red grapefruit to your breakfast to benefit from pectin fiber that binds to cholesterol, thereby cleansing the blood. Pectin also binds to heavy metals and helps escort them out of the body. It also has antiviral compounds that cleanse harmful viruses out of the body. Grapefruit is an excellent intestinal and liver detoxifier.
11. Kale. Steam some kale to benefit from its powerful anti-cancer and antioxidant compounds that help cleanse the body of harmful substances. It is also high in fiber, which helps cleanse the intestinal tract. Like cabbage, kale helps neutralize compounds found in cigarette smoke and strengthens liver cleansing.
12. Legumes. Add a handful of cooked beans to your next meal since they loaded with fiber that helps lower cholesterol, cleanses the intestines and regulates blood sugar levels. Legumes also help protect the body against cancer.
13. Lemons. Excellent liver detoxifiers, lemons contain high amounts of vitamin C, a vitamin needed by the body to make an important substance called glutathione. Glutathione helps the liver detoxify harmful chemicals. Add a squeeze of fresh lemon juice (not the bottled variety) to pure water to support your cleansing efforts on a daily basis.
14. Seaweed. Seaweed could be the most underrated vegetable in the western world. Studies at McGill University in Montreal showed that seaweeds bind to radioactive waste in the body. Seaweed also binds to heavy metals to help eliminate them from the body. In addition, they are powerhouses of minerals and trace minerals.
15. Watercress. If you haven't tried watercress add this delicious green to your next sandwich since it increases detoxification enzymes and acts on cancer cells in the body. In a study at the Norwich Food Research Center in the UK, smokers who were given 170 grams of watercress per day eliminated higher than average amounts of carcinogens in their urine, thereby eliminating them from their body.
Eating a variety of fresh fruits and vegetables assists with detoxifying harmful substances from your body. Who knew cleansing could taste so good?
YOU MIGHT ALSO LIKE 
11 Tricks to Stop Unhealthy Food Cravings
A Beginner's Guide to Mindful Eating
6 Power Foods that Help Fight Cancer
EcoWatch Daily Newsletter
Offutt Air Force Base after flooding on March 17. U.S. Air Force / TSgt. Rachelle Blake
A regenerating stand of rainforest in northern Costa Rica. Matthew Fagan / CC BY-ND
By Matthew Fagan, Leighton Reid and Margaret Buck Holland
Tropical forests globally are being lost at a rate of 61,000 square miles a year. And despite conservation efforts, the global rate of loss is accelerating. In 2016 it reached a 15-year high, with 114,000 square miles cleared.
At the same time, many countries are pledging to restore large swaths of forests. The Bonn Challenge, a global initiative launched in 2011, calls for national commitments to restore 580,000 square miles of the world's deforested and degraded land by 2020. In 2014 the New York Declaration on Forests increased this goal to 1.35 million square miles, an area about twice the size of Alaska, by 2030.
Compassion Over Killing
By Cheryl Leahy
Do you think almond milk comes from a cow named Almond? Or that almonds lactate? The dairy industry thinks you do, and that's what it's telling the Food and Drug Administration (FDA).
For years, the dairy industry has been flexing its lobbying muscle, pressuring states and the federal government to restrict plant-based companies from using terms like "milk" on their labels, citing consumer confusion.
By Jeremy Deaton
A driver planning to make the trek from Denver to Salt Lake City can look forward to an eight-hour trip across some of the most beautiful parts of the country, long stretches with nary a town in sight. The fastest route would take her along I-80 through southern Wyoming. For 300 miles between Laramie and Evanston, she would see, according to a rough estimate, no fewer than 40 gas stations where she could fuel up her car. But if she were driving an electric vehicle, she would see just four charging stations where she could recharge her battery.
d3sign / Moment / Getty Images
Common sense should not be taken for granted when people are discussing nutrition.
A fire erupted Sunday at a petrochemical plant in Deer Park, Texas.
NowThis News / YouTube screenshot
By Andrea Germanos
A petrochemical plant near Houston continued to burn for a second day on Monday, raising questions about the quality and safety of the air.

The Deer Park facility is owned by Intercontinental Terminals Company (ITC), which said the fire broke out at roughly 10:30 a.m. Sunday. Seven tanks are involved, the company said, and they contain naptha, xylene, "gas blend stocks" and "base oil."
"It's going to have to burn out at the tank," Ray Russell, communications officer for Channel Industries Mutual Aid, which is aiding the response effort, said at a news conference. It could take "probably two days" for that to happen, he added.
The hillsides dyed orange with poppies may look like something out of a dream, but for the Southern California town of Lake Elsinore, that dream quickly turned into a nightmare.
The town of 66,000 people was inundated with around 50,000 tourists coming to snap pictures of the golden poppies growing in Walker Canyon as part of a superbloom of wildfires caused by an unusually wet winter, BBC News reported. The visitors trampled flowers and caused hours of traffic, The Guardian reported.
The Humane Society of the United States uncovered a one-year pesticide test on 36 beagles contracted by Dow AgroSciences at a Michigan lab.
The Humane Society of the United States / YouTube screenshot
A controversial pesticide test that would have resulted in the deaths of 36 beagles has been stopped, the Humane Society of the United States (HSUS) and the company behind the test announced Monday. The announcement comes less than a week after HSUS made the test public when it released the results of an investigation into animal testing at Charles River Laboratories in Michigan.
"We have immediately ended the study that was the subject of attention last week and will make every effort to rehome the animals that were part of the study," Corteva Agriscience, the agriculture division of DowDupont, said in a statement announcing its decision.