Food
Mar. 18, 2015 10:38AM EST
11 Healthy Reasons to Eat Ginger
By Joe Leech
Ginger is among the healthiest (and most delicious) spices on the planet.
It is loaded with nutrients and bioactive compounds that have powerful benefits for your body and brain.
Here are 11 health benefits of ginger that are supported by scientific research: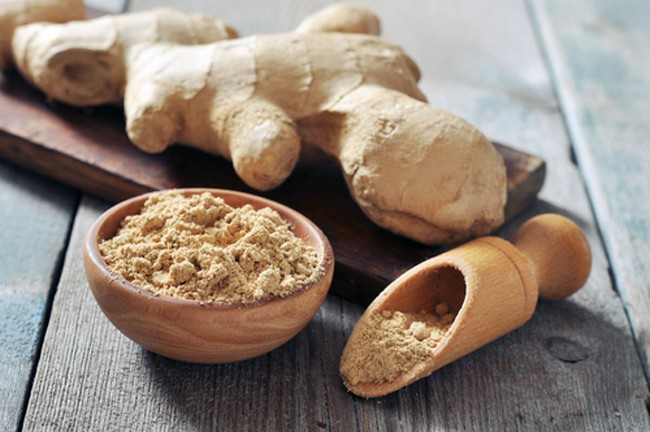 Photo credit: Shutterstock
1. Ginger Contains Gingerol, a Substance With Powerful Medicinal Properties
Ginger is a flowering plant that originated from China.
It belongs to the Zingiberaceae family, and is closely related to turmeric, cardomon and galangal.
The rhizome (underground part of the stem) is the part commonly used as a spice. It is often called ginger root, or simply ginger.
Ginger has a very long history of use in various forms of traditional/alternative medicine. It has been used to help digestion, reduce nausea and help fight the flu and common cold, to name a few.
Ginger can be used fresh, dried, powdered, or as an oil or juice, and is sometimes added to processed foods and cosmetics. It is a very common ingredient in recipes.
The unique fragrance and flavor of ginger come from its natural oils, the most important of which is gingerol.
Gingerol is the main bioactive compound in ginger, responsible for much of its medicinal properties. It has powerful anti-inflammatory and antioxidant effects (1).
Bottom Line: Ginger is a popular spice. It is high in gingerol, a substance with powerful anti-inflammatory and antioxidant properties.
2. Ginger Can Treat Many Forms of Nausea, Especially Morning Sickness
Ginger appears to be highly effective against nausea (2).
For example, it has a long history of use as a sea sickness remedy, and there is some evidence that it may be as effective as prescription medication (3).
Ginger may also relieve nausea and vomiting after surgery, and in cancer patients undergoing chemotherapy (4, 5).
But it may be the most effective when it comes to pregnancy-related nausea, such as morning sickness.
According to a review of 12 studies that included a total of 1,278 pregnant women, 1.1-1.5 grams of ginger can significantly reduce symptoms of nausea (6).
However, ginger had no effect on vomiting episodes in this study.
Although ginger is considered safe, talk to your doctor before taking large amounts if you are pregnant. Some believe that large amounts can raise the risk of miscarriage, but there are currently no studies to support this.
Bottom Line: 1-1.5 grams of ginger can help prevent various types of nausea. This applies to sea sickness, chemotherapy-related nausea, nausea after surgery and morning sickness.
3. Ginger May Reduce Muscle Pain and Soreness
Ginger has been shown to be effective against exercise-induced muscle pain.
In one study, consuming two grams of ginger per day, for 11 days, significantly reduced muscle pain in people performing elbow exercises (7).
Ginger does not have an immediate impact, but may be effective at reducing the day-to-day progression of muscle pain (8).
These effects are believed to be mediated by the anti-inflammatory properties.
Bottom Line: Ginger appears to be effective at reducing the day-to-day progression of muscle pain, and may reduce exercise-induced muscle soreness.
4. The Anti-Inflammatory Effects Can Help With Osteoarthritis
Osteoarthritis is a common health problem.
It involves degeneration of the joints in the body, leading to symptoms like joint pain and stiffness.
In a controlled trial of 247 people with osteoarthritis of the knee, those who took ginger extract had less pain and required less pain medication (9).
Read page 1
Another study found that a combination of ginger, mastic, cinnamon and sesame oil can reduce pain and stiffness in osteoarthritis patients when applied topically (10).
Bottom Line: There are some studies showing ginger to be effective at reducing symptoms of osteoarthritis, which is a very common health problem.
5. Ginger May Drastically Lower Blood Sugars and Improve Heart Disease Risk Factors
This area of research is relatively new, but ginger may have powerful anti-diabetic properties.
In a recent 2015 study of 41 participants with type 2 diabetes, two grams of ginger powder per day lowered fasting blood sugar by 12 percent (11).
It also dramatically improved HbA1c (a marker for long-term blood sugar levels), leading to a 10 percent reduction over a period of 12 weeks.
There was also a 28 percent reduction in the ApoB/ApoA-I ratio, and a 23 percent reduction in markers for oxidized lipoproteins. These are both major risk factors for heart disease.
However, keep in mind that this was just one small study. The results are incredibly impressive, but they need to be confirmed in larger studies before any recommendations can be made.
Bottom Line: Ginger has been shown to lower blood sugar levels and improve various heart disease risk factors in patients with type 2 diabetes.
6. Ginger Can Help Treat Chronic Indigestion
Chronic indigestion (dyspepsia) is characterized by recurrent pain and discomfort in the upper part of the stomach.
It is believed that delayed emptying of the stomach is a major driver of indigestion.
Interestingly, ginger has been shown to speed up emptying of the stomach in people with this condition.
After eating soup, ginger reduced the time it took for the stomach to empty from 16 to 12 minutes (12).
In a study of 24 healthy individuals, 1.2 grams of ginger powder before a meal accelerated emptying of the stomach by 50 percent (13).
Bottom Line: Ginger appears to speed up emptying of the stomach, which can be beneficial for people with indigestion and related stomach discomfort.
7. Ginger Powder May Significantly Reduce Menstrual Pain
Menstrual pain (dysmenorrhea) refers to pain felt during a woman's menstrual cycle.
One of the traditional uses of ginger is for pain relief, including menstrual pain.
In one study, 150 women were instructed to take one gram of ginger powder per day, for the first three days of the menstrual period (14).
Ginger managed to reduce pain as effectively as the drugs mefenamic acid and ibuprofen.
Bottom Line: Ginger appears to be very effective against menstrual pain when taken at the beginning of the menstrual period.
8. Ginger May Lower Cholesterol Levels
High levels of LDL lipoproteins (the "bad" cholesterol) are linked to an increased risk of heart disease.
The foods you eat can have a strong influence on LDL levels.
In a 45-day study of 85 individuals with high cholesterol, three grams of ginger powder caused significant reductions in most cholesterol markers (15).
This is supported by a study in hypothyroid rats, where ginger extract lowered LDL cholesterol to a similar extent as the cholesterol-lowering drug atorvastatin (16).
Both studies also showed reductions in total cholesterol and blood triglycerides.
Bottom Line: There is some evidence, in both animals and humans, that ginger can lead to significant reductions in LDL cholesterol and blood triglyceride levels.
9. Ginger Contains a Substance That May Help Prevent Cancer
Cancer is a very serious disease that is characterized by uncontrolled growth of abnormal cells.
Ginger extract has been studied as an alternative treatment for several forms of cancer.
The anti-cancer properties are attributed to 6-gingerol, a substance that is found in large amounts in raw ginger (17, 18).
In a study of 30 individuals, two grams of ginger extract per day significantly reduced pro-inflammatory signalling molecules in the colon (19).
However, a follow-up study in individuals at a high risk of colon cancer did not confirm these findings (20).
There is some, albeit limited, evidence that ginger may be effective against pancreatic cancer, breast cancer and ovarian cancer. More research is needed (21, 22, 23).
Bottom Line: Ginger contains a substance called 6-gingerol, which may have protective effects against cancer. However, this needs to be studied a lot more.
10. Ginger May Improve Brain Function and Protect Against Alzheimer's Disease
Oxidative stress and chronic inflammation can accelerate the aging process.
They are believed to be among the key drivers of Alzheimer's disease and age-related cognitive decline.
Some studies in animals suggest that the antioxidants and bioactive compounds in ginger can inhibit inflammatory responses that occur in the brain (24).
There is also some evidence that ginger can enhance brain function directly. In a study of 60 middle-aged women, ginger extract was shown to improve reaction time and working memory (25).
There are also numerous studies in animals showing that ginger can protect against age-related decline in brain function (26, 27, 28).
Bottom Line: Studies suggest that ginger can protect against age-related damage to the brain. It can also improve brain function in elderly women.
11. The Active Ingredient in Ginger Can Help Fight Infections
Gingerol, the bioactive substance in fresh ginger, can help lower the risk of infections.
In fact, ginger extract can inhibit the growth of many different types of bacteria (29, 30).
It is very effective against the oral bacteria linked to inflammatory diseases in the gums, such as gingivitis and periodontitis (31).
Fresh ginger may also be effective against the RSV virus, a common cause of respiratory infections (32).
12. Anything Else?
Ginger is one of the very few "superfoods" that are actually worthy of that term.
This article was reposted from our media associate Authority Nutrition.
YOU MIGHT ALSO LIKE
14 Superfood Salad Greens More Nutritious Than Kale » EcoWatch
3 Ways to Sneak Flaxseeds Into Your Kids' Meals
Jul. 21, 2017 01:50PM EST
Will Rose / Greenpeace
Eleven peaceful activists from the Greenpeace ship Arctic Sunrise have taken to the water in inflatable boats with handheld banners to oppose the Statoil Songa Enabler oil rig, 275 km North off the Norwegian coast, in the Arctic Barents sea.
The banners say: "People Vs. Arctic Oil" and are directed at Statoil and the Norwegian government, which has opened a new, aggressive search for oil in the waters of the Barents Sea.
Keep reading...
Show less
Jul. 21, 2017 10:34AM EST
Dominion Pipeline Monitoring Coalition
The Federal Energy Regulatory Commission (FERC) paved the way Friday for the 600-mile, 42-inch fracked gas Atlantic Coast Pipeline to proceed when it issued the final environmental impact statement (FEIS). A joint project of utility giants Duke Energy and Dominion Energy, the Atlantic Coast Pipeline would move fracked gas from West Virginia into Virginia and North Carolina.
In April, the Sierra Club submitted more than 500 pages of legal and technical comments on FERC's draft EIS, which were joined by more than 18,000 individual comments detailing opposition to the project. The pipeline has been met with widespread opposition, with more than 1,000 people participating in public hearings across the three affected states. The Sierra Club recently requested that FERC issue a new environmental review document analyzing information that came in after or late in, the public comment process.
Keep reading...
Show less
Jul. 21, 2017 08:25AM EST
Greenpeace / PolluterWatch
By Jessica Corbett
"It's time Rex Tillerson step down or be removed," said Gigi Kellett of Corporate Accountability International, following an announcement on Thursday that ExxonMobil will pay $2 million for violating U.S. sanctions against Russian officials while the now-secretary of state was the company's CEO.
"ExxonMobil demonstrated reckless disregard for U.S. sanction requirements," according to enforcement filing released by the Treasury Department's Office of Foreign Assets Control (OFAC), which issued the penalty. Though the fine is reportedly the maximum penalty allowed, it's pittance to one of the world's most profitable and powerful corporations, which last year reported a profit of $7.8 billion.
Keep reading...
Show less
Jul. 21, 2017 11:15AM EST
New analysis from Amory B. Lovins debunks the notion that highly unprofitable, economically distressed nuclear plants should be further subsi­dized to meet financial, security, reliability and climate goals. The analysis, which will appear shortly in The Electricity Journal, shows that closing costly-to-run nuclear plants and reinvesting their saved operating costs in energy efficiency provides cheaper elec­tricity, increases grid reliability and security, reduces more carbon, and preserves (not distorts) market integrity—all without subsidies.

Keep reading...
Show less
Jul. 21, 2017 08:44AM EST
Oil Change International / Twitter
By Christian Detisch and Seth Gladstone
In the wake of Senate Republicans' ever-deepening debacle over their flailing attempts to strip health insurance from 22 million people, Majority Leader Mitch McConnell is desperate to do something—anything—to show that he can get legislation passed. To this end, he's bypassing the standard committee review process to push a complex 850+ page energy bill straight to the full Senate floor. Perhaps not surprisingly, this legislation, the Energy and Natural Resources Act of 2017, would be a disaster for public health and our climate.
Keep reading...
Show less
Jul. 21, 2017 08:11AM EST
Rooftop solar panels on a beach house in southern Florida. TAI VIINIKKA / CC BY-NC-ND 2.0
A new law passed this week in South Miami will require all new homes built in the city to install solar panels. The measure, which was inspired by a proposal from a teenage climate activist, will go into effect in September.
The text of the ordinance details the climate impacts facing South Miami.
Keep reading...
Show less
Jul. 21, 2017 10:27AM EST
www.youtube.com
Keep reading...
Show less
Jul. 21, 2017 08:49AM EST
iStock
By Katherine Paul and Ronnie Cummins
A recent series of articles by a Washington Post reporter could have some consumers questioning the value of the U.S. Department of Agriculture's (USDA) organic seal. But are a few bad eggs representative of an entire industry?
Consumers are all for cracking down on the fraudulent few who, with the help of Big Food, big retail chains and questionable certifiers give organics a bad name. But they also want stronger standards, and better enforcement—not a plan to weaken standards to accommodate "Factory Farm Organic."
Keep reading...
Show less