This website uses cookies to ensure you get the best experience while browsing it. By clicking 'Got It' you're accepting these terms.
In stressful situations, it's easy to turn toward food to deal with emotions. Unfortunately, the foods we're drawn to when we're stressed are usually very high in fat and carbs.
When you're in the moment, feeling all those negative emotions swirling around, it sure can feel like a box of cookies or a bag of chips might make it all go away. And sure, eating those types of foods might distract you and make you feel good temporarily, but all that sugar could potentially exacerbate your negative feelings and make it even more difficult for you to cope with symptoms of stress and anxiety.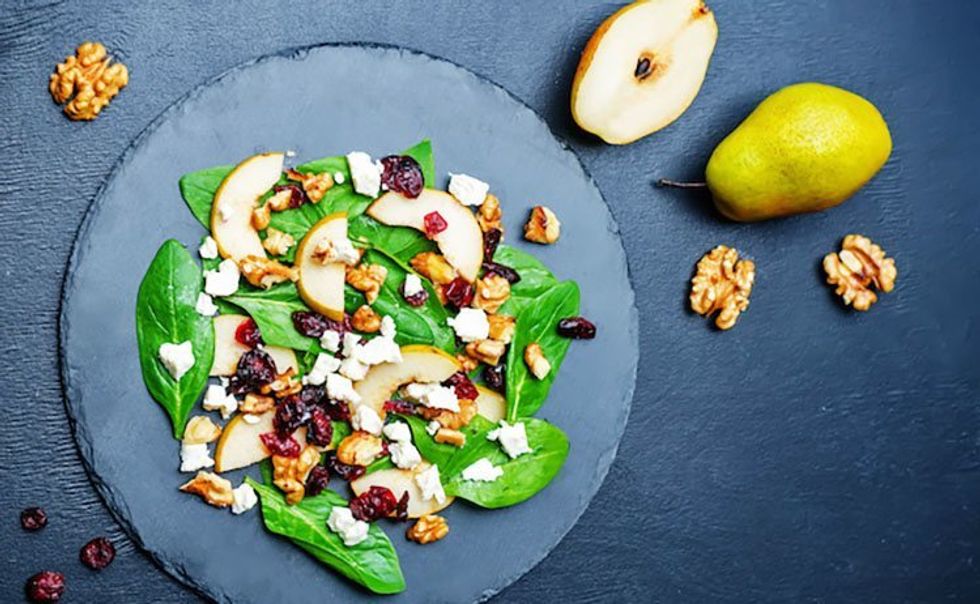 There are certainly healthier choices you can make that can boost those "feel good" chemicals in your brain while also lowering stress hormones. Unless you're fine with getting stuck in an endless loop of relying on comfort foods to treat negative emotions that only become worse with every craving and binge, you'll want to start replacing some of those comfort foods with the following list of healthy and more effective foods instead.
1. Spinach
It may be the complete opposite of what you're craving, but spinach and other leafy greens are rich in magnesium—a mineral that's essential in more than 300 chemical reactions in the body. Magnesium is used to help prevent anxiety and also treat ADHD. All you need is one cup of spinach to start reaping the benefits of this mineral's natural stress-fighting power.
2. Whole grains
All carbohydrates trigger the brain to produce serotonin—one of those feel-good hormones that helps balance out your mood, sexual desires, appetite, sleep, memory and more. To naturally boost your serotonin levels, choose healthy whole grain breads, brown rice and oatmeal for a little more stress relief.
3. Avocados
Potassium naturally helps to lower blood pressure and just half of an avocado contains more of it than one medium banana. You'll also be nourishing your body with healthy B-vitamins, monosaturated fat and fiber when you incorporate avocados into your diet.
4. Oranges
Oranges are full of vitamin C, which lowers cortisol and blood pressure while also giving the immune system a bit of a boost. According to the University of Maryland, large doses of vitamin C has been proven to reduce both physical and mental responses to stress.
5. Salmon
Wild salmon is such an important food source for its powerful omega-3 fatty acids. It helps prevent stress hormones from rising and fights inflammation, keeping both your brain and body healthy so your anxiety level can stay on the lower end.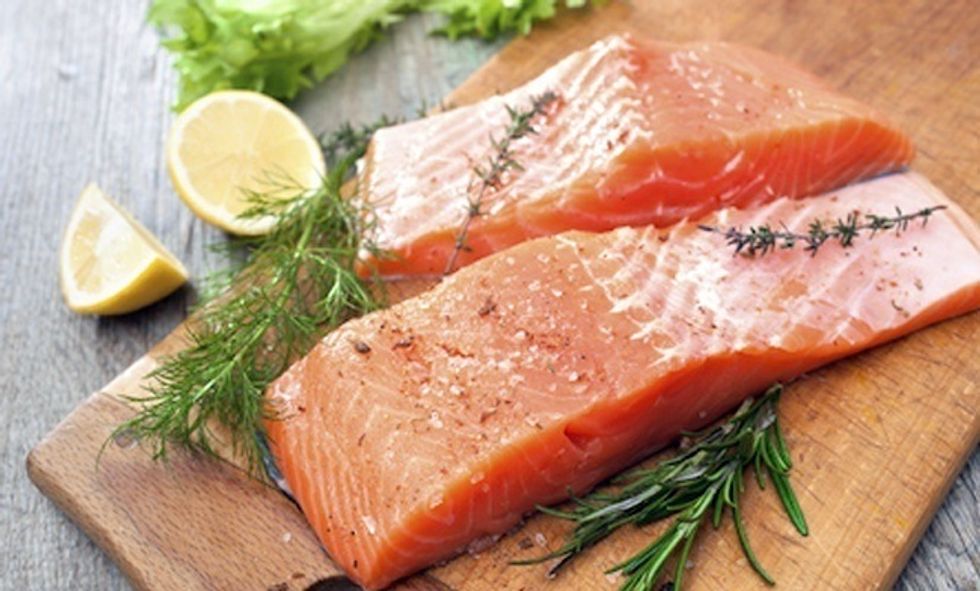 6. Nuts
Nuts like pistachios and walnuts are rich in healthy fats and lots of vitamins and minerals, including vitamin B21 and vitamin E, which help give the immune system a boost. These nutrients may help strengthen you and lift you up when you're more likely to feel stressed, anxious or even depressed.
7. Yogurt
According to WebMD, a diet that incorporates probiotic foods (like certain types of yogurt) has been show to change the body's response to stress and anxiety. Gastrointestinal problems often come hand in hand with anxiety and probiotics can help reduce inflammation in the gut to bring some relief.
8. Chia seeds or Sunflower seeds
Chia seeds and sunflower seeds contain tryptophan—an animo acid that triggers the release of serotonin in the brain and promotes feelings of calmness and sometimes even sleepiness. Some research has shown that it can help reduce anxiety.
9. Asparagus
Low levels of folate may be partly to blame for feeling more anxious and even a little depressed. Asparagus is very rich in folate and all you need is one cup of it to give you two-thirds of your recommended daily value.
10. Dark chocolate
Is it really any secret that chocolate is known to release those feel-good chemicals in our brains? Besides the fact that it pretty much falls into the traditional comfort food category and tastes really good, research has shown that it can actually help calm you down too.
Sticking to a healthy diet is good for more reasons than just helping you to cope better with stress and anxiety. If your symptoms persist or if you suspect that they could be linked to something else, remember to consult your doctor to find out if you need alternative treatments that extend beyond changing your diet.
YOU MIGHT ALSO LIKE 
What You Need to Know About the Paleo Diet
Is the Chemical Acrylamide in Coffee Harmful to Your Health?
5 Non-Stick Pans That Won't Give You Cancer
EcoWatch Daily Newsletter
Investing in grid infrastructure would enable utilities to incorporate modern technology, making the grid more resilient and flexible. STRATMAN2 / FLICKR
By Elliott Negin
The Royal Swedish Academy of Sciences' recent decision to award the 2019 Nobel Prize in Chemistry to scientists who developed rechargeable lithium-ion batteries reminded the world just how transformative they have been. Without them, we wouldn't have smartphones or electric cars. But it's their potential to store electricity generated by the sun and the wind at their peak that promises to be even more revolutionary, reducing our dependence on fossil fuels and protecting the planet from the worst consequences of climate change.
Two Javan rhinos deep in the forests of Ujung Kulon National Park, the species' last habitat on Earth. Sugeng Hendratno / WWF
The global population of the critically endangered Javan rhinoceros has increased to 72 after four new calves were spotted in the past several months.
A tiger looks out from its cage at a new resort and zoo in the eastern Lao town of Tha Bak on Dec. 5, 2018. Karl Ammann believes the "zoo" is really a front for selling tigers. Terrence McCoy / The Washington Post / Getty Images
Are tigers extinct in Laos?
That's the conclusion of a detailed new study that found no evidence wild tigers still exist in the country.
A group of scientists is warning that livestock production must not expand after 2030 for the world to stave off ecological disaster.
The largest wetland in Africa is in the South Sudan. George Steinmetz / Corbis Documentary / Getty Images Plus
Methane emissions are a far more powerful greenhouse gas than carbon dioxide – about 28 times more powerful. And they have been rising steadily since 2007. Now, a new study has pinpointed the African tropics as a hot spot responsible for one-third of the global methane surge, as Newsweek reported.