This website uses cookies to ensure you get the best experience while browsing it. By clicking 'Got It' you're accepting these terms.


The best of EcoWatch, right in your inbox. Sign up for our email newsletter!
In stressful situations, it's easy to turn toward food to deal with emotions. Unfortunately, the foods we're drawn to when we're stressed are usually very high in fat and carbs.
When you're in the moment, feeling all those negative emotions swirling around, it sure can feel like a box of cookies or a bag of chips might make it all go away. And sure, eating those types of foods might distract you and make you feel good temporarily, but all that sugar could potentially exacerbate your negative feelings and make it even more difficult for you to cope with symptoms of stress and anxiety.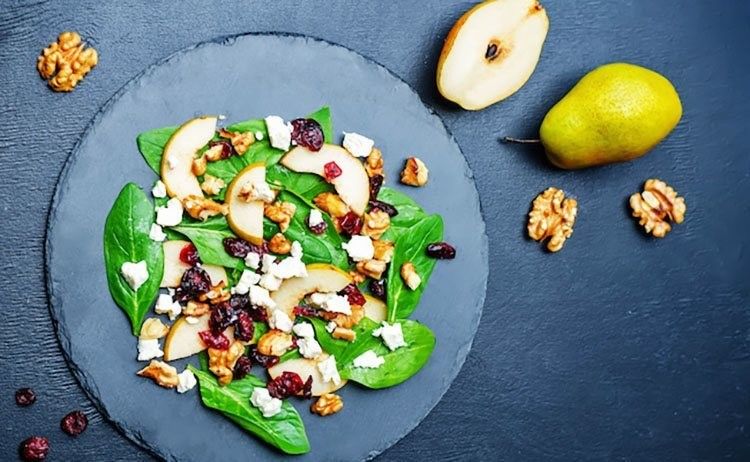 There are certainly healthier choices you can make that can boost those "feel good" chemicals in your brain while also lowering stress hormones. Unless you're fine with getting stuck in an endless loop of relying on comfort foods to treat negative emotions that only become worse with every craving and binge, you'll want to start replacing some of those comfort foods with the following list of healthy and more effective foods instead.
1. Spinach
It may be the complete opposite of what you're craving, but spinach and other leafy greens are rich in magnesium—a mineral that's essential in more than 300 chemical reactions in the body. Magnesium is used to help prevent anxiety and also treat ADHD. All you need is one cup of spinach to start reaping the benefits of this mineral's natural stress-fighting power.
2. Whole grains
All carbohydrates trigger the brain to produce serotonin—one of those feel-good hormones that helps balance out your mood, sexual desires, appetite, sleep, memory and more. To naturally boost your serotonin levels, choose healthy whole grain breads, brown rice and oatmeal for a little more stress relief.
3. Avocados
Potassium naturally helps to lower blood pressure and just half of an avocado contains more of it than one medium banana. You'll also be nourishing your body with healthy B-vitamins, monosaturated fat and fiber when you incorporate avocados into your diet.
4. Oranges
Oranges are full of vitamin C, which lowers cortisol and blood pressure while also giving the immune system a bit of a boost. According to the University of Maryland, large doses of vitamin C has been proven to reduce both physical and mental responses to stress.
5. Salmon
Wild salmon is such an important food source for its powerful omega-3 fatty acids. It helps prevent stress hormones from rising and fights inflammation, keeping both your brain and body healthy so your anxiety level can stay on the lower end.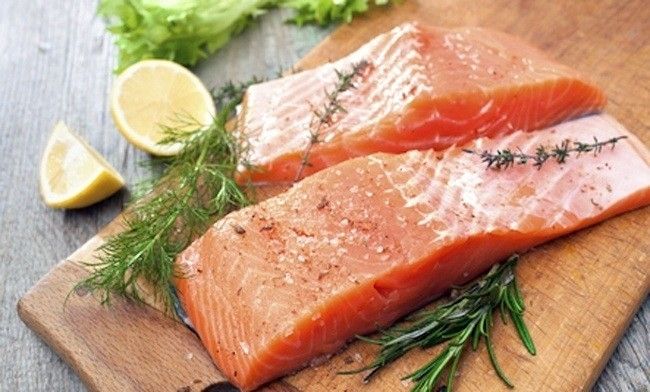 6. Nuts
Nuts like pistachios and walnuts are rich in healthy fats and lots of vitamins and minerals, including vitamin B21 and vitamin E, which help give the immune system a boost. These nutrients may help strengthen you and lift you up when you're more likely to feel stressed, anxious or even depressed.
7. Yogurt
According to WebMD, a diet that incorporates probiotic foods (like certain types of yogurt) has been show to change the body's response to stress and anxiety. Gastrointestinal problems often come hand in hand with anxiety and probiotics can help reduce inflammation in the gut to bring some relief.
8. Chia seeds or Sunflower seeds
Chia seeds and sunflower seeds contain tryptophan—an animo acid that triggers the release of serotonin in the brain and promotes feelings of calmness and sometimes even sleepiness. Some research has shown that it can help reduce anxiety.
9. Asparagus
Low levels of folate may be partly to blame for feeling more anxious and even a little depressed. Asparagus is very rich in folate and all you need is one cup of it to give you two-thirds of your recommended daily value.
10. Dark chocolate
Is it really any secret that chocolate is known to release those feel-good chemicals in our brains? Besides the fact that it pretty much falls into the traditional comfort food category and tastes really good, research has shown that it can actually help calm you down too.
Sticking to a healthy diet is good for more reasons than just helping you to cope better with stress and anxiety. If your symptoms persist or if you suspect that they could be linked to something else, remember to consult your doctor to find out if you need alternative treatments that extend beyond changing your diet.
YOU MIGHT ALSO LIKE 
What You Need to Know About the Paleo Diet
Is the Chemical Acrylamide in Coffee Harmful to Your Health?
5 Non-Stick Pans That Won't Give You Cancer
EcoWatch Daily Newsletter
People in more than 100 countries are expected to take part in well over 1,000 strikes on May 24 to demand climate action from their governments. @ExtinctionR / Twitter
DoneGood
By Cullen Schwarz
Ethical shopping is a somewhat new phenomenon. We're far more familiar with the "tried and tested" methods of doing good, like donating our money or time.
Asian elephants frolic in Kaudulla Wewa at Kaudulla National Park in central Sri Lanka.
David Stanley /
CC BY 2.0
When it comes to saving some of the planet's largest animals, a group of researchers says that old methods of conservation just won't cut it anymore.
smcgee / Flickr / CC BY-NC 2.0
Several New York City Starbucks exposed customers to a potentially deadly pesticide, two lawsuits filed Tuesday allege.
Drinks with plastic straws on sale at London's Borough Market. Susie Adams / Getty Images
The UK government has set a date for a ban on the sale of single use plastics, The Guardian reported Wednesday. From April 2020, the sale of plastic straws, drink stirrers and cotton buds with plastic stems will be prohibited in England.
Sen. Michael Bennet (D-CO) speaks during the North American Building Trades Unions Conference at the Washington Hilton April 10, 2019 in Washington, DC. Zach Gibson / Getty Images
Colorado senator and 2020 hopeful Michael Bennet introduced his plan to combat climate change Monday, in the first major policy rollout of his campaign. Bennet's plan calls for the establishment of a "Climate Bank," using $1 trillion in federal spending to "catalyze" $10 trillion in private spending for the U.S. to transition entirely to net-zero emissions by 2050.
When Trump's Environmental Protection Agency (EPA) announced its replacement for the Obama-era Clean Power Plan in August 2018, its own estimates said the reduced regulations could lead to 1,400 early deaths a year from air pollution by 2030.
Now, the EPA wants to change the way it calculates the risks posed by particulate matter pollution, using a model that would lower the death toll from the new plan, The New York Times reported Monday. Five current or former EPA officials familiar with the plan told The Times that the new method would assume there is no significant health gain by lowering air pollution levels below the legal limit. However, many public health experts say that there is no safe level of particulate matter exposure, which has long been linked to heart and lung disease.