Shocking Documents Reveal Fracking Health Complaints Swept Under the Rug in Pennsylvania

[Editor's update: Food & Water Watch has submitted a Right-to-Know request to the Pennsylvania Attorney General's office. Last July, the Attorney General told residents who called with concerns about how their complaints with the Department of Health were handled that the office would launch a formal investigation. But since then, no evidence of any substantive investigation has surfaced. Food & Water Watch issued this Right-to-Know request to see what, if anything, has been done by the Attorney General's office to carry out their promise of an investigation.]
Heavily-fracked Pennsylvania is a battle ground in the fight to protect affected families from the harms of the toxic drilling method. Last week after months of resisting our efforts, the state finally delivered more than 100 pages of documents to Food & Water Watch that were requested through a public Right-to-Know request. And what we received was shocking. The documents clearly demonstrate an ongoing pattern of alarming negligence and incompetence by the Pennsylvania Department of Health (DOH) in responding to scores of fracking-related health complaints from state residents.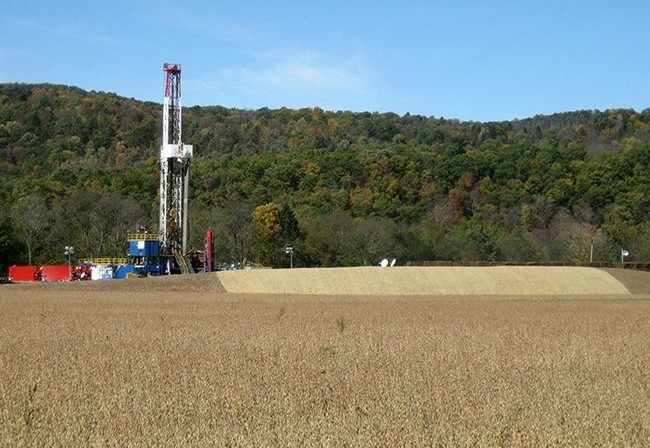 This first came to light in 2014, when a StateImpact Pennsylvania report revealing that DOH health workers were told not to respond to fracking-related health complaints. According to two former DOH employees, the department instituted policies to prevent field staff from addressing complaints from residents regarding natural gas drilling and fracking related health impacts. Employees were given specific instructions to refrain from engaging with residents who called with health complaints containing specific "buzzwords," according to these retired workers. One of the two stated, "We were absolutely not allowed to talk to them." The other indicated their department "wasn't told to be silent on any other topic that I can think of."
Following up, in July 2014, Food & Water Watch filed a Right-to-Know Law request with Pennsylvania's DOH to seek out records of complaints received by the agency and their response records. But DOH clearly did not want to turn over the documents, and it wasn't until the Office of Open Records threatened an injunction, that the DOH finally released these records to Food & Water Watch,.
Between March 30, 2011 and April 6, 2015, the DOH logged 87 complaint records filed by concerned residents, health professionals, state legislators and agencies on behalf of Pennsylvania residents. Respiratory issues, asthma, and throat and nose irritation were the most common health problems reported by residents, followed by noxious odors, skin problems, abdominal issues and noise pollution. Residents also complained of cancer, and extreme hair loss. Doctors even phoned in from "seeing unusual numbers of skin lesions/rashes in residents."
The types of health concerns reported are consistent with the scientific studies of the potential health effects of fracking. Chemicals used in the fracking process impact the skin, eyes, respiratory, immune, endocrine and cardiovascular systems and can cause cancer.
We fought for almost a year and with multiple administrations for these documents. Now we know why. DOH's gross irresponsibility in its failure to respond to the to serious health concerns of the people it is charged to protect must be documented and challenged. We will continue to use legal tools and grassroots outreach to uncover the evidence and to demand accountability.
Gov. Wolf must break the cycle of abuse by the oil and gas industry by instituting an immediate halt on any new fracking in the state.
YOU MIGHT ALSO LIKE
Rolling Stone: 'What's Killing the Babies of Vernal, Utah?'
Is the EPA Fracking Report Science Fiction?
Katahdin Woods and Waters. National Parks Conservation Association.
Looks like you'll have to trust your map if you want to find the newly designated Katahdin Woods and Waters National Monument in Maine.
Gov. Paul LePage has refused to put up any official signs along the four main roads to the 87,500-acre preserve, which is on the list of 27 national monuments under Interior Sec. Ryan Zinke's review.
Keep reading...
Show less
Keep reading...
Show less
More than 58 percent of Swiss voters supported a measure to phase out nuclear power in favor of renewable energy.
The plan provides billions in subsidies for renewable energy, bans the construction of new nuclear plants and decommissions Switzerland's five aging reactors. There is no clear date when the plants will close.

Keep reading...
Show less
iStock
By Alex Kirby
An ambitious scientific expedition is due to start work on May 22 on Bolivia's second-highest mountain, Illimani. The researchers plan to drill three ice cores from the Illimani glacier, and to store two of them in Antarctica as the start of the world's first ice archive.
Keep reading...
Show less
CC-BY-SA-2.5 and GNU FDL
Although not on most people's radar here, New York is one step closer to becoming the first state to have genetically modified, non-sterile insects released outside without cages.

Keep reading...
Show less
Photo credit: Michael Fujiwara/YouTube
The viral video of a young girl snatched off a Richmond, British Columbia dock by a sea lion is another reminder that people shouldn't get too close to wild animals.
Port officials in Canada have sharply criticized the family for putting themselves at risk for feeding the large animal, especially since there are several signs in the area warning people not to do so.
Keep reading...
Show less
Bears Ears National Monument. Tim Peterson
An anti-public lands official in Utah said Interior Sec. Ryan Zinke has already made up his mind to repeal Bears Ears National Monument, a move experts say could be against the law.
Keep reading...
Show less
The Crop Trust
Flooding breached a supposedly impregnable Arctic "doomsday" vault containing a collection of seeds stored for an apocalypse scenario last week, after warmer-than-average temperatures caused a layer of permafrost to thaw.
Keep reading...
Show less