New Study Shows Proximity to Fracking Sites Increases Risk of Birth Defects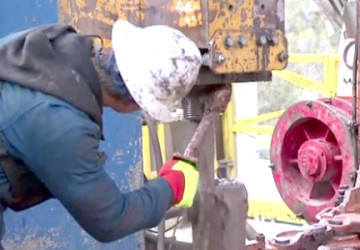 The dangers of fracking are no secret, but a study released this week shows the devastating impact the process can have on babies before they even have a chance to live their lives.
The unborn children of pregnant women who live within a 10-mile radius of fracking sites are far more susceptible to congenital heart defects (CHD), according to Birth Outcomes and Maternal Residential Proximity to Natural Gas Development in Rural Colorado, the latest study from the National Institute of Environmental Health Sciences (NIH) and Environmental Health Perspectives' (EHP).
The study examined data from 124,842 rural Colorado births from 1996 to 2009.
"We observed an association between density and proximity of natural gas wells within a 10-mile radius of maternal residence and prevalence of CHDs and possibly neural tube defects," the study reads.
Gary Wockner, director of Clean Water Action's Colorado program, had a more direct interpretation of the study.
"These findings suggest that fracking causes babies to be deformed—the more we learn about fracking, the worse it gets," he said. "If you live near a fracking site and you want to have a healthy baby, you should consider moving."
According to the Colorado Oil and Gas Conservation Commission, 26 percent of the more than 47,000 oil and gas wells in the state are located within 150 to 1000 feet of a home or other type of building that is intended for human occupancy.
"What's most shocking is that this extremely dangerous industrial process of fracking has been allowed to occur with virtually no regulation and no study of the public health impacts," Wockner said. "This study is revealing the terrible truth about fracking—it is a public health hazard, the breadth of which we are only beginning to know about."
The six researchers listed on the study say they restricted the analysis to rural towns of 50,000 or less in 57 counties—those with less potential for other pollution sources like traffic, congestion and industry. Essentially, more wells in a given area increase the risk of birth defects. The group would not conclude that "a positive association" exists between fracking sites and early chances of a child birth impacted fetal growth, though both were listed among outcomes that occurred.
"Studies in Colorado, Texas, Wyoming and Oklahoma have demonstrated that natural gas development (NGD) results in emission of volatile organic compounds, nitrogen dioxide, sulfur dioxide, particulate matter and polycyclic aromatic hydrocarbons from either the well itself or from associated drilling processes or related infrastructure, i.e., drilling muds, hydraulic fracturing fluids, tanks containing waste water and liquid hydrocarbons, diesel engines, compressor stations, dehydrators and pipelines," the study reads.
"Some of these pollutants [e.g., toluene, xylenes, and benzene] are suspected teratogens or mutagens and are known to cross the placenta, raising the possibility of fetal exposure to these and other pollutants resulting from NGD. Currently, there are few studies on the effects of air pollution or NGD on birth outcomes."
Other findings and birth defects include:
Endocardial cushion defect
Pulmonary valve atresia and stenosis
"Births to mothers in the most exposed tertile (> 125 wells/mile) had a 30 percent greater prevalence of CHDs than those with no wells in a 10-mile radius."
Wockner said a citizens' revolt against fracking is ongoing near Denver, with cities 0f more than 400,000 people voting to effectively ban fracking. He believes these results will change that.
"The results of this study will continue to escalate that revolt, and rightly so," he said. "Fracking is a dangerous industrial process that uses cancer-causing chemicals—it has absolutely no place near communities where families live, work and play."
Visit EcoWatch's FRACKING page for more related news on this topic.

Katahdin Woods and Waters. National Parks Conservation Association.
Looks like you'll have to trust your map if you want to find the newly designated Katahdin Woods and Waters National Monument in Maine.
Gov. Paul LePage has refused to put up any official signs along the four main roads to the 87,500-acre preserve, which is on the list of 27 national monuments under Interior Sec. Ryan Zinke's review.
Keep reading...
Show less
Keep reading...
Show less
More than 58 percent of Swiss voters supported a measure to phase out nuclear power in favor of renewable energy.
The plan provides billions in subsidies for renewable energy, bans the construction of new nuclear plants and decommissions Switzerland's five aging reactors. There is no clear date when the plants will close.

Keep reading...
Show less
iStock
By Alex Kirby
An ambitious scientific expedition is due to start work on May 22 on Bolivia's second-highest mountain, Illimani. The researchers plan to drill three ice cores from the Illimani glacier, and to store two of them in Antarctica as the start of the world's first ice archive.
Keep reading...
Show less
CC-BY-SA-2.5 and GNU FDL
Although not on most people's radar here, New York is one step closer to becoming the first state to have genetically modified, non-sterile insects released outside without cages.

Keep reading...
Show less
Photo credit: Michael Fujiwara/YouTube
The viral video of a young girl snatched off a Richmond, British Columbia dock by a sea lion is another reminder that people shouldn't get too close to wild animals.
Port officials in Canada have sharply criticized the family for putting themselves at risk for feeding the large animal, especially since there are several signs in the area warning people not to do so.
Keep reading...
Show less
Bears Ears National Monument. Tim Peterson
An anti-public lands official in Utah said Interior Sec. Ryan Zinke has already made up his mind to repeal Bears Ears National Monument, a move experts say could be against the law.
Keep reading...
Show less
The Crop Trust
Flooding breached a supposedly impregnable Arctic "doomsday" vault containing a collection of seeds stored for an apocalypse scenario last week, after warmer-than-average temperatures caused a layer of permafrost to thaw.
Keep reading...
Show less