First-Ever Footage of Aging Tar Sands Pipelines Beneath Great Lakes
By Beth Wallace
This past July, National Wildlife Federation (NWF) conducted a diving expedition to obtain footage of aging oil pipelines strung across one of the most sensitive locations in the Great Lakes, and possibly the world: the Straits of Mackinac. Footage of these pipelines has never been released to the public until now.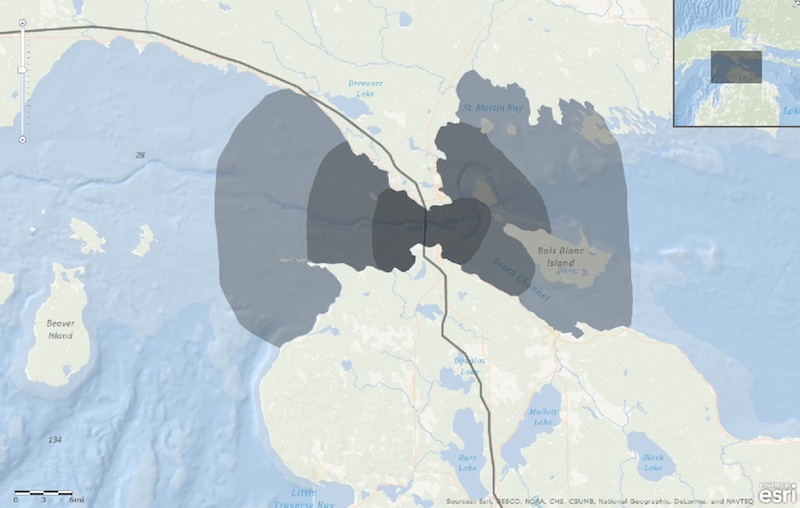 The Straits of Mackinac pipelines, owned by Enbridge Energy, are 60-years-old and considered one of the greatest threats to the Great Lakes because of their age, location and the hazardous products they transport—including tar sands derived oil.
For nearly two years, NWF has been pressing pipeline regulators and Enbridge to release information about the integrity of these pipelines, including inspection videos showing how the pipelines cross the Straits of Mackinac. These requests have gone largely unanswered from both Enbridge and the Pipeline Hazards Safety Administration (PHMSA), who regulates pipeline operations. Because Enbridge hastily moved forward with plans to increase pressure on the aging pipelines, and has bypassed critical environmental permitting for changes in operation, NWF decided we needed to obtain our own:
The footage shows pipelines suspended over the lakebed, some original supports broken away—indicating the presence of corrosion—and some sections of the suspended pipelines covered in large piles of unknown debris. This visual is evidence that our decision makers need to step in and demand a release of information from Enbridge and PHMSA.
Heightening our concern around this pipeline and the company that owns it: despite having cleared our dive work with the U.S. Coast Guard, several Congressional members and Homeland Security, our staff and the dive crew had uncomfortable interactions with Enbridge representatives. As soon as our team set out on the water, we were quickly accompanied by an Enbridge crew that monitored our every move. This monitoring did not stop at the surface: Enbridge also placed a Remote Operated Vehicle (ROV) into the water to watch our team.
These actions and our video have raised our level of concern for the general operational behavior of this company and their overall safety culture—including the way they treat the concerned public living near their pipelines. If these aging pipelines rupture, the resulting oil slick would cause irreversible damage to fish and wildlife, drinking water, Lake Michigan beaches, Mackinac Island and our economy.
To make matters worse, the recent shutdown of our federal government has left communities and wildlife with an increased risk of oil spills and failed response because pipeline safety and responding agencies have been scaled back or closed all together. The recent oil spill in North Dakota, of approximately 800,000 gallons, is living proof.
This article was originally published on National Wildlife Federation's Wildlife Promise.  

The U.S. Environmental Protection Agency (EPA) budget will still be slashed by nearly a third, from $8.2 billion to $5.65 billion, under President Trump's fiscal 2018 budget proposal released Tuesday.
The EPA, which has long been targeted by the Trump administration, is the hardest hit federal agency under the new plan. Opponents say it "endangers Americans" and cripples an institution charged with protecting their health and safety.
Keep reading...
Show less
Frustrated by non-experts taking to the internet to dispute the science behind human-made climate change, North Carolina meteorologist Greg Fishel issued a challenge to climate deniers, urging them to "put up or shut up" and "submit your work the way real scientists do, and see where it takes you."
Keep reading...
Show less
The Dakota Access Pipeline under construction. Photo credit: Flickr
The Dakota Access Pipeline (DAPL) system leaked more than 100 gallons of oil in two separate incidents in North Dakota in March.
This is the $3.8 billion project's third known leak. The controversial pipeline, which is not yet finished and not yet operational, also spilled 84 gallons of oil in South Dakota on April 4.
Keep reading...
Show less
The Center for Biological Diversity sued the Trump administration Tuesday to uncover public records showing that federal employees have been censored from using words or phrases related to climate change in formal agency communications.
Keep reading...
Show less
Keep reading...
Show less
On the eve of World Turtle Day, the world's largest travel website—TripAdvisor—removed the sale of tickets to the Cayman Turtle Centre, where more than 5,000 endangered sea turtles live in horrific conditions.
Keep reading...
Show less
Robin Loznak
After numerous legal efforts trying to get a federal district court in Oregon to throw out a climate lawsuit brought by 21 young people, a defeated National Association of Manufacturers (NAM) filed a motion Monday requesting the court's permission to withdraw from the litigation.
Keep reading...
Show less
Greenland ice sheet melt in action. Sara Penrhyn-Jones
The Department of Interior edited a news release on a study coauthored by government scientists to remove a mention of climate change, the Washington Post reported.
Keep reading...
Show less


Get EcoWatch in your inbox