6 Urban Farms Revolutionizing Where Food Is Grown
Urban agriculture has really made a comeback in the U.S. in recent years. The U.N. Food and Agriculture Organization reports that 800 million people worldwide grow fruits or vegetables or raise animals in cities, producing an impressive 15 to 20 percent of the world's food. The U.N. Food and Agriculture Organization notes that while many city dwellers in the developing world grow food for subsistence, food production has been brought back to city centers in recent years in developed countries in a concerted effort to address sustainability issues in our food system.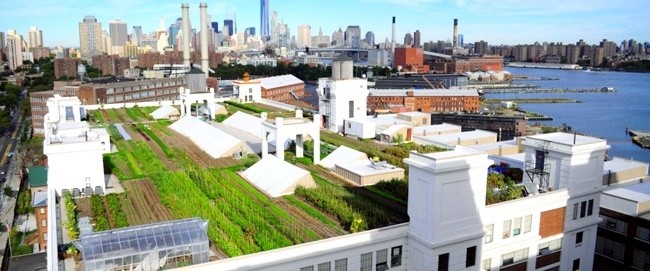 The U.S. Department of Agriculture doesn't track numbers of urban farmers, but based on demand for its programs that fund education and infrastructure in support of urban agriculture projects, and on surveys of urban agriculture in select cities, it affirms that business is booming, according to GreenBiz.
We at EcoWatch have documented how cities around the world are developing and expanding their local food systems to create a more sustainable method of food production and distribution, which will become increasingly necessary as cities adapt to climate change. Urban farming is often criticized for not being scaleable.
While urban agriculture will probably never replace rural agriculture, these six urban farms show that urban agriculture can play a significant role in sustainable food production:
Gotham Greens has four state of the art greenhouses where its workers grow organic greens year round. Its flagship greenhouse, built in 2010, was the first commercial scale rooftop greenhouse in the U.S, according to the company. The rooftop greenhouse measures over 15,000 square feet and annually produces over 100 tons of fresh leafy greens.
Food Field, founded in 2011, is helping revitalize Detroit by producing "fresh, healthy, and delicious food while improving the neighborhood and creating economic opportunities." Its founders, Noah Link and Alex Bryan, believe in using environmental and social goals to develop "a successful, community-based business [that meets] the need for local, affordable, and sustainably produced food."
Farmed Here is the nation's largest indoor farm, pumping out roughly a million pounds per year of baby salad greens, basil and mint in its 90,000-square-foot warehouse on the industrial outskirts of Chicago, according to GreenBiz.
Brooklyn Grange operates the world's largest rooftop soil farm out of two buildings in New York City, totaling 2.5 acres, according to National Geographic. The farm grows more than 50,000 pounds of organic produce each year, and distributes it through farmers' markets, community-supported agriculture networks, and wholesale to restaurants and catering companies.
Farmscape Gardens is California's largest urban farming company, but unlike other companies on the list, this LA-based company's urban farms are dispersed throughout 400 locations, where its employees have installed and maintained sites at residences and businesses around the city.
Green City Growers Cooperative is a 3.25-acre leafy greens, hydroponic greenhouse in Cleveland, Ohio. The greenhouse, which opened in 2013, has 15,000 square feet of packinghouse and office space, and is currently producing Butterhead lettuce, Cleveland Crisp, Green leaf lettuce, gourmet lettuces and basil.
YOU MIGHT ALSO LIKE
 10 Superfoods You Can Buy This Spring at Your Local Farmers' Markets
 Panera Bread to Drop 150 'Unacceptable' Additives From Its Menu
Tiny House on Wheels Provides 'Giant Journey' for Couple + Their Dog
Katahdin Woods and Waters. National Parks Conservation Association.
Looks like you'll have to trust your map if you want to find the newly designated Katahdin Woods and Waters National Monument in Maine.
Gov. Paul LePage has refused to put up any official signs along the four main roads to the 87,500-acre preserve, which is on the list of 27 national monuments under Interior Sec. Ryan Zinke's review.
Keep reading...
Show less
Keep reading...
Show less
More than 58 percent of Swiss voters supported a measure to phase out nuclear power in favor of renewable energy.
The plan provides billions in subsidies for renewable energy, bans the construction of new nuclear plants and decommissions Switzerland's five aging reactors. There is no clear date when the plants will close.

Keep reading...
Show less
iStock
By Alex Kirby
An ambitious scientific expedition is due to start work on May 22 on Bolivia's second-highest mountain, Illimani. The researchers plan to drill three ice cores from the Illimani glacier, and to store two of them in Antarctica as the start of the world's first ice archive.
Keep reading...
Show less
CC-BY-SA-2.5 and GNU FDL
Although not on most people's radar here, New York is one step closer to becoming the first state to have genetically modified, non-sterile insects released outside without cages.

Keep reading...
Show less
Photo credit: Michael Fujiwara/YouTube
The viral video of a young girl snatched off a Richmond, British Columbia dock by a sea lion is another reminder that people shouldn't get too close to wild animals.
Port officials in Canada have sharply criticized the family for putting themselves at risk for feeding the large animal, especially since there are several signs in the area warning people not to do so.
Keep reading...
Show less
Bears Ears National Monument. Tim Peterson
An anti-public lands official in Utah said Interior Sec. Ryan Zinke has already made up his mind to repeal Bears Ears National Monument, a move experts say could be against the law.
Keep reading...
Show less
The Crop Trust
Flooding breached a supposedly impregnable Arctic "doomsday" vault containing a collection of seeds stored for an apocalypse scenario last week, after warmer-than-average temperatures caused a layer of permafrost to thaw.
Keep reading...
Show less