This website uses cookies to ensure you get the best experience while browsing it. By clicking 'Got It' you're accepting these terms.
Will Philadelphia Become the Vertical Farming Capital of the World?
Apr. 30, 2016 08:47AM EST
With its muggy summers and freezing winters, Philadelphia isn't exactly known as an agricultural hotspot. But a resolution passed Thursday by Philadelphia City Council could put the City of Brotherly Love on the map as the next international green hub.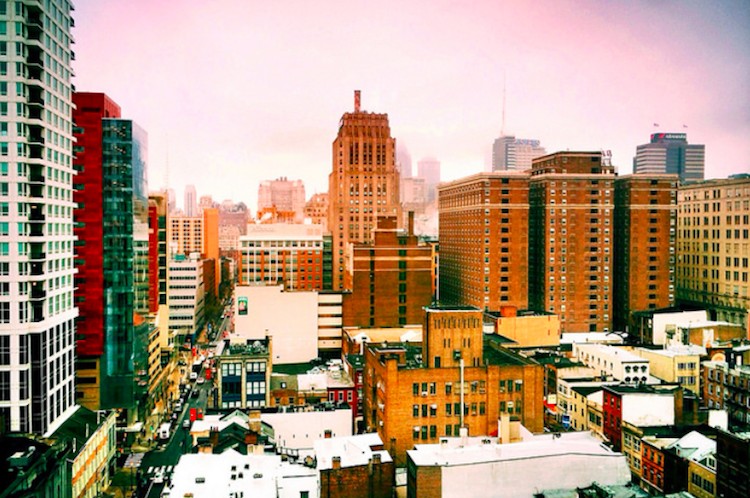 Will Philly's skyscrapers be home to urban farms? Vertical farms, which use height to maximize growth space in cities, have been proposed as a way to help bring jobs and local, sustainable food to city dwellers. Photo credit: Flickr
Local lawmakers are aiming to expand vertical and urban farming in the bustling metropolis, Philly.com reported.
"The most noble thing a human being can do is produce food for others," Councilman Al Taubenberger, who introduced the resolution, said at a news conference held at Metropolis Farms in South Philly. "Vertical farming is something very special indeed, and fits like a glove in Philadelphia."
As EcoWatch reported, Metropolis Farms is not only the first indoor hydroponic vertical farm in Philadelphia, it's the first vegan-certified farm in the nation and the only known vertical farm to operate on the second floor of a building. By growing food locally, the farm slashes the distance food needs to travel to get to local kitchens, grocery stores and restaurants.
Vertical and urban farming can be attractive in a variety of ways compared to conventional farming. City-based farms reduce the distance between farmer to buyer, solving the problem of "food deserts," where city dwellers have little or no access to affordable, high-quality, fresh food.
"By the year 2050 close to 80 percent of the world's population will be living in urban centers," Emma Hansen of the Worldwatch Institute noted. "Our current farms mandate a paradigm shift to environmentally friendly and efficient urban food systems to support the population in a sustainable way."
Philadelphia already has a number of urban agriculture projects to promote sustainable local food, and more than 40 community gardens and orchards on park land.
But with vertical farms in particular, food can be produced with less water and takes up less space than traditional farming. These technologically innovative farms often feature multiple trays of plants stacked on top of each other. Instead of growing the plants in soil, a hydroponic system recirculates the water and nutrients that plants need to grow. These farms are often often lit with artificial lights to mimic the sun. Crops can be grown in skyscrapers, abandoned lots and even shipping containers.
Metropolis Farms President Jack Griffin said his farm is able to fit 13 acres' worth of food in only 1,600 square feet, according to CBS Philly.
Taubenberger hopes to turn Philadelphia's empty buildings into vertical farms.
"The opportunity is there. The buildings are there, and people looking for jobs are there," he said, according to Philly.com. He also envisions a school where people learn about vertical farming and network of "flash farms" that directly link neighborhoods, grocery stores and restaurants to fresh food.
Metropolis Farms—located "just minutes from the south Philly Italian market made famous in the Rocky movies," as the venture points out on their website—uses artificial lighting, climate control and other patented farming techniques to grow edible plants such as lettuce basil, peppers and carrots 365 days a year. The harvest is sold to local restaurants and grocery stores like Whole Foods.
"Remember we don't have the weather, when it snowed this April we were growing inside," Griffin said. "We were growing food in January."
CBS Philly reported that Griffin plans to expand into other empty warehouses across the city with the hope of becoming a world leader in vertical farming.
YOU MIGHT ALSO LIKE
Inside Europe's Largest Urban Farm
Floating Urban Garden Coming to New York City This Summer
One of the World's Largest Hospitality Chains to Grow Its Own Vegetables at 1,000 Hotels
Plus, learn if there's one that's best for your health.
Catherine Falls Commercial / Moment / Getty Images
An invasive Amynthas worm, also known as a crazy snake worm, Asian jumping worm and Alabama jumper Tom Potterfield / Flickr
By Jason Bittel
My wife and I built a house two years ago on a few acres of woodland outside of Pittsburgh. The backyard is full of maples, poplars, briars and common spicebush. Two-lined salamanders and grumpy-looking crayfish wade among the rocks in the small stream that runs down the edge of the property. Deer, raccoon and opossum tracks appear regularly in the snow and mud. Sometimes, my trail-cam even catches a pair of gray foxes as they slink through the night.
AleksandarNakic / Getty Images
By Kate Murphy
No matter the time of year, there's always a point in each season when my skin decides to cause me issues. While these skin issues can vary, I find the most common issues to be dryness, acne and redness.

David Woodfall / The Image Bank / Getty Images
By Sam Nickerson
The U.S. Environmental Protection Agency (EPA) in April 2018 proposed relaxing standards related to how it assesses the effects of exposure to low levels of toxic chemicals on public health.
Now, correspondence obtained by the LA Times revealed just how deeply involved industry lobbyists and a controversial, industry-funded toxicologist were in drafting the federal agency's proposal to scrap its current, protective approach to regulating toxin exposure.
Steve Irwin poses with a three foot long alligator at the San Francisco Zoo on June 26, 2002. Justin Sullivan / Getty Images
February 22 is the birthday of conservationist and beloved TV personality "Crocodile Hunter" Steve Irwin, who would have been 57 years old today.
Irwin's life was tragically cut short when the barb from a stingray went through his chest while he was filming in 2006, but his legacy of loving and protecting wildlife lives on, most recently in a Google Doodle today honoring his birthday.