This website uses cookies to ensure you get the best experience while browsing it. By clicking 'Got It' you're accepting these terms.
Yellowstone National Park Proposes Slaughtering 1,000 Wild Bison
Nov. 19, 2015 12:48PM EST
Yellowstone National Park officials are proposing a plan to slaughter 1,000 bison—mostly females and calves—from its herd this winter. The reason for the cull is to lessen the risk of Yellowstone bison infecting cattle herds in Montana with brucellosis, a bacterial disease, officials said yesterday.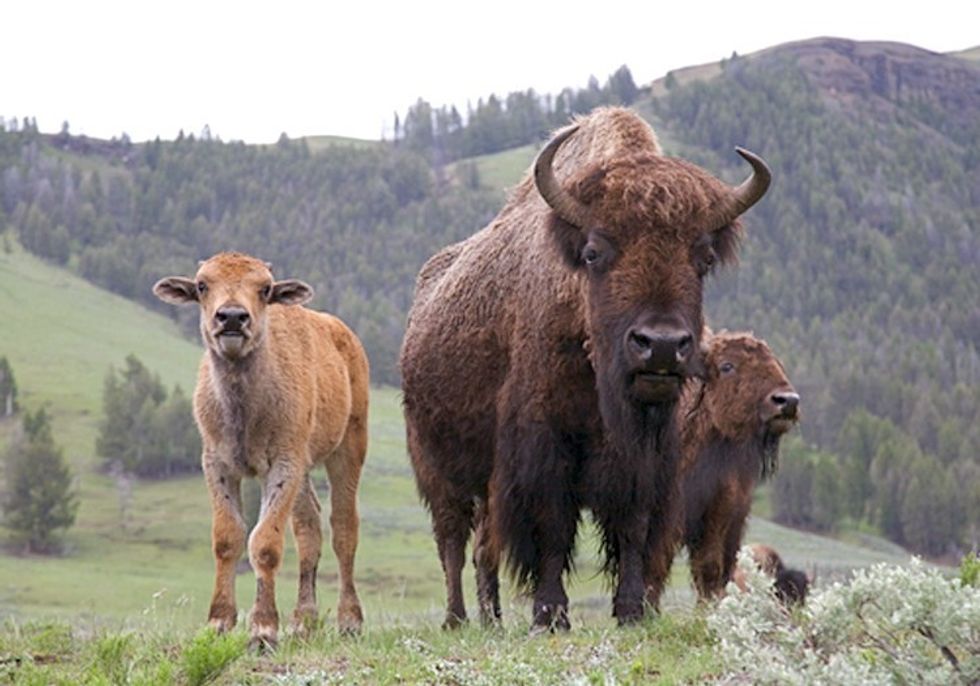 Photo credit: Shutterstock
Park officials will meet today with tribal leaders, state and other federal agencies to reach a decision on the exact number to kill. "No formal decision has been made, but the park proposal is for 1,000 fewer bison," park spokesperson Amy Bartlett said.
The annual cull is deeply controversial. Yellowstone bison are the last wild herd of bison in America with fewer than 5,000 left. The amount slaughtered varies from year to year, but a 1,000-bison slaughter would be the largest cull since the winter of 2007-2008, when more than 1,600 were killed.
The cull formally began in 2000 when the state of Montana and the federal government reached an agreement to annually decrease the herd to prevent the spread of brucellosis, though annual culls date back even further. Brucellosis, a European livestock disease originally introduced by cows, was first detected in Yellowstone buffalo in 1917.
"Through the legal agreement the National Park Service has to do this," Yellowstone spokesperson Sandy Snell-Dobert said. "If there was more tolerance north of the park in Montana for wildlife, particularly bison as well as other wildlife, to travel outside the park boundaries, it wouldn't be an issue."
As of this summer, there were 4,900 bison in the park, and officials are hoping to bring that number closer to 3,000.
Montana ranchers say the cull is necessary because bison who roam outside of the park infect their cows with brucellosis, which causes miscarriages. They also say that relocation is not an option because the bison will compete for grazing land with their herds. Wildlife conservationists, on the other hand, argue that the bison attract millions of visitors to the park every year and that their numbers are dangerously low, so they should not be killed.
"Ecologically extinct throughout their native range, and not yet federally protected, bison are endangered," the Buffalo Field Campaign said. The organization keeps a running tally of the number of Yellowstone bison killed since 1985. To date, that number is 8,567. Buffalo Field Campaign contended that "there has never been a single documented case of wild buffalo transmitting brucellosis to livestock."
The organization pointed out that "Yellowstone elk and other wildlife, also known to carry brucellosis, are allowed to freely exit the park without coming under fire as the buffalo do." They blame Montana's powerful livestock industry for the unnecessary slaughter.
The Natural Resources Defense Council (NRDC) believes that there's a better way forward. "It's time to stop shipping bison to slaughter and give them access to year-round habitat in Montana," said Matt Skoglund, Director of NRDC's Northern Rockies Office. "This proposal reinforces the need for the Governor to make a final decision and put into place the plan to expand wild bison habitat in Montana. This would be a huge step in the right direction, as it would allow bison to access important habitat outside the Park and improve the ability for bison to be managed like other wildlife in Montana."
"Yellowstone's iconic wild bison are central to the long-term conservation of the species, as they are a large population and the only continuously wild and free-roaming population in the U.S.," he added.
The total number killed may largely depend on winter weather. If the snowfall is heavy, bison will be forced to migrate to lower elevations in search of food. And if they wander outside the park, they are more likely to face slaughter.
"You can't predict how many bison will go into the trap," Montana State Veterinarian Marty Zaluski said. "Nature has a way of defying your best expectations."
Most of the 700 bison that were captured as part of last year's cull were turned over to Native American tribes in the area for slaughter. "Hunters, including from tribes with treaty rights in the Yellowstone area, are anticipated to kill more than 300 of the animals," Associated Press reported. "Others would be captured for slaughter or research purposes."
But not all tribes support the cull. Jimmy St. Goddard, a spiritual leader of the Blackfeet Tribe in Montana, told Reuters, "the culling, for him, evokes a painful chapter of American history in which U.S. extermination campaigns pushed the massive, hump-backed creatures to the edge of extinction ... Killing these buffalo is shameful."
YOU MIGHT ALSO LIKE
Kids Derail $900 Million Development Project in Cancún
Why We Must Ban Plastic Bags and Support a Circular Economy
14 Stunning Nature Photos That Won Siena Contest From 15,000 Submissions
Illegal Pot Farms Are 'Silently Killing' Endangered Wildlife
EcoWatch Daily Newsletter
Pro-environment demonstrators on the streets of Washington, DC during the Jan. 20, 2017 Trump inauguration.
Mobilus In Mobili
/ Flickr /
CC BY-SA 2.0
By Dr. Brian R. Shmaefsky
One year after the Flint Water Crisis I was invited to participate in a water rights session at a conference hosted by the US Human Rights Network in Austin, Texas in 2015. The reason I was at the conference was to promote efforts by the American Association for the Advancement of Science (AAAS) to encourage scientists to shine a light on how science intersects with human rights, in the U.S. as well as in the context of international development. My plan was to sit at an information booth and share my stories about water quality projects I spearheaded in communities in Bangladesh, Colombia, and the Philippines. I did not expect to be thrown into conversations that made me reexamine how scientists use their knowledge as a public good.
Mt. Rainier and Reflection Lake on Sept. 10, 2015. Crystal Geyser planned to open a bottling plant near Mt. Rainier, emails show.
louelke - on and off / Flickr
Bottled water manufacturers looking to capture cool, mountain water from Washington's Cascade Mountains may have to look elsewhere after the state senate passed a bill banning new water permits, as The Guardian reported.
Large storage tank of Ammonia at a fertilizer plant in Cubatão, Sao Paulo State, Brazil. Luis Veiga / The Image Bank / Getty Images
The shipping industry is coming to grips with its egregious carbon footprint, as it has an outsized contribution to greenhouse gas emissions and to the dumping of chemicals into open seas. Already, the global shipping industry contributes about 2 percent of global carbon emissions, about the same as Germany, as the BBC reported.
At high tide, people are forced off parts of the pathway surrounding DC's Tidal Basin. Andrew Bossi /
Wikimedia
The Jefferson Memorial in Washington, DC overlooks the Tidal Basin, a man-made body of water surrounded by cherry trees. Visitors can stroll along the water's edge, gazing up at the stately monument.
But at high tide, people are forced off parts of the path. Twice a day, the Tidal Basin floods and water spills onto the walkway.
Lioness displays teeth during light rainstorm in Kruger National Park, South Africa. johan63 / iStock / Getty Images
Ahead of government negotiations scheduled for next week on a global plan to address the biodiversity crisis, 23 former foreign ministers from various countries released a statement on Tuesday urging world leaders to act "boldly" to protect nature.