Nov. 19, 2015 12:48PM EST
Yellowstone National Park Proposes Slaughtering 1,000 Wild Bison
Yellowstone National Park officials are proposing a plan to slaughter 1,000 bison—mostly females and calves—from its herd this winter. The reason for the cull is to lessen the risk of Yellowstone bison infecting cattle herds in Montana with brucellosis, a bacterial disease, officials said yesterday.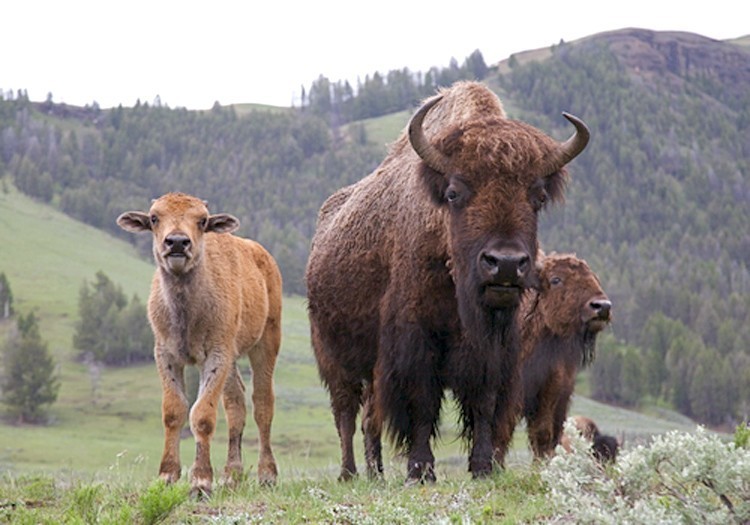 Photo credit: Shutterstock
Park officials will meet today with tribal leaders, state and other federal agencies to reach a decision on the exact number to kill. "No formal decision has been made, but the park proposal is for 1,000 fewer bison," park spokesperson Amy Bartlett said.
The annual cull is deeply controversial. Yellowstone bison are the last wild herd of bison in America with fewer than 5,000 left. The amount slaughtered varies from year to year, but a 1,000-bison slaughter would be the largest cull since the winter of 2007-2008, when more than 1,600 were killed.
The cull formally began in 2000 when the state of Montana and the federal government reached an agreement to annually decrease the herd to prevent the spread of brucellosis, though annual culls date back even further. Brucellosis, a European livestock disease originally introduced by cows, was first detected in Yellowstone buffalo in 1917.
"Through the legal agreement the National Park Service has to do this," Yellowstone spokesperson Sandy Snell-Dobert said. "If there was more tolerance north of the park in Montana for wildlife, particularly bison as well as other wildlife, to travel outside the park boundaries, it wouldn't be an issue."
As of this summer, there were 4,900 bison in the park, and officials are hoping to bring that number closer to 3,000.
Montana ranchers say the cull is necessary because bison who roam outside of the park infect their cows with brucellosis, which causes miscarriages. They also say that relocation is not an option because the bison will compete for grazing land with their herds. Wildlife conservationists, on the other hand, argue that the bison attract millions of visitors to the park every year and that their numbers are dangerously low, so they should not be killed.
"Ecologically extinct throughout their native range, and not yet federally protected, bison are endangered," the Buffalo Field Campaign said. The organization keeps a running tally of the number of Yellowstone bison killed since 1985. To date, that number is 8,567. Buffalo Field Campaign contended that "there has never been a single documented case of wild buffalo transmitting brucellosis to livestock."
The organization pointed out that "Yellowstone elk and other wildlife, also known to carry brucellosis, are allowed to freely exit the park without coming under fire as the buffalo do." They blame Montana's powerful livestock industry for the unnecessary slaughter.
The Natural Resources Defense Council (NRDC) believes that there's a better way forward. "It's time to stop shipping bison to slaughter and give them access to year-round habitat in Montana," said Matt Skoglund, Director of NRDC's Northern Rockies Office. "This proposal reinforces the need for the Governor to make a final decision and put into place the plan to expand wild bison habitat in Montana. This would be a huge step in the right direction, as it would allow bison to access important habitat outside the Park and improve the ability for bison to be managed like other wildlife in Montana."
"Yellowstone's iconic wild bison are central to the long-term conservation of the species, as they are a large population and the only continuously wild and free-roaming population in the U.S.," he added.
The total number killed may largely depend on winter weather. If the snowfall is heavy, bison will be forced to migrate to lower elevations in search of food. And if they wander outside the park, they are more likely to face slaughter.
"You can't predict how many bison will go into the trap," Montana State Veterinarian Marty Zaluski said. "Nature has a way of defying your best expectations."
Most of the 700 bison that were captured as part of last year's cull were turned over to Native American tribes in the area for slaughter. "Hunters, including from tribes with treaty rights in the Yellowstone area, are anticipated to kill more than 300 of the animals," Associated Press reported. "Others would be captured for slaughter or research purposes."
But not all tribes support the cull. Jimmy St. Goddard, a spiritual leader of the Blackfeet Tribe in Montana, told Reuters, "the culling, for him, evokes a painful chapter of American history in which U.S. extermination campaigns pushed the massive, hump-backed creatures to the edge of extinction ... Killing these buffalo is shameful."
YOU MIGHT ALSO LIKE
Kids Derail $900 Million Development Project in Cancún
Why We Must Ban Plastic Bags and Support a Circular Economy
14 Stunning Nature Photos That Won Siena Contest From 15,000 Submissions
Illegal Pot Farms Are 'Silently Killing' Endangered Wildlife
Jul. 21, 2017 01:50PM EST
Will Rose / Greenpeace
Eleven peaceful activists from the Greenpeace ship Arctic Sunrise have taken to the water in inflatable boats with handheld banners to oppose the Statoil Songa Enabler oil rig, 275 km North off the Norwegian coast, in the Arctic Barents sea.
The banners say: "People Vs. Arctic Oil" and are directed at Statoil and the Norwegian government, which has opened a new, aggressive search for oil in the waters of the Barents Sea.
Keep reading...
Show less
Jul. 21, 2017 10:34AM EST
Dominion Pipeline Monitoring Coalition
The Federal Energy Regulatory Commission (FERC) paved the way Friday for the 600-mile, 42-inch fracked gas Atlantic Coast Pipeline to proceed when it issued the final environmental impact statement (FEIS). A joint project of utility giants Duke Energy and Dominion Energy, the Atlantic Coast Pipeline would move fracked gas from West Virginia into Virginia and North Carolina.
In April, the Sierra Club submitted more than 500 pages of legal and technical comments on FERC's draft EIS, which were joined by more than 18,000 individual comments detailing opposition to the project. The pipeline has been met with widespread opposition, with more than 1,000 people participating in public hearings across the three affected states. The Sierra Club recently requested that FERC issue a new environmental review document analyzing information that came in after or late in, the public comment process.
Keep reading...
Show less
Jul. 21, 2017 08:25AM EST
Greenpeace / PolluterWatch
By Jessica Corbett
"It's time Rex Tillerson step down or be removed," said Gigi Kellett of Corporate Accountability International, following an announcement on Thursday that ExxonMobil will pay $2 million for violating U.S. sanctions against Russian officials while the now-secretary of state was the company's CEO.
"ExxonMobil demonstrated reckless disregard for U.S. sanction requirements," according to enforcement filing released by the Treasury Department's Office of Foreign Assets Control (OFAC), which issued the penalty. Though the fine is reportedly the maximum penalty allowed, it's pittance to one of the world's most profitable and powerful corporations, which last year reported a profit of $7.8 billion.
Keep reading...
Show less
Jul. 21, 2017 11:15AM EST
New analysis from Amory B. Lovins debunks the notion that highly unprofitable, economically distressed nuclear plants should be further subsi­dized to meet financial, security, reliability and climate goals. The analysis, which will appear shortly in The Electricity Journal, shows that closing costly-to-run nuclear plants and reinvesting their saved operating costs in energy efficiency provides cheaper elec­tricity, increases grid reliability and security, reduces more carbon, and preserves (not distorts) market integrity—all without subsidies.

Keep reading...
Show less
Jul. 21, 2017 08:44AM EST
Oil Change International / Twitter
By Christian Detisch and Seth Gladstone
In the wake of Senate Republicans' ever-deepening debacle over their flailing attempts to strip health insurance from 22 million people, Majority Leader Mitch McConnell is desperate to do something—anything—to show that he can get legislation passed. To this end, he's bypassing the standard committee review process to push a complex 850+ page energy bill straight to the full Senate floor. Perhaps not surprisingly, this legislation, the Energy and Natural Resources Act of 2017, would be a disaster for public health and our climate.
Keep reading...
Show less
Jul. 21, 2017 08:11AM EST
Rooftop solar panels on a beach house in southern Florida. TAI VIINIKKA / CC BY-NC-ND 2.0
A new law passed this week in South Miami will require all new homes built in the city to install solar panels. The measure, which was inspired by a proposal from a teenage climate activist, will go into effect in September.
The text of the ordinance details the climate impacts facing South Miami.
Keep reading...
Show less
Jul. 21, 2017 10:27AM EST
www.youtube.com
Keep reading...
Show less
Jul. 21, 2017 08:49AM EST
iStock
By Katherine Paul and Ronnie Cummins
A recent series of articles by a Washington Post reporter could have some consumers questioning the value of the U.S. Department of Agriculture's (USDA) organic seal. But are a few bad eggs representative of an entire industry?
Consumers are all for cracking down on the fraudulent few who, with the help of Big Food, big retail chains and questionable certifiers give organics a bad name. But they also want stronger standards, and better enforcement—not a plan to weaken standards to accommodate "Factory Farm Organic."
Keep reading...
Show less


Get EcoWatch in your inbox