Yeb Saño from the Arctic: Burning Fossil Fuels Chief Cause of Climate Change
Sep. 11, 2014 11:27AM EST
Climate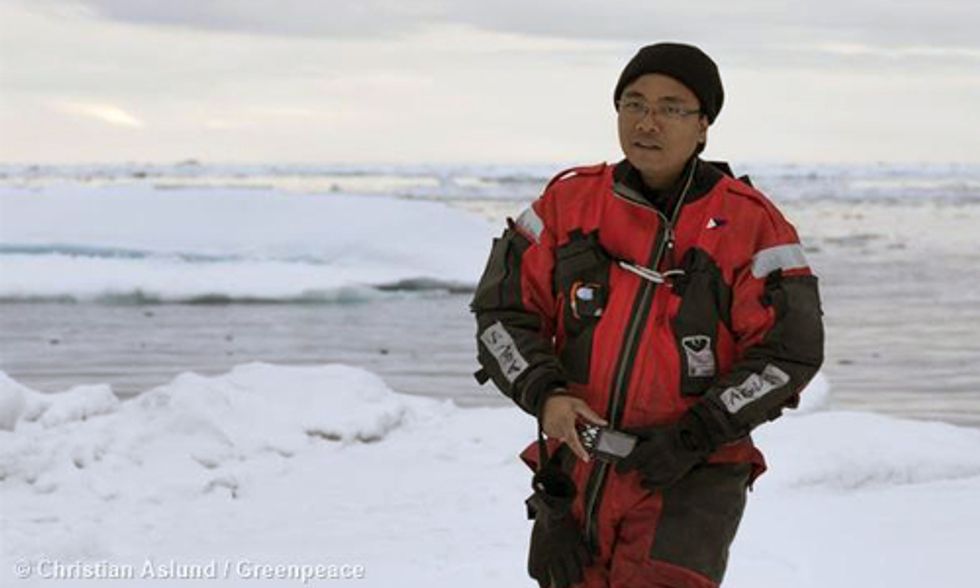 The Philippines is a long way from the North Pole. But Filipino climate commissioner Yeb Saño gets that what happens at the North Pole impacts his country—and all others. So he's currently in the Arctic with a Greenpeace mission to draw attention to the effects of climate change and demand action from world leaders ahead of the UN Climate Summit in New York City Sept. 23.
"I was born over 8500 kilometers from the North Pole, and yet I have come to realize that my future and the future of my country is tied to the fate of the melting Arctic," said Saño, speaking from the ice edge north of Svalbard. "The science is clear that climate change could mean more frequent and more intense extreme weather. It is countries like the Philippines that feel the immediate effects of climate change. I appeal to the world´s leaders at the climate summit in New York to take actions to protect the Arctic, and cut fossil fuel emissions that are driving climate change."

Saño is representing the Philippines at the United Nations Framework Convention on Climate Change (UNFCCC). Last November, during typhoon Haiyan which devastated the Philippines, Saño delivered a powerful speech at the UN's Warsaw climate meeting which attracted widespread attention. 
"What I am seeing here in the Arctic is something that is in danger of being lost forever," said Yeb Saño. "It is quite clear that burning fossil fuels is the chief cause of climate change, and the Arctic is at the very center of this man-made crisis. If the world wishes to avert the most catastrophic impacts of climate change, we must rapidly transition to a clean energy future and abandon crazy projects like oil drilling in the Arctic," said Yeb Saño.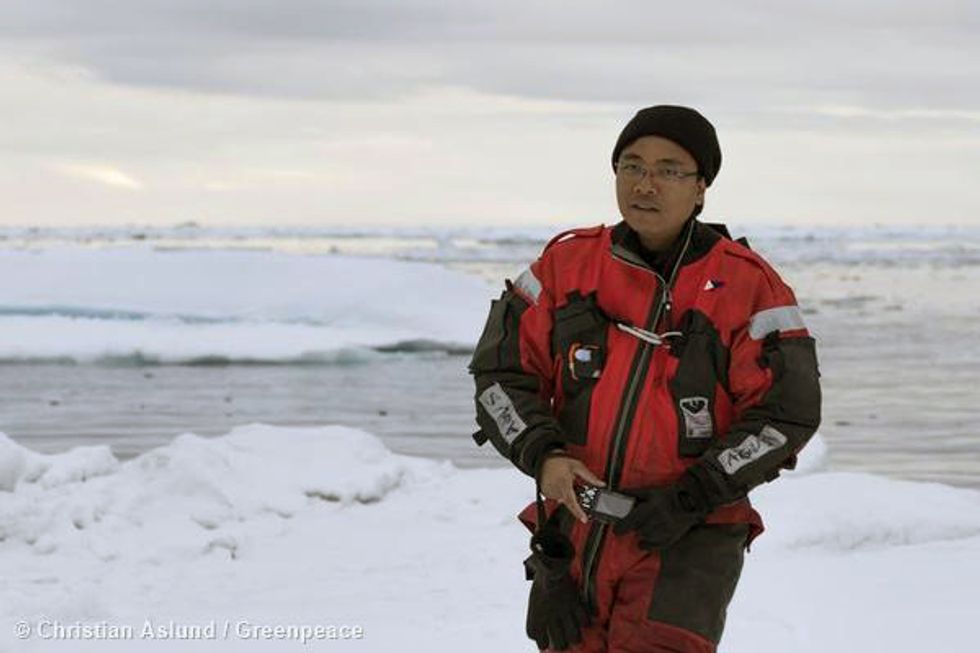 The seven summers with the lowest minimum sea ice extents have been in the last seven years. While current conditions suggest that this year probably won't match the 2012 record low sea ice extent, it's likely to be well below the long-term average.
YOU ALSO MIGHT LIKE
David Suzuki: Put People Before Politics
Global Warming Deniers Become More Desperate By the Day
Fighting Global Warming Will Improve Health of People Everywhere
EcoWatch Daily Newsletter
Related Articles from EcoWatch
Recent Stories from EcoWatch