Yeb Saño Embarks on 930-Mile Walk From Rome to Paris Demanding World Leaders Take Climate Action
Oct. 01, 2015 08:46AM EST
Climate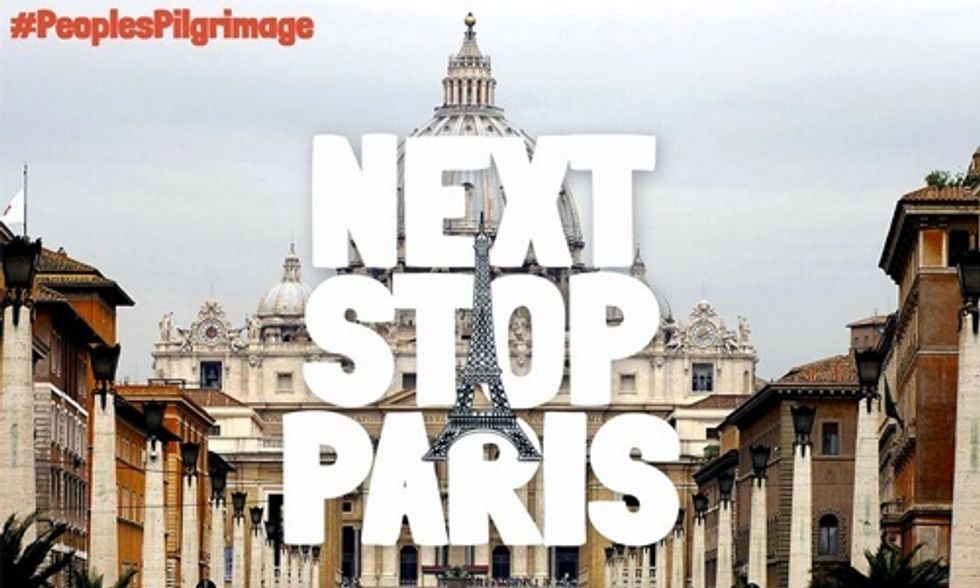 Yeb Saño, a former climate negotiator for the Philippines, is making headlines again. Saño is embarking on a 930-mile walk from Rome to Paris and plans to arrive just in time for the UN climate talks. He's hoping for a "miracle" in which world leaders reach a deal that will actually result in meaningful action on climate change.
Next Stop, PARIS: The #PeoplesPilgrimage for Climate Action departs Rome today with @YebSano http://t.co/uqq9S2vaxL http://t.co/6bqMrshzut

— GreenFaith (@GreenFaith)1443607292.0
The 930-mile journey is actually the final leg of a journey that began in May. Since leaving the Philippines in May, Saño has traveled to Australia, and cyclone-ravaged Vanuatu in the South Pacific. He also met with survivors of Cyclone HudHud in India.
The journey is being called the "People's Pilgrimage," and Saño is encouraging people everywhere to make a pilgrimage of their own. "Anyone, anywhere can take part anytime up to the COP21 UN climate meeting in Paris this December," says his website. "You can cross a continent, or only walk a mile. It's up to you."
Before, leaving Rome, Saño met with Pope Francis. "Our pilgrimage and those coming from other parts of Europe, are the walking, singing, praying expression of all we call for in Paris," said Saño in a blog post. "By walking together, we will show climate change as the great challenge of our time—and that it can be overcome. Today, we set off from Vatican City, with a direct blessing of Pope Francis."
We will fight the climate change @YebSano #unaterraunafamiglia @CoalizioneClima ready for @COP21 #peoplespilgrimage http://t.co/aCmmVNgG6q

— Volontari nel mondo (@Volontari nel mondo)1443608469.0
Saño was the top Filipino climate negotiator in 2013 when Typhoon Haiyan struck the Philippines, killing more than 6,000 people. Saño, whose father's hometown of Tacloban was especially devastated by the typhoon, was moved to tears by the lack of "meaningful" action on climate change at the Warsaw climate talks. He began a hunger strike in solidarity with his fellow Filipinos at that conference and fasted again in 2014 at the climate talks in Peru to protest the lack of progress.
Last year, he also traveled to the Arctic on a Greenpeace mission to draw attention to the effects of climate change and demand action from world leaders ahead of the UN Climate Summit in New York City. And it's not surprising that Saño visited the Pope ahead of his "pilgrimage" because Pope Francis, who just wrapped up a visit to the U.S., has been an outspoken advocate for climate action. When Pope Francis visited the Philippines earlier this year, he met with survivors of Super Typhoon Haiyan in Tacloban.
Next Stop: Paris! The #PeoplesPilgrimage departs Rome with a blessing from @Pontifex http://t.co/WEOdZhc1sa http://t.co/8fPj7cv30y

— OurVoices (@OurVoices)1443627402.0
"Saño will be joined on the climate pilgrimage by about a dozen others from the Philippines, Hong Kong, the UK and U.S.," reports The Guardian. "Over the 57 days it will take them to reach Paris—passing through Italy, Switzerland and Germany before arriving in France—they will also be met by local environmental groups."
Watch Saño's emotional speech at the Doha climate talks in 2012:
YOU MIGHT ALSO LIKE
Harvard Researchers Hail Cost-Effective Battery That Could Store Surplus Wind and Solar Power
​Sweden to Become One of World's First Fossil Fuel-Free Nation​
96 Cities That Are Quitting Fossil Fuels and Moving Toward 100% Renewable Energy
100% Renewable Energy Possible by 2050, Says Greenpeace Report
EcoWatch Daily Newsletter