This website uses cookies to ensure you get the best experience while browsing it. By clicking 'Got It' you're accepting these terms.
Yangtze Basin Lakes Shrinking as Climate Change Takes Its Toll
Jan. 19, 2012 08:50AM EST
Climate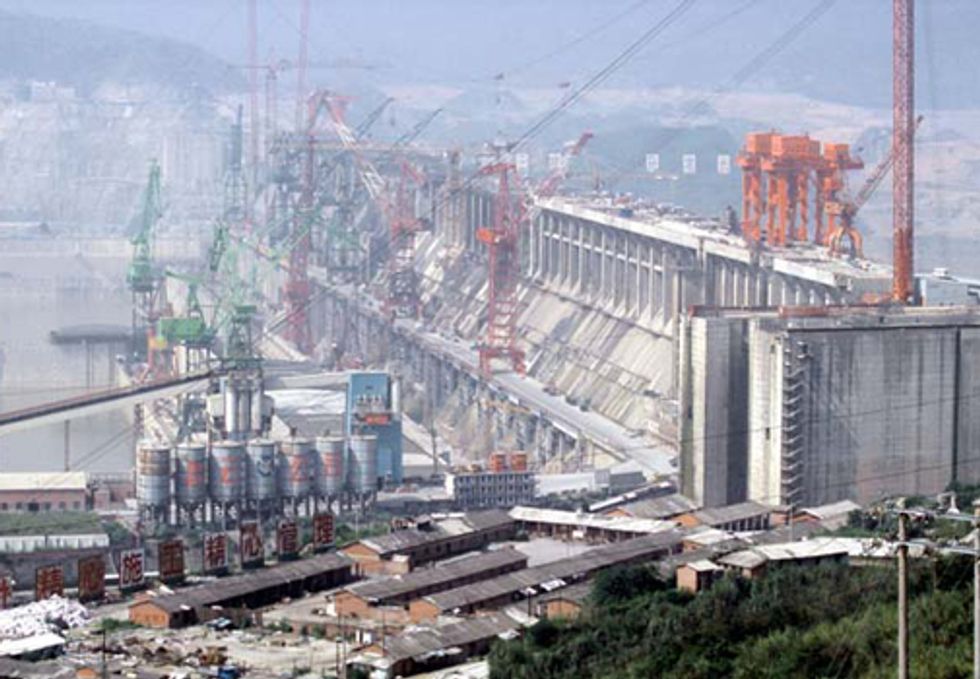 A new World Wildlife Fund (WWF) study finds that many Yangtze River Basin lakes are shrinking dramatically and could dry up completely if measures aren't taken to stem the impacts of climate change, increased industrialization and urbanization along China's longest river.
The Yangtze Conservation and Development Report 2011 (YCDR 2011) shows that lower water levels, rapid urbanization and large water infrastructure projects across the Yangtze Basin are impacting the overall health of many lakes along the 6,300 km river, which supports the livelihoods of nearly one-third of China's population.
"Lake ecosystems in the Yangtze River Basin are showing tell-tale signs of degradation, and problems like water eutrophication from industrial runoff are on the rise. We are also seeing a decline in flood retention capacity and insufficient water supply. These changes are putting increased pressure on many of the species found in the Yangtze, including the finless porpoise and Chinese carps," said Yang Guishan, president of the Nanjing Institute of Geography and Limnology, Chinese Academy of Sciences.
Climate change in the Upper Yangtze
While water resources will increase over the short term, the YCDR 2011 predicts that the long-term impacts of climate change will result in massive water shortages in headwater regions.
"Over the short term, increased glacial melt in the Qinghai-Tibetan plateau means more water. But after the glaciers are gone—and with them the source of the Yangtze River—available water resources will decline. The lack of water could cause lakes that depend on glacial melt to shrink or dry up completely," said Yang Guishan.
Pollution, population and land reclamation
From 1950-2010, the central and lower reaches of the Yangtze lost approximately two thirds of its lakes due to increased land reclamation for agriculture and industrial development. This has resulted in a water storage capacity loss roughly equivalent to 20 million Olympic-sized swimming pools—and means that smaller floods now have the potential to inflict much more damage.
Meanwhile, population growth and rapid economic development—particularly in the central and lower Yangtze—as well as excessive fish farming has resulted in more serious water pollution issues and increased instances of eutrophication, a process where excessive nutrients diminish water quality in lakes or other bodies of water.
Water quality monitoring data from 2007-2010 in the central and lower Yangtze shows that 77 percent of the 77 lakes with an area of 10 km or more could not provide safe drinking water, while more than 88 percent were in various stages of eutrophication. Meanwhile, in 2009 alone, more than 33 billion tonnes of sewage was discharged into the Yangtze River Basin, nearly a 22 percent rise from 2003.
Solutions
Similar to the diagnosis offered in the previous two editions of the YCDR, the 2011 update points out that more work still needs to be done to ensure the future health of the Yangtze River:
"The Yangtze Conservation and Development Report 2011 shows that a comprehensive action plan is an absolute necessity to ensure the future of this irreplaceable resource," said Jim Grandoville, CEO of WWF China. "WWF will be working with partners and seek solutions towards the protection and sustainable usage of the lakes along the Yangtze."
The report also emphasizes the importance of mitigating the accumulative impacts of large infrastructure projects such as the Three Gorges Dam and South to North Water Transfer Project on the Yangtze River, especially downstream.
Known as the "Yangtze health check," this is the third edition of the Yangtze Conservation and Development Report. It is jointly developed by WWF, the Nanjing Institute of Geography and Limnology, Chinese Academy of Sciences and the National Development Bank.
For more information, click here.
EcoWatch Daily Newsletter
A new report spotlights a U.N. estimate that at least 275 million people rely on healthy coral reefs. A sea turtle near the Heron Island in the Great Barrier Reef is seen above. THE OCEAN AGENCY / XL CATLIN SEAVIEW SURVEY
In a new report about how the world's coral reefs face "the combined threats of climate change, pollution, and overfishing" — endangering the future of marine biodiversity — a London-based nonprofit calls for greater global efforts to end the climate crisis and ensure the survival of these vital underwater ecosystems.
Half of the extracted resources used were sand, clay, gravel and cement, seen above, for building, along with the other minerals that produce fertilizer. Cavan Images / Cavan / Getty Images
The world is using up more and more resources and global recycling is falling. That's the grim takeaway from a new report by the Circle Economy think tank, which found that the world used up more than 110 billion tons, or 100.6 billion metric tons, of natural resources, as Agence France-Presse (AFP) reported.
By Gero Rueter
Heating with coal, oil and natural gas accounts for around a quarter of global greenhouse gas emissions. But that's something we can change, says Wolfgang Feist, founder of the Passive House Institute in the western German city of Darmstadt.

By George Citroner
Recent research finds that official government figures may be underestimating drug deaths by half.
Researchers estimate that 142,000 people died due to drug use in 2016.
Drug use decreases life expectancy after age 15 by 1.4 years for men and by just under 1 year for women, on average.
Government records may be severely underreporting how many Americans die from drug use, according to a new study by researchers from the University of Pennsylvania and Georgetown University.
Water coolers in front of shut-off water fountains at Center School in Stow, MA on Sept. 4, 2019 after elevated levels of PFAS were found in the water. David L. Ryan / The Boston Globe via Getty Images
In a new nationwide assessment of drinking water systems, the Environmental Working Group found that toxic fluorinated chemicals known as PFAS are far more prevalent than previously thought.