This website uses cookies to ensure you get the best experience while browsing it. By clicking 'Got It' you're accepting these terms.
Worsening Hurricanes Pushed Toward Poles By Climate Change
Jun. 03, 2014 10:33AM EST
Climate
The hurricane season of 2014 just kicked off, and with two devastating storms wreaking havoc along the northeastern U.S. coast over the last few years, it's no wonder everyone's on edge.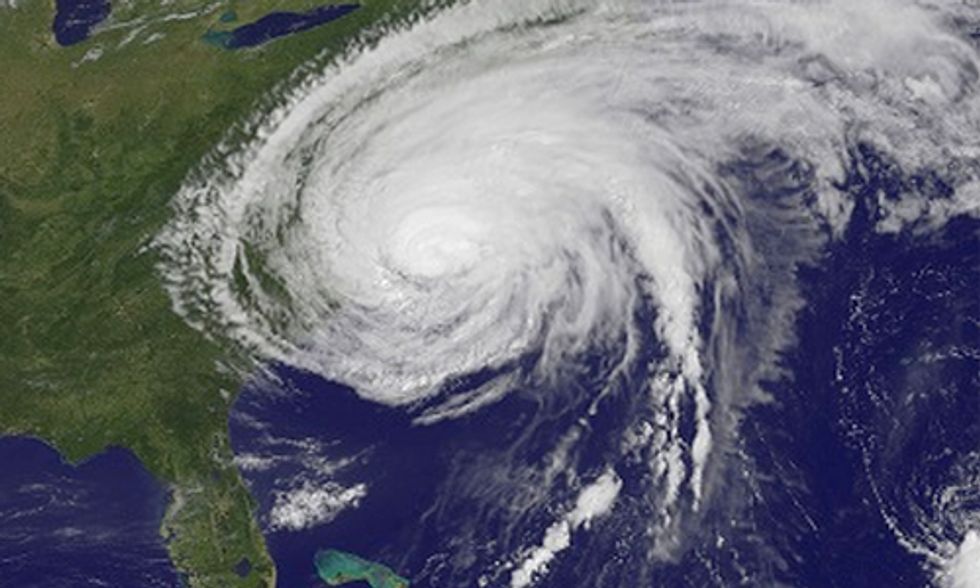 We're concerned about hurricanes becoming more frequent and intense, and about the worsening storm surge caused by a rise in sea levels. But flying under the radar is a fourth link between hurricanes and climate change: how climate change affects the location of hurricanes.
A new study led by researchers at the National Oceanic and Atmospheric Administration (NOAA), the Massachusetts Institute of Technology (MIT) and Princeton University found that hurricanes have been shifting pole-ward at a rate of 30 to 40 miles per decade over the last 30 years.
It means they are moving closer to major population centers such as Washington, New York and Boston.
The likely cause? Human-caused climate change.
The migration of hurricanes has "potentially profound consequences for life and property," the authors of the study warn in an article published recently in the journal Nature.
"Increasing hazard exposure and mortality risk from tropical cyclones may be compounded in coastal cities outside the tropics, while being offset at lower latitudes."  
Linking Climate Change to Hurricane Location
This finding is an important advancement in scientists' understanding of how climate change has already contributed to extreme weather events. Research shows that the rise in global temperatures already causes more warm days, heat waves and heavy rainfall.
Detecting trends in hurricane activity has been difficult, however, due to inconsistent and often unreliable historical data.
To get around this data challenge, the scientists at NOAA, MIT and Princeton developed a new technique that relies on a dependable subset of the data, and which teases out natural events such as El Niño to detect a distinct relationship between hurricane activity and climate change.
Their conclusion: hurricanes are drifting toward the poles most likely due to an expansion of the Hadley Cell, a permanent atmospheric circulation feature that carries heat from the tropics to the Earth's temperate zones.
Scientific understanding is that the Hadley Cell expansion is a result of the increase in heat-trapping gases in the atmosphere from human activities. So as we continue to drive cars, generate electricity at fossil-fueled power plants, cut down trees and farm—we are indirectly pushing hurricanes farther north and south.
The new study is groundbreaking not only because it uses a novel technique, but also because it links a hurricane trend to climate change.
What We Know So Far
So where are we today with hurricanes and climate change?
Scientists studying hurricanes:
Have found no observed trend in frequency
Have not been able to detect trends in intensity  and duration
Are confident that human-caused sea level rise is contributing to storm surge
Expect the frequency of intense storms to increase in the future
Have now detected a robust trend in location shifts that is likely due to human activity
This new research presented in Nature suggests that hurricanes are migrating toward the poles and may devastate densely populated coastal regions that had previously, for the most part, been spared such storms.
It's yet another reason why we must act now to curb carbon pollution and limit climate change.
--------
YOU MIGHT ALSO LIKE
Geographers Identify Huge Sources of CO2 Buried in Soil of the Great Plains
Cognitive Dissonance: Why Are We So Complacent in the Face of Climate Change?
Gov. Jerry Brown Discusses Role of Climate Change in California's 10 Wildfires in the Last Week
--------
EcoWatch Daily Newsletter
Pexels
Vitamin C is a very important nutrient that's abundant in many fruits and vegetables.
BLM drill seeders work to restore native grasses after wildfire on the Bowden Hills Wilderness Study Area in southeast Oregon, Dec. 14, 2018. Marcus Johnson / BLM / CC BY 2.0
By Tara Lohan
In 2017 the Thomas fire raged through 281,893 acres in Ventura and Santa Barbara counties, California, leaving in its wake a blackened expanse of land, burned vegetation, and more than 1,000 destroyed buildings.
Brogues Cozens-Mcneelance / EyeEm / Getty Images
Fruit juice is generally perceived as healthy and far superior to sugary soda.
Pexels
By Danielle Nierenberg and Katherine Walla
As the holiday season ramps up for many across the world, Food Tank is highlighting 15 children's books that will introduce young eaters, growers and innovators to the world of food and agriculture. Authors and organizations are working to show children the importance — and fun — of eating healthy, nutritious and delicious food, growing their own produce, and giving food to others in need.
Pixabay
Purple cabbage, also referred to as red cabbage, belongs to the Brassica genus of plants. This group includes nutrient-dense vegetables, such as broccoli, Brussels sprouts, and kale.