This website uses cookies to ensure you get the best experience while browsing it. By clicking 'Got It' you're accepting these terms.
World's First Plastic Fishing Company Wants to Rid the Oceans of Plastic Pollution
Apr. 01, 2016 11:21AM EST
Business
The premise behind the Amsterdam-based venture Plastic Whale is beautifully simple. First, the company fishes out plastic bottles and other debris from the city's numerous canals. Second, when enough bottles are collected, the plastic is transformed into material to make a boat. Third, the new boat is used to fish for more plastic bottles—to make more boats. Genius.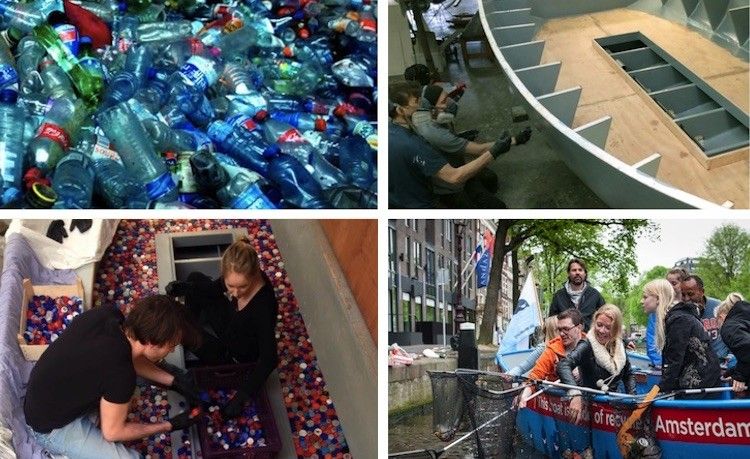 Plastic Whale captures debris and plastic waste from Amsterdam's many canals. Thousands of discarded plastic bottles are repurposed into building materials for the company's boats and even bottle caps are used to create a colorful mosaic for the boat's floor. The company then uses the boats to fish for more trash to make more boats. Photo credit: Facebook/courtesy photos
The goal of Plastic Whale—which describes itself as the world's first plastic fishing company—is to rid the world's waters of plastic pollution. With an estimated 8 million tons of plastic trash entering our waterways annually, Plastic Whale is going to need a lot of boats.
Founder and captain Marius Smit, however, is up for the ambitious task. He tells EcoWatch that he not only envisions a world of plastic-free waters but also a world where people understand that everyday trash, such as plastic bottles, can be transformed into "a valuable raw material."
Since its 2010 launch, the company has fished more than 50,000 plastic bottles and more than 10,000 kilos of various waste from the canals of Amsterdam, according to Smit.
Today, the company offers businesses and individuals plastic fishing tours on its total fleet of seven boats, all made from plastic bottles. One of its newest boats—created in partnership with Interface, the world's largest carpet tile manufacturer—is made from more than 7,000 plastic bottles. As it turns out, the light and buoyant plastic from PET bottles make great boat building blocks.
Smit took the time to answer a few of EcoWatch's questions via email:
EcoWatch: Besides boats, what else does your company do with the captured trash?
Smit: All our boats are made from recycled Amsterdam canal plastic (plastic we fished from our canals). We use the bottle caps to create beautiful mosaics on the floors of our boats. Also, we started a new company WasteBoards, which makes unique skateboards from bottle caps.
EcoWatch: What is the most important thing you tell your Plastic Whale boat riders?
Smit: Obviously we tell them about the problem of plastic soup. But another important issue we tell them is that plastic should not be regarded as valueless waste, but as valuable raw material. We do this by creating beautiful design boats and unique skateboards; products that amaze and appeal to people. The root of the problem, as we see it, is that people regard plastic as a disposable. We try to change people's perceptions.
EcoWatch: Have you seen a reduction in plastic waste or other debris in the waters?
Smit: It is quite hard to say, because the problem of plastic waste is quite enormous and we have more than 100 kilometers of canals in Amsterdam. Some people say that since we exist the problem has diminished, but I will not claim that. However, we can show the heaps of waste that we have fished from the canals. Without us, a large part would have ended up at sea.

EcoWatch: What inspired you to launch Plastic Whale?
Smit: Twelve years ago I was traveling the world for a year with my girlfriend. We visited beautiful and remote places. And everywhere we came, we saw plastic waste. One day we were staying on a pristine little beach on the North side of Borneo, near Kota Kinabalu. The weather was bad with a lot of on-land wind. When we arrived at the beach it was flooded with plastic debris. I was in shock, because North of Borneo there is nothing but sea for hundreds of miles. That's when I was first introduced to the plastic soup phenomenon. And I decided that I wanted to do something about it.
When I came home, however, I got frustrated because I did not know where and how to start, because I was a loner. After a few years social media came up. All of a sudden I could connect with people all over the planet with the same mission, ideas or frustration as mine. I was inspired by JFK's 1961 speech during which he portrayed a man on the moon, which had to be there before the end of the decade. At the time this challenge was impossible but relevant. And mostly, the clear vision of a man standing on the moon excited people. That combination of factors created cohesion and innovative spur. I came to the conclusion that today, because of social media, you don't have to be called JFK anymore to create a following, but you have to create your own "man on the moon."
So in 2011 I published my "man on the moon" via social media: "I want to build a boat made from plastic waste, yet I have never driven a boat let alone built one. So please help me!" It worked. Within weeks I was traveling through Holland to talk to people and organizations who wanted to help me.
Two years ago we presented our first boat (made from recycled Amsterdam Canal Plastic) and now we have a fleet of seven boats. We are a fast-growing company: the first professional plastic fishing company in the world.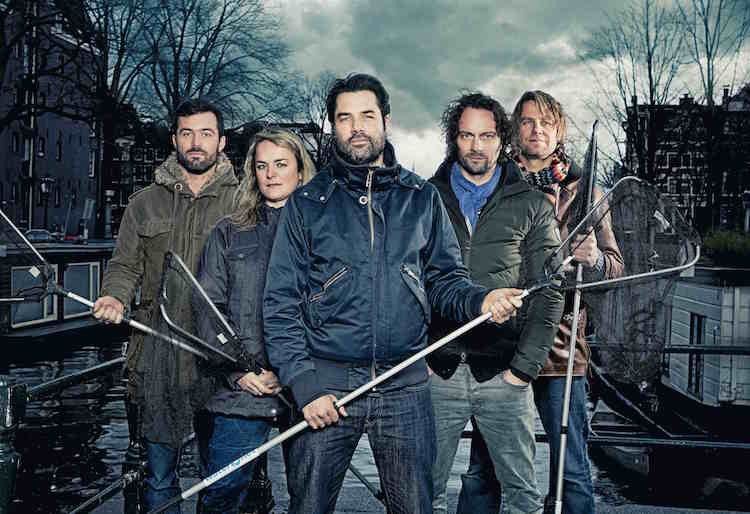 Captain Marius Smit (center) and his Plastic Whale team.
EcoWatch: Why is fighting plastic waste important to you? What is your ultimate goal with the company?
Smit: Our ultimate goal is to make the world's waters plastic-free. We won't claim that we will just achieve that by ourselves, because the problem is simply to huge and complex. But we do want to make a positive contribution towards the solution. Before I started Plastic Whale I had a marketing position, which meant, in my view, getting people to buy things they really didn't need. During my travels I decided that I wanted to get out of the office, to keep on traveling, leading an adventurous life and contributing something concrete and positive to the world. When I encountered the problem of plastic soup I realized that I had to do something about it. Now I have managed to create a company and a living for my colleagues and myself whilst we add something positive to the world.
Learn more about the company and how their boats are manufactured in the video below.
YOU MIGHT ALSO LIKE
Car Engine Cover, Fishing Net and Plastic Bucket Found in Stomachs of Dead Sperm Whales
Japan Kills 333 Minke Whales Including 200 Pregnant Females
Exclusive Interview: Pro Surfer Cyrus Sutton Develops Sunblock Safe for People and the Planet
Dramatic Images Show Worst Coral Bleaching Event to Ever Hit Most Pristine Part of Great Barrier Reef
EcoWatch Daily Newsletter
California Condor at soaring at the Grand Canyon. Pavliha / iStock / Getty Images
North America's largest bird passed an important milestone this spring when the 1,000th California condor chick hatched since recovery efforts began, NPR reported Sunday.
The Roloway monkey has been pushed closer to extinction. Sonja Wolters / WAPCA / IUCN
The statistics around threatened species are looking grim. A new report by the International Union for Conservation of Nature (IUCN) has added more than 9,000 new additions to its Red List of threatened species, pushing the total number of species on the list to more than 105,000 for the first time, according to the Guardian.
Golde Wallingford submitted this photo of "Pure Joy" to EcoWatch's first photo contest. Golde Wallingford
EcoWatch is pleased to announce our third photo contest!

BRENDAN SMIALOWSKI / AFP / Getty Images
The campaign to re-elect President Donald Trump has found a new way to troll liberals and sea turtles.
Night long exposure photograph of wildifires in Santa Clarita, California. FrozenShutter / E+ / Getty Images
By Kristy Dahl
Last week, UCS released Killer Heat, a report analyzing how the frequency of days with a dangerously hot heat index — the combination of temperature and humidity the National Weather Service calls the "feels like" temperature — will change in response to the global emissions choices we make in the coming decades.
Green is the new black at Zara.
The Spanish fast fashion behemoth has made a bold move to steer its industry to a more environmentally friendly future for textiles. Inditex, Zara's parent company, announced that all the polyester, cotton and linen it uses will be sustainably produced by 2025, as CNN reported.
Text from the plaque that will mark the site where Ok glacier once was. Rice University
By Andrea Germanos
A climate change victim in Iceland is set to be memorialized with a monument that underscores the urgent crisis.