World's First Plastic Fishing Company Wants to Rid the Oceans of Plastic Pollution
The premise behind the Amsterdam-based venture Plastic Whale is beautifully simple. First, the company fishes out plastic bottles and other debris from the city's numerous canals. Second, when enough bottles are collected, the plastic is transformed into material to make a boat. Third, the new boat is used to fish for more plastic bottles—to make more boats. Genius.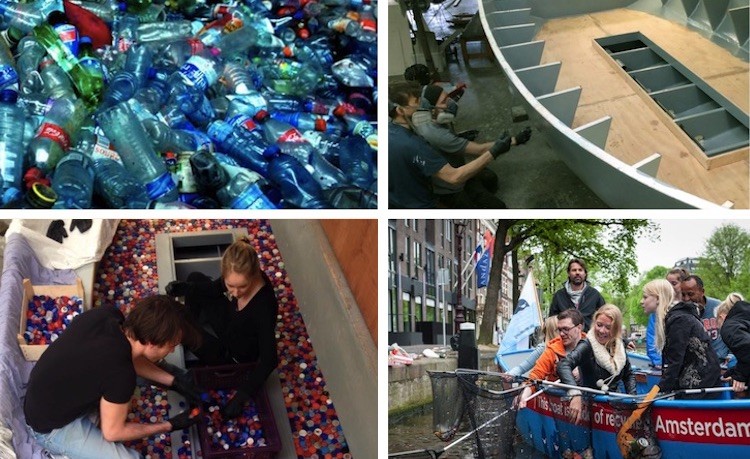 Plastic Whale captures debris and plastic waste from Amsterdam's many canals. Thousands of discarded plastic bottles are repurposed into building materials for the company's boats and even bottle caps are used to create a colorful mosaic for the boat's floor. The company then uses the boats to fish for more trash to make more boats. Photo credit: Facebook/courtesy photos
The goal of Plastic Whale—which describes itself as the world's first plastic fishing company—is to rid the world's waters of plastic pollution. With an estimated 8 million tons of plastic trash entering our waterways annually, Plastic Whale is going to need a lot of boats.
Founder and captain Marius Smit, however, is up for the ambitious task. He tells EcoWatch that he not only envisions a world of plastic-free waters but also a world where people understand that everyday trash, such as plastic bottles, can be transformed into "a valuable raw material."
Since its 2010 launch, the company has fished more than 50,000 plastic bottles and more than 10,000 kilos of various waste from the canals of Amsterdam, according to Smit.
Today, the company offers businesses and individuals plastic fishing tours on its total fleet of seven boats, all made from plastic bottles. One of its newest boats—created in partnership with Interface, the world's largest carpet tile manufacturer—is made from more than 7,000 plastic bottles. As it turns out, the light and buoyant plastic from PET bottles make great boat building blocks.
Smit took the time to answer a few of EcoWatch's questions via email:
EcoWatch: Besides boats, what else does your company do with the captured trash?
Smit: All our boats are made from recycled Amsterdam canal plastic (plastic we fished from our canals). We use the bottle caps to create beautiful mosaics on the floors of our boats. Also, we started a new company WasteBoards, which makes unique skateboards from bottle caps.
EcoWatch: What is the most important thing you tell your Plastic Whale boat riders?
Smit: Obviously we tell them about the problem of plastic soup. But another important issue we tell them is that plastic should not be regarded as valueless waste, but as valuable raw material. We do this by creating beautiful design boats and unique skateboards; products that amaze and appeal to people. The root of the problem, as we see it, is that people regard plastic as a disposable. We try to change people's perceptions.
EcoWatch: Have you seen a reduction in plastic waste or other debris in the waters?
Smit: It is quite hard to say, because the problem of plastic waste is quite enormous and we have more than 100 kilometers of canals in Amsterdam. Some people say that since we exist the problem has diminished, but I will not claim that. However, we can show the heaps of waste that we have fished from the canals. Without us, a large part would have ended up at sea.

EcoWatch: What inspired you to launch Plastic Whale?
Smit: Twelve years ago I was traveling the world for a year with my girlfriend. We visited beautiful and remote places. And everywhere we came, we saw plastic waste. One day we were staying on a pristine little beach on the North side of Borneo, near Kota Kinabalu. The weather was bad with a lot of on-land wind. When we arrived at the beach it was flooded with plastic debris. I was in shock, because North of Borneo there is nothing but sea for hundreds of miles. That's when I was first introduced to the plastic soup phenomenon. And I decided that I wanted to do something about it.
When I came home, however, I got frustrated because I did not know where and how to start, because I was a loner. After a few years social media came up. All of a sudden I could connect with people all over the planet with the same mission, ideas or frustration as mine. I was inspired by JFK's 1961 speech during which he portrayed a man on the moon, which had to be there before the end of the decade. At the time this challenge was impossible but relevant. And mostly, the clear vision of a man standing on the moon excited people. That combination of factors created cohesion and innovative spur. I came to the conclusion that today, because of social media, you don't have to be called JFK anymore to create a following, but you have to create your own "man on the moon."
So in 2011 I published my "man on the moon" via social media: "I want to build a boat made from plastic waste, yet I have never driven a boat let alone built one. So please help me!" It worked. Within weeks I was traveling through Holland to talk to people and organizations who wanted to help me.
Two years ago we presented our first boat (made from recycled Amsterdam Canal Plastic) and now we have a fleet of seven boats. We are a fast-growing company: the first professional plastic fishing company in the world.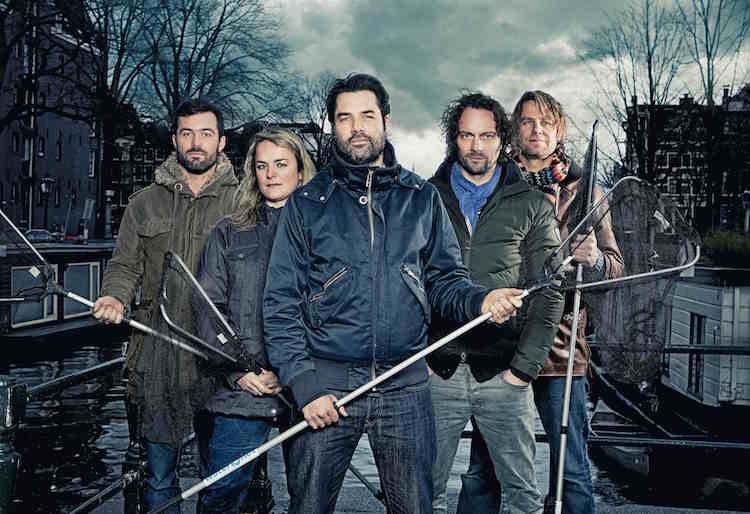 Captain Marius Smit (center) and his Plastic Whale team.
EcoWatch: Why is fighting plastic waste important to you? What is your ultimate goal with the company?
Smit: Our ultimate goal is to make the world's waters plastic-free. We won't claim that we will just achieve that by ourselves, because the problem is simply to huge and complex. But we do want to make a positive contribution towards the solution. Before I started Plastic Whale I had a marketing position, which meant, in my view, getting people to buy things they really didn't need. During my travels I decided that I wanted to get out of the office, to keep on traveling, leading an adventurous life and contributing something concrete and positive to the world. When I encountered the problem of plastic soup I realized that I had to do something about it. Now I have managed to create a company and a living for my colleagues and myself whilst we add something positive to the world.
Learn more about the company and how their boats are manufactured in the video below.
YOU MIGHT ALSO LIKE
Car Engine Cover, Fishing Net and Plastic Bucket Found in Stomachs of Dead Sperm Whales
Japan Kills 333 Minke Whales Including 200 Pregnant Females
Exclusive Interview: Pro Surfer Cyrus Sutton Develops Sunblock Safe for People and the Planet
Dramatic Images Show Worst Coral Bleaching Event to Ever Hit Most Pristine Part of Great Barrier Reef
Glyphosate, the main ingredient in Monsanto's widely used herbicide Roundup, will be added July 7 to California's list of chemicals known to the state to cause cancer, according to a Reuters report Tuesday. This news comes after the company's unsuccessful attempt to block the listing in trial court and requests for stay were denied by a state appellate court and California's Supreme Court.
California's Office of Environmental Health Hazard Assessment (OEHHA) announced the designation on Monday under the Safe Drinking Water and Toxic Enforcement Act of 1986, or Proposition 65.
Keep reading...
Show less
www.facebook.com
Keep reading...
Show less
Researchers from the Marine Animal Response Society examine one of the dead right whales. Marine Animal Response Society
Canadian government officials and marine biologists are investigating the mysterious deaths of six North American right whales. The endangered animals all turned up dead between June 6 and June 23 in the Gulf of St. Lawrence, off Canada's southeastern coast.
North Atlantic right whales are the rarest of all large whale species and among the rarest of all marine mammal species, with only about 450 right whales in the North Atlantic.
Keep reading...
Show less
Scott Pruitt testifies during his Senate confirmation hearing for EPA administrator, January 2017.
The U.S. Environmental Protection Agency's (EPA) chief of staff pressured the leader of its Board of Scientific Counselors to change her congressional testimony to downplay the impact of the agency's mass dismissal of scientists from the board, the New York Times reports.
Keep reading...
Show less
By Jason Mark
Sequoiadendron giganteum. That's the scientific name for the giant sequoia: the mammoth trees found in California's Sierra Nevada that are the largest organisms on Earth, and among the longest-lived. Biologists estimate that about half of all sequoias live in Giant Sequoia National Monument, a 328,000-acre preserve in the Southern Sierra Nevada established by President Clinton in 2000.
Now that national monument is in jeopardy.
Keep reading...
Show less
By Andy Rowell
Donald Trump this week is launching an "energy week," pushing the argument that the U.S. will become a net exporter of oil and gas.
The president and his cronies are talking about a new era of "U.S. energy dominance," which could stretch for decades to come. However, no one believes the president anymore.
Keep reading...
Show less
UN
By Colleen Curry
The United Nations has designated 23 new sites around the world to its World Network of Biosphere reserves—stunning natural landscapes that balance environmental and human concerns and strive for sustainability.
The forests, beaches and waterways were added to the list this year at the International Coordinating Council of the Man and the Biosphere Programme meeting in Paris earlier this month.
Keep reading...
Show less
Jun. 26, 2017 01:48PM EST
www.elysee.fr
By Andy Rowell
There is a growing feeling within European capitals that a quiet, but deeply positive, revolution is happening under Emmanuel Macron in France.
Macron's opinion poll rating is high, especially boosted in how the young French president has reacted to Donald Trump on the international stage.
Keep reading...
Show less
Jun. 26, 2017 12:32PM EST
www.facebook.com
Keep reading...
Show less