World's First Off-Grid ReGen Village Will Be Completely Self-Sufficient Producing Its Own Power and Food
ReGen Villages, a completely self-sufficient village that can power and feed itself, is rising across Europe—and hopefully, one day, around the world.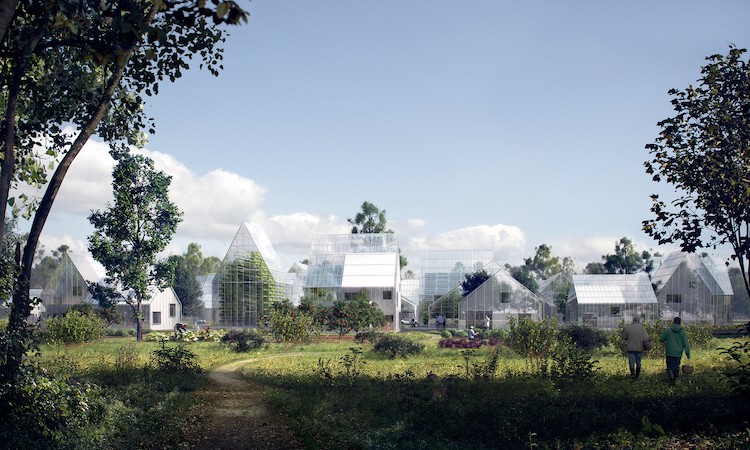 A sustainable development in The Netherlands generates its own energy and food. Photo credit: EFFEKT
ReGen Villages Holding, B.V., a visionary real estate development company founded by entrepreneur and developer James Ehrlich, is piloting its first 100 homes across 15,500-square-meters in the planned city of Almere in The Netherlands with construction set for this summer. The company is also developing four other eco-villages in Sweden, Norway, Denmark and Germany and has partnered with Copenhagen-based architectural firm EFFEKT as the global architectural framework company.
The village features a slew of already-existing green technologies such as energy-positive homes, mixed renewable energy sources, energy storage, organic food production, vertical farming, and aquaponics, water management and waste-to-resource systems. ReGen itself stands for "regenerative," an apt name for a village that aims to have its input and output entirely full circle.
"Today we spend 40 percent of the surface of our continents producing food," EFFEKT co-founder Sinus Lynge explained to DW. "Food production is the single largest emitter of greenhouse gasses, the biggest driver of deforestation and responsible for 70 percent of our global freshwater consumption. We ship our food from one end of the world to another just to waste 30 percent of the total production before consumption."
The village's pre-fabricated homes are enveloped in a glass shell to protect the building from area's cold and wet climate. The units also include passive heating and cooling systems, built-in solar panels, a garden and water collection. Household waste can be composted or converted into biogas.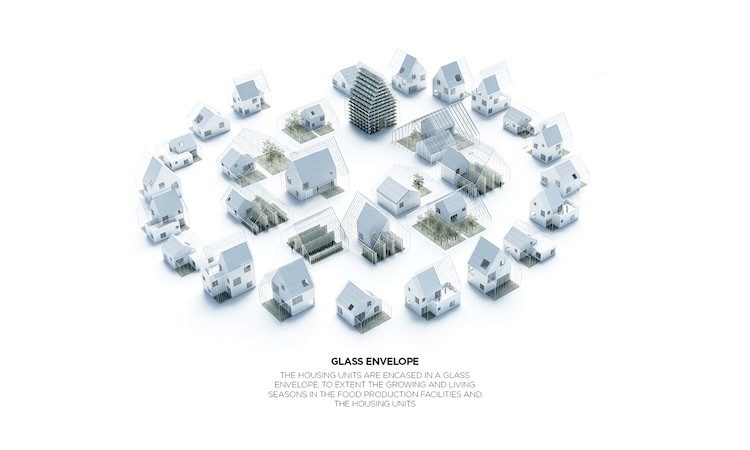 ReGen homes are encased in glass to protect itself from the elements. Now thats truly a greenhouse. Photo credit: EFFEKT
As for food production, the village will host aquaponic and vertical farms. Both urban farming methods require much less space compared to traditional farming methods, meaning they have minimal impact on the surrounding area's forests and fields and will help preserve its natural beauty.
Public areas in the village also include electric car stations, space for livestock, communal dining and community centers.
"ReGen Villages is all about applied technology," the company points out on its website. "Already existing technologies are simply being applied into an integrated community design, providing clean energy, water and food right off the doorstep. ReGen Villages adds not only environmental and financial value, but also social value, by creating a framework for empowering families and developing a sense of community, where people become part of a shared local eco-system: reconnecting people with nature and consumption with production."
According to Gizmag, funding for villages has come from investors who have been looking to divest from fossil fuels "into impact and knowledge-based investments." The company is also working with national and local municipalities that support the project.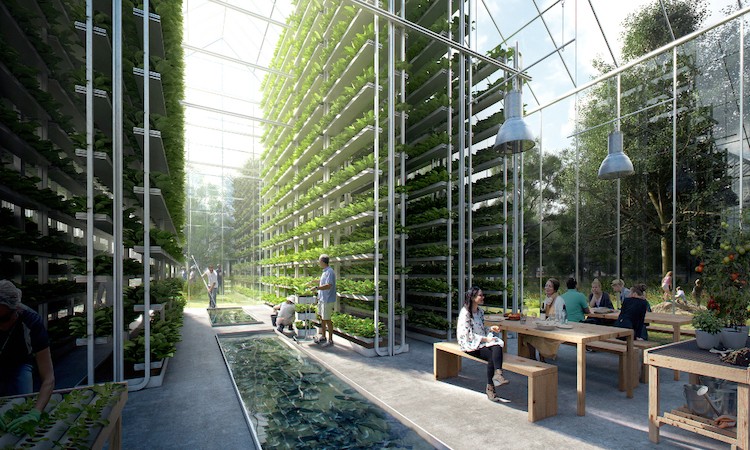 On-site vertical farms produce hyperlocal organic food. Photo credit: EFFEKT
Lynge told DW that if all goes to plan, the first ReGen Village is just the beginning. "We are launching our prototype in Almere, Holland, but the big potential for ReGen lies in developing countries, where billions are moving away from rural communities in search of better living conditions," he said.
Ehrlich explained, "We tackle the first two hardest climate areas [wet and cold]. Then from there we have global scale—rural India, sub-Saharan Africa, where we know that the population is going to increase and also be moving to the middle class. If everybody in India and Africa wants the same kind of suburbs that we've been building so far, the planet's not going to make it."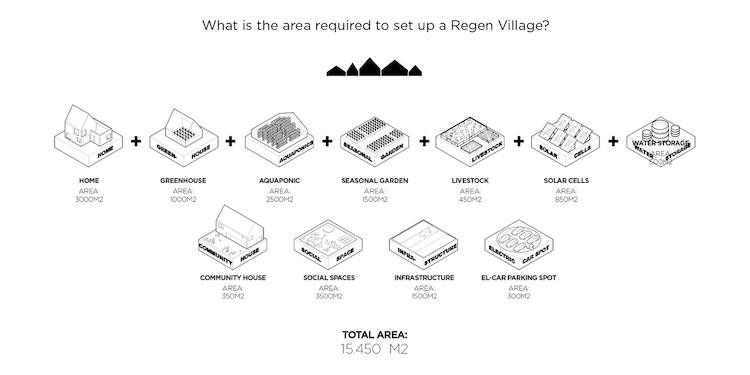 The off-grid neighborhood is comprised of power positive homes, food production units, renewable energy facilities, water management and waste-to-resource systems, and community areas. Photo credit: EFFEKT
YOU MIGHT ALSO LIKE
Nation's First Urban Farming School Teaches Kids to Grow and Cook Their Own Food
This Green-Roofed Hobbit Home Can Be Built in Just 3 Days
This Super Sustainable House Can Be Built in One Day
Remarkable Forest Hotel Takes Green Architecture to a Whole New Level
www.youtube.com
Volkswagen is bringing back its hippie-approved minivan but with a 21st century upgrade—the new I.D. Buzz is all-electric.
The concept car was first revealed at the Detroit Auto Show in January and now the German automaker is officially putting its reinvigorated Microbus into production.
Keep reading...
Show less
I have asked repeatedly to have my short interview clip removed from this film. The director refuses. He believes his film is fair and balanced. I do not.

I am often interviewed (see media) and hardly ever quoted incorrectly or out of context. This film is one of those rare exceptions.
Keep reading...
Show less
Top of JPMorgan Chase Tower, Dallas, Texas. Joe Mabel / Wikimedia
Keep reading...
Show less
Cupping symptoms associated with dicamba damage on a cucumber plant. University of Arkansas.
Arkansas farmers filed a class-action lawsuit last week against Monsanto and German chemical company BASF, alleging that the companies' dicamba-based herbicides caused damage to their properties.
The plaintiffs claim that Monsanto and BASF implemented and controlled the dicamba crop system, releasing seed technology without a corresponding, safe and approved herbicide.
Keep reading...
Show less
Cup and bubblegum corals found in Northeast U.S. Canyons, the Atlantic's first marine monument. NOAA
Interior Sec. Ryan Zinke, who recently recommended a reduction in the size of the 1.35 million acre Bears Ears National Monument to President Trump, is advocating for more drilling and mining on public lands and waters.
The former Montana Rep. told Reuters that the development of America's protected federal lands could help the country become a "dominant" global energy force.
Keep reading...
Show less
Gage Skidmore / Flickr (CC BY-SA 2.0)
Dozens of scientists on the U.S. Environmental Protection Agency's (EPA) Board of Scientific Counselors and board subcommittees have been informed that they will not be renewed for their roles advising the agency, the Washington Post reported.
Keep reading...
Show less
www.youtube.com
Worried about the future of the Great Barrier Reef? If so, you're not alone.
Many publications have already written obituaries for the reef, despite the fact that it is not completely dead. Thanks to this video via Vox for sounding the alarm on this critical issue, before it's too late.
Keep reading...
Show less
Mike Mozart
By Olga V. Naidenko, Ph.D.
In a landmark rule with global repercussions, California state scientists are preparing to issue the world's first health guideline for Monsanto's glyphosate herbicide based on its cancer risk. The state's proposed safe level is more than 100 times lower than the U.S. Environmental Protection Agency's (EPA) legal allowance for the average-sized American.
Keep reading...
Show less
www.youtube.com
By Bob Henson
A high risk of life-threatening flooding continues on Wednesday over parts of the central Gulf Coast as Tropical Storm Cindy lumbers toward shore. The greatest flood threat will be across low-lying areas of far southern Mississippi and Alabama, according to the NWS/NOAA Weather Prediction Center. A second area with a moderate flood risk lies across far southeast Texas and southwest Louisiana.
Keep reading...
Show less