World's First Off-Grid ReGen Village Will Be Completely Self-Sufficient Producing Its Own Power and Food
ReGen Villages, a completely self-sufficient village that can power and feed itself, is rising across Europe—and hopefully, one day, around the world.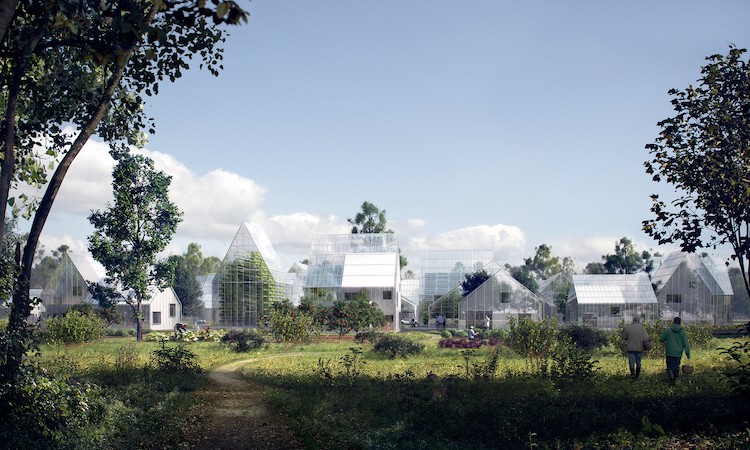 A sustainable development in The Netherlands generates its own energy and food. Photo credit: EFFEKT
ReGen Villages Holding, B.V., a visionary real estate development company founded by entrepreneur and developer James Ehrlich, is piloting its first 100 homes across 15,500-square-meters in the planned city of Almere in The Netherlands with construction set for this summer. The company is also developing four other eco-villages in Sweden, Norway, Denmark and Germany and has partnered with Copenhagen-based architectural firm EFFEKT as the global architectural framework company.
The village features a slew of already-existing green technologies such as energy-positive homes, mixed renewable energy sources, energy storage, organic food production, vertical farming, and aquaponics, water management and waste-to-resource systems. ReGen itself stands for "regenerative," an apt name for a village that aims to have its input and output entirely full circle.
"Today we spend 40 percent of the surface of our continents producing food," EFFEKT co-founder Sinus Lynge explained to DW. "Food production is the single largest emitter of greenhouse gasses, the biggest driver of deforestation and responsible for 70 percent of our global freshwater consumption. We ship our food from one end of the world to another just to waste 30 percent of the total production before consumption."
The village's pre-fabricated homes are enveloped in a glass shell to protect the building from area's cold and wet climate. The units also include passive heating and cooling systems, built-in solar panels, a garden and water collection. Household waste can be composted or converted into biogas.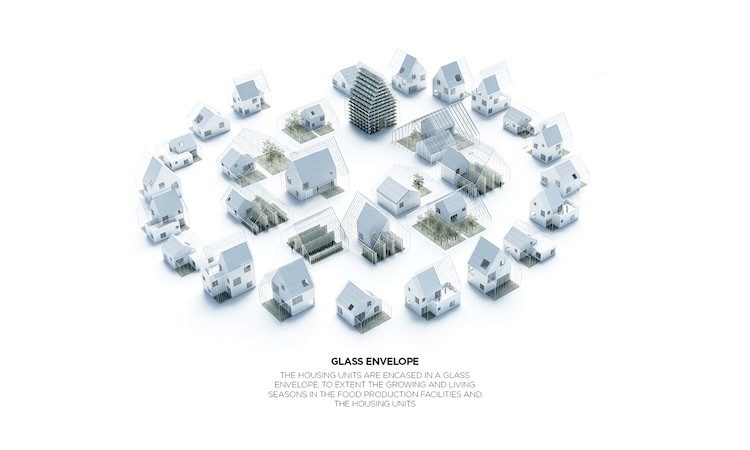 ReGen homes are encased in glass to protect itself from the elements. Now thats truly a greenhouse. Photo credit: EFFEKT
As for food production, the village will host aquaponic and vertical farms. Both urban farming methods require much less space compared to traditional farming methods, meaning they have minimal impact on the surrounding area's forests and fields and will help preserve its natural beauty.
Public areas in the village also include electric car stations, space for livestock, communal dining and community centers.
"ReGen Villages is all about applied technology," the company points out on its website. "Already existing technologies are simply being applied into an integrated community design, providing clean energy, water and food right off the doorstep. ReGen Villages adds not only environmental and financial value, but also social value, by creating a framework for empowering families and developing a sense of community, where people become part of a shared local eco-system: reconnecting people with nature and consumption with production."
According to Gizmag, funding for villages has come from investors who have been looking to divest from fossil fuels "into impact and knowledge-based investments." The company is also working with national and local municipalities that support the project.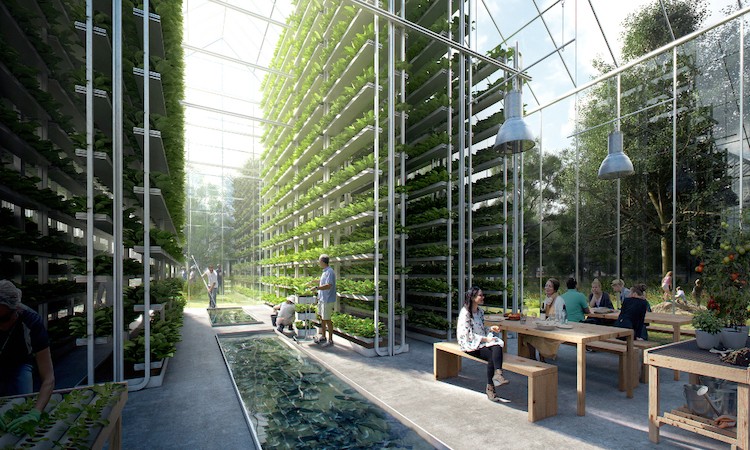 On-site vertical farms produce hyperlocal organic food. Photo credit: EFFEKT
Lynge told DW that if all goes to plan, the first ReGen Village is just the beginning. "We are launching our prototype in Almere, Holland, but the big potential for ReGen lies in developing countries, where billions are moving away from rural communities in search of better living conditions," he said.
Ehrlich explained, "We tackle the first two hardest climate areas [wet and cold]. Then from there we have global scale—rural India, sub-Saharan Africa, where we know that the population is going to increase and also be moving to the middle class. If everybody in India and Africa wants the same kind of suburbs that we've been building so far, the planet's not going to make it."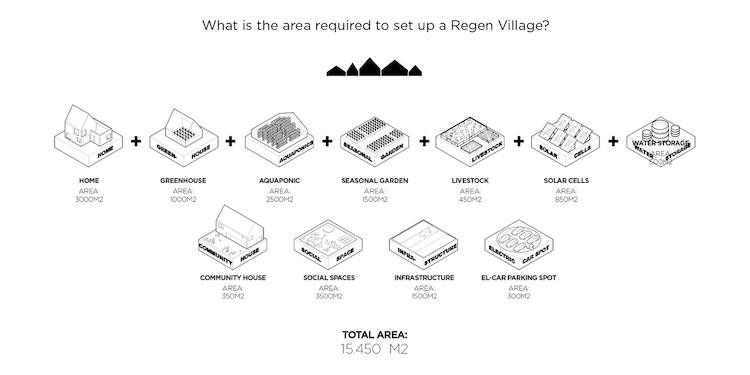 The off-grid neighborhood is comprised of power positive homes, food production units, renewable energy facilities, water management and waste-to-resource systems, and community areas. Photo credit: EFFEKT
YOU MIGHT ALSO LIKE
Nation's First Urban Farming School Teaches Kids to Grow and Cook Their Own Food
This Green-Roofed Hobbit Home Can Be Built in Just 3 Days
This Super Sustainable House Can Be Built in One Day
Remarkable Forest Hotel Takes Green Architecture to a Whole New Level
Monsanto, the maker of the glyphosate-based herbicide Roundup, filed a motion June 16 in U.S. District Court, Northern District of California to reconsider the chemical's addition to California's Proposition 65 list of agents known to cause cancer.
The agrochemical giant made this move based on a June 14 Reuters investigation of Dr. Aaron Blair, a lead researcher on the World Health Organization's International Agency for Research on Cancer (IARC) committee, that classified glyphosate as a "2A probable human carcinogen" in March 2015.
Keep reading...
Show less
By Avery Friedman
Algae is often considered a nuisance, but for Sweden, the rapidly growing sea plant is now an asset.
As the Scandinavian country works to cut all of its greenhouse gas emissions by 2045, it's using algae to sop up the carbon emissions from cement.
Keep reading...
Show less
Jun. 24, 2017 01:35PM EST
By Itai Vardi
A recent intensification in protests against Williams Partners' planned Atlantic Sunrise pipeline in Pennsylvania prompted a state senator to propose legislation aimed at limiting demonstrations.
Last month, Pennsylvania Sen. Scott Martin (R-Norman) announced his intention to introduce legislation that would pass the costs of law enforcement responding to protests onto the demonstrators. Martin also helped introduce a different bill that would criminalize protests at natural gas facilities.
Keep reading...
Show less
Jun. 24, 2017 01:29PM EST
Black Shogun / iStock
The Federal Energy Regulatory Commission (FERC) released its Final Environmental Impact Statement Friday for the Mountain Valley Pipeline, a controversial 303-mile pipeline that would carry two billion cubic feet of fracked gas per day from West Virginia through Virginia.
Keep reading...
Show less
Jun. 24, 2017 01:46PM EST
Falcon PEV
The so-called "first and last mile" problem is one of the biggest hurdles with public transportation. How do you encourage more people to take Earth-friendlier commutes when their homes are miles away from the train or bus station?
One solution, as this Estonian electric scooter company proposes, is to simply take your commute with you—literally. Tallinn-based Stigo has developed a compact e-scooter that folds to the size of a rolling suitcase in about two seconds.
Keep reading...
Show less
Jun. 24, 2017 05:12PM EST
Connect4Climate
[Editor's note: I'm still in shock after hearing the news that Lucia Grenna passed away in her sleep last week. When we first met in April of 2014 at a Copenhagen hotel, I was immediately taken by here powerful presence. We spent the next couple days participating in a Sustainia climate change event where Lucia presented her audacious plans to connect people to the climate issue. I had the chance to partner with Lucia on several other projects throughout the years and work with her incredible Connect4Climate team. I was always in awe of her ability to "make the impossible possible." Her spirit will live on forever. — Stefanie Spear]
It is with a heavy heart that Connect4Climate announces the passing of its founder and leading light, Lucia Grenna. Lucia passed peacefully in her sleep on June 15, well before her time. We remember her for her leadership and extraordinary ability to motivate people to take on some of the greatest challenges of our time, not least climate change.
Keep reading...
Show less
Jun. 23, 2017 07:29PM EST
Wikimedia Commons
By Stacy Malkan
Neil deGrasse Tyson has inspired millions of people to care about science and imagine themselves as participants in the scientific process. What a hopeful sign it is to see young girls wearing t-shirts emblazoned with the words, "Forget princess, I want to be an astrophysicist."
Keep reading...
Show less
Jun. 23, 2017 01:57PM EST
www.youtube.com
By Andy Rowell
Any day now we will truly witness climate change in action. Within days at worst, maybe weeks at best, scientists predict that a huge section of the Larsen C ice shelf in Antarctica will break off into the ocean, in what is called a major "carving" event.
Keep reading...
Show less
Jun. 23, 2017 02:27PM EST
www.youtube.com
President Trump visited Cedar Rapids, Iowa on June 21 to speak to a large crowd in the U.S. Cellular Center at a political rally organized by his campaign.
As Trevor Noah noted during The Daily Show episode last night (starts at 2:25), the real reason Trump has these rallies is to "get back in front of his loyal crowds and feed of their energy." Noah believes that "Trump supporters are so on board with their dude he can say anything and they'll come along for the ride."
Keep reading...
Show less