This website uses cookies to ensure you get the best experience while browsing it. By clicking 'Got It' you're accepting these terms.
World's First 24/7 Solar Power Plant Powers 75,000 Homes
Jun. 20, 2016 12:12PM EST
Energy
SolarReserve's Crescent Dunes Project in Tonopah, Nevada is quietly providing clean, green solar energy to 75,000 homes in the Silver State even when the sun isn't shining.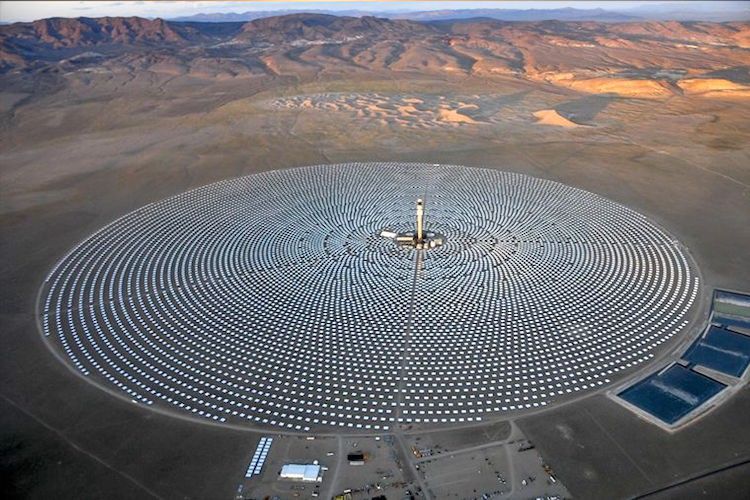 The 110-megawatt Crescent Dunes Solar Energy Plant in Nevada is the first utility-scale concentrated solar plant in the world. Photo credit: SolarReserve
Crescent Dunes is the first utility-scale facility in the world to use molten salt for power energy storage capabilities, a technology also known as concentrated solar.
With a concentrated solar plant such as Crescent Dunes—including other plants like it around the world—more than 10,000 movable mirrors, or heliostats, reflect solar energy to a central, 640-foot tower that heats up salt to 1,050 degrees Fahrenheit.
This salt is used for two purposes, as SolarReserve points out on its website. First, it retains very high levels of heat, making it like a thermal battery that can be used night and day, whether or not the sun is out. Second, when electricity is needed on the grid, the molten salt gets dispatched through a heat exchanger to create super-heated steam to power a traditional steam turbine.
This process is similar to a conventional fossil fuel or nuclear power plant except with zero carbon emissions or hazardous waste and without any fuel costs, the California-based solar company says.
"The whole project cost slightly under $1 billion and SolarReserve holds a 25-year contract to supply power to NV Energy for $135 per megawatt hour," OilPrice.com observed. "The tower produces 110 megawatts of energy for 12 hours a day according to the company, which works out to roughly 1 million megawatts per year. This in turn implies a gross [return on assets] of ~13.5 percent—not bad as investments go."
The method is different compared to photovoltaic technology, which harnesses the sun's rays on panels that convert sunlight into electricity. While photovoltaic arrays have many benefits and the technology has been well-tested and proven, its biggest problem is when the sun is not out.
As EcoWatch mentioned previously, a solar system's peak generation hours do not coincide with the utility's peak load hours after 5 p.m., meaning power companies turn to high-carbon peaking turbines in the evenings, thus decreasing the environmental benefits of solar panels.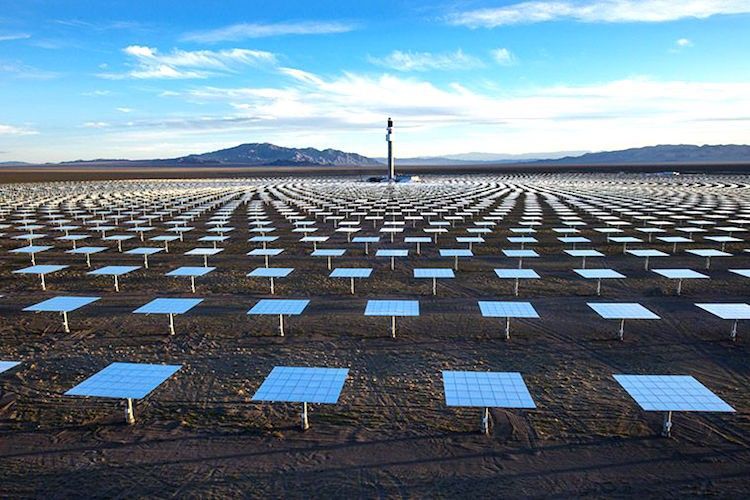 The facility will generate solar power for 75,000 homes in Nevada during peak demand periods, day and night. Photo credit: SolarReserve
"The plant is noteworthy for what it accomplishes—it is the first truly 24-7 solar plant in the world. For many applications that is a very big deal," OilPrice.com adds about the Crescent Dunes project. "Having to build a second power plant to back up a solar array is not an ideal solution to say the least. Thermal solar resolves that issue all while letting facilities like SolarReserve's store 1,100 megawatt-hours of energy."
Residential or grid-scale battery systems, such as the ones manufactured by Tesla, are an another emerging solution to solar storage issues but the technology is relatively new.
Solar thermal plants are setting up in sun-spoiled deserts around the world. The Ivanpah Solar Electric Generating System in the California Mojave Desert is the largest concentrated solar plant in the U.S., spanning 3,500 acres and has 377 megawatts of net generating capacity. The facility, however, is experiencing widely reported "engineering hiccups," including a fire that broke out in May.
Dubai's massive Mohammed bin Rashid Al Maktoum Solar Park is another notable concentrated solar plant that will hold the distinction of being the world's largest once it's operational in April 2017. The facility aims to produce 1,000 megawatts by 2020 and 5,000 megawatts by 2030. The solar park also broke the record of having the world's cheapest solar on May 1 when five international companies bid as little as 2.99 cents per kilowatt-hour to develop the plant's latest phase of work.
Besides Crescent Dunes, SolarReserve is developing two other concentrated solar plants. The venture is building the Redstone Solar Thermal Power Project in the town of Postmasburg in South Africa, which will be the first concentrated solar plant in Africa. The other is the Copiapó Solar Energy Project in Chile which will combine both concentrated solar and photovoltaics, making it the first facility of its kind in the South American country.
YOU MIGHT ALSO LIKE
Nation's Largest Residential Solar Storage Project to Launch This Summer
Here's How We Get to 100% Renewable Energy
David Suzuki: Feed-In Tariffs Accelerate the Renewable Energy Revolution
Apple Is Generating So Much Renewable Energy It Plans to Start Selling It
EcoWatch Daily Newsletter
By Adam Vaughan
Two-thirds of people in the UK think the amount people fly should be reined in to tackle climate change, polling has found.
Climate Week NYC
On Monday, Sept. 23, the Climate Group will kick off its 11th annual Climate Week NYC, a chance for governments, non-profits, businesses, communities and individuals to share possible solutions to the climate crisis while world leaders gather in the city for the UN Climate Action Summit.
By Pam Radtke Russell in New Orleans
Local TV weather forecasters have become foot soldiers in the war against climate misinformation. Over the past decade, a growing number of meteorologists and weathercasters have begun addressing the climate crisis either as part of their weather forecasts, or in separate, independent news reports to help their viewers understand what is happening and why it is important.

While airlines only serve bottled drinking water directly to customers, they use the plane's water for coffee and tea, and passengers can drink the tap water. Aitor Diago / Getty Images
You might want to think twice before washing your hands in an airplane bathroom.
By Allegra Kirkland, Jeremy Deaton, Molly Taft, Mina Lee and Josh Landis
Climate change is already here. It's not something that can simply be ignored by cable news or dismissed by sitting U.S. senators in a Twitter joke. Nor is it a fantastical scenario like The Day After Tomorrow or 2012 that starts with a single crack in the Arctic ice shelf or earthquake tearing through Los Angeles, and results, a few weeks or years later, in the end of life on Earth as we know it.
A pregnant woman works out in front of the skyline of London. SHansche / iStock / Getty Images Plus
Air pollution particles that a pregnant woman inhales have the potential to travel through the lungs and breach the fetal side of the placenta, indicating that unborn babies are exposed to black carbon from motor vehicles and fuel burning, according to a study published in the journal Nature Communications.
Teen activist Greta Thunberg delivered a talking-to to members of Congress Tuesday during a meeting of the Senate Climate Change Task Force after politicians praised her and other youth activists for their efforts and asked their advice on how to fight climate change.
Ten feet of water flooded 20 percent of this Minot, North Dakota neighborhood in June 2011.
DVIDSHUB
/
CC BY 2.0