This website uses cookies to ensure you get the best experience while browsing it. By clicking 'Got It' you're accepting these terms.
World's Carbon Budget Is Only Half as Big as Thought
Feb. 26, 2016 09:42AM EST
Climate
Climate scientists have bad news for governments, energy companies, motorists, passengers and citizens everywhere in the world: to contain global warming to the limits agreed by 195 nations in Paris last December, they will have to cut fossil fuel combustion at an even faster rate than anybody had predicted.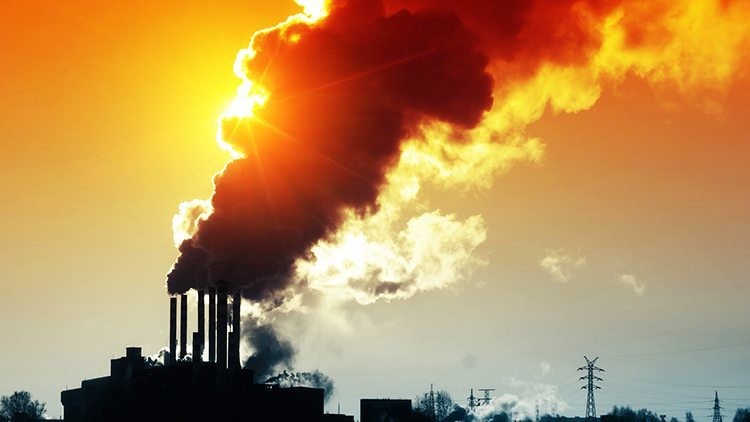 Joeri Rogelj, research scholar at the International Institute for Applied Systems Analysis in Austria and European and Canadian colleagues propose in Nature Climate Change that all previous estimates of the quantities of carbon dioxide that can be released into the atmosphere before the thermometer rises to potentially catastrophic levels are too generous.
Instead of a range of permissible emissions estimates that ranged up to 2,390 billion tons from 2015 onwards, the very most humans could release would be 1,240 billion tons.
Available Levels
In effect, that halves the levels of diesel and petrol available for petrol tanks, coal for power stations and natural gas for central heating and cooking available to humankind before the global average temperature—already 1 C higher than it was at the start of the Industrial Revolution—reaches the notional 2 C mark long agreed internationally as being the point of no return for the planet.
In fact, the UN Framework Convention on Climate Change summit in Paris agreed a target "well below" 2 C, in recognition of ominous projections—one of which was that, at such planetary temperatures, sea levels would rise high enough to submerge several small island states.
The Nature Climate Change paper is a restatement of a problem that has been clear for decades. Carbon dioxide proportions in the atmosphere are linked to planetary surface temperatures and, as they rise, so does average temperature. For most of human history, these proportions oscillated around 280 parts per million.
The global exploitation, on a massive scale, of fossil fuels drove the expansion of agriculture, the growth of economies, a sevenfold growth in human population, a sea level rise of 14 cms and a temperature rise of, so far, 1 C.
To stop temperatures increasing another 3 C or more and sea levels rising by more than a meter, humans have to reduce fossil fuel emissions. By how much these must be reduced is difficult to calculate.
The global carbon budget is really the balance between what animals emit—in this context, the word animals includes humans with cars and aeroplanes and factories—and what plants and algae can absorb. So the calculations are bedevilled by uncertainties about forests, grasslands and oceans.
To make things simpler, climate scientists translate the target into the billions of tons of carbon dioxide that, ideally, may be released into the atmosphere from 2015 onwards. Even these, however, are estimates.
There is general agreement that a limit of 590 billion tons would safely keep the world from overheating in ways that would impose ever greater strains on human society. The argument is about the upper limit of such estimates.
Dr. Rogelj said:
"In order to have a reasonable chance of keeping global warming below 2 C, we can only emit a certain amount of carbon dioxide, ever. That's our carbon budget.
"This has been understood for about a decade and the physics behind this concept are well understood, but many different factors can lead to carbon budgets that are either slightly smaller or slightly larger. We wanted to understand these differences and to provide clarity on the issue for policy-makers and the public.
"This study shows that, in some cases, we have been overestimating the budget by 50 to more than 200 percent. At the high end, this is a difference of more than 1,000 billion tons of carbon dioxide."
The same study takes a closer look at why estimates of the "safe" level of emissions have varied so widely.
One complicating factor has been, of course, uncertainty about what humans might do and another has been about the other more transient greenhouse gases, such as methane and the oxides of nitrogen.
Although short-lived and released in smaller quantities, some of these are potentially far more potent than carbon dioxide as an influence on planetary temperatures.
Complex Calculations
But Dr. Rogelj and his colleagues found that a significant cause of variation was simply a consequence of the different assumptions and methodologies inherent in such complex calculations.
So the researchers have re-examined both the options and the approaches and have worked out a global figure that, they suggest, could be relevant to "real-world policy."
It takes into account the consequences of all human activity and it embraces detailed outlines of possible low-carbon choices. It also offers, they say, a 66 percent chance of staying within the internationally-agreed limit.
"We now better understand the carbon budget for keeping global warming below 2 C," Dr. Rogelj said. "This carbon budget is very important to know because it defines how much carbon dioxide we are allowed to release into the atmosphere, ever.
"We have figured out that this budget is at the low end of what studies indicated before and if we don't start reducing our emissions immediately, we will blow it in a few decades."
YOU MIGHT ALSO LIKE
Robert F. Kennedy, Jr.: Syria, Another Pipeline War
Al Gore: 3 Questions We Have to Answer About Climate Change
The Biggest Oil Leak You've Never Heard Of, Still Leaking After 12 Years
Climate Experts to American Geophysical Union: Reject Exxon Sponsorship
EcoWatch Daily Newsletter
Two Sherpa descending from Everest Base Camp, Himalayas, Khumbu, Nepal. Joel Addams / Aurora Photos / Getty Images
Climate change is having a grizzly effect on Mount Everest as melting snow and glaciers reveal some of the bodies of climbers who died trying to scale the world's highest peak.
Navajo Generating Station, Arizona. Wolfgang Moroder / Wikimedia / CC BY-SA 3.0
The Navajo Nation have decided to stop pursuing the acquisition of a beleaguered coal-fired power plant in Arizona, locking in the plant to be taken offline and its associated coal mine to close later this year.
A Navajo Nation Council committee voted 11-9 last week to stop pursuing the purchase of the 2,250-megawatt Navajo Generating Station, which with the Kayenta coal mine provides more than 800 jobs to primarily Navajo and Hopi workers as well as tribal royalties.
A coalition of utilities that own the plant said in 2017 it would cease operations due to increased economic pressure, and the plant's future has proved a flash point for national and regional energy policy and raised larger questions on how Native communities will handle ties to fossil fuel industries as the economy changes.
For a deeper dive:
Arizona Republic, Indian Country Today, AP, WOKV, Farmington Daily Times
For more climate change and clean energy news, you can follow Climate Nexus on Twitter and Facebook, and sign up for daily Hot News.
Related Articles Around the Web
Sir David Attenborough opens Woodberry Wetlands on April 30, 2016 in London, United Kingdom. Danny Martindale / WireImage
An extended version of the Fuxing bullet train at the China National Railway Test Center on Oct. 15, 2018 in Beijing, China. VCG / VCG via Getty Images
By Jeff Turrentine
Is it just us?
Other countries don't seem to have a problem getting their high-speed rail systems on track. This superfast, fuel-efficient form of mass transit is wildly popular throughout Asia and the European Union. Japan's sleek Shinkansen line, the busiest high-speed rail system in the world, carries an estimated 420,000 riders every weekday. In China, the new Fuxing Hao bullet train now hurries more than 100 million passengers a year between Beijing and Shanghai at a top speed of 218 miles an hour, allowing its riders to make the trip of 775 miles — roughly the distance from New York City to Chicago — in about four and a half hours. Spain, Germany and France together have more than 4,500 miles of track dedicated to high-speed rail, over which more than 150 million passengers travel annually.
Ocean Heroes Bootcamp
By Coda Christopherson (11) and Lea Eiders (15)
Growing up in a plastic-free home, I was sheltered from the plastic waste crisis. I (Coda) went to a very progressive school that had vegan lunch items, farm animals and ran on solar power. My mom produces zero-waste events and my dad is a sailor, so we're very passionate about the ocean. When I was nine years old, we moved back to Manhattan Beach, California and I started 3rd grade in a public school. This was the first time I really understood that plastic-free living is not the norm; single-use plastics were everywhere, especially in the cafeteria. Once I recognized this problem, I knew I had to make a difference.
A major California avocado producer issued a voluntary recall of the popular fruit over concerns they could be contaminated with Listeria monocytogenes, USA Today reported.
Henry Avocado issued the recall Saturday after a routine government inspection at its California packing facility turned up positive test results for the bacteria on "environmental samples," the company said in a statement. No illnesses have been reported.
Acting Secretary David Bernhardt visited Watson Hopper Inc., a manufacturer of rigs and oil drilling equipment in Hobbs, New Mexico on Feb. 6, 2019.
Tami A. Heilemann / DOI
Oil executives gathered for a conference laughed about their "unprecedented" access to Trump administration officials, according to a recording obtained by Reveal from the Center for Investigative Reporting.
In the recording, taken at a June 2017 meeting of the Independent Petroleum Association of America (IPAA) at a Ritz-Carlton in Southern California, members expressed excitement about one official in particular: David Bernhardt, who had been nominated that April to be deputy secretary at the Department of Interior (DOI). Bernhardt would be confirmed the following month.
"We know him very well, and we have direct access to him, have conversations with him about issues ranging from federal land access to endangered species, to a lot of issues," IPAA political director Dan Naatz said in the recording.