This website uses cookies to ensure you get the best experience while browsing it. By clicking 'Got It' you're accepting these terms.
Will President Obama Follow Through with His Promise on Climate Change Policy?
Feb. 13, 2013 05:20PM EST
Climate
Hannah Locke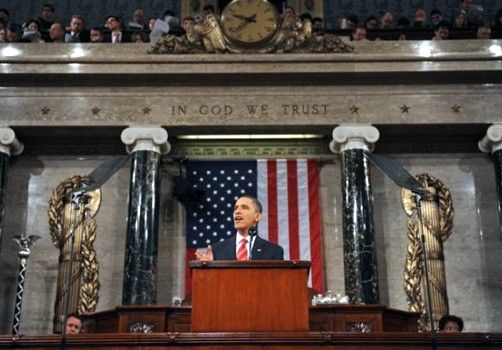 After months of dodging the question of climate change, the Obama administration, headed by a newly emboldened second-term president, is gearing up to move forward—cautiously. In last night's State of the Union address, President Obama struck a moderate tone in warning the American people of the dangers of a warming planet and unstable climate, while giving great political play to the natural gas industry.
Make no mistake: natural gas, most recently extracted through a controversial practice known as hydraulic fracturing, or "fracking," contributes greatly to climate change. While natural gas itself releases approximately 50 percent less greenhouse gas emissions (measured in carbon dioxide molecules) than coal, methane is a dangerously potent greenhouse gas. A single methane molecule can have up to 25 times the potency of a single carbon dioxide molecule. With methane leaks far more frequent at fracking sites than industry officials previously admitted, natural gas becomes less of a transition energy and more of a climate nightmare. Further, the local polluting of water reservoirs by fracking fluid protected by proprietary rights has raised serious public health concerns.
So is President Obama turning his back on future generations? No, not necessarily. While natural gas remains a controversial cornerstone of the Obama administration's energy policies, the President is eager to make serious moves on renewable energy and energy efficiency.
In his State of the Union address, President Obama said, "Last year, wind energy added nearly half of all new power capacity in America. So let's generate even more. Solar energy gets cheaper by the year—so let's drive costs down even further." He tied investing in alternative energy to becoming economically competitive with China and other booming economies.
Energy efficiency played a significant part in President Obama's address. Not nearly as sexy as "green jobs" or natural gas, energy efficiency is nonetheless a foundational aspect of any pragmatic energy platform. Reducing energy inefficiencies in households and industries played well into Mr. Obama's pointed speech, garnering support across the aisle.
After legislative burn-out in 2010, in which the Obama-supported cap and trade policy was crushed by partisan-driven Congressional politicking, the Obama administration has relied more heavily on the executive crutch to try and get things done. While often used effectively, executive orders aren't as flexible nor as comprehensive as legislative acts. The 2010 cap-and-trade program would have required any firm emitting carbon dioxide, or other regulated greenhouse gas emissions, to abide by permits limiting the amount of pollutants released. The firms would have maintained the freedom of choice in determining the best mechanism of lowering emissions, as well as the freedom of buying and selling permits at market prices—thereby incentivizing lower emissions without forcing firms to pass the financial burden onto consumers. The proposal wasn't radical and minimized governmental interference while promoting innovation in the private sector, yet partisan politics killed the deal.
In an unexpected move, President Obama called for a renewed pursuit of market initiatives to address the carbon-heavy diet of the American economy, a sure sign of a re-commitment to comprehensive reductions in greenhouse gas emissions. The cap and trade and other market initiatives must be the centerpiece of any energy policy, although Mr. Obama skirted stronger calls to action on committing to renewable energy. The State of the Union provided glimpses of what could be a pragmatic—but not progressive enough—climate change strategy coming from the White House. Stay tuned to see whether 2013 will be the year of climate success, or the return of 2010-style inaction.
Visit EcoWatch's KEYSTONE XL and CLIMATE CHANGE pages for more related news on this topic.
--------
Hannah Locke is a senior fellow in Energy and the Environment at the Roosevelt Institute Campus Network, a student-driven progressive policy organization mobilizing Millennial students to be agents of change.
——–
EcoWatch Daily Newsletter
Artist's conception of solar islands in the open ocean. PNAS
Millions of solar panels clustered together to form an island could convert carbon dioxide in seawater into methanol, which can fuel airplanes and trucks, according to new research from Norway and Switzerland and published in the Proceedings of the National Academy of Sciences journal, PNAS, as NBC News reported. The floating islands could drastically reduce greenhouse gas emissions and dependence on fossil fuels.
Marcos Alves / Moment Open / Getty Images
More than 40 percent of insects could go extinct globally in the next few decades. So why did the U.S. Environmental Protection Agency (EPA) last week OK the 'emergency' use of the bee-killing pesticide sulfoxaflor on 13.9 million acres?
EcoWatch teamed up with Center for Biological Diversity via EcoWatch Live on Facebook to find out why. Environmental Health Director and Senior Attorney Lori Ann Burd explained how there is a loophole in the The Federal Insecticide, Fungicide, and Rodenticide Act under section 18, "that allows for entities and states to request emergency exemptions to spraying pesticides where they otherwise wouldn't be allowed to spray."
Simple swaps that cut down on kitchen trash.
Sponsored
By Kayla Robbins
Along with the bathroom, the kitchen is one of the most daunting areas to try and make zero waste.
View of downtown Miami, Florida from Hobie Island on Feb. 2, 2019.
Michael Muraz / Flickr
The Democratic candidates for president descended upon Miami for a two-night debate on Wednesday and Thursday. Any candidate hoping to carry the state will have to make the climate crisis central to their campaign, as The New York Times reported.
By Sharon Kelly
On Monday, the Wall Street Journal featured a profile of Scott Sheffield, CEO of Pioneer Natural Resources, whose company is known among investors for its emphasis on drawing oil and gas from the Permian basin in Texas using horizontal drilling and hydraulic fracturing, or fracking.
Pexels
By Craig K. Chandler
The federal government has available to it, should it choose to use them, a wide range of potential climate change management tools, going well beyond the traditional pollution control regulatory options. And, in some cases (not all), without new legislative authorization.
Denis Poroy / Getty Images
By Dan Gray
Processed foods, in their many delicious forms, are an American favorite.
But new research shows that despite increasing evidence on just how unhealthy processed foods are, Americans have continued to eat the products at the same rate.
By Sarah Steffen
With a profound understanding of their environmental surroundings, indigenous communities around the world are often cited as being pivotal to tackling climate change.