Energy
Mar. 20, 2015 03:00PM EST
Will Chevron and Exxon Ever Be Held Responsible for Decades of Contamination?
The International Court of Justice at The Hague ruled last week that a prior ruling by an Ecuadorean court that fined Chevron $9.5 billion in 2011 should be upheld, according to teleSUR, a Latin American news agency. Texaco, which is currently a part of Chevron, is responsible for what is considered one of the world's largest environmental disasters while it drilled for oil in the Ecuadorian rainforest from 1964 to 1990.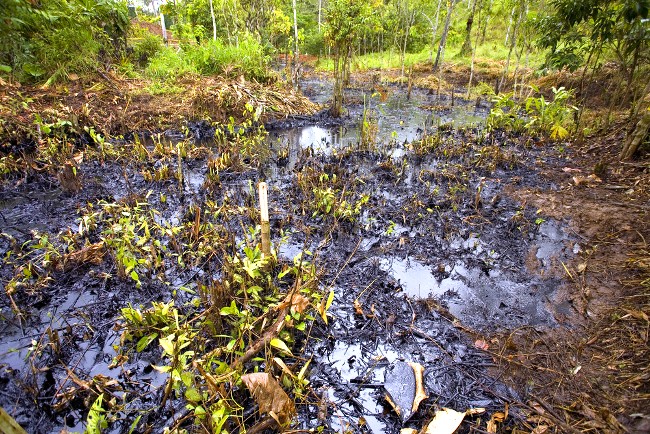 Photo credit: Shutterstock
A group of Ecuadorians, who represent 30,000 Ecuadorians, has been fighting to hold the oil company responsible and pay for the damage it caused for decades. The legal battle has been tied up in the courts for years. Ecuador's highest court finally upheld the ruling in January 2014, but Chevron refused to pay.
Last spring, the oil giant took the case to a U.S. court, where a federal judge ruled in favor of Chevron because the judge found the Ecuador's litigation team to be engaging in illicit activity. The ruling from The Hague brought good news for the Amazon community suffering from shockingly high cancer rates and other illnesses, and a contaminated water supply.
But now, Chevron has appealed the decision and deliberations will take place at The Hague on April 20. In a strange desperate attempt, Chevron is arguing that not only should it not have to pay for the decades worth of damage, but that the Ecuadorian people should pay Chevron for the destruction caused, according to Ecuador's Foreign Minister Ricardo Patiño, who spoke about the case with Amy Goodman and Juan Gonzalez on Democracy Now!
In another story about oil companies refusing to be held accountable for their actions, Gov. Christie has been heavily criticized for his administration's settlement to clean up what Democracy Now! calls "a century of contamination." State Senators in New Jersey voted to condemn a $225 million settlement reportedly pushed through by the office of Republican Gov. Christie, which saved Exxon Mobil billions of dollars, says Gonzalez. The state quietly agreed to accept less than three percent of the $8.9 billion it had originally sought for pollution at two refinery sites.
Earlier this week, State Senators "asked the judge to reject the deal, calling it 'grossly inappropriate, improper and inadequate,'" reports Gonzalez. Adding insult to injury, Gov. Christie reportedly plans to use much of the money from the settlement to "plug holes in New Jersey's budget instead of for environmental restoration," says Gonzalez.
Watch the this Democracy Now! segment for interviews on both of these cases:
YOU MIGHT ALSO LIKE
Jon Stewart Hammers Gov. Christie Over Staggering Exxon Spill Settlement
Students Occupy Swarthmore College Demanding Fossil Fuel Divestment
Obama Signs Executive Order to Cut Government Greenhouse Gas Emissions by 40 Percent
Werner Baumann (left), CEO of Bayer AG, and Hugh Grant, chairman and CEO of Monsanto. Bayer
The European Commission, the European Union's executive arm, announced Tuesday it has opened an in-depth investigation into Bayer's proposed $66 billion takeover of Monsanto over "concerns that the merger may reduce competition in areas such as pesticides, seeds and traits."

The controversial merger, if successful, will form the world's largest integrated seed and pesticide company.
Keep reading...
Show less
www.youtube.com
U.S. Environmental Protection Agency (EPA) administrator Scott Pruitt appears in a video sponsored by the beef industry calling on farmers and ranchers to file official comments on a proposal to withdraw and rewrite the Obama-era "Waters of the United States" rule (or WOTUS) before the Aug. 28 deadline.
The National Cattlemen's Beef Association (NCBA) video was produced by the beef lobbying organization's policy division, Beltway Beef and was released last week. Notably, NCBA spent $117,375 in lobbying last year.
Keep reading...
Show less
Two years ago, Stanford University professor Mark Jacobson and his collaborators published a widely circulated study that detailed how the U.S. can eliminate nuclear, biofuels and fossil fuels and transition to 100 percent renewable energy by 2050.
Now, in a paper published Wednesday in the new scientific journal Joule, Jacobson and 26 co-authors created clean energy roadmaps not just for the 50 United States, but for 139 individual countries.

Keep reading...
Show less
Subtitle removed and sidebar altered on federal health website. EDGI
The effects of climate change is inextricably linked to human health. The burning of fossil fuels releases carbon dioxide and other greenhouse gases that traps heat in the atmosphere, causing global temperatures to spike, air quality to worsen, all while fueling droughts, floods and storms that impact food and water security.
Climate change is making us sick in many ways, but it appears that the Trump administration trying to downplay this fact.
Keep reading...
Show less
Pax Ahimsa Gethen / Wikimedia Commons
By Steve Horn
Energy Transfer Partners, owner of the Dakota Access pipeline, has filed a $300 million Racketeer Influenced and Corrupt Organizations (RICO) lawsuit against Greenpeace and other environmental groups for their activism against the long-contested North Dakota-to-Illinois project.
In its 187-page complaint, Energy Transfer alleges that "putative not-for-profits and rogue eco-terrorist groups who employ patterns of criminal activity and campaigns of misinformation to target legitimate companies and industries with fabricated environmental claims and other purported misconduct" caused the company to lose "billions of dollars."
Keep reading...
Show less
ExxonMobil misled the public on what it knew about climate change and its link to fossil fuels, according to a groundbreaking new analysis of the company's internal and external communications.
In a study published Tuesday in the journal Environmental Research Letters, Harvard postdoctoral fellow Geoffrey Supran and professor Naomi Oreskes reviewed nearly 200 communications on climate change from the oil giant, including scientific research, internal company memos and paid editorial features in the New York Times.
Keep reading...
Show less
Energy
Aug. 22, 2017 12:55PM EST
Tallahassee Democrat / Twitter
The U.S. District Court of Appeals ruled 2-1 Tuesday saying that the Federal Environmental Energy Regulatory Commission (FERC) failed to adequately review the environmental impacts of the greenhouse gas (GHG) emissions of the fracked gas Sabal Trail pipeline, which runs more than 500 miles through Alabama, Georgia and Florida.
Keep reading...
Show less
Offshore Staghorn coral nursery. Rescue-A-Reef, UM Rosenstiel School of Marine and Atmospheric Science
As ocean waters warm and acidify, corals across the globe are disappearing. Desperate to prevent the demise of these vital ecosystems, researchers have developed ways to "garden" corals, buying the oceans some much-needed time. University of Miami Rosenstiel School marine biologist Diego Lirman sat down with Josh Chamot of Nexus Media to describe the process and explain what's at stake. This interview has been edited for length and clarity.
Keep reading...
Show less


Get EcoWatch in your inbox