This website uses cookies to ensure you get the best experience while browsing it. By clicking 'Got It' you're accepting these terms.
Will Chevron and Exxon Ever Be Held Responsible for Decades of Contamination?
Mar. 20, 2015 03:00PM EST
Energy
The International Court of Justice at The Hague ruled last week that a prior ruling by an Ecuadorean court that fined Chevron $9.5 billion in 2011 should be upheld, according to teleSUR, a Latin American news agency. Texaco, which is currently a part of Chevron, is responsible for what is considered one of the world's largest environmental disasters while it drilled for oil in the Ecuadorian rainforest from 1964 to 1990.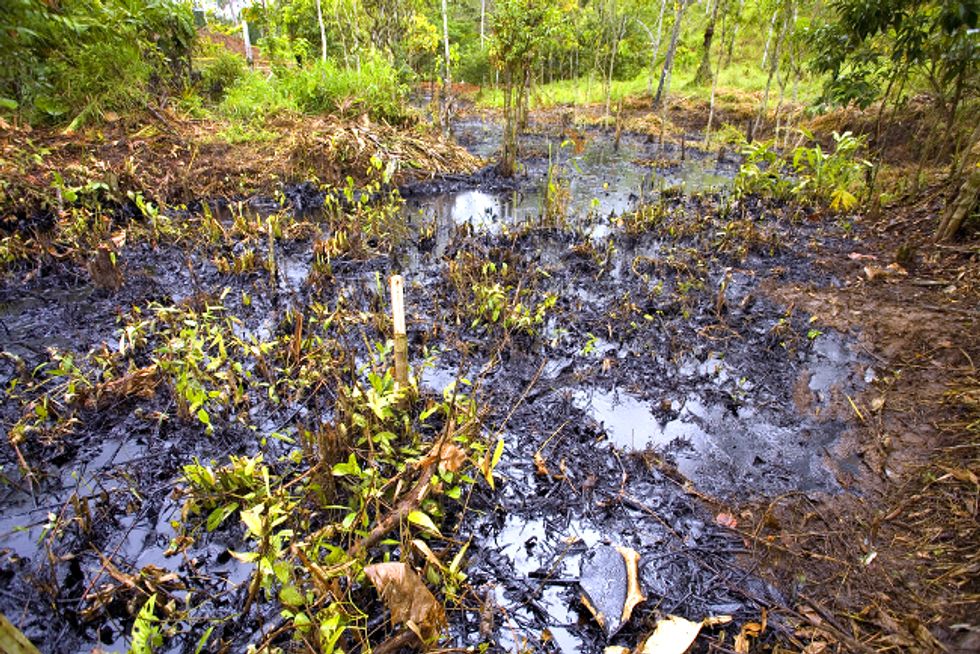 Photo credit: Shutterstock
A group of Ecuadorians, who represent 30,000 Ecuadorians, has been fighting to hold the oil company responsible and pay for the damage it caused for decades. The legal battle has been tied up in the courts for years. Ecuador's highest court finally upheld the ruling in January 2014, but Chevron refused to pay.
Last spring, the oil giant took the case to a U.S. court, where a federal judge ruled in favor of Chevron because the judge found the Ecuador's litigation team to be engaging in illicit activity. The ruling from The Hague brought good news for the Amazon community suffering from shockingly high cancer rates and other illnesses, and a contaminated water supply.
But now, Chevron has appealed the decision and deliberations will take place at The Hague on April 20. In a strange desperate attempt, Chevron is arguing that not only should it not have to pay for the decades worth of damage, but that the Ecuadorian people should pay Chevron for the destruction caused, according to Ecuador's Foreign Minister Ricardo Patiño, who spoke about the case with Amy Goodman and Juan Gonzalez on Democracy Now!
In another story about oil companies refusing to be held accountable for their actions, Gov. Christie has been heavily criticized for his administration's settlement to clean up what Democracy Now! calls "a century of contamination." State Senators in New Jersey voted to condemn a $225 million settlement reportedly pushed through by the office of Republican Gov. Christie, which saved Exxon Mobil billions of dollars, says Gonzalez. The state quietly agreed to accept less than three percent of the $8.9 billion it had originally sought for pollution at two refinery sites.
Earlier this week, State Senators "asked the judge to reject the deal, calling it 'grossly inappropriate, improper and inadequate,'" reports Gonzalez. Adding insult to injury, Gov. Christie reportedly plans to use much of the money from the settlement to "plug holes in New Jersey's budget instead of for environmental restoration," says Gonzalez.
Watch the this Democracy Now! segment for interviews on both of these cases:
YOU MIGHT ALSO LIKE
Jon Stewart Hammers Gov. Christie Over Staggering Exxon Spill Settlement
Students Occupy Swarthmore College Demanding Fossil Fuel Divestment
Obama Signs Executive Order to Cut Government Greenhouse Gas Emissions by 40 Percent
EcoWatch Daily Newsletter
The Opera House is seen with smoke haze which enveloped Sydney Harbor on Dec. 10 in Sydney, Australia. Smoke haze hangs over the city as the New South Wales fire danger risk is raised from 'very high' to 'severe'. James D. Morgan / Getty Images
The brushfires raging through New South Wales have shrouded Australia's largest city in a blanket of smoke that pushed the air quality index 12 times worse than the hazardous threshold, according to the Australia Broadcast Corporation (ABC).
People walk across the bridge near Little Raven Court in downtown Denver. Younger Americans increasingly prefer to live in walkable neighborhoods. Helen H. Richardson / The Denver Post via Getty Images
By David B. Goldstein
Energy efficiency is the cornerstone of any country's plan to fight the climate crisis. It is the cheapest option available, and one that as often as not comes along with other benefits, such as job creation, comfort and compatibility with other key solutions such as renewable energy. This has been recognized by the International Energy Agency (IEA) for at least a decade.
Activists from Extinction Rebellion New York City engaged in nonviolent direct action to confront climate change outside City Hall on April 17, 2019. Erik McGregor / Pacific Press / LightRocket via Getty Images
By Andrea Germanos

Over 500 groups on Monday rolled out an an action plan for the next president's first days of office to address the climate emergency and set the nation on a transformative path towards zero emissions and a just transition in their first days in office.

The Ladakh region of India, pictured above, is a part of the Himalayan mountain region of the upper Indus Valley which is the most vulnerable water tower, according to researchers. Suttipong Sutiratanachai / Moment / Getty Images
Jet stream triggered heat waves could threaten food production in several important breadbaskets, including central North America.
Carl Wycoff /
CC BY 2.0
Researchers have pinpointed a previously underexamined threat to global food production, and they warn it will only get worse as the climate crisis intensifies.