Energy
Mar. 20, 2015 03:00PM EST
Will Chevron and Exxon Ever Be Held Responsible for Decades of Contamination?
The International Court of Justice at The Hague ruled last week that a prior ruling by an Ecuadorean court that fined Chevron $9.5 billion in 2011 should be upheld, according to teleSUR, a Latin American news agency. Texaco, which is currently a part of Chevron, is responsible for what is considered one of the world's largest environmental disasters while it drilled for oil in the Ecuadorian rainforest from 1964 to 1990.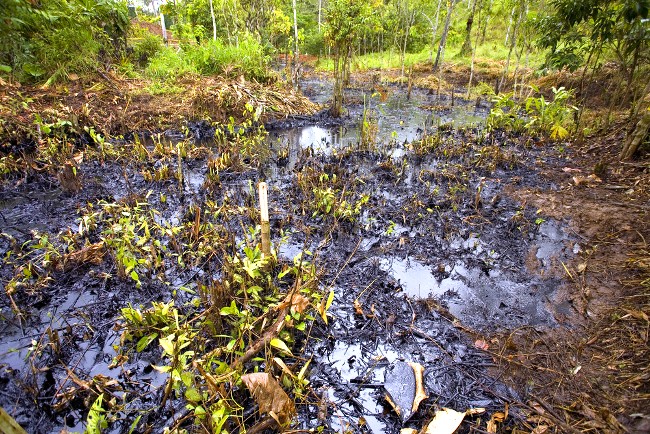 Photo credit: Shutterstock
A group of Ecuadorians, who represent 30,000 Ecuadorians, has been fighting to hold the oil company responsible and pay for the damage it caused for decades. The legal battle has been tied up in the courts for years. Ecuador's highest court finally upheld the ruling in January 2014, but Chevron refused to pay.
Last spring, the oil giant took the case to a U.S. court, where a federal judge ruled in favor of Chevron because the judge found the Ecuador's litigation team to be engaging in illicit activity. The ruling from The Hague brought good news for the Amazon community suffering from shockingly high cancer rates and other illnesses, and a contaminated water supply.
But now, Chevron has appealed the decision and deliberations will take place at The Hague on April 20. In a strange desperate attempt, Chevron is arguing that not only should it not have to pay for the decades worth of damage, but that the Ecuadorian people should pay Chevron for the destruction caused, according to Ecuador's Foreign Minister Ricardo Patiño, who spoke about the case with Amy Goodman and Juan Gonzalez on Democracy Now!
In another story about oil companies refusing to be held accountable for their actions, Gov. Christie has been heavily criticized for his administration's settlement to clean up what Democracy Now! calls "a century of contamination." State Senators in New Jersey voted to condemn a $225 million settlement reportedly pushed through by the office of Republican Gov. Christie, which saved Exxon Mobil billions of dollars, says Gonzalez. The state quietly agreed to accept less than three percent of the $8.9 billion it had originally sought for pollution at two refinery sites.
Earlier this week, State Senators "asked the judge to reject the deal, calling it 'grossly inappropriate, improper and inadequate,'" reports Gonzalez. Adding insult to injury, Gov. Christie reportedly plans to use much of the money from the settlement to "plug holes in New Jersey's budget instead of for environmental restoration," says Gonzalez.
Watch the this Democracy Now! segment for interviews on both of these cases:
YOU MIGHT ALSO LIKE
Jon Stewart Hammers Gov. Christie Over Staggering Exxon Spill Settlement
Students Occupy Swarthmore College Demanding Fossil Fuel Divestment
Obama Signs Executive Order to Cut Government Greenhouse Gas Emissions by 40 Percent
The Santa Barbara City Council approved a resolution Tuesday opposing new drilling off the California coast and fracking in existing offshore oil and gas wells. The resolution is the first in a new statewide campaign to rally local governments against proposals to expand offshore fossil fuel extraction in federal waters.
The vote—which makes Santa Barbara the first California city to oppose both fracking and new offshore drilling—follows President Trump's April 28 executive order urging federal agencies to expand oil and gas leasing in federal waters. The order could expose the Pacific Ocean to new oil leasing for the first time in more than 30 years.
Keep reading...
Show less
www.facebook.com
Starting Wednesday, the vast majority of Americans can learn about every potentially harmful chemical in their drinking water and what scientists say are the safe levels of those contaminants. The Environmental Working Group's (EWG) new national Tap Water Database is the most complete source available on the quality of U.S. drinking water, aggregating and analyzing data from almost 50,000 public water systems in all 50 states and the District of Columbia.
The organization has earned a reputation for ambitious data-mining research projects that shake up policy debates and consumer markets. EWG's online Farm Subsidy Database, listing millions of subsidy recipients, and its Skin Deep guide to more than 70,000 personal care products, draw tens of millions of visitors every year.
Keep reading...
Show less
By Stacy Malkan
Ever since they classified the world's most widely used herbicide as "probably carcinogenic to humans," a team of international scientists at the World Health Organization's (WHO) cancer research group have been under withering attack by the agrichemical industry and its surrogates.
In a front-page series, The Monsanto Papers, the French newspaper Le Monde described the attacks as "the pesticide giant's war on science," and reported, "to save glyphosate, the firm [Monsanto] undertook to harm the United Nations agency against cancer by all means."
Keep reading...
Show less
Shutterstock
The U.S. electric utility industry recognized decades ago that burning fossil fuels would lead to increased warming, yet later opposed efforts to shift away from coal, according to a new report.
The lengthy report from the Energy and Policy Institute uses reams of archival documents to demonstrate that utility industry representatives knew as far back as 1968 that burning fossil fuels could trigger "catastrophic effects" on the climate.
Keep reading...
Show less
www.youtube.com
By Sharon Kelly
The Pennsylvania's Environmental Hearing Board ordered Sunoco Pipeline LP Tuesday to temporarily halt some types of work on a $2.5 billion pipeline project designed to carry 275,000 barrels a day of butane, propane and other liquid fossil fuels from Ohio and West Virginia, across Pennsylvania, to the Atlantic coast.
On July 19, three environmental groups presented Judge Bernard Labuskes, Jr. with documentation showing that the project had caused dozens of drilling fluid spills and other accidents between April and mid-June.
Keep reading...
Show less
www.youtube.com
By Andy Rowell
The UK has followed France in banning the sale of new petrol and diesel cars by 2040, as part of its plan to tackle chronic air pollution in cities. The government has been coming under intense pressure to act, with an estimated 40,000 people dying prematurely a year from air pollution.
Keep reading...
Show less
By Colleen Curry
People traveling across America today can, if they're lucky, pitch a tent in the same exact spot that early American explorers and map-makers Lewis and Clark did, amid the jagged rocks and sweeping plains of the Upper Missouri River Breaks in central Montana.
Brent Rose, a journalist and filmmaker who has been traveling around the U.S. in a van for two years, was one of the lucky ones.
Keep reading...
Show less
www.youtube.com
Kyara, a killer whale born at SeaWorld San Antonio just three months ago, died Monday at the park, as reported in this video from Newsy. Kyara is the last orca to be born in captivity under the SeaWorld breeding program, which shut down in 2016.
In a statement, SeaWorld said the cause of death was "likely pneumonia" and that "Kyara had faced some very serious and progressive health issues over the last week."
Keep reading...
Show less