This website uses cookies to ensure you get the best experience while browsing it. By clicking 'Got It' you're accepting these terms.
Will Chevron and Exxon Ever Be Held Responsible for Decades of Contamination?
Mar. 20, 2015 03:00PM EST
Energy
The International Court of Justice at The Hague ruled last week that a prior ruling by an Ecuadorean court that fined Chevron $9.5 billion in 2011 should be upheld, according to teleSUR, a Latin American news agency. Texaco, which is currently a part of Chevron, is responsible for what is considered one of the world's largest environmental disasters while it drilled for oil in the Ecuadorian rainforest from 1964 to 1990.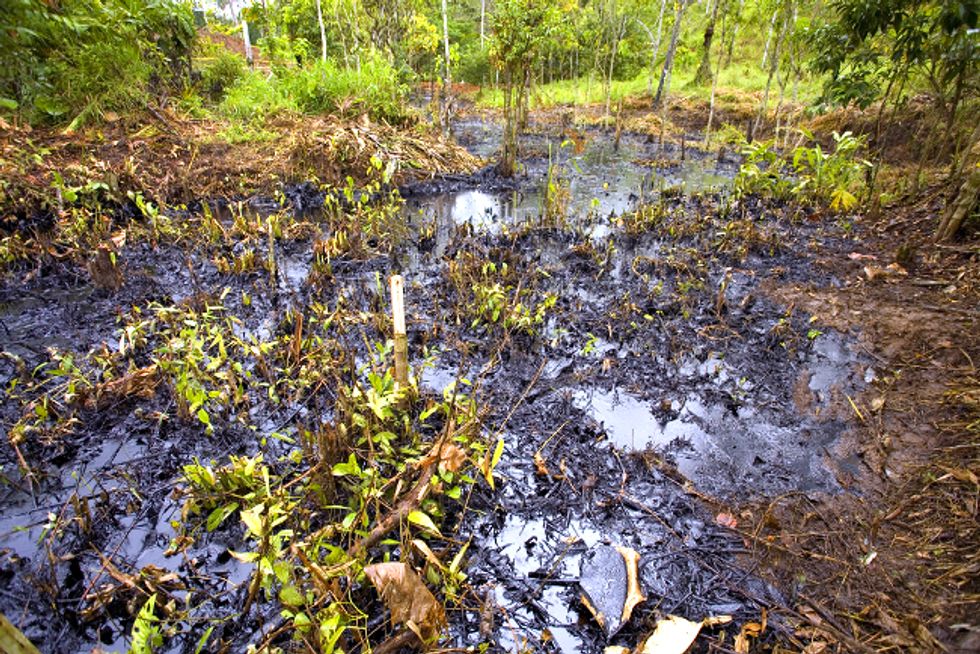 Photo credit: Shutterstock
A group of Ecuadorians, who represent 30,000 Ecuadorians, has been fighting to hold the oil company responsible and pay for the damage it caused for decades. The legal battle has been tied up in the courts for years. Ecuador's highest court finally upheld the ruling in January 2014, but Chevron refused to pay.
Last spring, the oil giant took the case to a U.S. court, where a federal judge ruled in favor of Chevron because the judge found the Ecuador's litigation team to be engaging in illicit activity. The ruling from The Hague brought good news for the Amazon community suffering from shockingly high cancer rates and other illnesses, and a contaminated water supply.
But now, Chevron has appealed the decision and deliberations will take place at The Hague on April 20. In a strange desperate attempt, Chevron is arguing that not only should it not have to pay for the decades worth of damage, but that the Ecuadorian people should pay Chevron for the destruction caused, according to Ecuador's Foreign Minister Ricardo Patiño, who spoke about the case with Amy Goodman and Juan Gonzalez on Democracy Now!
In another story about oil companies refusing to be held accountable for their actions, Gov. Christie has been heavily criticized for his administration's settlement to clean up what Democracy Now! calls "a century of contamination." State Senators in New Jersey voted to condemn a $225 million settlement reportedly pushed through by the office of Republican Gov. Christie, which saved Exxon Mobil billions of dollars, says Gonzalez. The state quietly agreed to accept less than three percent of the $8.9 billion it had originally sought for pollution at two refinery sites.
Earlier this week, State Senators "asked the judge to reject the deal, calling it 'grossly inappropriate, improper and inadequate,'" reports Gonzalez. Adding insult to injury, Gov. Christie reportedly plans to use much of the money from the settlement to "plug holes in New Jersey's budget instead of for environmental restoration," says Gonzalez.
Watch the this Democracy Now! segment for interviews on both of these cases:
YOU MIGHT ALSO LIKE
Jon Stewart Hammers Gov. Christie Over Staggering Exxon Spill Settlement
Students Occupy Swarthmore College Demanding Fossil Fuel Divestment
Obama Signs Executive Order to Cut Government Greenhouse Gas Emissions by 40 Percent
EcoWatch Daily Newsletter
Baby orangutan and mother orang utan seen walking in Jakarta, Indonesia. Aprison Photography / Moment / Getty Images
By Tara Lohan
To be a good wildlife photographer, you need an expertly trained eye. But good ears help, too.
Worker spraying toxic pesticides or insecticides on corn plantation. D-Keine / E+ / Getty Images
Poor people in developing countries are far more likely to suffer from exposure to pesticides classified as having high hazard to human health or the environment, according to new data that Unearthed analyzed.
Power to heat, to cool, to drive the world's industries. Renewables can supply it all.
Jason Blackeye / Unsplash
By Paul Brown
Virtually all the world's demand for electricity to run transport and to heat and cool homes and offices, as well as to provide the power demanded by industry, could be met by renewable energy by mid-century.

Phthalates, a group of chemicals used to make plastics more flexible and harder to break, affect health in many ways. Tatyana Tomsickova Photography / Moment / Getty Images
By George Citroner
Exposure to phthalates was associated with autism traits in boys (but not girls) between ages 3 and 4 years, according to a new study.
However, the risk was diminished in women who took folic acid during their pregnancy.
This study is the first to find that folic acid supplements provide a protective effect from phthalates.
Exposure in the womb to a group of endocrine-disrupting chemicals called phthalates was associated with autism traits in boys (but not girls) between ages 3 and 4 years, according to a new study.
A coral and fish community at the Great Barrier Reef, northeast of Port Douglas, Queensland, Australia, on Aug. 28, 2018. Francois Gohier / VWPics / Universal Images Group via Getty Images
Researchers released a sobering study this week showing that all of the world's coral reefs may be lost to the climate crisis by 2100.