This website uses cookies to ensure you get the best experience while browsing it. By clicking 'Got It' you're accepting these terms.
Wildlife in a Warming World: Confronting the Climate Crisis
Jan. 31, 2013 08:35AM EST
Climate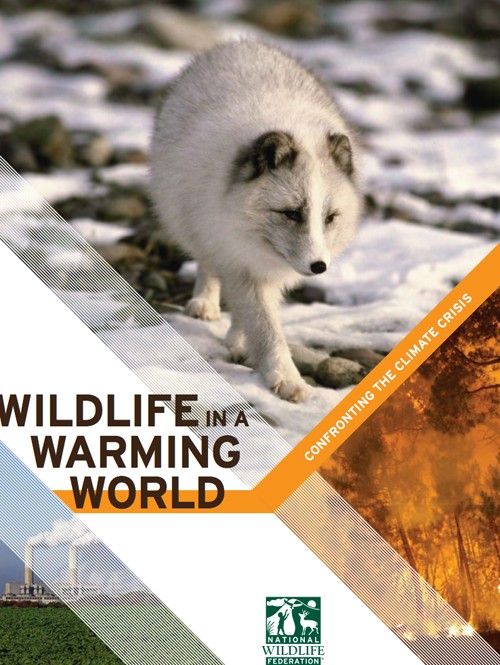 The climate crisis is already changing the playing field for wildlife and urgent action is needed to preserve America's conservation legacy, according to a new report released yesterday by the National Wildlife Federation. Wildlife in a Warming World: Confronting the Climate Crisis examines case studies from across the country illustrating how global warming is altering wildlife habitats. It recommends solutions to protect both wildlife and communities across America from the growing climate-fueled threats such as extreme weather, sea level rise and wildfires.
"Some of America's most iconic species—from moose to sandhill cranes to sea turtles–are seeing their homes transformed by rapid climate change," said Dr. Amanda Staudt, climate scientist at the National Wildlife Federation. "Climate disruption is the most serious threat facing America's wildlife and requires action at the local, state and federal levels."
The National Wildlife Federation report covers eight regions of the U.S., from the Arctic to the Atlantic coast, and details concrete examples of wildlife struggling to adapt to the climate crisis:
A recent study looked at 305 species of birds in North America and found that of those, more than half (177) have expanded their range northward by an average of 35 miles in the past four decades.
Climate change is creating conditions fueling more mega-wildfires, which are having devastating impacts on fish and wildlife habitats and are putting people and property in harm's way.
Alaska has warmed about twice as much as the continental U.S. and warming is severely altering the Arctic landscape including melting permafrost. In the face of this unprecedented warming, many uniquely polar habitats—like the sea ice that polar bears, seals, and walrus require to hunt—are shrinking fast.
As superstorm Sandy demonstrated, extreme weather fueled by climate change can turn coastal habitats upside down. Of the 72 National Wildlife Refuges along the Atlantic coast, 35 were temporarily closed because of the storm's devastation, not to mention the widespread destruction of property and infrastructure.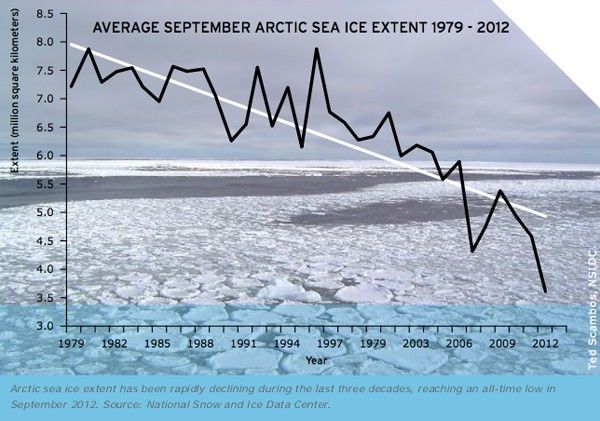 The report recommends a four-pronged attack to confront the climate crisis' threats to wildlife and communities:
Address the underlying cause and cut carbon pollution 50 percent by 2030.
Transition to cleaner, more secure sources of energy like offshore wind, solar power and next-generation biofuels while avoiding dirty energy choices like coal and tar sands oil.
Safeguard wildlife and their habitats by promoting climate-smart approaches to conservation. 
Help communities prepare for and respond to the impacts of climate change such as rising sea levels, more extreme weather and more severe droughts.
"We know what's causing the climate changes Americans are seeing in their own backyards and we have the solutions to secure our climate and safeguard our wildlife for future generations," said Larry Schweiger, president and CEO of the National Wildlife Federation. "What we need is the political leadership to make smart energy choices and wise investments in protecting our natural resources. We can't leave this problem for our children and grandchildren to fix—they'll judge us based on what we do now."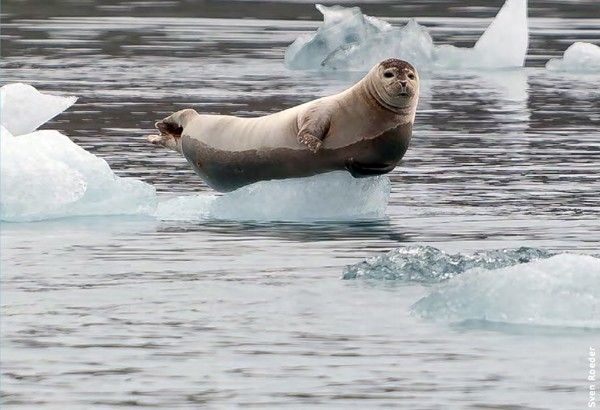 The report comes in the wake of President Barack Obama's Jan. 21 inaugural address targeting climate change as a priority. "We will respond to the threat of climate change knowing that the failure to do so would betray our children and future generations," said President Obama. "That is how we will maintain our economic vitality and our national treasure—our forests and waterways; our croplands and snow-capped peaks."
Visit EcoWatch's CLIMATE CHANGE and RENEWABLES pages for more related news on this topic.
——–
Click here to tell Congress to Expedite Renewable Energy.

EcoWatch Daily Newsletter
Large food companies are following in the footsteps of fast-food restaurants such as Burger King and KFC by offering meat alternatives. Getty Images
By Elizabeth Pratt
Hormel, Kellogg's, and Kroger are among the large companies now planning to offer "fake meat" products at grocery stores.
Experts say the trend toward plant-based meats coincides with consumers' desires to eat less meat.
However, experts urge consumers to closely check package labels as a product isn't necessarily healthy just because it's described as plant-based.
In grocery stores and fast-food outlets around the U.S., a revolution is taking place.
Colombia rainforest. Marcel Oosterwijk / CC BY-SA 2.0
Many of us think of the Amazon as an untouched wilderness, but people have been thriving in these diverse environments for millennia. Due to this long history, the knowledge that Indigenous and forest communities pass between generations about plants, animals and forest ecology is incredibly rich and detailed and easily dwarfs that of any expert.
picture-alliance / Newscom / R. Ben Ari
By Wesley Rahn
Plastic byproducts were found in 97 percent of blood and urine samples from 2,500 children tested between 2014 and 2017, according to a study by the German Environment Ministry and the Robert Koch Institute.

Pexels
Medically reviewed by Daniel Bubnis, MS, NASM-CPT, NASE Level II-CSS
Hot yoga has become a popular exercise in recent years. It offers many of the same benefits as traditional yoga, such as stress reduction, improved strength, and flexibility.
Lara Hata / iStock / Getty Images
By SaVanna Shoemaker, MS, RDN, LD
Rice is a staple in many people's diets. It's filling, inexpensive, and a great mild-tasting addition to flavorful dishes.
An image of the trans-alaskan oil pipeline that carries oil from the northern part of Alaska all the way to valdez. This shot is right near the arctic national wildlife refuge. kyletperry / iStock / Getty Images Plus
The Trump administration has initialized the final steps to open up nearly 1.6 million acres of the protected Alaskan National Wildlife Refuge to allow oil and gas drilling.