This website uses cookies to ensure you get the best experience while browsing it. By clicking 'Got It' you're accepting these terms.


The best of EcoWatch, right in your inbox. Sign up for our email newsletter!
Why Colorado Residents Can't Keep Fracking Industry Out of Their Backyards
May. 22, 2013 10:00AM EST
Fracking
By Phillip Doe
Do you want to know how cold it can get in Antarctica in midwinter? Go to a city council meeting in Greeley, CO, any time regulation of the oil and gas industry is on the agenda. You'll get an idea.
Last week, the room temperature felt near absolute zero from the iciness of the council's reaction to citizen petitions to rein in industry designs on their neighborhood, a place called Fox Run.
What was up for debate was a proposal to approve permits for 16 horizontally fracked oil wells on a small parcel of undeveloped land, itself about 16 acres within the city. The 16 wells would be only 350 feet from the back door of some residences. These wells, according to the oil company, would be fracked four at a time, meaning the citizens of these neighborhoods could expect heavy industrial activity out their back door for up to three or four months a year, 24/7, over half a decade, perhaps. We're talking literally tens of thousands of truck trips to deliver water, chemicals, steel pipe and a variety of heavy industrial machinery via a single point of ingress.
Envision, if you will, the Saturday afternoon barbeque, with the excited voices of children at play competing with the drone and Earth rattle of drilling next door as unknown quantities of who-knows-what are spewed onto the festivities. This scene could be played out over and over again as money is made for the few and public health and social well-being are sacrificed for the many. That was the argument most often made by the homeowners.
Add to this that some local businesses would actually be only 200 feet from the wells. It happens that the man who owns the 16 acres for the drilling site also owns the street-front buildings in which these businesses are housed. They had all voluntarily agreed to the reduced setback, and no one suspected collusion in these robust economic times. As the owner said—employing small town, Daddy Warbucks logic—these people couldn't tell him what to do with his land. That would be a takings, and he would have to be compensated, royally. In his mind, his individual rights were superior to the public's rights.
His understanding is almost certainly wrong, for the U.S. Supreme Court has affirmed over and over again that the protection of the public's health and well-being is superior to property rights, but no use to talk to this scion of "private property rights uber alles." The only thing keeping the takings assertion alive for the oil boys and rent-seeking land owners is that government refuses to look at the health implications of fracking systematically, even though a host of scientific and public policy leaders at all levels of government and academia are asking for them. The U.S. Environmental Protection Agency is studying the impacts on water. A draft of this study is to be released in 2014, but the agency has scrubbed any analysis of air impacts as a result of oil industry pressure.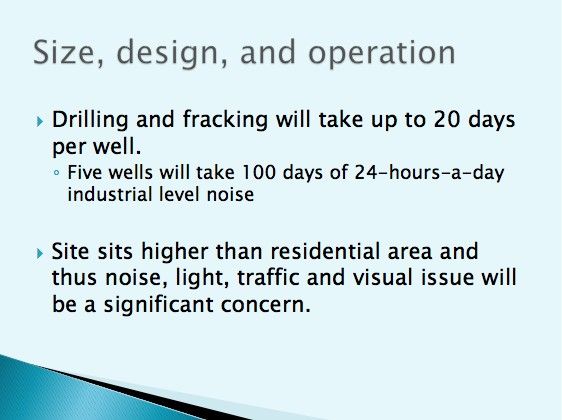 Appeal of the Sheep Draw Oil and Gas Proposal
presentation.
In the end, despite roughly 45 people speaking in opposition to the permit, and only about seven in favor—four of them owners of the permits and the property involved—in an audience of about 150 people, the city council voted 7-0 in favor of the oil company and private enrichment over repeated calls for caution and deferral until the health impacts of fracking were better understood.
Of the opposition, many were homeowners in Fox Run, some were tearfully concerned about their children, all were concerned about the air impacts. A doctor, head of the pulmonary unit at the Greeley Hospital, tried to appeal to the council's better angels. Another woman explained that Fox Run was home to two city-chartered apartments for the disabled, 40 units in all. These units had been built with $4 million in public money from HUD. Ranging in age from 20 to 70, many of these citizens are wheelchair bound, and the majority use oxygen, in the newer unit all but one. The impacts on them might prove frightful she reasoned.
One person said she had heard the vote was rigged, it had already been decided, but she had come to the meeting anyway just to find out. She was not to be disappointed.
Leading the charge for adoption was Mayor Tom Norton. Of stentorian voice, laced with perhaps just a whisper of whiskey's telltale raspiness and coiffed in surprisingly vivid auburn hair, he was in control, for, after all, he was used to a much larger stage. He had been president of the Colorado Senate during the heyday of former Gov. Bill Owen. Owen fancied himself a Texas oilman and had the pickup and plates to prove it, though perhaps not the chin, but that too has been altered to fit his rough and ready oil patch persona.
Norton, himself an engineer, had risen to become Owen's director of the Department of Transportation, before retiring to Greeley, his longtime residence, and running for mayor. A family affair, Gov. Owen had appointed Norton's wife, Kay, to be President of Northern Colorado University. It, too, is in Greeley. She still heads this university of over 12,000 students. Previously, she had been a staff lawyer for Monfort Meat Packing.
This "private sector" experience, she recently wrote, caused her to take the lead in leasing 246 acres of mineral rights under the university to Mineral Resources, Inc., the same family oil company that was seeking approval for 16 oil wells that would run under Fox Run.
In glowing terms, she described the Richardson family owners as our neighbors, much in the same fashion they had described themselves at the hearing. She went on to fancifully describe their oil business as "boutique." She reasoned, too, that since city records showed the Richardsons already had leases to the mineral rights under most of the city, both public and private, a little more land couldn't hurt and might foster orderly development.
She also wrote that the university had considered student public health issues and, in her opinion, there was nothing to worry about. In fact, she effused, the state's regulations would only get stronger and more protective of the students.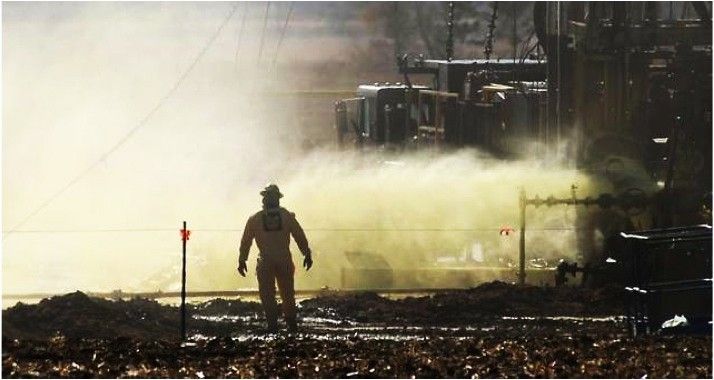 Well blow-out near Windsor, CO, in February 2013.
The idea of stricter regulation to protect public health was not what her husband argued last winter when the state was considering greater setbacks. The proposal, eventually adopted, increased the setbacks from 350 feet to 500 feet. But as Matt Lepore, the head of the Colorado Oil and Gas Conservation Commission (COGCC), the state's oil regulatory agency, said to the press, these regulations were not to protect public health, but to reduce noise and dust near homes, or more concisely, the anger factor in neighborhoods invaded by the industry. Lepore added that the state hadn't really gotten its head around the health issues. This fiscally wasteful and cynically driven form of decision-making was recognized as dangerously flawed by COGCC Commissioner Holton who said in these debates:
I just felt like we should wait until we get some good data, in order to make a decision. If it's 100 feet, fine, if it's 1000 feet, whatever. Basically it looked to me like we were just changing the rules because we could, and I don't think that is a good idea.
Norton, speaking for the city council, felt none of these compunctions. He was worried about reduced revenues to the city if some areas were no longer available to the industry because of a 500-foot setback rule. After all, he said, the city already has over 400 operative wells and with the potential for many more, new setbacks might "affect the $3.2 million in annual city revenue from oil and gas, and the $900 million of royalties projected over 25 years to Greeley…"
Clearly, the Nortons see Greeley as a classic company town where public services are paid out of monopoly oil and gas revenues. Moreover, the mayor and the council need not have worried because the COGCC and the Department of Public Health approved a setback of only 200 feet for businesses in the case at hand. The Richardsons did admit under friendly questioning that the council needed to act quickly because the new setback rules, which become effective on Aug. 1, would make their well oiled plans more difficult, perhaps requiring even more official variances.
Unknown to most in the audience was that Mayor Norton, only weeks earlier, dressed all in black, with resplendent auburn mane, had come to Denver to testify against HR 1275, the only significant piece of fracking legislation before the 2013 state legislature. It would have funded a one-year effort to survey reported health impacts from people living near fracking. Mayor Norton said it was unnecessary, that everyone was happy with fracking in Greeley, for revenues from fracking helped pay for public services. His testimony was seconded by the boldly feckless Dr. Chris Urbina, Gov. Hickenlooper's choice to head the Colorado Department of Public Health and the Environment. Dr. Urbina spoke against the bill because of the dangers of collecting medical data too hurriedly, as opposed to the dangers of collecting none at all. These two presumed representatives of the public provided the cover needed to allow the state representative from Greeley, Rep. Dave Young (D), to vote against the measure, thus ensuring its defeat. Company town, indeed!
Greeley has suffered greatly from oil and gas development. Its attempt to deny drilling within the city boundaries back in the 1980s was met with one of those great, dunderheaded decisions that only courts can make. The Colorado Supreme Court, uninformed about geography, apparently, reasoned that oil and gas development was so important to the state and nation that any attempt to deny the industry access to the city proper would pose a threat to national security. Colorado is 104,000 square miles in size. Greeley is 47. Couldn't they do the math?
Consider, too, that most of Colorado is underlain by shale deposits, the ancient sea floor that is giving up its treasure to the industry through the "magic" of horizontal fracking. All the incorporated cities and towns in the state comprise about 1900 square miles, less than two percent of the state. Yet, it is this wrongheaded 1980's court decision that is allowing the oil and gas industry to invade cities at will across the state.
The testimony of the city planner, parrying the comments of the young attorney, Matt Sura, who had been hired to represent the home owners, was straight out of Charles Dickens. Sura had been masterful in pointing out the numerous holes and unanswered questions in the city's evaluation of the 16 permits. Chief among them was the unanswered question of the impacts of these wells on public health, particularly those people living in close proximity to the wells. The city manager told the council that he thought the city had done a stellar job of answering all questions except the questions concerning public health. But he said that shouldn't concern the council since the public's health was a matter of state and federal concern. It was not their responsibility.
Surely there can be no truth in the old notion that we deserve the government we get.
Visit EcoWatch's FRACKING page for more related news on this topic.
——–
Sign the petition today, telling President Obama to enact an immediate fracking moratorium:

EcoWatch Daily Newsletter
jenifoto / iStock / Getty Images
Many people consider granola bars a convenient and healthy snack and enjoy their flavor and versatility.
A common green darners (Anax junius). Judy Gallagher / Flickr
By Jason Bittel
It's that time of year again: Right now, monarch butterflies are taking wing in the mountains of northwestern Mexico and starting to flap their way across the United States.
fstop123 / iStock / Getty Images Plus
At EcoWatch, our team knows that changing personal habits and taking actions that contribute to a better planet is an ongoing journey. Earth Day, happening on April 22, is a great reminder for all of us to learn more about the environmental costs of our behaviors like food waste or fast fashion.
To offer readers some inspiration this Earth Day, our team rounded up their top picks for films to watch. So, sit back and take in one of these documentary films this Earth Day. Maybe it will spark a small change you can make in your own life.
Denali national park. Domen Jakus / Flickr / CC BY-NC 2.0
By Stephanie Gagnon
Happy National Parks Week! This year, between April 20 and 28, escape to the beautiful national parks — either in person or in your imagination — and celebrate the amazing wildlife that calls these spaces home.
Sesame, three months old, at Seal Rescue Irleand.
Screenshot / Seal Rescue Ireland Instagram
On Friday, Seal Rescue Ireland released Sesame the seal into the ocean after five months of rehabilitation at the Seal Rescue Ireland facility. Watch the release on EcoWatch's Facebook.

Beer packs of Guinness will now come in a cardboard box. Diageo

By Jordan Davidson
Guinness is joining the fight against single use plastic. The brewer has seen enough hapless turtles and marine life suffering from the scourge of plastic.
Maskot / Getty Images
People of all ages are spending more of their day looking at their phones, computers and television screens, but parents now have another reason for limiting how much screen time their children get — it could lead to behavioral problems.