Why Climate Leadership Means Keeping Fossil Fuels in the Ground
This has truly been a landmark year for grassroots environmental action. In the past four months alone, people power has derailed Shell's Arctic drilling plans, driven the Obama Administration to cancel Arctic oil and gas leases for the next two years, won the fight against the Keystone XL pipeline and exposed Exxon's decades-long climate denial campaign.
All of this adds up to some serious momentum for the climate movement. To make the most of it in 2016, let's seize this moment to keep all fossil fuels in the ground.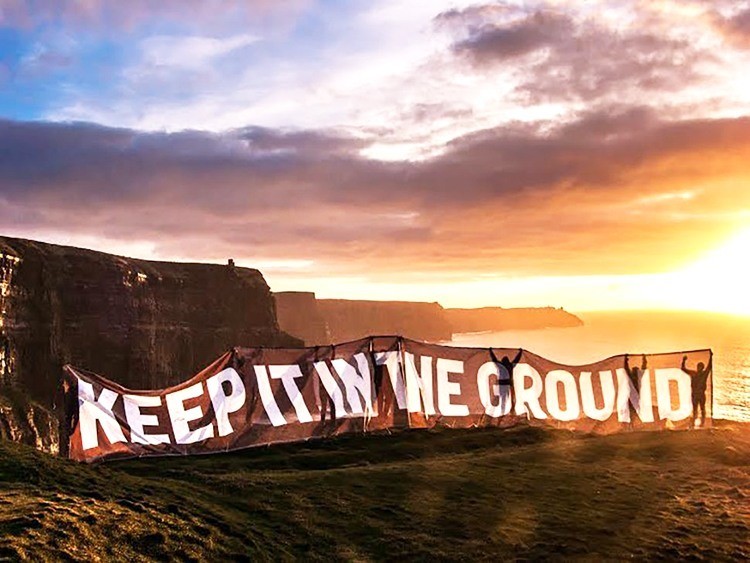 Why #KeepItInTheGround?
The science is clear: the path to a sustainable future for people, wildlife and the climate does not include fossil fuels.
In fact, a study published in the journal Nature earlier this year specifies that we need we cannot afford to burn a majority of the world's known fossil fuel reserves—including more than 90 percent of U.S. coal and all of the oil and gas in the Arctic—if we hope to avoid catastrophic climate change.
Given this science, investing billions of dollars in new fossil fuel exploration and infrastructure—as Shell did during its failed Arctic drilling project—makes absolutely no environmental or economic sense.
And it's not just burning fossil fuels that's a problem. The processes of extracting, transporting and refining fossil fuels wreaks havoc on public health and our natural landscapes. Unsurprisingly, marginalized groups—especially low-income communities of color and indigenous peoples—suffer the brunt of these environmental injustices.
Momentum is on Our Side
On the heels of fights like Keystone and #ShellNo, the grassroots environmental movement has never been more united or empowered than it is right now. The incredible organizing that went into these victories serves as a powerful foundation for doing even more and winning even bigger in 2016.
These grassroots wins are turning into the kind of political momentum few thought was possible even a year ago (just in time for global climate negotiations in Paris happening right now).
In rejecting Keystone, the president himself acknowledged that "we're going to have to keep some fossil fuels in the ground."
And recently, seven Democratic senators—including presidential candidate Bernie Sanders—introduced the Keep It in the Ground Act. The legislation would ban all fossil fuel leases on public lands, a key move given the Interior Department's recent track record.
Forty percent of the coal mined in the U.S. and huge amounts of oil and gas, are managed by the Interior Department. And despite the popular will to move away from fossil fuels and towards clean energy, it recently authorized the potential sale of 10.2 billion tons of coal from our public lands.
That's pretty bad, but it doesn't stop at coal. Fossil fuel corporations are also targeting millions of acres of public lands and waters for fracking and oil drilling.
By ending all new leasing of publicly owned oil, coal and gas, the Obama administration could keep more than 450 billion tons of carbon pollution in the ground, nearly 12 times the amount of carbon pollution the world emitted into the atmosphere in 2014.
All Eyes on President Obama
In Paris last week, President Obama included the fact that the U.S. has "said no to infrastructure that would pull high-carbon fossil fuels from the ground" as one of his administration's most important actions on climate.
It's clear that the president intends to use his final year in office to forge a legacy of climate leadership. To earn this distinction, he's going to have to say no more often.
Join the movement for climate action: tell President Obama to keep it in the ground today.
YOU MIGHT ALSO LIKE
AEP Dumps ALEC to Help States Implement Clean Power Plan, Expedite Renewable Energy
Exxon Warns Climate Inaction Risks Warming Far Beyond 2 Degrees
Busted: Academics-for-Hire Exposed for Failing to Disclose Fossil Fuel Funding
Obama Administration Cancels Major Fossil Fuel Auction as Pressure Mounts From Climate Movement
A coalition of conservation groups and others announced Thursday that a historic number of comments and petitions of support have been submitted to the U.S. Department of the Interior in support of Bears Ears National Monument. Despite the entirely inadequate 15-day comment period ending on May 26, more than 685,000 comments in support of Bears Ears National Monument have been collected.
Keep reading...
Show less
Rink Glacier in western Greenland, with a meltwater lake visible center. NASA/OIB
Scientists have had their eyes on Greenland as its iconic glaciers have begun disappearing due to a warming climate. But, what they didn't expect to see was a whole new type of melting.
Keep reading...
Show less
Mountain View Fire
By Lena Moffitt
An oil tanker in Mead, Colorado exploded, killing one and injuring three on Thursday. Authorities are continuing to investigate the cause of the explosion.
Keep reading...
Show less
Banner created by Alliance for Climate Education
Keep reading...
Show less
Twenty-two GOP senators sent a letter Thursday urging Donald Trump to pull out of the Paris agreement. They argued remaining in the deal could "upend" the administration's ability "to fulfill its goal of rescinding the Clean Power Plan."
Keep reading...
Show less
By Cheryl Johncox
The Federal Energy Regulatory Commission (FERC) rejected on Thursday Energy Transfer Partners' request to resume horizontal directional drilling at two sites for its Rover fracked gas pipeline. This rejection comes after numerous leaks into Ohio's wetlands, and Clean Air and Clean Water act violations. FERC has halted the process at only eight locations of the 32 where drilling is taking place under Ohio's wetlands and streams.
Keep reading...
Show less
By Nadia Prupis
A majority of people in eight countries say they are ready to change their lifestyles if it would prevent climate catastrophe, a survey on global threats released Wednesday found.
Keep reading...
Show less
May. 25, 2017 01:55PM EST
Bill Maher is sick of billionaires' obsession with Mars, more like "Mars-a-Lago," he said.
In a new animation produced by ATTN:, the popular talk show host of Real Time, discusses the perils of our planet, including how "climate change is killing us."
Keep reading...
Show less