This website uses cookies to ensure you get the best experience while browsing it. By clicking 'Got It' you're accepting these terms.
Why Are Climate Groups Only Focused on 50% of the Solution?
Aug. 27, 2015 11:11AM EST
Climate
To the leadership at Greenpeace, Sierra Club, 350.org, Environmental Defense Fund, Natural Resources Defense Council and all other climate groups:
Your organizations have worked very hard, collectively, to reduce world reliance on carbon-centric oil, gas and coal. Thanks to your work to reduce pollution, we certainly have a healthier planet. High praise is in order for the success of your valiant efforts in the face of corrupt vested interests.
Yet I, along with many others, must still ask: Will your plan win the race against time to avert climate chaos? Anyone paying close attention can see that, even if the world doubles the rate at which it's adopting wind, solar, bike lanes, electric cars and conservation, the excess carbon in our atmosphere and seas will still lead to intense climate chaos. For just one example, the temperature in Phoenix, Arizona, recently reached 117°.
Our society has focused close to 99 percent of our climate efforts on 50 percent of the needed game plan—i.e., reducing the release of atmospheric carbon. Yes, we need to decarbonize our energy. Yet equally important is the need to recarbonize our soils, to sequester the carbon so that we don't reach the tipping point of climate chaos. This is relatively new information for many people.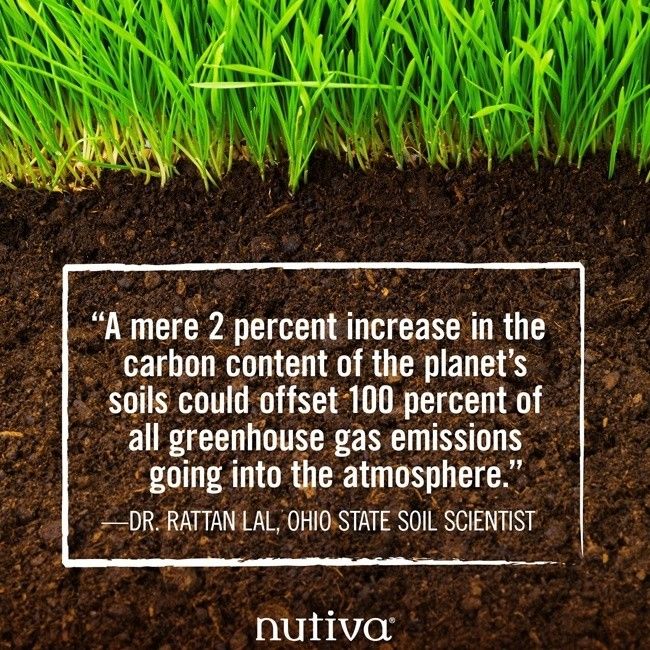 In his article "Soil Carbon Restoration: Can Biology Do the Job?," Jack Kittredge of the Massachusetts Chapter of the Northeast Organic Farming Association provides an excellent report on the subject.
A recent EcoWatch article of my own provides an easy-to-understand overview, with links to organizations working on this vital issue.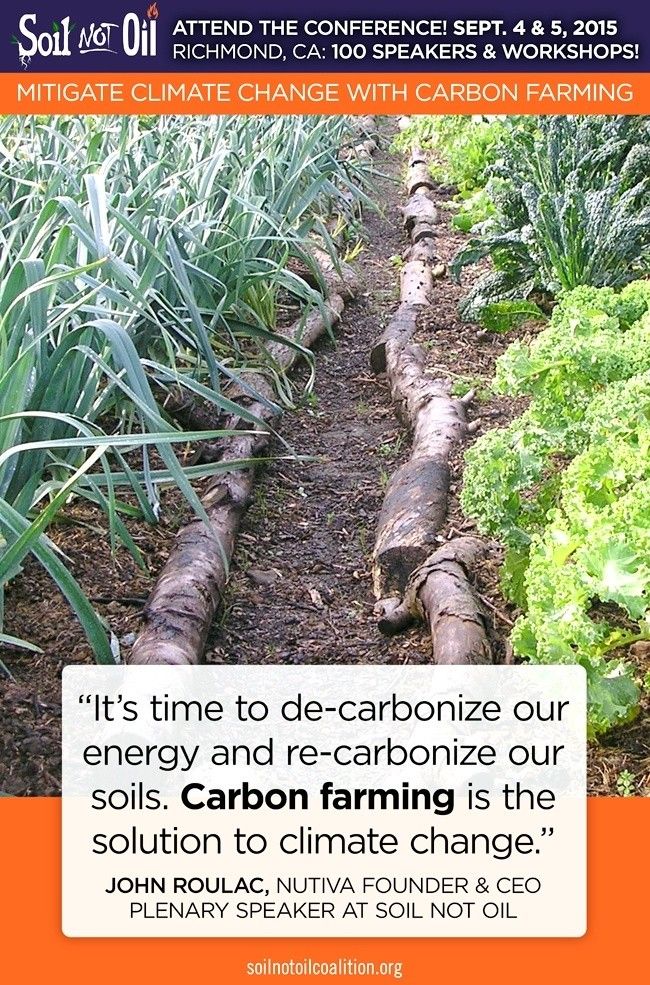 Sometimes "group think" can stymie networks or organizations. Let me be especially direct. The current "half a game plan" or "50 percent solution" will in fact allow destruction of the planet, as solar, wind and reducing extraction alone cannot slow the carbon emissions fast enough as we surge toward an atmospheric 450 ppm.
The Link Between Monsanto, Industrial Ag and Ocean Health
Monsanto and industrial agriculture are contributing more to climate change than Exxon, Chevron and the entire transportation industry combined. Why keep that a secret? Millions of members of Greenpeace, Sierra Club, 350.org, Environmental Defense Fund and Natural Resources Defense Council (NRDC) care deeply about the Earth, and yet have no clue about the elephant in the room.
The other untold secret is that Monsanto and the corporate media are not telling the world that we're rushing to an ocean apocalypse. I give credit to the NRDC for its 2009 Acid Test: The Global Challenge of Ocean Acidification, a powerful 21-minute video on ocean health narrated by Sigourney Weaver.
And, just as I'm writing this, I see that the NRDC is educating people on improving the cattle-grazing methods that impact our climate. A local Greenpeace chapter is also doing its part. The next time you think about stopping by Starbucks remember that millions of Starbucks lattes sold monthly directly correlate with the carbon-intensive industrial dairy production.
The sea is what makes life on this bountiful planet possible. The oceans are places of vast beauty and mystery. The one-two punch of warming sea temperatures and excess carbon falling from the atmosphere is creating the conditions whereby oceans are becoming too hot and too acidic to sustain ocean health.
A Monster Algae Bloom Takes Over the Pacific Ocean
This summer a giant, toxic algae bloom stretches all the way from Alaska to California. Vera Trainer, a research oceanographer with the Northwest Fisheries Science Center in Washington State, told Reuters, "It's the longest-lasting, highest-toxicity and densest bloom that we've ever seen."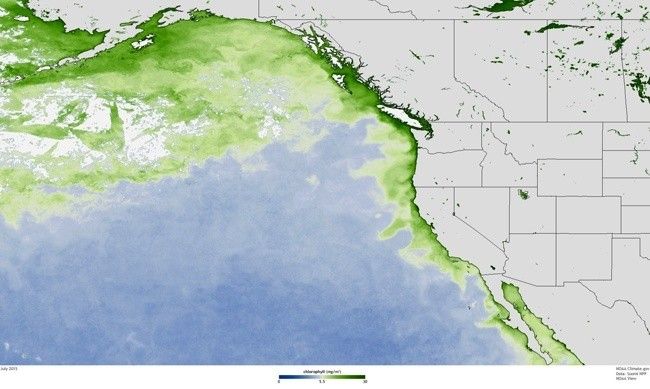 Our acidic oceans (30 percent more so in the last 50 years, according to the National Oceanic and Atmospheric Administration) are making it hard for creatures like lobsters and oysters to form their shells.
Before long, the burning of coal, continued heating of the globe and carpet bombing of industrial-ag greenhouse gas emissions into the ocean will lead to an end of the seas as we know them. Nuclear seepage and plastics are adding to the issue. So far, plankton is dying, starfish are dying and sea lions are dying. Crabs will be next. And, unless we bring carbon into balance, within a few short decades most whales will also perish. This month, 30 dead whales washed ashore in Alaska. Something is very wrong with our oceans.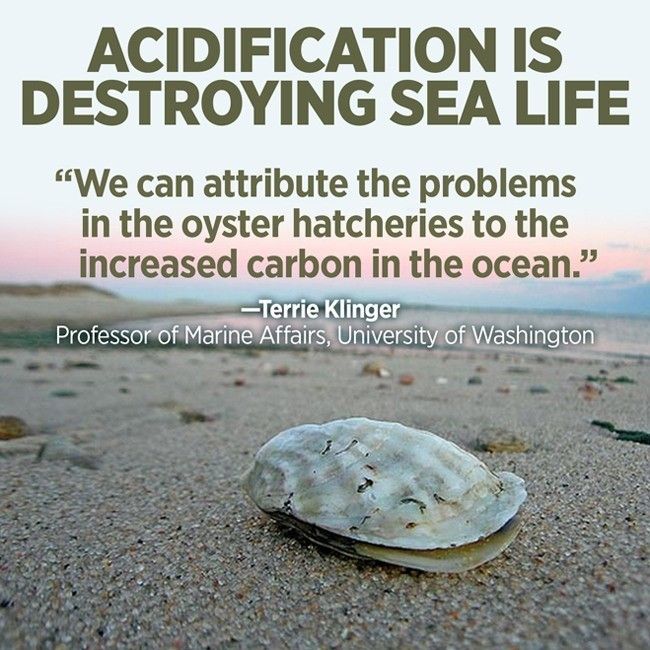 The climate movement, United Nations and most governments have shaped the climate debate by framing the story as being about how hot the Earth will be, or how high the oceans will rise by 2050. Yet we seem to be ignoring the much greater eco-peril of ocean acidification and the vital role of soil in balancing planetary carbon.
If the whales and dolphins could speak, surely they would implore us to: "Change how you raise your food and produce your energy, so that we can all live in harmony on land and sea."
We see disinvestment campaigns for coal and big oil ... what about Monsanto or Syngenta? The climate groups give Monsanto a pass, shining little or no light on the death and destruction it causes—both in its toxic impact and in its huge contribution to climate change.
500 Million Years of Research and Development
The oceans are dying. We need to balance the carbon cycle and reduce climate chaos without losing any more time. The scientific solution is one already proven by 500 million years of R&D. It's called carbon sequestration. The Soil Story explains this process in an easy-to-follow five-minute animated clip with a sound track by Jason Mraz.
We can readily increase carbon farming—also known as regenerative agriculture. The good news is that hundreds of millions of farmers on small plots the world over already know a thing or two about this ecological farming methodology. Even the U.S. government is already working to help American farmers and ranchers increase soil carbon. Growing sea kelp is another innovative way to sequester carbon.
Collectively, your climate-focused groups annually publish millions of tweets, Instagrams, blogs, Facebook posts and press releases. But what percentage of the content is on that favorite "50 percent of the solution"—stop drilling and install more solar panels—and how much is on the Earth-based solution that returns carbon to the soil where it belongs? (I can tell you: Less than 1 percent proposes the latter solution). Imagine how much progress can be made by shifting your social-media focus to an elegant, win-win solution!
On a positive note, at least Greenpeace and Sierra Club are focusing on protecting ancient forests that sequester carbon. Funding is obviously an important issue. Groups may need to increase budgets, or allocate more to soil and oceans, to address these vital issues.
Becoming a Carbon-Literate Society
Yes, it's high time the climate movement became more carbon-literate. The movement has done so much right, and its millions of participants would love to learn how they can be part of the solution by eating a diet that's regenerative and that returns carbon to the soil. It's a basic rule we learned in preschool: Put things back where they belong. We all have a huge opportunity to share this vital educational message. Paul Hawken's Project Drawdown showcasing a hundred of the best climate ideas including planned grazing.
Many leaders of the growing carbon-farming movement will attend the Soil Not Oil Conference in Richmond, California, on Sept. 4-5, which will be live streamed on the web.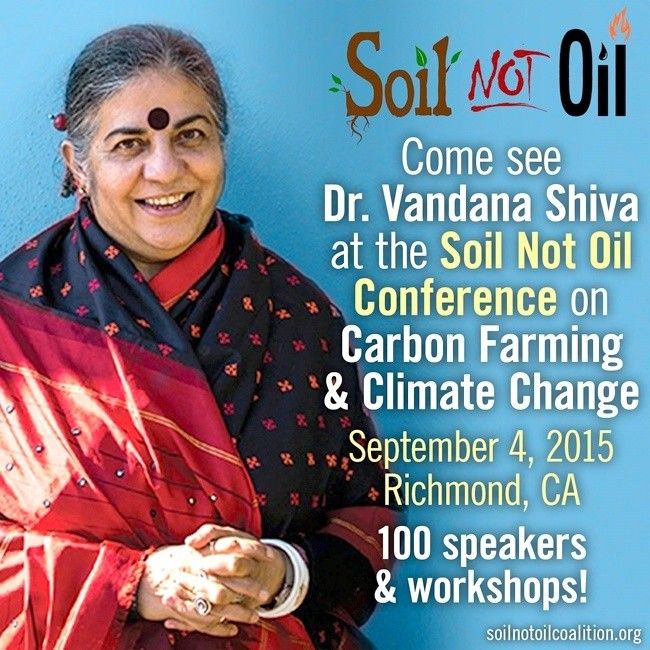 Also, Regeneration International is working on a November 2015 Paris event, to take place shortly before the world climate negotiations summit. Solar advocates and anti-Keystone-pipeline warriors can attend in order to become more carbon-literate, because today the U.S. is the most eco-illiterate society in the history of the Earth.
Soil fertility and natural systems are concepts as foreign to most Americans as the English language is to tribes of the Amazon. Many of these uninformed Americans are members of climate groups who look to your organizations for leadership—look to you to rise above the corporate corruption of Washington, DC, and Brussels, Belgium and provide the world with the wise council that is so desperately needed. We can do this!
Paris, Here We Come
As the CO2 in our atmosphere approaches 450 ppm and many leaders gather in Paris for climate talks, let's focus on a winning plan—one that both decarbonizes our energy and recarbonizes our soil. Some recent good news is that France supports combining food security and carbon sequestration in soils as part of a global Paris agreement to fight climate warming, as French Agriculture Minister Stéphane Le Foll recently announced.
Readers, if you care about this issue, please share this article, along with your own thoughts, on the Facebook walls of Greenpeace, Sierra Club, 350.org, Environmental Defense Fund and NRDC.
The millennial generation, especially, must wear the mantle of leadership in these efforts, and those of us who are older must help them. The future of our planet is hanging in the balance.
YOU MIGHT ALSO LIKE
The Solution Under Our Feet: How Regenerative Organic Agriculture Can Save the Planet
Starbucks, Destroyer of the Seas
EcoWatch Daily Newsletter
A fracking well looms over a residential area of Liberty, Colorado on Aug. 19.
WildEarth Guardians / Flickr
Pope Francis flanked by representatives of the Amazon Rainforest's ethnic groups and catholic prelates march in procession during the opening of the Special Assembly of the Synod of Bishops for the Pan-Amazon Region at The Vatican on Oct. 07 in Vatican City, Vatican. Alessandra Benedetti / Corbis News / Getty Images
The Catholic Church "hears the cry" of the Amazon and its peoples. That's the message Pope Francis hopes to send at the Synod of the Amazon, a three-week meeting at the Vatican that ends Oct. 27.
The crowd appears to attack a protestor in a video shared on Twitter by ITV journalist Mahatir Pasha.
VOA News /
Youtube screenshot
Some London commuters had a violent reaction Thursday morning when Extinction Rebellion protestors attempted to disrupt train service during rush hour.
Some fruit drinks may appear to be healthier, but many can have high levels of added sugars. d3sign / Moment / Getty Images
By Kristen Fischer
Though the science has shown sugary drinks are not healthy for children, fruit drinks and similar beverages accounted for more than half of all children's drink sales in 2018, according to a new report.

Donald Trump attends the opening of Red Tiger Golf Course at Trump National Doral on Jan. 12, 2015 in Doral, Florida. Johnny Louis / FilmMagic
Acting White House Chief of Staff Mick Mulvaney made two controversial announcements about the 2020 Group of Seven (G7) summit: it will be hosted at one of President Donald Trump's golf resorts in Miami and it won't feature any discussion of the climate crisis.
Farms with just one or a handful of different crops encourage fewer species of pollinating and pest-controlling insects to linger, ultimately winnowing away crop yields, according to a new study.
Up to half of the detrimental impacts of the "landscape simplification" that monocropping entails come as a result of a diminished mix of ecosystem service-providing insects, a team of scientists reported Oct. 16 in the journal Science Advances.
Monocrop palm oil plantation Honduras.
​SHARE Foundation / Flickr / CC BY-NC 2.0​
"Our study shows that biodiversity is essential to ensure the provision of ecosystem services and to maintain a high and stable agricultural production," Matteo Dainese, the study's lead author and a biologist at Eurac Research in Bolzano, Italy, said in a statement.

It stands to reason that, with declines in the sheer numbers of insects that ferry pollen from plant to plant and keep crop-eating pests under control, these services will wane as well. But until now, it hasn't been clear how monocultures affect the number and mix of these species or how crop yields might change as a result.
Aiming to solve these questions, Dainese and his colleagues pulled together data from 89 studies cutting across a variety of landscapes, from the tropics of Asia and Africa to the higher latitudes of northern Europe. They tabulated the number of pollinating and pest-controlling insects at these sites — both the absolute number of individuals and the number of species — along with an assessment of the ecosystem services the insects provided.
In almost all of the studies they looked at, the team found that a more diverse pool of these species translated into more pollination and greater pest control. They also showed that simplified landscapes supported fewer species of service-providing insects, which ultimately led to lower crop yields.
The researchers also looked at a third measure of the makeup of insect populations — what they called "evenness." In natural ecosystems, a handful of dominant species with many more individuals typically live alongside a higher number of rarer species. The team found as landscapes became less diverse, dominant species numbers dwindled and rare species gained ground. This resulting, more equitable mix led to less pollination (though it didn't end up affecting pest control).
"Our study provides strong empirical support for the potential benefits of new pathways to sustainable agriculture that aim to reconcile the protection of biodiversity and the production of food for increasing human populations," Ingolf Steffan-Dewenter, one of the study's authors and an animal ecologist at the University of Würzburg in Germany, said in the statement.
The scientists figure that the richness of pollinator species explains around a third of the harmful impacts of less diverse landscapes, while the richness of pest-controlling species accounts for about half of the same measure. In their view, the results of their research point to the need to protect biodiversity on and around crops in an uncertain future.
"Under future conditions with ongoing global change and more frequent extreme climate events, the value of farmland biodiversity ensuring resilience against environmental disturbances will become even more important," Steffan-Dewenter said.
Reposted with permission from our media associate Mongabay.
From Your Site Articles
Related Articles Around the Web
View of an Ivorian cleared forest at the edge of the 35.000 hectares Peko Mont National Park on Oct. 8, 2016. The Mont Péko National Park is located in the west of Ivory Coast where the forest officers fight with illegal immigrants to protect an exceptional flora and fauna, espacially dwarf elephants. SIA KAMBOU / AFP / Getty Images
Ivory Coast's rainforests have been decimated by cocoa production and what is left is put in peril by a new law that will remove legal protections for thousands of square miles of forests, according to The Guardian.
The Apusiaajik Glacier, as seen from Kulusuk village in East Greenland. Like most glaciers in Greenland, it's retreating rapidly, changing the local landscape year by year. Photo credit: Karin Kirk
By Karin Kirk
Greenland had quite the summer. It rose from peaceful obscurity to global headliner as ice melted so swiftly and massively that many were left grasping for adjectives. Then, Greenland's profile was further boosted, albeit not to its delight, when President Trump expressed interest in buying it, only to be summarily dismissed by the Danish prime minister.
During that time I happened to be in East Greenland, both as an observer of the stark effects of climate change and as a witness to local dialogue about presidential real estate aspirations, polar bear migrations and Greenland's sudden emergence as a trending topic.