This website uses cookies to ensure you get the best experience while browsing it. By clicking 'Got It' you're accepting these terms.
Who's Funding Climate Change Denial?
Feb. 15, 2012 09:23AM EST
Climate
By Andy Rowell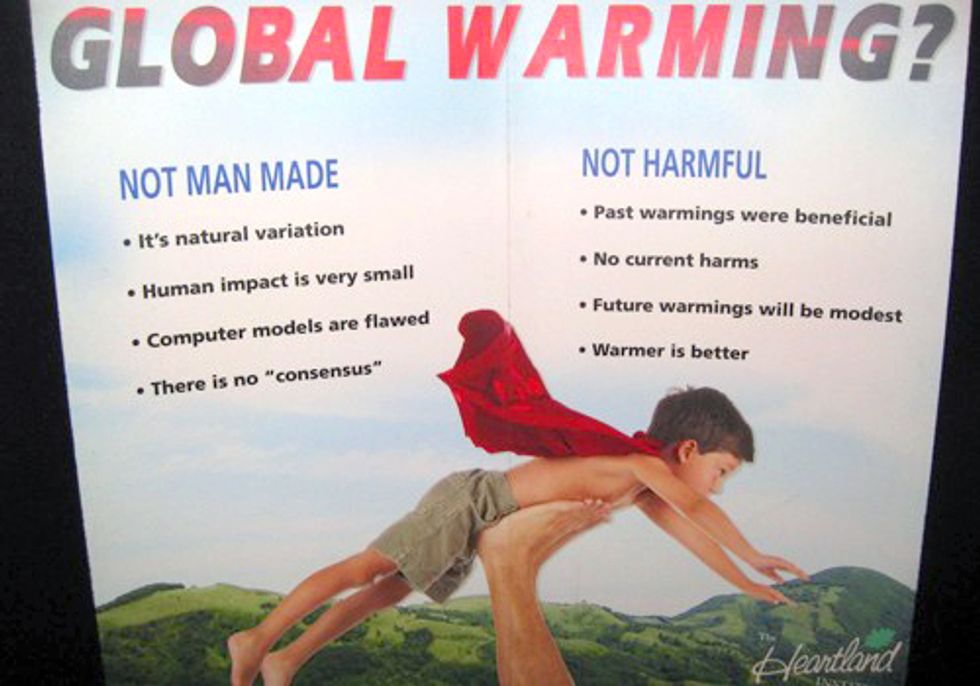 It was not probably the Valentine's present the leading climate skeptic organization, the Heartland Institute, was expecting.
But after years of exploiting ClimateGate and leaks from climate scientists, on Feb. 14 they were on the receiving end of their very own leak.
The climate denial watch-dog, DeSmogBlog, has leaked details of Heartland's strategy and funding documents exposing the heart of the climate denial machine.
The documents confirm what many people have suspected for a while—That Heartland not only receives money to fund its own climate skeptic work, but it also funds other leading skeptics, such as Craig Idso, who gets $11,600 per month and Fred Singer who receives $5,000 per month, plus expenses.
Heartland is also spending a whopping $388,000 for a team of skeptics to undermine the findings of the UN climate body—the Intergovernmental Panel on Climate Change.
One of the documents leaked is Heartland's Fundraising plan for this year, which exposes some of the world's best known companies, such as Altria (parent company of Philip Morris) Bayer, Eli Lilly, General Motors, GlaxoSmithKline, Microsoft, Pfizer and Time Warner, as funding the climate denial movement.
The Fundraising plan also reveals that the Koch Brothers are once again funding the Institute's global warming disinformation campaign. Up until Feb. 14 it was thought that the last funding was more than a decade ago.
One leaked document, the January 2012 Confidential Memo—2012 Heartland Climate Strategy states: "We will also pursue additional support from the Charles G. Koch Foundation. They returned as a Heartland donor in 2011 with a contribution of $200,000. We expect to push up their level of support in 2012 and gain access to their network of philanthropists, if our focus continues to align with their interests. Other contributions will be pursued for this work, especially from corporations whose interests are threatened by climate policies."
So here is confirmation in writing what many people have known for years—that the Heartland Institute is effectively acting as a front group for big oil and energy, raising money from companies which are threatened by climate policies, so that it can essentially do their dirty work in undermining legislation that threatens their corporate bottom line.
And in that sense, the boys from Heartland are guns for hire.
And this is where it gets interesting. The documents show that Heartland's climate change denial machine is chiefly funded by one donor, who is just called "Anonymous." Their identity is not disclosed in the confidential documents. But the accounts reveal that this one donor has donated $13 million to Heartland's climate denial work over five years, with another $1 million planned this year.
For one person to have such a huge influence on a key climate skeptic think tank is both interesting and worrying. For years the climate skeptics have operated to clear double standards. On the one hand they have repeatedly argued that climate scientists must be transparent with their work and have inundated them with Freedom of Information requests, but at the same time they have refused to come clean over who funds them.
Surely it is now beholden on the Heartland to come clean and tell everyone who their "key Anonymous Donor" is?
In the interests of transparency and credibility, it is the least the Heartland Institute can do.
For more information, click here.
EcoWatch Daily Newsletter
One of the 25 new Long Beach Transit hybrid gasoline-electric buses on April 23, 2009. Jeff Gritchen / Digital First Media / Orange County Register / Getty Images
In Long Beach, California, some electric buses can charge along their route without cords or wires.
When a bus reaches the Pine Avenue station, it parks over a special charging pad. While passengers get on and off, the charger transfers energy to a receiver on the bottom of the bus.
Semi trucks travel along I94 on June 21 near Lake forest, Illinois. Scott Olson / Getty Images
The Trump administration pushed through an exemption to clean air rules, effectively freeing heavy polluting, super-cargo trucks from following clean air rules. It rushed the rule without conducting a federally mandated study on how it would impact public health, especially children, said the Environmental Protection Agency (EPA) Inspector General Charles J. Sheehan in a report released yesterday, as the AP reported.

A time-restricted eating plan provides a new way to fight obesity and metabolic diseases that affect millions of people worldwide. RossHelen / iStock / Getty Images Plus
By Satchin Panda and Pam Taub
People with obesity, high blood sugar, high blood pressure or high cholesterol are often advised to eat less and move more, but our new research suggests there is now another simple tool to fight off these diseases: restricting your eating time to a daily 10-hour window.
Kunhui Chih / iStock / Getty Images Plus
A man and his dog walk past an H&M store in Stockholm, Sweden on March 11, 2014. Melanie Stetson Freeman / The Christian Science Monitor via Getty Images
By Ashutosh Pandey
H&M's flagship store at the Sergels Torg square in Stockholm is back in business after a months-long refurbishment. But it's not exactly business as usual here.