This website uses cookies to ensure you get the best experience while browsing it. By clicking 'Got It' you're accepting these terms.
Who's Funding Climate Change Denial?
Feb. 15, 2012 09:23AM EST
Climate
By Andy Rowell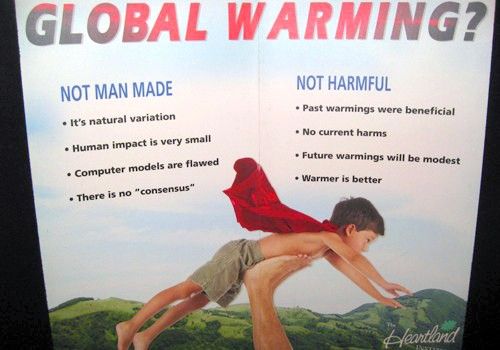 It was not probably the Valentine's present the leading climate skeptic organization, the Heartland Institute, was expecting.
But after years of exploiting ClimateGate and leaks from climate scientists, on Feb. 14 they were on the receiving end of their very own leak.
The climate denial watch-dog, DeSmogBlog, has leaked details of Heartland's strategy and funding documents exposing the heart of the climate denial machine.
The documents confirm what many people have suspected for a while—That Heartland not only receives money to fund its own climate skeptic work, but it also funds other leading skeptics, such as Craig Idso, who gets $11,600 per month and Fred Singer who receives $5,000 per month, plus expenses.
Heartland is also spending a whopping $388,000 for a team of skeptics to undermine the findings of the UN climate body—the Intergovernmental Panel on Climate Change.
One of the documents leaked is Heartland's Fundraising plan for this year, which exposes some of the world's best known companies, such as Altria (parent company of Philip Morris) Bayer, Eli Lilly, General Motors, GlaxoSmithKline, Microsoft, Pfizer and Time Warner, as funding the climate denial movement.
The Fundraising plan also reveals that the Koch Brothers are once again funding the Institute's global warming disinformation campaign. Up until Feb. 14 it was thought that the last funding was more than a decade ago.
One leaked document, the January 2012 Confidential Memo—2012 Heartland Climate Strategy states: "We will also pursue additional support from the Charles G. Koch Foundation. They returned as a Heartland donor in 2011 with a contribution of $200,000. We expect to push up their level of support in 2012 and gain access to their network of philanthropists, if our focus continues to align with their interests. Other contributions will be pursued for this work, especially from corporations whose interests are threatened by climate policies."
So here is confirmation in writing what many people have known for years—that the Heartland Institute is effectively acting as a front group for big oil and energy, raising money from companies which are threatened by climate policies, so that it can essentially do their dirty work in undermining legislation that threatens their corporate bottom line.
And in that sense, the boys from Heartland are guns for hire.
And this is where it gets interesting. The documents show that Heartland's climate change denial machine is chiefly funded by one donor, who is just called "Anonymous." Their identity is not disclosed in the confidential documents. But the accounts reveal that this one donor has donated $13 million to Heartland's climate denial work over five years, with another $1 million planned this year.
For one person to have such a huge influence on a key climate skeptic think tank is both interesting and worrying. For years the climate skeptics have operated to clear double standards. On the one hand they have repeatedly argued that climate scientists must be transparent with their work and have inundated them with Freedom of Information requests, but at the same time they have refused to come clean over who funds them.
Surely it is now beholden on the Heartland to come clean and tell everyone who their "key Anonymous Donor" is?
In the interests of transparency and credibility, it is the least the Heartland Institute can do.
For more information, click here.
EcoWatch Daily Newsletter
A vegan diet can improve your health, but experts say it's important to keep track of nutrients and protein. Getty Images
By Dan Gray
Research shows that 16 weeks of a vegan diet can boost the gut microbiome, helping with weight loss and overall health.
A healthy microbiome is a diverse microbiome. A plant-based diet is the best way to achieve this.
It isn't necessary to opt for a strictly vegan diet, but it's beneficial to limit meat intake.
New research shows that following a vegan diet for about 4 months can boost your gut microbiome. In turn, that can lead to improvements in body weight and blood sugar management.
Students gathered at the National Mall in Washington DC, Sept. 20. NRDC
By Jeff Turrentine
Nearly 20 years have passed since the journalist Malcolm Gladwell popularized the term tipping point, in his best-selling book of the same name. The phrase denotes the moment that a certain idea, behavior, or practice catches on exponentially and gains widespread currency throughout a culture. Having transcended its roots in sociological theory, the tipping point is now part of our everyday vernacular. We use it in scientific contexts to describe, for instance, the climatological point of no return that we'll hit if we allow average global temperatures to rise more than 2 degrees Celsius above preindustrial levels. But we also use it to describe everything from resistance movements to the disenchantment of hockey fans when their team is on a losing streak.
samael334 / iStock / Getty Images
Berries are small, soft, round fruit of various colors — mainly blue, red, or purple.
A glacier is seen in the Kenai Mountains on Sept. 6, near Primrose, Alaska. Scientists from the U.S. Geological Survey have been studying the glaciers in the area since 1966 and their studies show that the warming climate has resulted in sustained glacial mass loss as melting outpaced the accumulation of new snow and ice. Joe Raedle / Getty Images
By Mark Mancini
On Aug. 18, Iceland held a funeral for the first glacier lost to climate change. The deceased party was Okjökull, a historic body of ice that covered 14.6 square miles (38 square kilometers) in the Icelandic Highlands at the turn of the 20th century. But its glory days are long gone. In 2014, having dwindled to less than 1/15 its former size, Okjökull lost its status as an official glacier.
Members of Chicago Democratic Socialists of America table at the Logan Square Farmers Market on Aug. 18. Alex Schwartz
By Alex Schwartz
Among the many vendors at the Logan Square Farmers Market on Aug. 18 sat three young people peddling neither organic vegetables, gourmet cheese nor handmade crafts. Instead, they offered liberation from capitalism.
Hackney primary school students went to the Town Hall on May 24 in London after school to protest about the climate emergency. Jenny Matthews / In Pictures / Getty Images
Bird watching in the U.S. may be a lot harder than it once was, since bird populations are dropping off in droves, according to a new study.