This website uses cookies to ensure you get the best experience while browsing it. By clicking 'Got It' you're accepting these terms.
Who's Funding Climate Change Denial?
Feb. 15, 2012 09:23AM EST
Climate
By Andy Rowell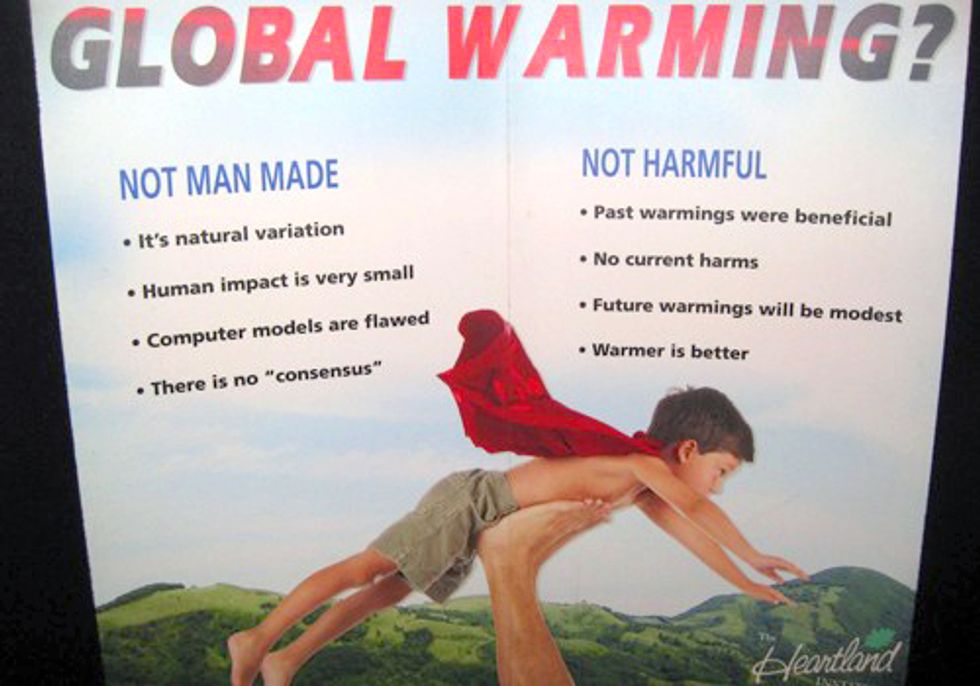 It was not probably the Valentine's present the leading climate skeptic organization, the Heartland Institute, was expecting.
But after years of exploiting ClimateGate and leaks from climate scientists, on Feb. 14 they were on the receiving end of their very own leak.
The climate denial watch-dog, DeSmogBlog, has leaked details of Heartland's strategy and funding documents exposing the heart of the climate denial machine.
The documents confirm what many people have suspected for a while—That Heartland not only receives money to fund its own climate skeptic work, but it also funds other leading skeptics, such as Craig Idso, who gets $11,600 per month and Fred Singer who receives $5,000 per month, plus expenses.
Heartland is also spending a whopping $388,000 for a team of skeptics to undermine the findings of the UN climate body—the Intergovernmental Panel on Climate Change.
One of the documents leaked is Heartland's Fundraising plan for this year, which exposes some of the world's best known companies, such as Altria (parent company of Philip Morris) Bayer, Eli Lilly, General Motors, GlaxoSmithKline, Microsoft, Pfizer and Time Warner, as funding the climate denial movement.
The Fundraising plan also reveals that the Koch Brothers are once again funding the Institute's global warming disinformation campaign. Up until Feb. 14 it was thought that the last funding was more than a decade ago.
One leaked document, the January 2012 Confidential Memo—2012 Heartland Climate Strategy states: "We will also pursue additional support from the Charles G. Koch Foundation. They returned as a Heartland donor in 2011 with a contribution of $200,000. We expect to push up their level of support in 2012 and gain access to their network of philanthropists, if our focus continues to align with their interests. Other contributions will be pursued for this work, especially from corporations whose interests are threatened by climate policies."
So here is confirmation in writing what many people have known for years—that the Heartland Institute is effectively acting as a front group for big oil and energy, raising money from companies which are threatened by climate policies, so that it can essentially do their dirty work in undermining legislation that threatens their corporate bottom line.
And in that sense, the boys from Heartland are guns for hire.
And this is where it gets interesting. The documents show that Heartland's climate change denial machine is chiefly funded by one donor, who is just called "Anonymous." Their identity is not disclosed in the confidential documents. But the accounts reveal that this one donor has donated $13 million to Heartland's climate denial work over five years, with another $1 million planned this year.
For one person to have such a huge influence on a key climate skeptic think tank is both interesting and worrying. For years the climate skeptics have operated to clear double standards. On the one hand they have repeatedly argued that climate scientists must be transparent with their work and have inundated them with Freedom of Information requests, but at the same time they have refused to come clean over who funds them.
Surely it is now beholden on the Heartland to come clean and tell everyone who their "key Anonymous Donor" is?
In the interests of transparency and credibility, it is the least the Heartland Institute can do.
For more information, click here.
EcoWatch Daily Newsletter
The Visible Infrared Imaging Radiometer Suite on the Suomi NPP satellite acquired this image of forest fire smoke hovering over North America on Aug. 15, 2018. NASA Earth Observatory
New York City isn't known for having the cleanest air, but researchers traced recent air pollution spikes there to two surprising sources — fires hundreds of miles away in Canada and the southeastern U.S.
If temperatures continue to rise, the world is at risk from global
sea-level rise
, which will flood many coastal cities as seen above in Bangladesh. NurPhoto / Contributor / Getty Images
The mounting climate emergency may spur the next global financial crisis and the world's central banks are woefully ill equipped to handle the consequences, according to a new book-length report by the Bank for International Settlements (BIS), as S&P Global reported. Located in Basel, Switzerland, the BIS is an umbrella organization for the world's central banks.
Two ice fishers with a truck cut a hole in the ice near an ice fishing hut on frozen Lake Winnebago.
Richard Hamilton Smith / Corbis NX / Getty Images
By Susan Cosier
Come February in Wisconsin, almost everything will be covered in ice and snow. In little shanties on frozen Lake Winnebago, a 30-by-13-mile lake in the eastern part of the state, fishers will keep watch over rectangular holes cut into the ice with a chainsaw. When they spot a fin passing below, they'll jab their spears down deep. The lucky ones will earn themselves a lake sturgeon, a species that has prowled the earth's waters for more than 150 million years.
Fresno, California, seen above, is receiving $66 million for walking trails, sidewalks, bike lanes, and more. DenisTangneyJr / iStock / Getty Images
Grecia Elenes grew up in Fresno, California. She says some parts of the city have been neglected for decades. When she moved back after college she realized nothing has changed.
People are seen embracing at Numeralla Rural Fire Brigade near the scene of a water tanker plane crash on Jan. 23 in Cooma, Australia. Three American firefighters have have died after their C-130 water tanker plane crashed while battling a bushfire near Cooma in southern NSW this afternoon. Jenny Evans / Getty Images
Three U.S. firefighters gave their lives battling Australia's historic wildfires Thursday when their airborne water tanker crashed.