This website uses cookies to ensure you get the best experience while browsing it. By clicking 'Got It' you're accepting these terms.
Watch: River Explodes Into Flames From Methane Coming From Nearby Fracking Sites
Apr. 22, 2016 09:54AM EST
Energy
By Max Phillips
So much methane gas is now bubbling up through the Condamine River in Queensland, Australia that it exploded with fire and held a large flame. Gas seeping into the river began shortly after coal seam gas operations started nearby and is growing in volume and the stretch of river affected is expanding in length.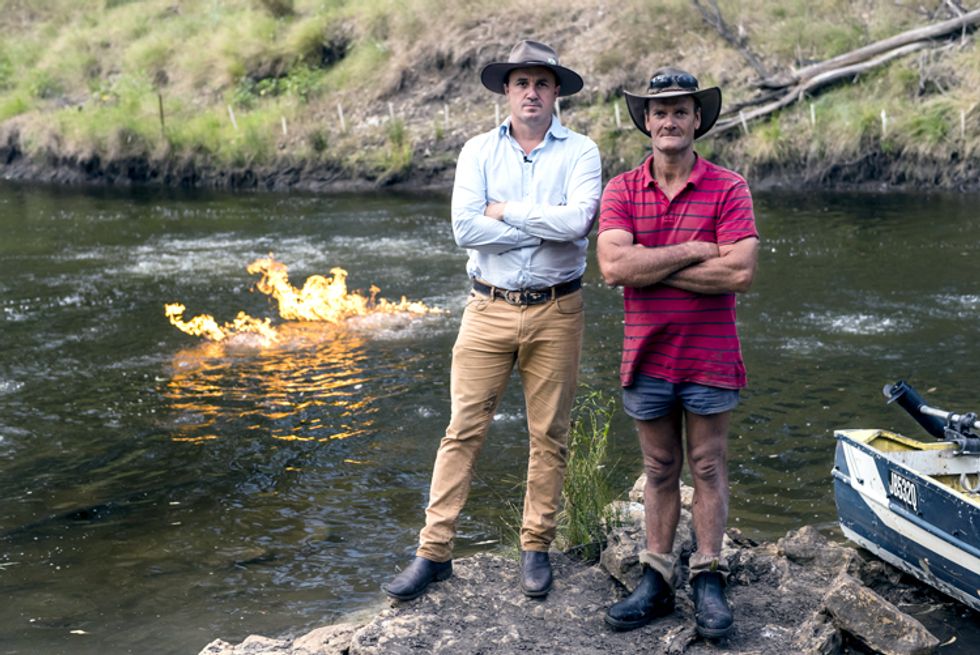 Greens MP Jeremy Buckingham travelled to Chinchilla in South Western Queensland to investigate the impact of the coal seam gas industry on the environment as part of the Greens' campaign to ban fracking and unconventional gas in Australia.
"I was shocked by the force of the explosion when I tested whether gas boiling through the Condamine River, Qld was flammable," Buckingham said. "So much gas is bubbling through the river that it held a huge flame for over an hour."
Watch here:
Methane was first discovered bubbling through the Condamine River near Chinchilla in 2012 where coal seam gas wells had been drilled by Origin Energy nearby. There are hundreds of wells in the immediate area, with three companies—Origin Energy, QGC and Arrow Energy—all operating coal seam gas fields nearby.
Locals say the river has never bubbled like this historically. Government investigations found (page 19) that the source of the gas was "consistent with gas originating from Surat Basin geological formations." The concern is that depressurising the coal seams for gas extraction has caused methane gas to flow up other cracks, fissures, bores, to the surface—such as through the Condamine River. This is directly polluting the river and the air, but also methane is a potent greenhouse gas and these fugitive emissions are a major concern.
Not only is the gas bubbling becoming more intense recently, but it is spreading to a greater length of the river. Origin Energy, which operates wells in close proximity to the gas seep, has installed some monitoring pipework, and the Queensland government has put stakes on the river bank to mark each visible seep.
"Explosive gas boiling through a river shows just how damaging fracking and unconventional gas extraction can be," Buckingham said. "We should be going with clean renewable energy and banning fracking and unconventional gas in Australia. The era of fossil fuels is over."
"I do not want to see this happen to the Namoi River, or any other river in NSW [New South Wales], or anywhere else, which is why unconventional gas should be stopped. The fact that this is happening in the Murray Darling Basin is a national disgrace."
Chinchilla local resident, John Jenkyn, who lives next door to the QGC Kenya gas field and gas processing facility said: "Anything that contaminates the underground water is a terrible thing. Depressurising the aquifers to extract the coal seam gas seems to have made the gas flow out beneath the Condamine River and it's now spreading further.
"Over the last few years there more and more patches of bubbles have appeared on the river and the pressure of the gas has increased to the point where it is like an over-sized spa bath. It's a river, it shouldn't be doing that."
Karen Auty, Chinchilla resident and activist against unconventional gas, said: "It's deeply troubling to see contaminated water ways and to see water bores blow out with gas or fail and ground water levels drop. We're all deeply concerned about the water.
"As local residents we want to know whether it is safe to live among all these gas wells and infrastructure, what are the impacts on our health?"
YOU MIGHT ALSO LIKE
12 Arrested in Earth Day-Themed Protest Against Gas Storage in Seneca Lake's Salt Caverns
10 Years of Fracking: Its Impact on Our Water, Land and Climate
Danger, Will Robinson: Oil Industry Knew CO2-Climate Link in '68
Cuomo's Next Step Against Fracking: Reject the Constitution Pipeline
EcoWatch Daily Newsletter
Aerial shot top view Garbage trucks unload garbage to a recycle in the vicinity of the city of Bangkok, Thailand. bugto / Moment / Getty Images
German researchers have identified a strain of bacterium that not only breaks down toxic plastic, but also uses it as food to fuel the process, according to The Guardian.
The Environmental Protection Agency (EPA) issued a policy memo yesterday that is an expansive relaxation of legally mandated regulations on polluting industries, saying that industries may have trouble adhering to the regulations while they are short-staffed during the coronavirus global pandemic, according to the AP.
Hurricane Dorian was one of the 2019 Atlantic hurricane season's most devastating storms. NASA
2019 marked the fourth year in a row that the Atlantic hurricane season saw above-average activity, and it doesn't look like 2020 will provide any relief.
The deep, open ocean may seem like an inhospitable environment, but many species like human-sized Humboldt squids are well-adapted to the harsh conditions. 1,500 feet below the ocean's surface, these voracious predators could be having complex conversations by glowing and changing patterns on their skin that researchers are just beginning to decipher.
A worker distributes disinfection wipes at a farmers market at Richard Tucker Park in New York City on March 21, 2020. Lev Radin / Pacific Press / LightRocket via Getty Images
Not many restaurants will be able to survive coronavirus, and this is a personal, social and national tragedy.
I'm worried about farmers markets too.