Watch Livestream: Bill McKibben and Naomi Klein Headline 'Off and On' Climate Event
Sep. 09, 2015 03:57PM EST
Climate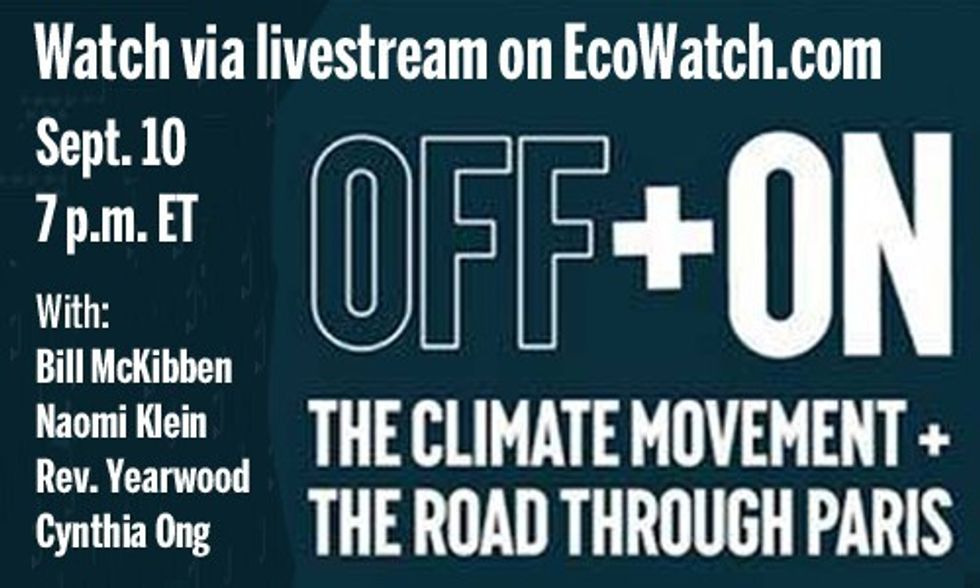 Some big names in the environmental movement will be leading a multimedia presentation about the climate crisis tomorrow night, Thursday, Sept. 9 at 7 p.m. ET, which will be livestreamed right here on EcoWatch.
Bill McKibben, author and co-founder of 350.org, and Naomi Klein, author of This Changes Everything and narrator in an upcoming documentary of the same name, will headline the event.
The event is called Off and On because "society's task in tackling climate change is simple," says 350.org. "Turn off the flow of carbon-dense fuels like coal, oil and gas, and turn on the switch to renewable energy sources like solar and wind." The event will also focus on the upcoming climate talks in Paris this December.
Watch the livestream here tomorrow at 7 p.m. ET:
Rev. Lennox Yearwood of the Hip Hop Caucus, who is working to connect music, climate justice and civil rights activists, and Cynthia Ong, a climate activist from Borneo, who is one of Indonesia's most effective and visionary coal-fighters, will also speak at the event.
Bill McKibben says he's "not much a fan of big climate summits" because "none so far have done hardly anything to solve the problem." But he feels at least they get the world a little more tuned in to the state of the climate "if for a few weeks at least." So, as McKibben says, "with the big Paris talks on the horizon, our job is to focus that attention on what it will really take to get serious: keeping at least 80 percent of fossil fuels under ground and getting to 100 percent renewable energy by 2050."
The event is at the Brooklyn Academy of Music in the Howard Gilman Opera House in Brooklyn, New York. Tickets are still available.
YOU MIGHT ALSO LIKE
World Premiere of Naomi Klein's 'This Changes Everything'
Watch NASA Explain Why We Should All Be Worried About Greenland's Melting Ice Sheet
Naomi Klein: 'Toxic Ideology of Market Fundamentalism' Is to Blame for the 'Degradation of the Planetary System'
EcoWatch Daily Newsletter
Related Articles from EcoWatch
Recent Stories from EcoWatch