Watch Live: UN Climate Summit in Lima, Peru
Dec. 08, 2014 11:35AM EST
Climate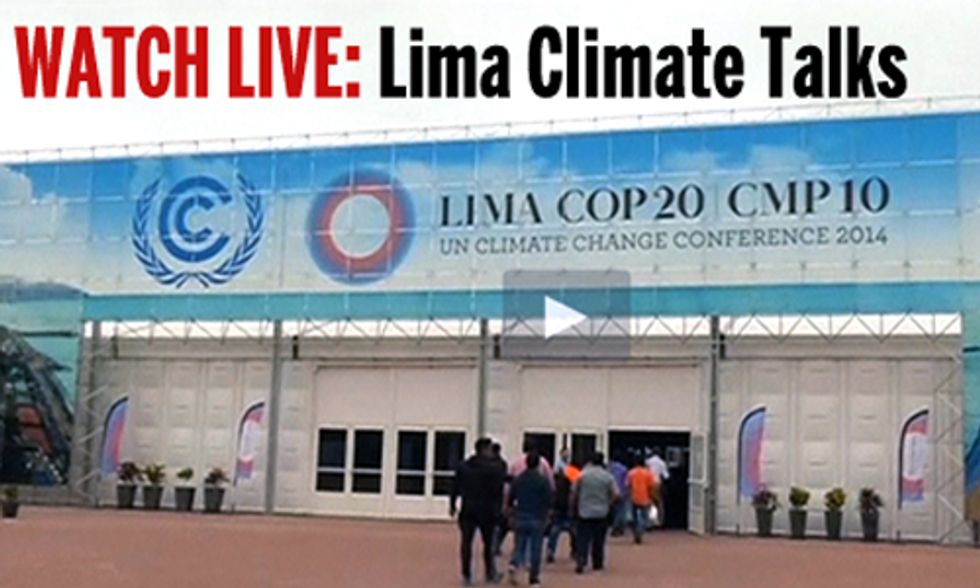 Starting today, Monday, Dec. 8 - Dec. 12, EcoWatch will feature live broadcasting via Democracy Now! from 8 to 9 a.m. from the United Nations Climate Change Conference in Lima, Peru. Diplomats from around the world are gathered in Lima to reach a draft agreement to limit greenhouse gas emissions that cause global warming, which will be finalized in 2015.
Watch livestream here on Tuesday, Dec. 9 from 8 - 9 a.m.:
Monday, Dec. 8:
As Typhoon Hagupit Wreaks Havoc, Leading Filipino Environmental Voice Silenced at U.N. Climate Talks
As we broadcast from the United Nations Climate Change Conference in Lima, Peru, the Philippines is being hit by a deadly typhoon for the third year in a row. More than 90 people have been killed and more than one million evacuated from their homes. The Filipino delegation at the U.N. climate talks has drawn attention over the surprising absence of Yeb Saño, the country's former lead climate negotiator. Saño made international headlines at both of the last two climate summits after he gave emotional speeches on the link between climate change and the deadly typhoons hitting his country. We are joined by Lidy Nacpil of the Philippine Movement for Climate Justice.
At Lima Talks, Nations Worst Hit by Global Warming Say Climate Aid Isn't Charity, But Reparations
Convening in Lima, Peru, the annual United Nations Climate Change Conference is in its second and final week of talks. Negotiators from 190 nations are working on a global deal to limit climate change, due to be agreed on in Paris next year. Just last week the U.N.'s World Meteorological Organization said 2014 is on track to be the hottest on record, or at least among the very warmest. Including this year, 14 of the 15 hottest years on record will have been in the 21st century. Deep divisions remain between developed and developing nations on how much the world's largest polluters should cut emissions and how much they should help poorer nations deal with climate change. We are joined by two guests: Lidy Nacpil of the Philippine Movement for Climate Justice, and Saleemul Huq, a Bangladeshi climate scientist who is advising the bloc of least developed countries in the climate negotiations.
The Laundering Machine: How U.S. Corporations Threaten Peru's Forests Through Illegal Logging
We are broadcasting from the United Nations Climate Conference in Lima, Peru, where more than half of the country is still covered by tropical rainforest, which plays a crucial role in absorbing carbon emissions that contribute to global warming. A new report reveals more than 20 U.S. companies have imported millions of dollars in illegal wood from the Peruvian Amazon since 2008. We speak to Julia Urrunaga, Peru programs director for the Environmental Investigation Agency and author of the new report, "The Laundering Machine: How Fraud and Corruption in Peru's Concession System Are Destroying the Future of Its Forests."
Widows of Slain Campaigners Speak Out on Peru's Growing Dangers to Environmental Activism
Peru, the host country of this year's U.N. Climate Change Conference, is facing scrutiny because a new report by the group Global Witness finds it is the fourth most dangerous nation for environmental activists, including the indigenous people who live in the forests and work to protect it from deforestation. Peru also recently passed legislation that rolls back forest protections in order to attract new investment and development. We speak with Julia Pérez and Ergilia Rengifo, the widows of activists Edwin Chota and Jorge Ríos, who were killed in September allegedly by illegal loggers they were trying to stop.
YOU MIGHT ALSO LIKE
Typhoon Hagupit Hits Philippines: Climate Catastrophe Is Here Now!
Hillary Clinton Open to Fracking, Ignores Keystone XL
Low-Carbon Economies Most Promising Pathway to Meaningful Global Climate Agreement
EcoWatch Daily Newsletter
Related Articles from EcoWatch