This website uses cookies to ensure you get the best experience while browsing it. By clicking 'Got It' you're accepting these terms.
Watch Colbert Explain Why the Broncos Should Draft Hillary Clinton for the Super Bowl
Feb. 03, 2016 10:28AM EST
Politics
Monday night was a "huge night," Stephen Colbert told viewers of the Late Show with Stephen Colbert. He's, of course, referring to the Iowa caucuses on Monday night. It was the closest caucuses in Iowa history for the Democrats, with Hillary Clinton defeating Bernie Sanders by a "razor-thin margin." On the Republican side, Ted Cruz beat Donald Trump in an upset, and Marco Rubio surprised many by coming in a close third.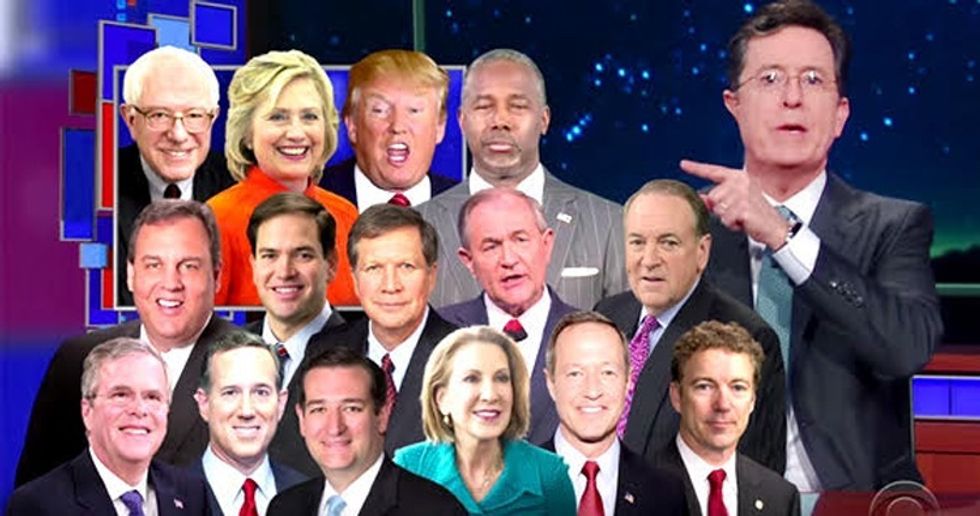 "Hillary won by three-tenths of one percent, or as its known in Iowa, Carl," Colbert joked, as he displayed a picture of a stereotypical farmer.
The Iowa caucuses are of great political import. Iowa is the first state to cast a ballot in the U.S. "Despite being tiny, atypical of the rest of the U.S., and providing about 1 percent of the nation's delegates, the state is the first indicator of whether a prospective presidential candidate's support is holding up," The Independent explained.
The outcome of the 2016 election is crucial for those in the climate movement, as the next president will greatly impact action on climate change and the U.S. fulfillment of the Paris agreement.
Last night on the show, Colbert explained that "this splinter of a sliver of a shard of a margin of an echo of a ricochet of a victory came down to a matter of luck." A number of precincts reported ties between Clinton and Sanders, so delegates flipped a coin to break the tie. Clinton won six coin tosses that secured her a victory over Sanders.
"The Democrats picked the winner last night the same way roommates decide who has to drive to Taco Bell," Colbert cracked.
Although, NPR argued that the story is more complicated than that. There were at least a dozen coin tosses, and Sanders won a "handful" of them. Clinton did not win all of the coin tosses, as some reported. She just won more than Sanders. And NPR said, Clinton's so-called "Miracle Six" coin toss victories "would make little difference in the outcome ... because of the complicated way Iowa Democrats allocate their delegates."
Still, Colbert couldn't help but marvel at Clinton's coin-toss luck. "With that kind of coin-flipping prowess, forget the Democrats. The Broncos should draft Hillary for the Super Bowl on Sunday," Colbert said. "I mean, after all, I think she may be younger than Peyton Manning."
And Colbert said he figured out why Sanders did so poorly with the coin tosses. "He's trash talking money in politics so much that now even the coins have turned against him."
Colbert poked fun at Republicans, too, mocking Cruz, Trump, Rubio and the flailing Ben Carson.
Watch here:
YOU MIGHT ALSO LIKE
Stephen Colbert: Winners of Iowa Caucuses 'Probably Did It By Sucking Up to Big Corn'
Bernie Sanders and Hillary Clinton Make History in Virtual Tie in Iowa
15 Florida Mayors to Marco Rubio: We're Going Under, Take Climate Change Seriously
EcoWatch Daily Newsletter
A Starbucks barista prepares a drink at a Starbucks Coffee Shop location in New York. Ramin Talaie / Corbis via Getty Images
By Cathy Cassata
Are you getting your fill of Starbucks' new Almondmilk Honey Flat White, Oatmilk Honey Latte, and Coconutmilk Latte, but wondering just how healthy they are?
By Sharon Kelly
Back in April last year, the Trump administration's Environmental Protection Agency decided it was "not necessary" to update the rules for toxic waste from oil and gas wells. Torrents of wastewater flow daily from the nation's 1.5 million active oil and gas wells and the agency's own research has warned it may pose risks to the country's drinking water supplies.
Swedish climate activist Greta Thunberg takes part in a "Friday for Future" youth demonstration in a street of Davos on Jan. 24, 2020 on the sideline of the World Economic Forum annual meeting. FABRICE COFFRINI / AFP via Getty Images
Treasury Secretary Steven Mnuchin pretended not to know who Greta Thunberg is, and then he told her to get a degree in economics before giving world leaders advice, as The Guardian reported.
The Visible Infrared Imaging Radiometer Suite on the Suomi NPP satellite acquired this image of forest fire smoke hovering over North America on Aug. 15, 2018. NASA Earth Observatory
New York City isn't known for having the cleanest air, but researchers traced recent air pollution spikes there to two surprising sources — fires hundreds of miles away in Canada and the southeastern U.S.
If temperatures continue to rise, the world is at risk from global
sea-level rise
, which will flood many coastal cities as seen above in Bangladesh. NurPhoto / Contributor / Getty Images
The mounting climate emergency may spur the next global financial crisis and the world's central banks are woefully ill equipped to handle the consequences, according to a new book-length report by the Bank for International Settlements (BIS), as S&P Global reported. Located in Basel, Switzerland, the BIS is an umbrella organization for the world's central banks.