Watch a Pennsylvania Woman Disrupt Democratic Gubernatorial Candidates Who Avoided Fracking Discussion
May. 19, 2014 12:32PM EST
Fracking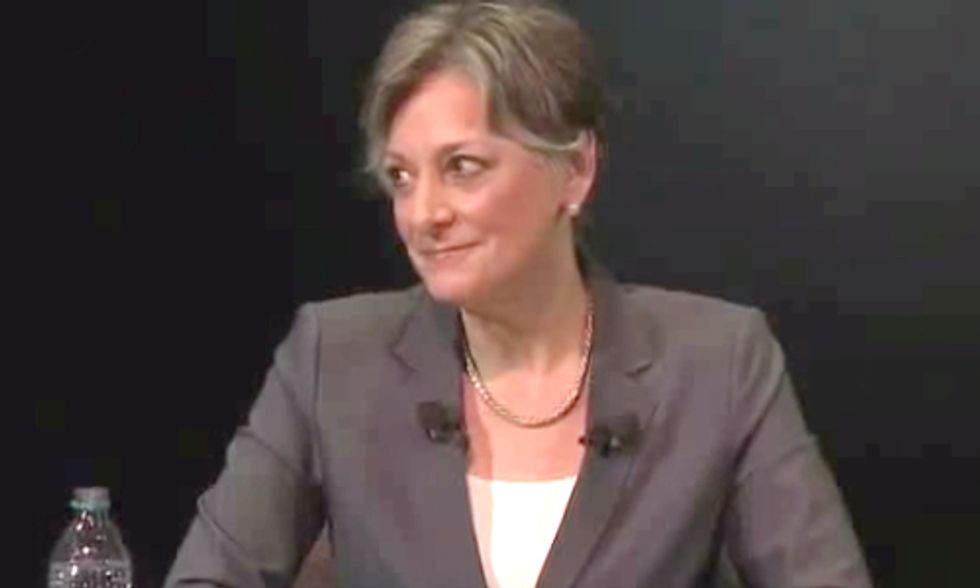 You would be pretty frustrated if you lived in a state where politicians seemed to ignore concerns about an industry responsible for explosions and drinking water so dirty that it looks more like apple juice, right?
You might even be angry enough to speak out at a big event attended by fellow residents and gubernatorial hopefuls. Of course, you run the risk of getting escorted off the premises if your tone is deemed too confrontational or your voice too loud. Once that happens, you'll just be written off as some crazy person, regardless how valid your points are.
That's what happened to Elizabeth Arnold when she attended a recent Pennsylvania Democratic gubernatorial debate. She approached the stage demanding to know why candidates had no plans to discuss fracking, despite its well-documented impact on the health of Pennsylvania residents. She even brought a list of 1,700 families that have been impacted by hydraulic fracturing. She held the list up the whole time she spoke, likely to assure people that she had no weapon or violent intentions.
Because Arnold's appearance was unexpected and loud, fracking proponents had the benefit of dismissing her with boos and calls to "get her out of here," which is a shame.
"We can't fund our schools on a boom-or-bust industry," Arnold said before she was ushered off the stage. "They're poisoning our state and ruining our chance for a strong economic future."
The race for the Democratic nomination features four candidates, including U.S. Rep. Allyson Schwartz and state Treasurer Rob McCord. The primary election takes places Tuesday.
"I'm not particularly brave, I just feel that there is nothing anyone could do to me worse than what they are doing to our planet and to the families who can no longer live in their homes," Arnold wrote in a blog post hosted by Gasland, which made the short clip its "video of the week."
"I actually hate the spotlight, but someone had to do it. I could not sit by and let this critical issue go unaddressed."
The list of families Arnold held up—entitled the "List of the Harmed" and compiled Jenny Lysak and the Pennsylvania Alliance for Clean Water and Air—actually exceeds 6,000. The 1,700 families were all Arnold's printer could handle.
"We are not asking for much, just a chance for Pennsylvania to protect our long-term economic and environmental health," wrote Arnold, who is a Philadelphia-based activist when she is not working. "No one should live without clean drinking water and a safe environment.
"No part of Pennsylvania should be a for-profit sacrifice zone."
——–
YOU ALSO MIGHT LIKE
Purdue and Cornell Researchers Find Up to 1,000 Times More Methane Emissions Than Estimated in Drilling Phase
Jon Stewart Highlights Earthquakes, Chevron's Pizza and Other 'Benefits' of Fracking
A Look Back at the Town That Didn't Back Down to Fracking
——–
EcoWatch Daily Newsletter
Related Articles from EcoWatch
Recent Stories from EcoWatch