This website uses cookies to ensure you get the best experience while browsing it. By clicking 'Got It' you're accepting these terms.
Washington Post Writer Finally Discloses He's a Shill for Fossil Fuel Industry
Dec. 22, 2015 09:35AM EST
Climate
In his latest column repeating his clients' attacks on climate change policies, lobbyist and Washington Post writer Ed Rogers finally disclosed to readers that his lobbying firm "represents interests in the fossil fuel [industry]."
Rogers is the chairman of BGR Group, a top lobbying firm that has received more than $700,000 from the energy industry in 2015. Rogers has personally lobbied this year for Southern Company, one of the largest electric utility companies in the U.S.—and one of the biggest opponents of the most significant U.S. policy to combat climate change.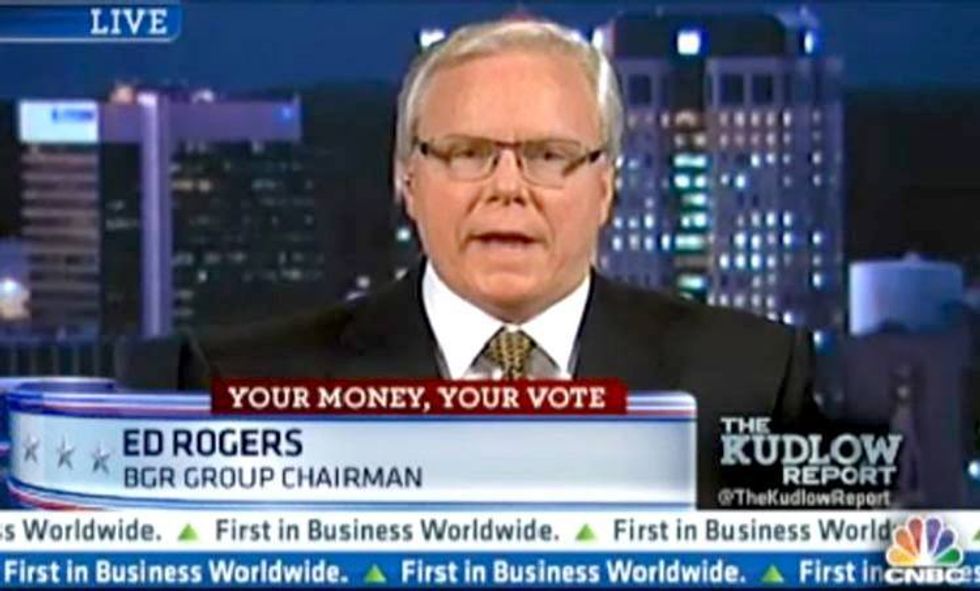 Rogers' disclosure, which was placed in a parenthetical in the middle of his Dec. 17 column, could help Post readers recognize that they should take his opinions on the United Nations' historic Paris climate agreement with a grain of salt (he says it's a "sham"). And it marks a stark contrast from Rogers' past columns, in which the Post allowed him to dismiss the scientific consensus on climate change and echo his client's attacks on climate policies without disclosing his firm's fossil fuel ties.
The Post's past failure to require Rogers to disclose his lobbying firm's clients—both fossil fuel and otherwise—drew criticism from media ethicists. Among them was Ed Wasserman, dean of the Graduate School of Journalism at the University of California, Berkeley, who said it's clear that "someone else is paying" Rogers to write his columns and urged the Post to provide "specific disclosure" of Rogers' clients rather than a "blanket description of him as a lobbyist," in order to make plain that he "has a horse to back" in his columns.
From Rogers' Dec. 17 column for The Washington Post's Post Partisan blog (emphasis added):
"The [Conference of Parties] 21 conference in Paris was the most predictable event of 2015. Of course an agreement was going to be reached and of course that agreement is a sham, but it all fits perfectly with what the climate issue has become. The topic of climate change has become manna for exhausted liberals who have nothing much to say and policy failures on almost every front. (Disclosure: My firm represents interests in the fossil fuel and nuclear power industries.) And let's face it, global warming is an issue that perfectly suits Obama as he warms up for retirement. He doesn't really have to do anything, there is never any day of reckoning and it lends itself to sanctimonious moralizing and generally lecturing everybody about how they should live."
YOU MIGHT ALSO LIKE
Congressional Republicans Deliver Early Christmas Gift to Big Oil, Exxon and Koch Brothers
Moving Beyond Coal: Major Global Grassroots Fights of 2015
Republican Leaders Call for Climate Action
EcoWatch Daily Newsletter
European Commission President Ursula von der Leyen delivers a press statement on the European Green Deal at the EU headquarters in Brussels, Belgium on Dec. 11, 2019. Xinhua / Zheng Huansong via Getty Images
The European Commission introduced a plan to overhaul the bloc's economy to more sustainable, climate-conscious policies and infrastructure, with the goal of being carbon-neutral by 2050, according to CNBC.
Young activists shout slogans on stage after Greta Thunberg (not in the picture) took part in the plenary session during the COP25 Climate Conference on Dec. 11 in Madrid, Spain. Pablo Blazquez Dominguez / Getty Images
By Andrea Germanos
Young activists took over and occupied the main stage at the COP25 climate conference in Madrid, Spain Wednesday and demanded world leaders commit to far more ambitious action to address the ecological emergency.
A NASA image showing the ozone hole at its maximum extent for 2015. NASA Goddard Space Flight Center
The Montreal Protocol, a 1987 international treaty prohibiting the production of chlorofluorocarbons (CFCs) to save the ozone layer, was the first successful multilateral agreement to successfully slow the rate of global warming, according to new research. Now, experts argue that similar measures may lend hope to the climate crisis.
Police in Wales are in the midst of an unusual investigation: the sudden death of more than 200 starlings.
Donald Trump Jr. killed an argali sheep like this one on a hunting trip in Mongolia. powerofforever/ iStock / Getty Images Plus
During a hunting trip in Mongolia this August, Donald Trump Jr. shot and killed an endangered argali sheep, and received a permit only after the fact.