This website uses cookies to ensure you get the best experience while browsing it. By clicking 'Got It' you're accepting these terms.
Washington Post Writer Finally Discloses He's a Shill for Fossil Fuel Industry
Dec. 22, 2015 09:35AM EST
Climate
In his latest column repeating his clients' attacks on climate change policies, lobbyist and Washington Post writer Ed Rogers finally disclosed to readers that his lobbying firm "represents interests in the fossil fuel [industry]."
Rogers is the chairman of BGR Group, a top lobbying firm that has received more than $700,000 from the energy industry in 2015. Rogers has personally lobbied this year for Southern Company, one of the largest electric utility companies in the U.S.—and one of the biggest opponents of the most significant U.S. policy to combat climate change.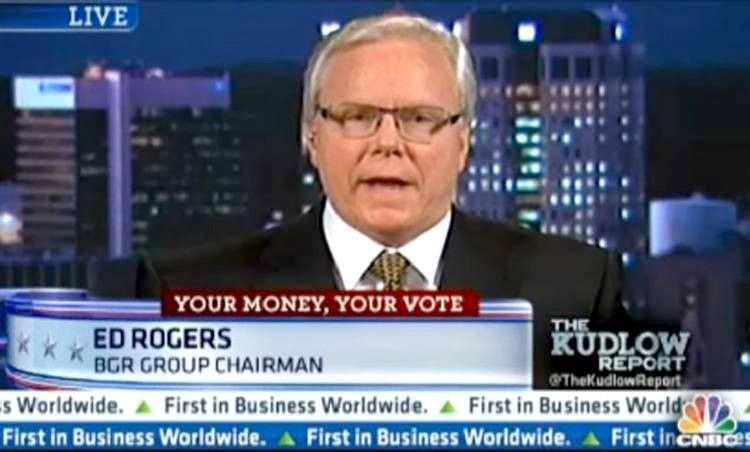 Rogers' disclosure, which was placed in a parenthetical in the middle of his Dec. 17 column, could help Post readers recognize that they should take his opinions on the United Nations' historic Paris climate agreement with a grain of salt (he says it's a "sham"). And it marks a stark contrast from Rogers' past columns, in which the Post allowed him to dismiss the scientific consensus on climate change and echo his client's attacks on climate policies without disclosing his firm's fossil fuel ties.
The Post's past failure to require Rogers to disclose his lobbying firm's clients—both fossil fuel and otherwise—drew criticism from media ethicists. Among them was Ed Wasserman, dean of the Graduate School of Journalism at the University of California, Berkeley, who said it's clear that "someone else is paying" Rogers to write his columns and urged the Post to provide "specific disclosure" of Rogers' clients rather than a "blanket description of him as a lobbyist," in order to make plain that he "has a horse to back" in his columns.
From Rogers' Dec. 17 column for The Washington Post's Post Partisan blog (emphasis added):
"The [Conference of Parties] 21 conference in Paris was the most predictable event of 2015. Of course an agreement was going to be reached and of course that agreement is a sham, but it all fits perfectly with what the climate issue has become. The topic of climate change has become manna for exhausted liberals who have nothing much to say and policy failures on almost every front. (Disclosure: My firm represents interests in the fossil fuel and nuclear power industries.) And let's face it, global warming is an issue that perfectly suits Obama as he warms up for retirement. He doesn't really have to do anything, there is never any day of reckoning and it lends itself to sanctimonious moralizing and generally lecturing everybody about how they should live."
YOU MIGHT ALSO LIKE
Congressional Republicans Deliver Early Christmas Gift to Big Oil, Exxon and Koch Brothers
Moving Beyond Coal: Major Global Grassroots Fights of 2015
Republican Leaders Call for Climate Action
EcoWatch Daily Newsletter
A. Battenburg / Technical University of Munich
By Sarah Kennedy
Algae in a pond may look flimsy. But scientists are using algae to develop industrial-strength material that's as hard as steel but only a fraction of the weight.
Variety of fermented food korean traditional kimchi cabbage and radish salad. white and red sauerkraut in ceramic plates over grey spotted background. Natasha Breen / REDA&CO / Universal Images Group / Getty Image
Even if you've never taken probiotics, you've probably heard of them.
These supplements provide numerous benefits because they contain live microorganisms, such as bacteria or yeast, which support the healthy bacteria in your gut (1, 2, 3, 4).
Pexels
Singapore will become the first country in the world to place a ban on advertisements for carbonated drinks and juices with high sugar contents, its health ministry announced last week. The law is intended to curb sugar consumption since the country has some of the world's highest diabetes rates per capita, as Reuters reported.
A typical adult takes around 20,000 breaths per day. If you live in a megacity like Beijing, with many of those lungfuls you're likely to inhale a noxious mixture of chemicals and pollutants.
Fred Stone holds his brown swiss cow Lida Rose at his Arundel dairy farm on March 18 after a press conference where he spoke about PFAS chemical contamination in his fields. Gregory Rec / Portland Portland Press Herald via Getty Images
By Susan Cosier
First there was Fred Stone, the third-generation dairy farmer in Maine who discovered that the milk from his cows contained harmful chemicals. Then came Art Schaap, a second-generation dairy farmer in New Mexico, who had to dump 15,000 gallons of contaminated milk a day.
Protesters attend the 32nd annual Fur-Free Friday demonstration on Nov. 23, 2018 in Beverly Hills, California. Ella DeGea / Getty Images
California Governor Gavin Newsom signed into law a bill that that bans the sale and manufacture of fur products in the state. The fur ban, which he signed into law on Saturday, prohibits Californians from selling or making clothing, shoes or handbags with fur starting in 2023, according to the AP.
By Simon Evans
During the three months of July, August and September, renewables generated an estimated total of 29.5 terawatt hours (TWh), compared with just 29.1TWh from fossil fuels, the analysis shows.
A demonstrator waves an Ecuadorian flag during protests against the end of subsidies to gasoline and diesel on Oct. 9 in Quito, Ecuador. Jorge Ivan Castaneira Jaramillo / Getty Images