This website uses cookies to ensure you get the best experience while browsing it. By clicking 'Got It' you're accepting these terms.
Vikings Likely Hunted Ancient Walruses in Iceland to Extinction, New Research Finds
Sep. 18, 2019 08:17AM EST
Animals
Prehistoric and historic walrus skulls, tusks and bone fragments often wash ashore on the southern coast of Snæfellsnes peninsula in Iceland. Hilmar J. Malmquist
A unique subpopulation of ancient walrus in Iceland was likely hunted to extinction by Vikings shortly after arrival to the region, according to new research.
---
Two subspecies of walrus (Odobenus rosmarus) occur throughout the Arctic in both Pacific and Atlantic waters, the latter having a population of around 30,000 individuals throughout northeastern Canada, Greenland and parts of Russia. However, walruses are no longer found in Iceland despite ancient skeletal remains and centuries-old written documents indicating they once thrived in the region.
An international team of scientists analyzed the prehistoric remains of walruses found within the region by extracting DNA and compared this information against modern walruses. They further conducted radiocarbon dating in coordination with a review of studies related to walruses in the region. They found that walruses had inhabited the area for thousands of years, but disappeared mid-14th century just five centuries after the Norse settlers arrived, reports New Scientist.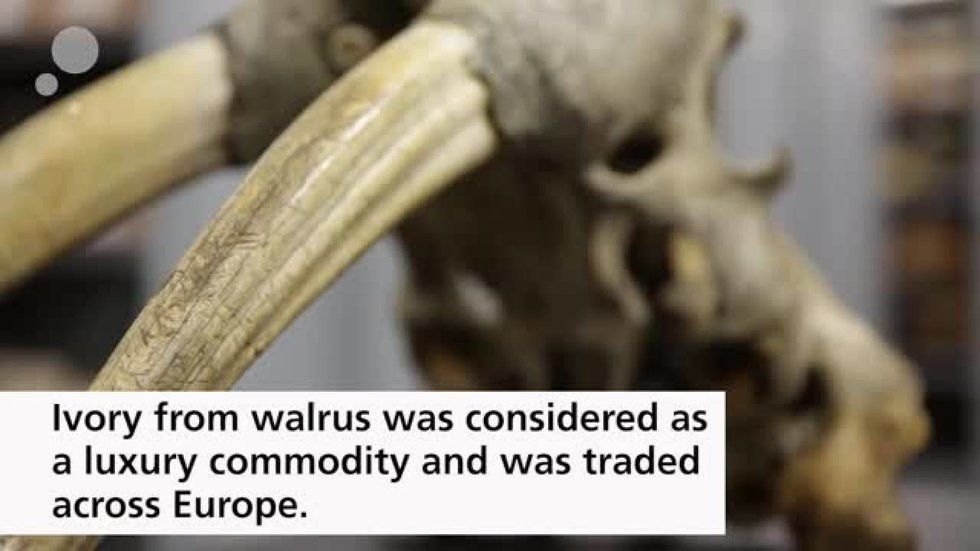 "Our study provides one of the earliest examples of local extinction of a marine species following human arrival and overexploitation. It further adds to the debate about the role of humans in the extinction of megafauna, supporting a growing body of evidence that wherever humans turn up, the local environment and ecosystem suffers," said Morten Tange Olsen, assistant professor at Globe Institute, University of Copenhagen.
Writing in the journal Molecular Biology and Evolution, the researchers note that ivory from walrus tusk was a luxury good in high demand and was traded across the Viking Age and Medieval Europe as far as the Middle East and India. A 2018 study reported by National Geographic similarly found that Norse hunters had indeed established a steady ivory trade, but the source of the tusks and ivory remained a mystery.
The work highlights the impact of human arrival in "pristine" environments and provides one of the earliest examples of trade and human exploitation resulting in the extinction of a marine resource.
"We show that already in the Viking Age, more than 1000 years ago, commercial hunting, economic incentives and trade networks were of sufficient scale and intensity to result in significant, irreversible ecological impacts on the marine environment, potentially exacerbated by a warming climate and volcanism," explained lead author Xénia Keighley. "The reliance on marine mammal resources for both consumption and trade has so far been underestimated."
The lineage of Icelandic walruses also proved to be a genetically unique species that is distinct from historic and contemporary walrus populations now found in the North Atlantic. The subspecies had existed in western Iceland for about 7,500 years, which the authors say suggests a "stable, long-term presence" up until 1213 to 1330 AD.
EcoWatch Daily Newsletter
The Ernest N. Morial Convention Center in New Orleans, Louisiana has been converted to a 1,000-bed field hospital for coronavirus patients to alleviate stress on local hospitals. Chris Graythen / Getty Images
An area in Louisiana whose predominantly black and brown residents are hard-hit by health problems from industry overdevelopment is experiencing one of the highest death rates from coronavirus of any county in the United States.
A woman lies in bed with the flu. marka/Universal Images Group via Getty Images
A central player in the fight against the novel coronavirus is our immune system. It protects us against the invader and can even be helpful for its therapy. But sometimes it can turn against us.
Several flower species, including the orchid, can recover quickly from severe injury, scientists have found. cunfek / iStock / Getty Images Plus
Calling someone a delicate flower may not sting like it used to, according to new research. Scientists have found that many delicate flowers are actually remarkably hearty and able to bounce back from severe injury.
A Boeing 727 flies over approach lights with a trail of black-smoke from the engines on April 9, 2018. aviation-images.com / Universal Images Group via Getty Images
With global air travel at a near standstill, the airline industry is looking to rewrite the rules it agreed to tackle global emissions. The Guardian reports that the airline is billing it as a matter of survival, while environmental activists are accusing the industry of trying to dodge their obligations.
A National Guard member works on election day at a polling location on April 7, 2020 in Madison, Wisconsin. Andy Manis / Getty Images.
ByJulia Baumel
The outbreak of COVID-19 across the U.S. has touched every facet of our society, and our democracy has been no exception.