USGS Climate Change Study Predicts Bleak Future for Birds and Reptiles in Southwest
A new study from the U.S. Geological Survey paints a troubling picture for birds and reptiles in the Southwest. Scientists examined current and future breeding ranges for seven bird and five reptile species in the Southwest in the context of several key climate models. The findings, released this week, found that two birds—Williamson's sapsucker and the pygmy nuthatch—could lose so much habitat that they could be close to extinction by the end of this century. Neither bird is a currently a candidate for endangered species protections.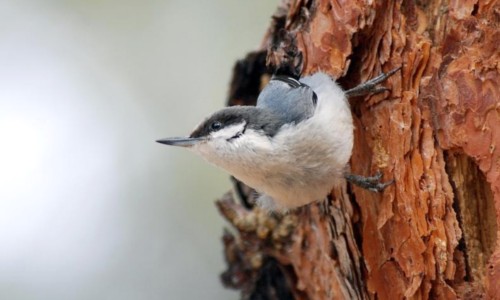 Also, more than 40 percent of existing habitat could be lost for plateau striped whiptails, Arizona black rattlesnakes and common lesser earless lizards.
"It's startling to see such a bleak picture laid out for these wildlife species in the Southwest," said Collette Adkins Giese, a Center for Biological Diversity biologist and attorney focused on protecting reptiles and amphibians. "Left unchecked, global warming will push many species to the brink of extinction and many more right over the edge."
The study, Projecting Climate Effects on Birds and Reptiles of the Southwestern United States, used models that looked at climatic, landscape and plant variables in examining how specific species will react to climate change. Although the resulting ranges of the species varied widely under different scenarios, the study highlights the severe price that some species will pay as climate change alters the landscape around them.
"Climate change will be an agent of fast-moving chaos, and tragically, many animals simply won't be able to adapt fast enough," said Adkins Giese. "We'll see it in the Southwest and around the globe. The result will be a world that's less alive and less wild and frankly lonelier for those of us who remain."
Overall, global warming around the world will destroy more than half the habitats of most plants and about a third of animal habitats by 2080, according to a 2013 study in the journal Nature Climate Change. Last week the Intergovernmental Panel on Climate Change released a new study on the impacts of global warming, noting that chinook salmon in the Pacific Northwest, for example, may decline as much as 50 percent in the coming decades. Rising temperatures and ocean acidity caused by carbon pollution are already hurting coral reefs from Florida to Australia.
--------
YOU MIGHT ALSO LIKE
Scientists to Build Underwater Bio-Dome Simulating Future Ocean Acidification Levels
Climate Change Causing Salamanders to Shrink, Leaving Them Vulnerable to Predators and Extinction
Plants of the Colorado Rockies Show Impact of Climate Change 
--------
A coalition of conservation groups and others announced Thursday that a historic number of comments and petitions of support have been submitted to the U.S. Department of the Interior in support of Bears Ears National Monument. Despite the entirely inadequate 15-day comment period ending on May 26, more than 685,000 comments in support of Bears Ears National Monument have been collected.
Keep reading...
Show less
Rink Glacier in western Greenland, with a meltwater lake visible center. NASA/OIB
Scientists have had their eyes on Greenland as its iconic glaciers have begun disappearing due to a warming climate. But, what they didn't expect to see was a whole new type of melting.
Keep reading...
Show less
Mountain View Fire
By Lena Moffitt
An oil tanker in Mead, Colorado exploded, killing one and injuring three on Thursday. Authorities are continuing to investigate the cause of the explosion.
Keep reading...
Show less
Banner created by Alliance for Climate Education
Keep reading...
Show less
Twenty-two GOP senators sent a letter Thursday urging Donald Trump to pull out of the Paris agreement. They argued remaining in the deal could "upend" the administration's ability "to fulfill its goal of rescinding the Clean Power Plan."
Keep reading...
Show less
By Cheryl Johncox
The Federal Energy Regulatory Commission (FERC) rejected on Thursday Energy Transfer Partners' request to resume horizontal directional drilling at two sites for its Rover fracked gas pipeline. This rejection comes after numerous leaks into Ohio's wetlands, and Clean Air and Clean Water act violations. FERC has halted the process at only eight locations of the 32 where drilling is taking place under Ohio's wetlands and streams.
Keep reading...
Show less
By Nadia Prupis
A majority of people in eight countries say they are ready to change their lifestyles if it would prevent climate catastrophe, a survey on global threats released Wednesday found.
Keep reading...
Show less
May. 25, 2017 01:55PM EST
Bill Maher is sick of billionaires' obsession with Mars, more like "Mars-a-Lago," he said.
In a new animation produced by ATTN:, the popular talk show host of Real Time, discusses the perils of our planet, including how "climate change is killing us."
Keep reading...
Show less