This website uses cookies to ensure you get the best experience while browsing it. By clicking 'Got It' you're accepting these terms.
USDA Silences Its Own Scientists' Warnings About the Dangerous Effects of Pesticides on Bees
Apr. 12, 2016 11:32AM EST
[Editor's note: Evidence has been mounting that the U.S. Department of Agriculture (USDA) has been silencing its own bee scientists who have raised the alarm about the deadly impact that pesticides, particularly neonicotinoids, have on bees. Last month, for example, the Washington Post reported the story of Jonathan Lindgren, a USDA bee scientist, who filed a whistleblower suit alleging that he was disciplined to suppress his research. In 2014, Dr. Jeffery Pettis, another USDA bee scientist and beekeeping advocate, was demoted, leading several beekeeping and environmental organizations to express concern that the agency has actively suppressed bee science that would negatively impact agrochemical companies like Bayer and Syngenta. In the spring of 2014, 10 USDA scientists took action, filing a petition calling on the USDA to stop ordering its own researchers to "retract studies, water down findings, remove their name from authorship and endure long indefinite delays in approving publication of papers that may be controversial."]
I am grateful to Steve Volk for investigating the role of the U.S. Department of Agriculture in the dramatic decline of honeybees. He is right that the USDA "muzzled" Jonathan Lundgren for shedding light on the deadly effects of pesticides on honeybees. I am also not surprised that the USDA demoted another bee scientist, Jeffery Pettis, for telling Congress that pesticides are more hazardous to honeybees than Varroa mites.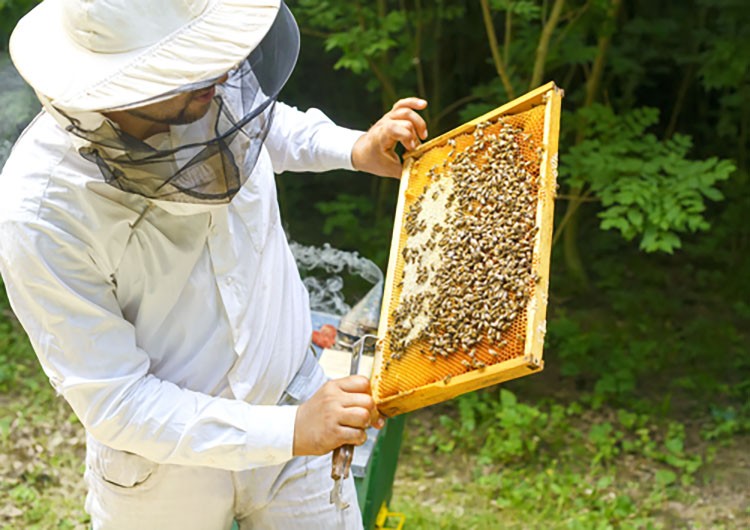 My confidence that Volk is right comes from experience. I worked at the U.S. Environmental Protection Agency (EPA) for 25 years. I spent most of that time at the Office of Pesticide Programs. I was astonished by EPA's nasty habit of covering up for the industry and its friends in Congress and the White House. My memos reminded senior managers that the EPA was fighting the wrong battles. I objected most strenuously to the EPA approval of neurotoxins in nylon microcapsules that decimated honeybees. EPA officials branded me "not a team player."
The widespread use of deadly neurotoxins was in full swing as early as in the 1970s. In addition to killing bees and other beneficial insects, the encapsulated parathion caused various degrees of neurological damage and quite possibly, death to small and large mammals, terrestrial and water invertebrates and birds—even at rates of just a pound of poison per acre. The gizzards of most birds would grind down and rupture the nerve poison microcapsules, causing crippling disease or death.
Some EPA ecologists also protested the use of nerve poisons in farming. They knew that bees would continue to die from the encapsulated parathion because the "registrant," the chemical company that owned the encapsulated parathion, had persuaded the EPA to approve the spraying of the company's product during the spring bloom, when all pollinating insects would be out foraging for nectar and pollen. The ecologists also warned the killing of pollinators would be environmentally disastrous and would have adverse effects in food production. After all, honeybees pollinate enough fruits and vegetable making up about a third of what we eat.
The Carter EPA ignored the ecologists. Instead, it permitted the selling of the time-release parathion gas for use on an even wider array of produce, from artichokes, cabbages and potatoes to wheat, soybeans, apples and pears. The move dramatically raised the chemical exposure of both bees and the American people.
The evidence could not have been clearer. In 1979, an EPA scientist discovered how to stain parathion microcapsules so they could be identified in honey and pollen. Sure enough, on testing on a bee colony on the field, he found microcapsules in the queen bee's gut and honey.
Predictably, this scientist's discovery and talent went nowhere. He neither published his research nor continued with his honeybee investigations. Instead, he was forced to become a paper pusher at EPA headquarters while the agency's top pesticide managers made sure that his laboratory would no longer be used for research threatening to industry.
As with so many EPA moves, this was done to keep bad news about nerve gas pesticides secret. It was evident to me that the EPA was not protecting our health but the profits of the industry—neurotoxins or no neurotoxins.
Forty years after EPA first began approving neurotoxins enclosed in microscopic spheres, the same lethal tradition remains in place with the neonicotinoids. These German-made neurotoxins disrupt the immune system of animals. Farmers have been buying them since 2003 to "treat" corn and other major crop seeds. Plants (such as corn) grown from these soaked seeds become toxic at fantastically small amounts to any insect touching or eating them.
Like the microencapsulated parathion, neonicotinoids kill outright or cripple the honeybees. Poisoned worker bees neglect to take care the eggs and feed the larvae. A bee's navigational abilities break down. The result, according to Vera Krischik, professor of entomology at the University of Minnesota, is that honeybees "can't remember who they are or where to go."
This cause and effect between the nicotine-based insecticides and the near obliteration of honeybees explains the fury of the USDA. Imagine Americans discovering we are killing honeybees with neurotoxins. Even USDA scientists are raising red flags.
Like the EPA, the USDA cannot afford to offend the lords of agribusiness. But fortunately, USDA bee scientists are finally siding with honeybees, the integrity of science and the survival of our food and agriculture.
It's obvious to me we need to protect Jonathan Lundgren, Jeffery Pettis and other whistleblowers throughout the government. They are our first line of defense against unscrupulous companies and purchased politicians who lose no sleep over the poisoning of honeybees and countless other animals.
YOU MIGHT ALSO LIKE
12 Fruits and Veggies You Should Always Buy Organic
8 Disturbing Facts About Monsanto's Evil Twin—The Chemical Fertilizer Industry
150 European Parliament Members to Test Urine for Glyphosate
Maryland Just Became the Most Bee-Friendly State in the U.S.
KarinaKnyspel / iStock / Getty Images
2018 saw a number of studies pointing to the outsized climate impact of meat consumption. Beef has long been singled out as particularly unsustainable: Cows both release the greenhouse gas methane into the atmosphere because of their digestive processes and require a lot of land area to raise. But for those unwilling to give up the taste and texture of a steak or burger, could lab-grown meat be a climate-friendly alternative? In a first-of-its-kind study, researchers from the Oxford Martin School set out to answer that question.
Three scissor-tailed flycatcher fledglings in a mesquite tree in Texas. Texas Eagle / CC BY-NC 2.0
By Gary Paul Nabhan
President Trump has declared a national emergency to fund a wall along our nation's southern border. The border wall issue has bitterly divided people across the U.S., becoming a vivid symbol of political deadlock.
PeopleImages / E+ / Getty Images
By Daniel Ross
Hurricane Florence, which battered the U.S. East Coast last September, left a trail of ruin and destruction estimated to cost between $17 billion and $22 billion. Some of the damage was all too visible—smashed homes and livelihoods. But other damage was less so, like the long-term environmental impacts in North Carolina from hog waste that spilled out over large open-air lagoons saturated in the rains.
Hog waste can contain potentially dangerous pathogens, pharmaceuticals and chemicals. According to the state's Department of Environmental Quality, as of early October nearly 100 such lagoons were damaged, breached or were very close to being so, the effluent from which can seep into waterways and drinking water supplies.
This picture taken on May 21, 2018 shows discarded climbing equipment and rubbish scattered around Camp 4 of Mount Everest. Decades of commercial mountaineering have turned Mount Everest into the world's highest rubbish dump as an increasing number of big-spending climbers pay little attention to the ugly footprint they leave behind. DOMA SHERPA / AFP / Getty Images
China has closed its Everest base camp to tourists because of a buildup of trash on the world's tallest mountain.