This website uses cookies to ensure you get the best experience while browsing it. By clicking 'Got It' you're accepting these terms.
UK Earmarked for Fracking, Massive Public Backlash On Horizon
Jun. 27, 2013 01:23PM EST
Energy
According to Greenpeace research almost two-thirds of England has been earmarked for potential fracking, and local opposition, particularly in Conservative constituencies, is expected to be fierce. Local hostility in Balcombe, West Sussex is already delaying the fracking process, with the Campaign to Protect Rural England warning of a massive backlash if large areas of countryside are "transformed into industrial sites."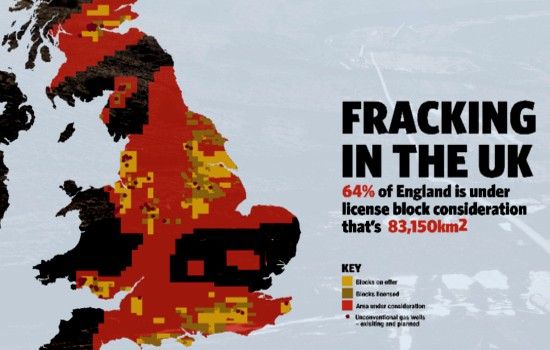 Commenting on today's announcement, Lawrence Carter, energy campaigner at Greenpeace, said:
The idea that shale gas is going to get the economy moving again is groundless. There's a huge difference between the amount of gas in the ground and how much fracking companies will be able to commercially extract. Even if they do manage to get some gas out, the fracking industry's own research reveals that production wouldn't reach meaningful levels until well into the next decade. If shale is the answer to Britain's economic malaise then the Chancellor is asking the wrong question.
Analysts from energy regulator Ofgem, Deutsche Bank and Energy UK are lining up to say that UK shale gas won't bring down bills for households or businesses. Even the company with the biggest stake in Lancashire shale gas, Cuadrilla, privately admits that it won't reduce energy prices. It's alarming that the Chancellor is staking his growth strategy on an industry that doesn't buy his hype.
Last month Greenpeace recorded a senior member of Cuadrilla, the company planning to drill in Lancashire, saying the impact of fracking on energy bills would be "basically insignificant." Speaking at a drop in session for concerned residents in Balcombe, West Sussex, the spokesman said the media had over-hyped some issues around fracking, but that others were very valid and that locals in Lancashire were right to be concerned about "well integrity" and increased traffic.
Polling in the Chancellor's Tatton constituency revealed a majority are opposed to fracking, with widespread concern about noise, disruption, falling house prices and earth tremors. Even more interestingly, 12 percent of those who voted Tory at the last election said they'd be less likely to do so again should fracking get the go ahead.
Responding to the government's proposed financial package to communities affected by fracking, Lawrence Carter said, "Whilst communities should receive benefits from local energy development, a cash package won't alleviate concerns about fracking's impact on water supply and house prices."
Visit EcoWatch's FRACKING page for more related news on this topic.
——–
Sign the petition today, telling President Obama to enact an immediate fracking moratorium:

EcoWatch Daily Newsletter
By Anita Desikan
The Trump administration is routinely undermining your ability — and mine, and everyone else's in this country — to exercise our democratic rights to provide input on the administration's proposed actions through the public comment process. Public comments are just what they sound like: an opportunity for anyone in the public, both individuals and organizations, to submit a comment on a proposed rule that federal agencies are required by law to read and take into account. Public comments can raise the profile of an issue, can help amplify the voices of affected communities, and can show policymakers whether a proposal has broad support or is wildly unpopular.
Alena Gamm / EyeEm / Getty Images
Picture this: a world where chocolate is as rare as gold. No more five-dollar bags of candy on Halloween. No more boxes of truffles on Valentine's day. No more roasting s'mores by the campfire. No more hot chocolate on a cold winter's day.
Who wants to live in a world like that?
Fabian Krause / EyeEm / Getty Images
Water protectors of all persuasions gathered in talking circles at Borderland Ranch in Pe'Sla, the heart of the sacred Black Hills, during the first Sovereign Sisters Gathering. At the center are Cheryl Angel in red and white and on her left, Lyla June. Tracy Barnett
By Tracy L. Barnett
Sources reviewed this article for accuracy.
For Sicangu Lakota water protector Cheryl Angel, Standing Rock helped her define what she stands against: an economy rooted in extraction of resources and exploitation of people and planet. It wasn't until she'd had some distance that the vision of what she stands for came into focus.
Hedges, 2019 © Hugh Hayden. All photos courtesy of Lisson Gallery
By Patrick Rogers
"I'm really into trees," said the sculptor Hugh Hayden. "I'm drawn to plants."
BruceBlock / iStock / Getty Images
Thanks to their high concentration of powerful plant compounds, foods with a natural purple hue offer a wide array of health benefits.