U.S. Military Report: Climate Change is a 'Catalyst for Conflict'
May. 14, 2014 04:35PM EST
Climate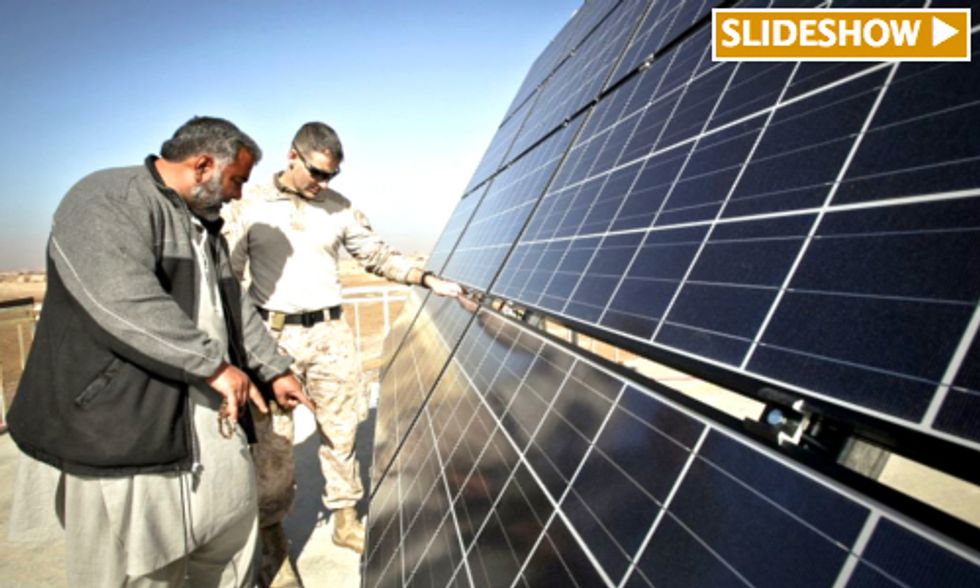 It's hard to deny climate change when some of the most respected people in the U.S. affirm its existence.
That's what happened this week when Military Advisory Board (MAB) of the Center for Naval Analyses (CNA) released its National Security and the Accelerating Risks of Climate Change. Board members plan on briefing the U.S. Senate Armed Services Committee on their findings, particularly that climate change could lead to conflict.
"It is not possible to discuss the future of national and international security without addressing climate change," retired U.S. Air Force Gen. Donald Hoffman said in a statement. "Food shortages, droughts, floods—all directly tied to climate change will be catalysts for conflict."
The board is comprised of 16 retired three- and four-star generals and admirals. Their message is not unlike the Intergovernmental Panel on Climate Change's March report, which stated that global security could be comprised as the Earth continues to warm.
The new report, accompanied by a pair of videos, builds on a 2007 report from the MAB. Back then, the group referred to climate change as a "threat multiplier." Now, the situation is more grave, with impacts on the economy, military, infrastructure and society.
"The projected impacts of climate change could be detrimental to military readiness, strain base resilience both at home and abroad, and may limit our ability to respond to future demands," the report reads.
Here are a few recommendations from the report:
Supported by National Intelligence Estimates, the U.S. military's Combatant Commanders should factor in the impacts of projected climate change across their full spectrum of planning and operations.
The U.S. should accelerate and consolidate its efforts to prepare for increased access and military operations in the Arctic.
The projected impacts of climate change should be fully integrated fully into the National Infrastructure Protection Plan and the Strategic National Risk Assessment.
"We hope this report will both influence public opinion as well as influence national security policymakers and leaders," retired Navy rear admiral and co-author David Titley told The Huffington Post.
"We are speaking out because we believe the risk is accelerating, and will continue to do so unless action is taken now."
——–
YOU ALSO MIGHT LIKE
Groundbreaking UN Report Warns Climate Change a Threat to Global Security and Mankind
White House's Alarming Climate Change Study Calls For 'Urgent Action'
NASA: Earth Could Warm 20 Percent More Than Earlier Estimates
——–
EcoWatch Daily Newsletter