U.S. and China Strike Historic Climate Change Deal
As international leaders gathered in Beijing this week for the Asia-Pacific Economic Cooperation (APEC) summit, President Obama and Chinese President Xi Jinping startled the world today with an announcement of a major new agreement on climate change.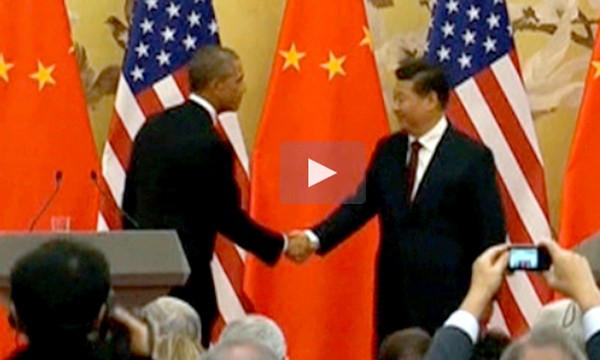 "The United States of America and the People's Republic of China have a critical role to play in combating global climate change, one of the greatest threats facing humanity," said a White House press release this morning. "The seriousness of the challenge calls upon the two sides to work constructively together for the common good. To this end, President Barack Obama and President Xi Jinping reaffirmed the importance of strengthening bilateral cooperation on climate change and will work together, and with other countries, to adopt a protocol, another legal instrument or an agreed outcome with legal force under the Convention applicable to all parties at the United Nations Climate Conference in Paris in 2015."
Leaders of the world's two largest economies and biggest producers of greenhouse gas emissions, the pair acknowledged the realities of climate change and the economic benefits in addressing it, then committed to reducing carbon emissions by an even greater amount than the existing targets. Obama said the U.S. will reduce emissions by 26-28 percent below 2005 levels by 2025. China's goal is to reach peak emissions around 2030, try to peak early and increase the share of non-fossil fuels in its energy consumption to around 20 percent by 2030. China had not previously set a date for when its emissions would start to taper off, a challenge for its coal-heavy power sector. The announcement is especially significant because Xi Jinping did not attend the UN Climate Summit in New York City in September, sending vice premier Zhang Gaoli in his place.
The White House announcement said that it's the hope of the two countries that by announcing these targets now, they will create momentum going into the Paris conference and inspire other countries to commit to their own more ambitious targets even before the conference. "The two Presidents resolved to work closely together over the next year to address major impediments to reaching a successful global climate agreement in Paris," the announcement said.
The improved prospects for the Paris conference were greeted eagerly by groups working on climate change issues. Andrew Steer, president and CEO of the World Resources Institute called it a "jolt of momentum." And Alden Meyer, director of strategy and policy with the Union of Concerned Scientists, agreed saying it added "real momentum to the drive for a strong international climate agreement in Paris at the end of next year.
"It also represents an unprecedented level of cooperation between the world's two largest economies to address one of the greatest challenges the planet faces," said Meyer. "Those who have been arguing that the United States shouldn't act on climate change because other countries like China won't join us will now need to look for new arguments to justify their real goal of avoiding any limits on carbon pollution. By putting down a marker for post-2020 emissions reductions, and engaging so intensively with China's leaders, President Obama has once again demonstrated his commitment to use the full authority of his office to confront the threat of climate change."
"Even if the targets aren't as ambitious as many might hope, the world's two largest carbon emitters are stepping up together with serious commitments," said Bob Perciasepe, president of Washington policy group Center for Climate and Energy Solutions. "This will help get other countries on board and greatly improves the odds for a solid global deal next year in Paris. For too long it's been too easy for both the US and China to hide behind one another."
"This is clearly a sign of the seriousness and the importance the Chinese government is giving to this issue," said Barbara Finamore, Asia director for the Natural Resources Defense Council. "The relationship is tricky, but climate has been one of the areas where the two sides can and are finding common ground. Hopefully this will give new ambition to other countries as well to move forward quickly."
The two leaders agreed to expand current initiatives using existing vehicles such as the U.S.-China Climate Change Working Group, U.S.-China Clean Energy Research Center, and U.S.-China Strategic and Economic Dialogue.
Among the things they propose to do:
Expand joint clean energy research and development through the U.S.-China Clean Energy Research Center, build on energy efficiency, clean vehicles and advanced coal technologies, and launch a new track on the energy-water nexus.

Advance major carbon capture, utilization and storage demonstrations through an international public-private consortium led by the United States and China to study and monitor carbon storage using industrial CO2 and work together on a new Enhanced Water Recovery (EWR) pilot project to produce fresh water from CO2 injection into deep saline aquifers.

Enhance bilateral cooperation on the phase=down of hydrofluorocarbons (HFCs) and work together in a multilateral context as previously agreed.

Launch a Climate-Smart/Low-Carbon Cities initiative, starting with a summit at which major cities in both countries will share best practices, set new goals and celebrate city-level leadership in reducing carbon emissions and building resilience.

Encourage bilateral trade in sustainable environmental goods and clean energy technologies.

Demonstrate clean energy on the ground through additional pilot programs, feasibility studies and other collaborative projects in the areas of building efficiency, boiler efficiency, solar energy and smart grids.
"By setting their sights high, the U.S. and China are showing that they are serious about taking action on the climate crisis, and that together, the international community can beat back climate disruption," said Michael Brune, executive director of the Sierra Club.
Unfortunately, one of the biggest impediments will be the U.S. Congress, with a Senate soon to be led by Kentucky Senator Mitch McConnell. And McConnell wasted no time in condemning and politicizing the plan.
"Our economy can't take the president's ideological war on coal that will increase the squeeze on middle-class families and struggling miners," said McConnell in a statement released immediately following the announcement. "This unrealistic plan, that the president would dump on his successor, would ensure higher utility rates and far fewer jobs." McConnell has already made it clear that his majority delegation would try to cripple the U.S. Environmental Protection Agency (EPA) and prevent the carbon standards the president announced last June from being enacted. However, the newly announced agreement doesn't involve regulation of greenhouse gases by the EPA.
May Boeve, executive director of 350.org, expressed the hope that the pact would spur other significant actions on climate change, including divestment from fossil fuels. "The U.S. and China reaffirming their commitment to limiting global warming to 2°C should send shockwaves through the financial markets, because the only way to meet that target is by leaving 80 percent of fossil fuel reserves underground. The industry's business plan is simply incompatible with the pathways laid out today. It's time to get out of fossil fuels and invest in climate solutions."
Li Shuo, senior climate and energy campaigner for Greenpeace East Asia, hopes today's announcement is only the beginning on climate action from the world's largest contributors to global warming:
"The two biggest emitters have come to the realization that they are bound together and have to take actions together. However, both sides have yet to reach the goal of a truly game-changing climate relationship. There is a clear expectation of more ambition from these two economies whose emissions trajectories define the global response to climate change. Today's announcements should only be the floor and not the ceiling of enhanced actions."
Watch Jake Schmidt, Natural Resources Defense Council director of the International Program, on Democracy Now! discuss the U.S./China climate deal this morning :
YOU MIGHT ALSO LIKE
'All Hands on Deck' Declares Ban Ki-moon at UN Climate Summit
Creating Sustainable Strategies to Address China's Growing Greenhouse Gas Emissions
Wikimedia Commons
By Stacy Malkan
Neil deGrasse Tyson has inspired millions of people to care about science and imagine themselves as participants in the scientific process. What a hopeful sign it is to see young girls wearing t-shirts emblazoned with the words, "Forget princess, I want to be an astrophysicist."
Keep reading...
Show less
www.youtube.com
By Andy Rowell
Any day now we will truly witness climate change in action. Within days at worst, maybe weeks at best, scientists predict that a huge section of the Larsen C ice shelf in Antarctica will break off into the ocean, in what is called a major "carving" event.
Keep reading...
Show less
www.youtube.com
President Trump visited Cedar Rapids, Iowa on June 21 to speak to a large crowd in the U.S. Cellular Center at a political rally organized by his campaign.
As Trevor Noah noted during The Daily Show episode last night (starts at 2:25), the real reason Trump has these rallies is to "get back in front of his loyal crowds and feed of their energy." Noah believes that "Trump supporters are so on board with their dude he can say anything and they'll come along for the ride."
Keep reading...
Show less
The Kamuthi solar plant in the southern Indian state of Tamil Nadu.
The rapid growth in renewable energy continues to put a dent in the demand for coal.
Coal India, the world's biggest coal mining company and producer of 82 percent of the country's coal, announced the closure of 37 mines that are financially "unviable."
Keep reading...
Show less
www.youtube.com
By Katie O'Reilly
Two years ago—long before coal became one of the most dominant and controversial symbols of the 2016 presidential election—Bloomberg Philanthropies approached production company RadicalMedia with the idea of creating a documentary exploring the U.S. coal mining industry. Last spring, they brought on Emmy-nominated director Michael Bonfiglio, tasked with forging a compelling story out of the multitudes of facts, statistics and narratives underlying the declining industry.
Keep reading...
Show less
Mayors for 100% Clean Energy
Keep reading...
Show less
www.youtube.com
Thanks to Newsy for their coverage on Thursday's news that the U.S. Fish and Wildlife Service removed grizzly bears in the Greater Yellowstone region from the Endangered Species List.
Watch above as Newsy explains that the decision comes despite serious concerns from the environmental and scientific community, and Tribal Nations about a declining, isolated grizzly bear population with diminishing food resources and record-high mortalities.
Keep reading...
Show less
www.facebook.com
By Francine Kershaw
Seismic airguns exploding in the ocean in search for oil and gas have devastating impacts on zooplankton, which are critical food sources for marine mammals, according to a new study in Nature. The blasting decimates one of the ocean's most vital groups of organisms over huge areas and may disrupt entire ecosystems.
And this devastating news comes on the heels of the National Marine Fisheries Service's proposal to authorize more than 90,000 miles of active seismic blasting. Based on the results of this study, the affected area would be approximately 135,000 square miles.
Keep reading...
Show less
By Jill Richardson
Is coconut oil:
good for you
bad for you
neither good nor bad
scientists don't know
The subject of this question is the source of a disagreement. Initially, the question was thought to be settled decades ago, when scientist Ancel Keys declared all saturated fats unhealthy. Coconut oil, which is solid at room temperature, is a saturated fat.
Keep reading...
Show less


Get EcoWatch in your inbox