Trump, Bush Attack Pope's Call to Climate Action
Sep. 25, 2015 11:01AM EST
Climate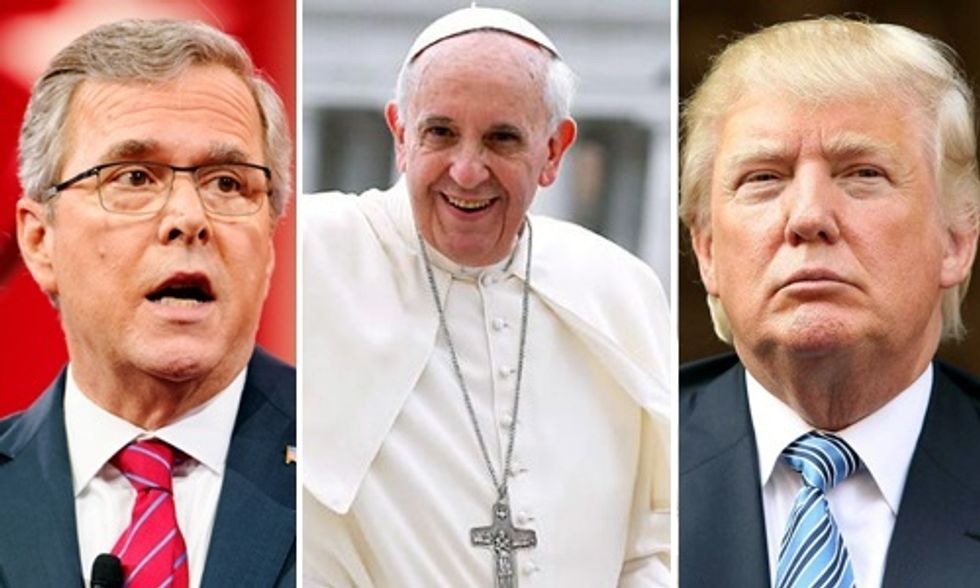 Several conservative politicians, including two presidential candidates, criticized the Pope for calling for climate action in his first-ever visit to the U.S. Donald Trump, who has criticized the Pope repeatedly, does not agree with Francis' latest remarks, in which he called climate change "a problem which can no longer be left to a future generation."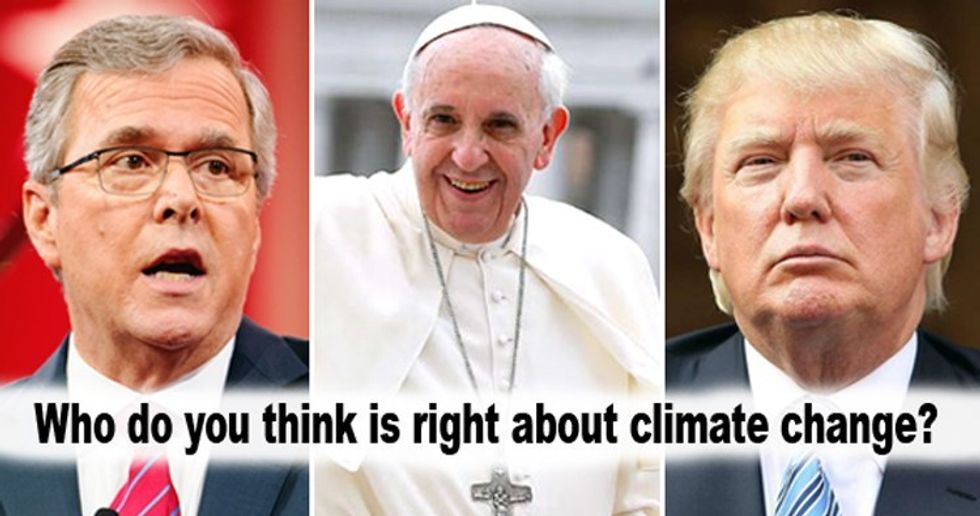 However, Trump feels, "I think that clean air is a pressing problem. You want to have clean air, clean water. That's very important to me, and I've won many environmental awards. I am not a believer in climate change."
"Look, it's weather. We have bad floods. I can't watch the evening news anymore. Every time you turn on the evening news, they show there's a big rainstorm, there's a tornado, there's this. I mean, you can't watch the news anymore. And so it's weather, and it's been that way for so long," Trump explained.
But clearly not everyone agrees with the Donald. When the presidential candidate stepped out onto Fifth Ave. in New York City yesterday to wave to a crowd waiting to see Pope Francis, the crowd booed and several yelled "feo," Spanish for ugly.
Jeb Bush also took issue with the Pope's words. Bush was asked by a reporter yesterday his thoughts after Pope Francis endorsed the Obama administration's environmental policy by praising the President for what he's been doing. The reporter wanted to know: Is the Pope wrong? Bush, a Catholic, was quick to say, "The Pope is not wrong."
But then he reverted back to that tired Republican trope—"he's not a scientist"—which Hillary Clinton so hilariously mocked.
Watch the clip here:
Other conservative politicians weighed in after Pope Francis gave the first-ever papal address to Congress. Rep. Tim Huelskamp (R-KS), who is also a Catholic, told The Huffington Post that climate change is not "settled science," so he doesn't feel the same sense of urgency as his holy leader feels. "I don't think there's a scientific consensus on that," Huelskamp said.
YOU MIGHT ALSO LIKE
What People Around the World Think of America Since Trump's Baffling Rise
Watch Stephen Colbert Apologize To Donald Trump
Hillary Clinton Breaks Keystone XL Silence, Announces Her Opposition to the Pipeline
Jon Stewart: If Trump Becomes President, 'I Would Consider Getting in a Rocket and Going to Another Planet'
EcoWatch Daily Newsletter
Related Articles from EcoWatch