This website uses cookies to ensure you get the best experience while browsing it. By clicking 'Got It' you're accepting these terms.
Trading Water for Fuel is Fracking Crazy
Feb. 18, 2014 07:30PM EST
Energy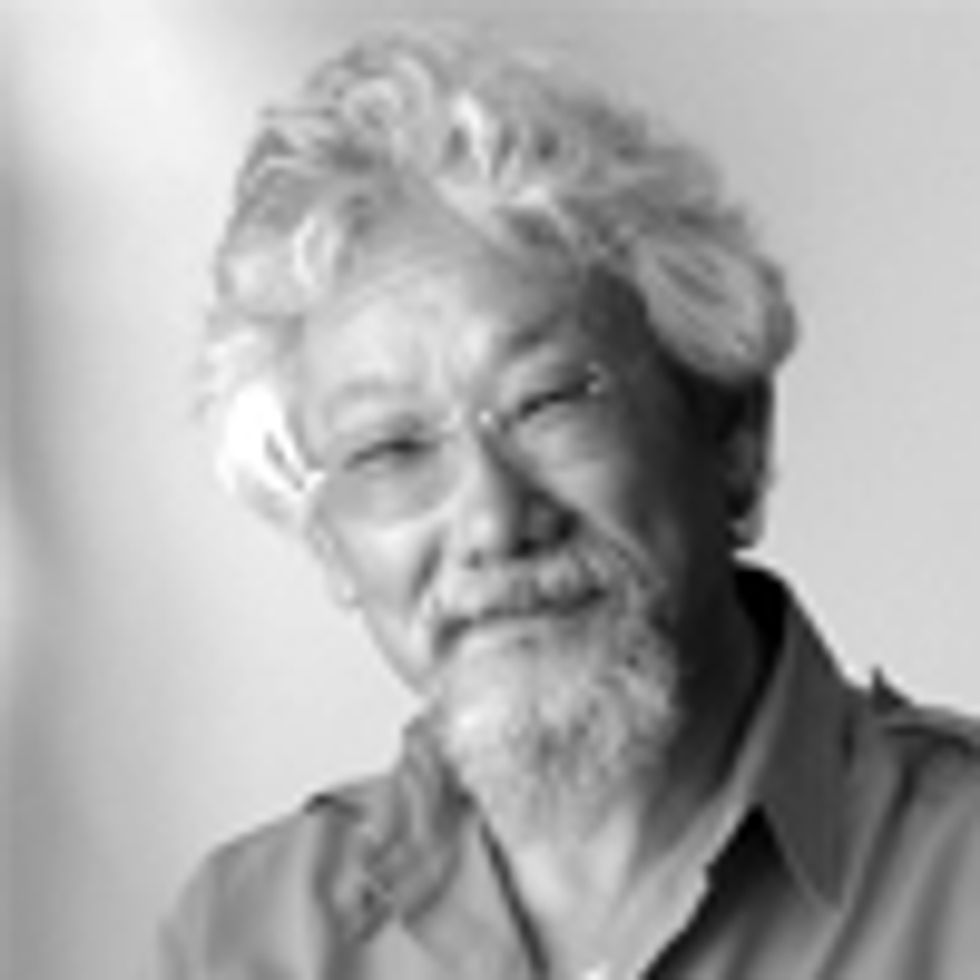 It would be difficult to live without oil and gas. But it would be impossible to live without water. Yet, in our mad rush to extract and sell every drop of gas and oil as quickly as possible, we're trading precious water for fossil fuels.
A recent report, Hydraulic Fracturing and Water Stress, shows the severity of the problem. Alberta and B.C. are among eight North American regions examined in the study by Ceres, a U.S.-based nonprofit advocating for sustainability leadership.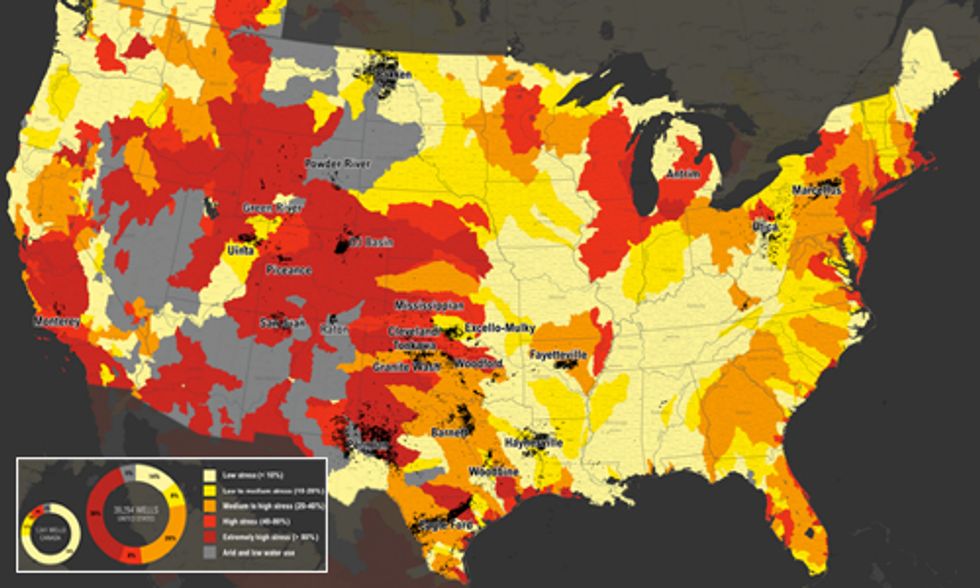 One of the most disturbing findings is that hydraulic fracturing, or fracking, is using enormous amounts of water in areas that can scarcely afford it. The report notes that close to half the oil and gas wells recently fracked in the U.S. "are in regions with high or extremely high water stress" and more than 55 percent are in areas experiencing drought. In Colorado and California, almost all wells—97 and 96 percent, respectively—are in regions with high or extremely high water stress, meaning more than 80 percent of available surface and groundwater has already been allocated for municipalities, industry and agriculture. A quarter of Alberta wells are in areas with medium to high water stress.
Drought and fracking have already caused some small communities in Texas to run out of water altogether, and parts of California are headed for the same fate. As we continue to extract and burn ever greater amounts of oil, gas and coal, climate change is getting worse, which will likely lead to more droughts in some areas and flooding in others. California's drought may be the worst in 500 years, according to B. Lynn Ingram, an earth and planetary sciences professor at the University of California, Berkeley. That's causing a shortage of water for drinking and agriculture, and for salmon and other fish that spawn in streams and rivers. With no rain to scrub the air, pollution in the Los Angeles area has returned to dangerous levels of decades past.
Because of lack of information from industry and inconsistencies in water volume reporting, Ceres' Western Canada data analysis "represents a very small proportion of the overall activity taking place." Researchers determined, though, that Alberta fracking operations have started using more "brackish/saline" groundwater instead of freshwater. The report cautions that this practice needs more study "given the potential for brackish water to be used in the future for drinking water" and the fact that withdrawing salty groundwater "can also adversely impact interconnected freshwater resources."
Although B.C. fracking operations are now mainly in low water stress regions, reduced precipitation and snowpack, low river levels and even drought conditions in some areas—likely because of climate change—raise concerns about the government's plan to rapidly expand the industry. The report cites a "lack of regulation around groundwater withdrawals" and cumulative impacts on First Nations lands as issues with current fracking.
Ceres' study only looks at fracking impacts on freshwater supplies, and offers recommendations to reduce those, including recycling water, using brackish or wastewater, strengthening regulations and finding better ways to dispose of fracking wastewater. But the drilling method comes with other environmental problems, from groundwater contamination to massive ecosystem and habitat disruption—even small earth tremors—all done in the name of short-term gain.
It's important to heed the conclusions and recommendations of this study and others, but given the problems with fracking, and other forms of extraction, we must find ways to control our insatiable fossil fuel demand. That burning these—often wastefully—contributes to climate change, and our methods of extraction exacerbate the problems, should make us take a good look at how we're treating this planet and everything on it, including ourselves and generations to come. It's a reminder that we need to conserve energy in every way possible.
In the short term, we must realize that we have better ways to create jobs and build the economy than holding an "everything must go" sale on our precious resources. In the longer term, we must rethink our outdated economic systems, which were devised for times when resources were plentiful and infrastructure was scarce. Our highest priorities must be the air we breathe, the water we drink, the soil that provides food and the biodiversity that keeps us alive and healthy.
Visit EcoWatch's FRACKING and WATER pages for more related news on this topic.

EcoWatch Daily Newsletter
Ocean pollution concept with plastic and garbage.
Anton Petrus
/ Moment / Getty Images
Nestlé cannot claim that its Ice Mountain bottled water brand is an essential public service, according to Michigan's second highest court, which delivered a legal blow to the food and beverage giant in a unanimous decision.
A number of supermarkets across the country have voluntarily issued a recall on sushi, salads and spring rolls distributed by Fuji Food Products due to a possible listeria contamination, as CBS News reported.
A U.S. Border Patrol agent gathers personal effects from immigrants before they are transferred to a McAllen processing center on July 02, 2019 in Los Ebanos, Texas. John Moore / Getty Images
Poverty and violence in Central America are major factors driving migration to the United States. But there's another force that's often overlooked: climate change.
Retired Lt. Cmdr. Oliver Leighton Barrett is with the Center for Climate and Security. He says that in Guatemala, Honduras and El Salvador, crime and poor economic conditions have long led to instability.
"And when you combine that with protracted drought," he says, "it's just a stressor that makes everything worse."
Barrett says that with crops failing, many people have fled their homes.
"These folks are leaving not because they're opportunists," he says, "but because they are in survival mode. You have people that are legitimate refugees."
So Barrett supports allocating foreign aid to programs that help people in drought-ridden areas adapt to climate change.
"There are nonprofits that are operating in those countries that have great ideas in terms of teaching farmers to use the land better, to harvest water better, to use different variety of crops that are more resilient to drought conditions," he says. "Those are the kinds of programs I think are needed."
So he says the best way to reduce the number of climate change migrants is to help people thrive in their home countries.
Reporting credit: Deborah Jian Lee / ChavoBart Digital Media.
Reposted with permission from Yale Climate Connections.
Chris Pratt arrives to the Los Angeles premiere of "Jurassic World: Fallen Kingdom" on June 12, 2018 in Los Angeles, California. Michael Tran / FilmMagic / Getty Images

Chris Pratt was called out on social media by Game of Thrones star Jason Momoa after Pratt posted an image "low key flexing" with a single-use plastic water bottle.