This website uses cookies to ensure you get the best experience while browsing it. By clicking 'Got It' you're accepting these terms.
Trading Water for Fuel is Fracking Crazy
Feb. 18, 2014 07:30PM EST
Energy

It would be difficult to live without oil and gas. But it would be impossible to live without water. Yet, in our mad rush to extract and sell every drop of gas and oil as quickly as possible, we're trading precious water for fossil fuels.
A recent report, Hydraulic Fracturing and Water Stress, shows the severity of the problem. Alberta and B.C. are among eight North American regions examined in the study by Ceres, a U.S.-based nonprofit advocating for sustainability leadership.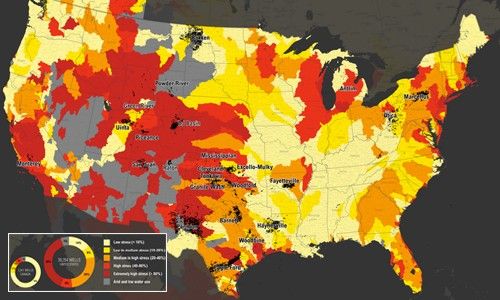 One of the most disturbing findings is that hydraulic fracturing, or fracking, is using enormous amounts of water in areas that can scarcely afford it. The report notes that close to half the oil and gas wells recently fracked in the U.S. "are in regions with high or extremely high water stress" and more than 55 percent are in areas experiencing drought. In Colorado and California, almost all wells—97 and 96 percent, respectively—are in regions with high or extremely high water stress, meaning more than 80 percent of available surface and groundwater has already been allocated for municipalities, industry and agriculture. A quarter of Alberta wells are in areas with medium to high water stress.
Drought and fracking have already caused some small communities in Texas to run out of water altogether, and parts of California are headed for the same fate. As we continue to extract and burn ever greater amounts of oil, gas and coal, climate change is getting worse, which will likely lead to more droughts in some areas and flooding in others. California's drought may be the worst in 500 years, according to B. Lynn Ingram, an earth and planetary sciences professor at the University of California, Berkeley. That's causing a shortage of water for drinking and agriculture, and for salmon and other fish that spawn in streams and rivers. With no rain to scrub the air, pollution in the Los Angeles area has returned to dangerous levels of decades past.
Because of lack of information from industry and inconsistencies in water volume reporting, Ceres' Western Canada data analysis "represents a very small proportion of the overall activity taking place." Researchers determined, though, that Alberta fracking operations have started using more "brackish/saline" groundwater instead of freshwater. The report cautions that this practice needs more study "given the potential for brackish water to be used in the future for drinking water" and the fact that withdrawing salty groundwater "can also adversely impact interconnected freshwater resources."
Although B.C. fracking operations are now mainly in low water stress regions, reduced precipitation and snowpack, low river levels and even drought conditions in some areas—likely because of climate change—raise concerns about the government's plan to rapidly expand the industry. The report cites a "lack of regulation around groundwater withdrawals" and cumulative impacts on First Nations lands as issues with current fracking.
Ceres' study only looks at fracking impacts on freshwater supplies, and offers recommendations to reduce those, including recycling water, using brackish or wastewater, strengthening regulations and finding better ways to dispose of fracking wastewater. But the drilling method comes with other environmental problems, from groundwater contamination to massive ecosystem and habitat disruption—even small earth tremors—all done in the name of short-term gain.
It's important to heed the conclusions and recommendations of this study and others, but given the problems with fracking, and other forms of extraction, we must find ways to control our insatiable fossil fuel demand. That burning these—often wastefully—contributes to climate change, and our methods of extraction exacerbate the problems, should make us take a good look at how we're treating this planet and everything on it, including ourselves and generations to come. It's a reminder that we need to conserve energy in every way possible.
In the short term, we must realize that we have better ways to create jobs and build the economy than holding an "everything must go" sale on our precious resources. In the longer term, we must rethink our outdated economic systems, which were devised for times when resources were plentiful and infrastructure was scarce. Our highest priorities must be the air we breathe, the water we drink, the soil that provides food and the biodiversity that keeps us alive and healthy.
Visit EcoWatch's FRACKING and WATER pages for more related news on this topic.

EcoWatch Daily Newsletter
The climate crisis often intensifies systems of oppression. Rieko Honma / Stone / Getty Images Plus
By Mara Dolan
We see the effects of the climate crisis all around us in hurricanes, droughts, wildfires, and rising sea levels, but our proximity to these things, and how deeply our lives are changed by them, are not the same for everyone. Frontline groups have been leading the fight for environmental and climate justice for centuries and understand the critical connections between the climate crisis and racial justice, economic justice, migrant justice, and gender justice. Our personal experiences with climate change are shaped by our experiences with race, gender, and class, as the climate crisis often intensifies these systems of oppression.

Lana Del Rey: "call her Doris Doomsday." Darren Gerrish / BFC / Getty Images Entertainment
By Emer McHugh
Popular music has, and always will be, informed by the political and social contexts from which it emerges.
It was early in the morning last Thursday, and Jonathan Butler was standing on the Fred Hartman Bridge, helping 11 fellow Greenpeace activists rappel down and suspend themselves over the Houston Ship Channel. The protesters dangled in the air most of the day, shutting down a part of one of the country's largest ports for oil.
By C.J. Polychroniou
Climate change is by far the most serious crisis facing the world today. At stake is the future of civilization as we know it. Yet, both public awareness and government action lag way behind what's needed to avert a climate change catastrophe. In the interview below, Noam Chomsky and Robert Pollin discuss the challenges ahead and what needs to be done.
Food manufacturer General Mills issued a voluntary recall of more than 600,000 pounds, or about 120,000 bags, of Gold Medal Unbleached All Purpose Flour this week after a sample tested positive for a bacteria strain known to cause illness.
Imelda flooded highway 69 North in Houston Thursday. Thomas B. Shea / Getty Images
Extreme weather events supercharged by climate change in 2012 led to nearly 1,000 more deaths, more than 20,000 additional hospitalizations, and cost the U.S. healthcare system $10 billion, a new report finds.
Giant sequoia trees at Sequoia National Park, California. lucky-photographer / iStock / Getty Images Plus
A Bay Area conservation group struck a deal to buy and to protect the world's largest remaining privately owned sequoia forest for $15.6 million. Now it needs to raise the money, according to CNN.