This website uses cookies to ensure you get the best experience while browsing it. By clicking 'Got It' you're accepting these terms.
Top Climate Denier Turns Down $20k Bet From Bill Nye
Apr. 12, 2016 10:08AM EST
Climate
One of America's most outspoken deniers of the link between fossil fuel burning and global warming has refused $20,000 in bets that the planet will keep getting hotter.
Offering the two bets to Marc Morano, of the conservative think tank the Committee for a Constructive Tomorrow (CFACT), is popular television science presenter Bill Nye, "the science guy."
Nye said he was willing to bet Morano that 2016 would be one of the 10 hottest years on record. He also offered a bet the current decade would be the hottest on record.
Morano turned down both bets, telling DeSmog it was "silly" to take a bet when it was "obvious" the official records would show more global warming.
According to NASA measurements, 14 of the 16 hottest years on record have all happened since the year 2000. Last year, 2015, was also the hottest on record.
Nye offered the bets during a yet-to-be-screened interview requested by Morano, who is busy promoting his new Climate Hustle film.
Here is an excerpt of their exchange, including the bets offered by Nye to Morano:
As DeSmog has reported, Climate Hustle features a roll call of climate science deniers and is set to rehash old myths.
Show business "bible" Variety magazine reported as an "exclusive" today that former Alaska Gov. Sarah Palin was endorsing the movie—an "exclusive" based on a press release from March 31.
Variety failed to note how many of the views expressed in Climate Hustle run counter to the conclusions of major science academies around the world and 97 percent of climate scientists.
Morano is a regular guest on conservative-leaning media outlets, including Fox News, where he constantly challenges the overwhelming science linking fossil fuel burning to dangerous climate change.
Nye told DeSmog that in the interview he confronted Morano over his publishing of the email addresses of scientists, which he said had "enabled harassment."
He told DeSmog: "I also asked Mr. Morano about his own children and the world he's working hard to create for them. I asked him about his children growing up watching his tactics; he is a role model for them, after all."
Morano is planning to show clips from the interview with Nye at an invitation-only event on Capitol Hill on April 14.
At that event, Morano will record a panel discussion featuring former Alaska Gov. Sara Palin and Republican Representative Lamar Smith, who chairs the House Committee on Science, Space and Technology and has invited several climate science denialists to give testimony.
Like most high profile Republicans, Palin, who has endorsed Donald Trump as her party's presidential candidate, also refuses to accept the scientific evidence that fossil fuel emissions cause climate change.
In a 2014 video, Palin described global warming as a "con job," saying, "climate change is to this century what Eugenics was to the last century."
Morano's film will be shown in about 400 theatres across the U.S. on May 2 after a deal with SpectiCast, a company that usually broadcasts concert and theatre events to cinemas.
SpectiCast co-founder Mark Rupp described Climate Hustle as "extremely timely" and said the film was "informative and engaging."
The April 14 panel discussion with Palin, Smith and featuring the Nye interview will be broadcast as a "bonus" during the Climate Hustle screenings.
Nye told DeSmog he agreed to take part in the hope it would encourage more journalists to ask "U.S. congressional staffers, members of Congress and the presidential candidates themselves about their views on climate change."
Nye wrote in an email:
"Each candidate has made remarks about climate change from time to time, but it has been quite a while since any professional journalist has directly asked the remaining conservative presidential candidates questions along these lines:
Why do you disagree with the enormous majority of the world's scientists about the seriousness of human-caused global climate change?
Do you believe your own experience with weather provides a more accurate assessment of global climatic conditions than that of the world's scientists?
Do you believe there is a conspiracy involved? If so, what evidence do you have of the conspiracy?"
Nye said he had only been shown clips of the film, which will be distributed by Fathom Events.
Nye added:
"From what [Mr. Morano] chose to show us, the film seems to be a series of interviews with traditional climate change deniers. As an on-cameral professional, I found Mr. Morano's performance stiff and not engaging. For me, the uneven performance added to the disingenuous and unprofessional nature of the film."
To push his case further, Nye showed Morano a chart (below) of land- and satellite-based temperatures which all showed a warming planet.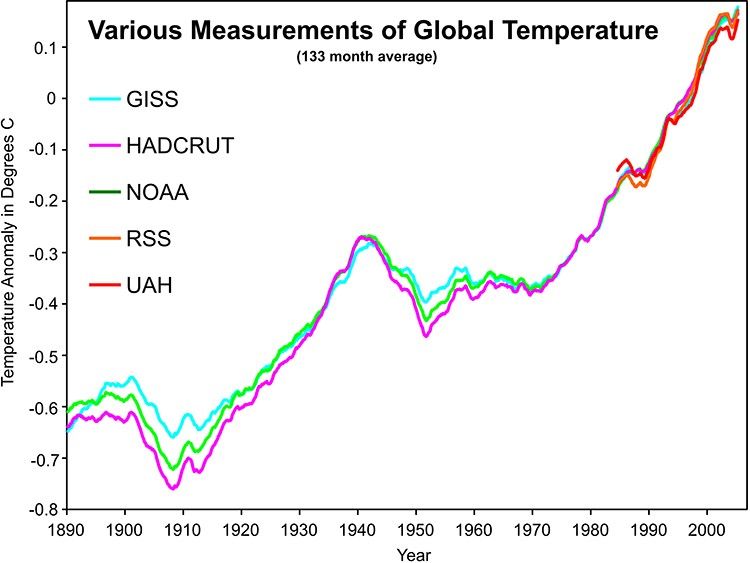 Morano told DeSmog: "I did turn down Nye's temperature bets. I told him that according to the official surface temperature records of course 2016, with strong El Nino, would be one of the 'hottest' or near 'hottest' on 'record.' I explained to Nye the official surface data always seems to be claiming 'hottest' year. So a bet on the obvious was silly. The same goes for 'hottest' decade bet."
This claim comes despite Morano promoting several apparent "global cooling" stories on his CFACT ClimateDepot website in recent weeks.
Morano said he was "proud" to publish email addresses of scientists and activists "who make silly and outlandish claims or who express contempt for anyone who disagrees."
Morano added: "Nye was getting very silly and basically saying that any skeptic who has kids will have to deal with their kids allegedly being embarrassed by their parent rejecting Al Gore and the UN's hyped climate views."
Kymberli Frueh, VP of programming at Fathom Events, said the company was working directly with SpectiCast, not CFACT.
She said the company brought "a variety of events to the cinema" and understood that "each of our programming selections will not always appeal to everyone."
She added: "The opinions expressed by any of our events do not necessarily reflect the views of Fathom. However, we support the right to freedom of expression and the civil, open exchange of ideas and viewpoints."
YOU MIGHT ALSO LIKE
NASA: Melting Ice Sheets Is Changing How the Earth Rotates
Judge Denies Motions by Fossil Fuel Industry and Federal Government in Landmark Climate Change Case
Bill McKibben: It's Time to Break Free From Fossil Fuels
EcoWatch Daily Newsletter
Brown bear fishing for salmon in creek at Pavlof Harbor in Tongass National Forest, Alaska. Wolfgang Kaehler / LightRocket / Getty Images
The Trump administration has moved one step closer to opening Earth's largest intact temperate rainforest to logging.
The Democratic primary candidates take the stage during Tuesday's debate. SAUL LOEB / AFP via Getty Images
On Tuesday night, the Democratic presidential candidates gathered for what The Guardian said was the largest primary debate in U.S. history, and they weren't asked a single question about the climate crisis.
A. Battenburg / Technical University of Munich
By Sarah Kennedy
Algae in a pond may look flimsy. But scientists are using algae to develop industrial-strength material that's as hard as steel but only a fraction of the weight.
Variety of fermented food korean traditional kimchi cabbage and radish salad. white and red sauerkraut in ceramic plates over grey spotted background. Natasha Breen / REDA&CO / Universal Images Group / Getty Image
Even if you've never taken probiotics, you've probably heard of them.
These supplements provide numerous benefits because they contain live microorganisms, such as bacteria or yeast, which support the healthy bacteria in your gut (1, 2, 3, 4).
Pexels
Singapore will become the first country in the world to place a ban on advertisements for carbonated drinks and juices with high sugar contents, its health ministry announced last week. The law is intended to curb sugar consumption since the country has some of the world's highest diabetes rates per capita, as Reuters reported.
A typical adult takes around 20,000 breaths per day. If you live in a megacity like Beijing, with many of those lungfuls you're likely to inhale a noxious mixture of chemicals and pollutants.
Fred Stone holds his brown swiss cow Lida Rose at his Arundel dairy farm on March 18 after a press conference where he spoke about PFAS chemical contamination in his fields. Gregory Rec / Portland Portland Press Herald via Getty Images
By Susan Cosier
First there was Fred Stone, the third-generation dairy farmer in Maine who discovered that the milk from his cows contained harmful chemicals. Then came Art Schaap, a second-generation dairy farmer in New Mexico, who had to dump 15,000 gallons of contaminated milk a day.
Protesters attend the 32nd annual Fur-Free Friday demonstration on Nov. 23, 2018 in Beverly Hills, California. Ella DeGea / Getty Images
California Governor Gavin Newsom signed into law a bill that that bans the sale and manufacture of fur products in the state. The fur ban, which he signed into law on Saturday, prohibits Californians from selling or making clothing, shoes or handbags with fur starting in 2023, according to the AP.