This website uses cookies to ensure you get the best experience while browsing it. By clicking 'Got It' you're accepting these terms.
Top 20 'Dirty Denier$' Who Accept Big Bucks from Big Polluters
Sep. 03, 2014 12:00PM EST
Climate
On the campaign trail, many candidates strive to be as innocuous as possible, evading questions or saying they haven't made up their minds on an issue.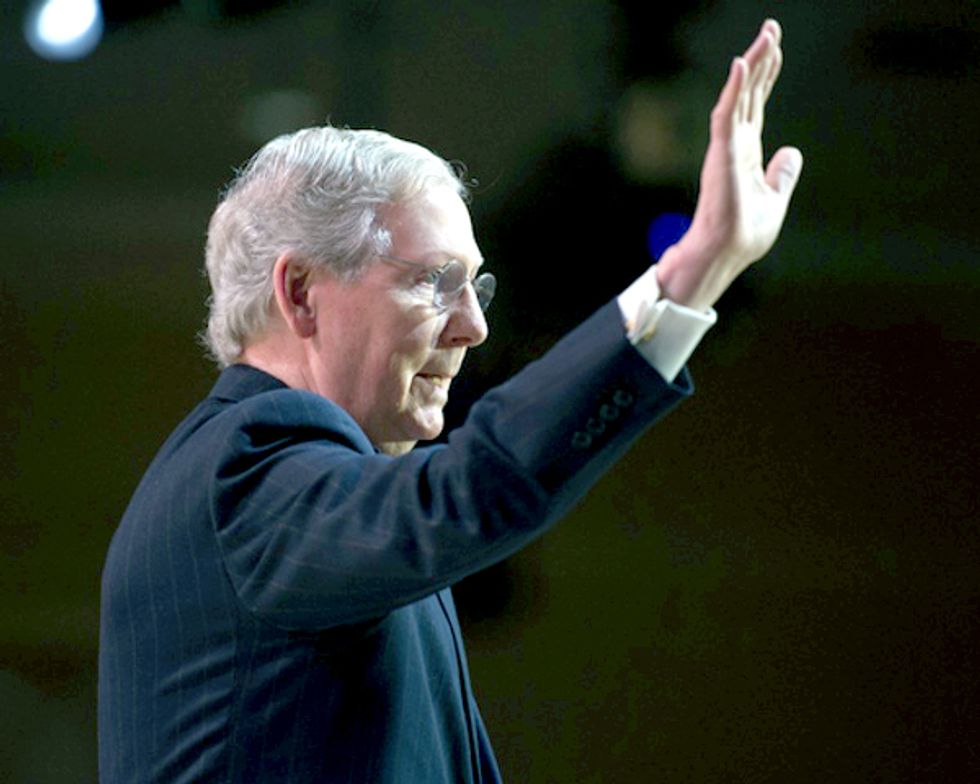 Photo credit: Shutterstock
The Natural Resources Defense Council (NRDC) Action Fund has been working to strip away the dodges and subterfuges when it comes to candidates' positions on the climate. It spent the month of August exposing what it called the "Daily Dirty Denier$" (#DailyDenier$), officeholders running for reelection who can't dodge the fact that they've accepted money from big polluters in the dirty energy sector and cast votes in their favor.
"Now that Labor Day is behind us, the campaign season is about to heat up in earnest," said NRDC Action Fund director Heather Taylor-Miesle.
"The outcome of the 2014 races could have a major impact on the air we breathe, the health of our families, and the intensity of the climate change outside our doors. Victory could come for candidates who take millions of dollars for fossil fuel companies and ignore the climate threat. Or environmental champions will triumph and expand clean energy and climate action to protect our health and create jobs."
"The same old polluters and polluter allies, cue the Chamber of Commerce, Koch Brothers and Karl Rove, are running the same old attack ads, using the same old lies and scare tactics, and hoping the American public is none the wiser," she said.
In its campaign to wise up voters, the group's DailyDirtyDenier$ campaign focuses on members of Congress who have voted almost 200 times during the current session to weaken or eliminate environmental regulations and how money from polluters is being funneled to these congresspeople to prop them up. It also aims to focus and utilize the increasing support among Americans for action on the climate to defeat these candidates.
Here are the top 20 "Dirty Denier$" to watch out for:
Senate Minority Leader Mitch McConnell (R-KY) could be running the Senate if the Republicans assume control after the upcoming elections. His 7 percent score from the League of Conservation Voters (LCV) and the $3.6 million in contributions he's received from the fossil fuel industry make him especially dangerous. He's also been on a crusade to weaken the U.S. Environmental Protection Agency. However, he is facing a serious challenge to reelection from Democrat Alison Lundergan Grimes.
Congressman Tim Walberg (R-MI) also sports a 7 percent score from LCV and has been handsomely rewarded by Big Oil. His position on man-made climate change? He thinks an "equal number" of scientists think it's not happening.
Congressman Cory Gardner (R-CO) is aiming to move up to the Senate, ousting climate advocate Mark Udall. And the Koch Brothers are on hand to help him, with outside ad buys totally nearly $2 million. What do they like about Gardner? Maybe it's his passionate defense of tax breaks for the oil industry—or his insistence that climate change is mostly media spin.
Senator Marco Rubio (R-FL) has been touted as a 2016 presidential prospect. He's part of the "I'm no scientist but I believe ...." school when it comes to climate denial. That wasn't always his position, but a influx of money from the oil and gas industries seems to carry more weight with Rubio than scientists. Rubio is a special pet of the Koch Brothers.
Congressman John M. Shimkus (R-IL) has raised more than $500,000 from the oil and gas industries, and he's worked hard to be worthy of it. He's also got a big crush on coal. And yes, he's yet another climate denier.
Scott Brown (R-NH) represented Massachusetts in the Senate for two years until Elizabeth Warren kicked him to the curb. He's moved to New Hampshire to try to beat Jeanne Shaheen and now no longer believes climate change is probably real. It's funny how large donations from polluters can make a guy come around.
Congressman Leonard Lance (R-NJ). As New Jerseyites become more supportive of protecting the environment, Lance, who once had a decent 71 percent score from the LCV, has gone the other way. He's become a predictable supporter of his party leadership's drive to weaken environmental standards.
Congresswoman Shelly Moore Capito (R-WV) is another congressperson aiming for an upgrade to the Senate. There she'll be Big Coal's best friend: she got more money from the mining industry than anyone in Congress save McConnell and House Speaker John Boehner. As mining jobs vanish, she' s denying her state a future by blocking renewable energy initiatives.
Congressman John Kline (R-MN) isn't the most vocal denier but he sports an abysmal lifetime score of 4 percent from the LCV. His voting record speaks for itself. He voted to roll back the Clean Air and Clean Water Acts and opposes clean energy investment. Two of his top five donors are coal companies. Coincidence? Probably not.
Senator John Boozman (R-AR) signed the Koch Brothers-supported "No Climate Tax" pledge and advocates for more drilling in the Gulf of Mexico, despite the ongoing environmental disaster there as a result of the 2010 oil rig explosion (Rig contractor Halliburton just settled for $1.1 billion, probably a fraction of the real cost). He's got a 8 percent score from LCV.
Congressman Mike Coffman (R-CO) speaks with forked tongue. He says the role of carbon emissions in causing climate change (which he doesn't deny is real but says has been happening "since the beginning of time") is "still a subject of debate." And while he says we should reduce carbon emissions, he wants to stop the EPA from regulating them. His 2013 score from LCV was 4 percent.
Senator Rob Portman (R-OH) has high likability and doesn't come off like a crazy person. But he's confused on the climate. While he sponsored a bill to promote energy efficiency, he's another one who wants to bar government from issuing health, safety, and environmental regulations. He recognizes a "warming trend," but says "the jury is out" on whether it's manmade.
Congressman Tom Latham (R-IA) isn't running for reelection, and that's probably a good thing, since he's out of step with his state, one of the country's leaders in renewable energy. He's consistently voted in the interests of polluters, and while he's not running again, he's already raised $1 million he can pass on to other Dirty Denier$.
Senator Pat Toomey (R-PA) is a former president of the Club for Growth, so naturally he agrees with that group's stance that nothing should stand in the way of profit, even the future of the planet. The group has given him nearly $900,000 to make sure that dirty energy interests have nothing holding them back.
Congressman Steve Daines (R-MT) is yet another dirty energy supporter looking for an upgrade to the Senate. His campaign is being fueled by coal, oil, and gas interests who have no qualms about despoiling Montana's natural beauty. He thinks "solar cycles" are causing warming.
Congressman Henry Cuellar (D-TX) is the wrong-way kid. His score from the LCV has plunged from 100 to 29 percent in a mere five years. What's changed his mind to the point where he's boasting about his vote to block the EPA from addressing carbon pollution? Could it be the steadily increasing amount of donations he's gotten from Big Oil?
Congressman Rodney Davis (R-IL) has acknowledged that climate change is real and humans are at least partly responsible. Not that he wants to do anything about it. He's consistently voted to block action on regulation emissions and to promote more drilling. It's earned him a 4 percent rating from the LCV.
Congressman Ed Whitfield (R-KY) chairs the House subcommittee on Energy and Power. That's unfortunate. He's used that perch to fight back in the so-called "War on Coal," to attempt to block the EPA from regulating emissions, and to support drilling, drilling and more drilling. He's received more than $1.1 from utilities, oil, gas, mining, and railroads that ship coal.
Congressman Fred Upton (R-MI) is the powerful head of the House Energy and Commerce Committee where he's not working for Americans but for his dirty energy donors who have rewarded him with some $2 million over the years. He thinks the EPA's Clean Power Plan is "an unconstitutional power grab" and a "trainwreck."
And finally:
Senator James Inhofe (R-OK) is the author of The Greatest Hoax: How The Global Warming Conspiracy Threatens Your Future. Does anything more need to be said? Well, there's the $1.5 million he's received from dirty energy interests and his lifetime score of 5 percent from the LCV. We're surprised it's that high.
YOU MIGHT ALSO LIKE
Dirty Money, Dirty Fuels: Why Money in Politics Matters to the Environment
Leonardo DiCaprio Narrates Climate Change Films Urging Shift From Fossil Fuels to Renewables
Obama and EPA Release Historic Carbon Reduction Plan to Fight Climate Change
EcoWatch Daily Newsletter
With well over a billion cars worldwide, electric vehicles are still only a small percentage. An economist from the University of Michigan Energy Institute says that is likely to change. Maskot / Getty Images
In 2018, there were about 5 million electric cars on the road globally. It sounds like a large number, but with well over a billion cars worldwide, electric vehicles are still only a small percentage.
Nestlé is accelerating its efforts to bring functional, safe and environmentally friendly packaging solutions to the market and to address the global challenge of plastic packaging waste.
Nestlé
/ Flickr /
CC BY-NC-ND 2.0
Nestlé, the world's largest food company, said it will invest up to $2 billion to address the plastic waste crisis that it is largely responsible for.
Determining the effects of media on people's lives requires knowledge of what people are actually seeing and doing on those screens. Vertigo3d / iStock / Getty Images Plus
Indigenous people of various ethnic groups protest calling for demarcation of lands during the closing of the 'Red January - Indigenous Blood', in Paulista Avenue, in São Paulo, Brazil, Jan. 31, 2019. Cris Faga / NurPhoto / Getty Images
By Raphael Tsavkko Garcia
Rarely has something so precious fallen into such unsafe hands. Since Jair Bolsonaro took the Brazilian presidency in 2019, the Amazon, which makes up 10 percent of our planet's biodiversity and absorbs an estimated 5 percent of global carbon emissions, has been hit with a record number of fires and unprecedented deforestation.
Microsoft's main campus in Redmond, Washington on May 12, 2017. GLENN CHAPMAN / AFP via Getty Images
Microsoft announced ambitious new plans to become carbon negative by 2030 and then go one step further and remove by 2050 all the carbon it has emitted since the company was founded in 1975, according to a company press release.