Top 10 Smartphone Apps for Climate Activists
The world population is at 7 billion and it's predicted that by the end of this year there will be one smartphone for every five people in the world. That's a lot of phones and a lot of information literally at our fingertips.
Information is constantly changing and those of us working hard to protect the environment for ourselves and future generations need to have access to up-to-date material. Being a climate change activist can be time consuming. But…there's an app (or ten) for that.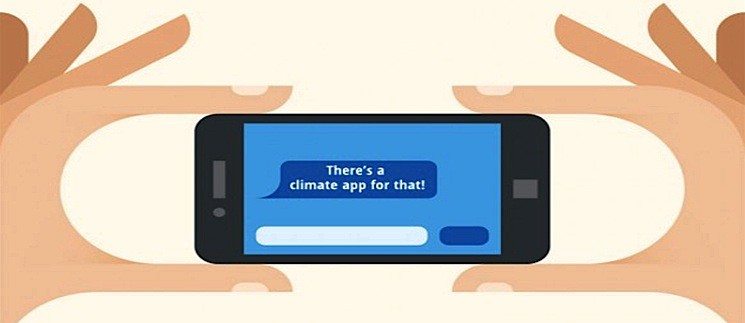 The number of apps out there is staggering. With hundreds of thousands to choose from, where do we begin? With these 10 apps you'll be amazed at how easy it is to stay in the know when it comes to your health and the health of the environment.  
1. Carbon Emissions Calculator for Air Travel (iOS—Free)
This app allows passengers to estimate the carbon emissions attributed to their air travel. It is simple to use—just select your origin and destination airports, specify the class of travel and number of passengers. View the carbon footprint and the distance traveled for your trip.
2. Light Bulb Finder (iOS and Android—Free)
How many apps does it take to change a light bulb? Just one! Light Bulb Finder gives you on the spot recommendations for energy-efficient bulbs that look stylish and help you save the most money. The app allows you to view bulb images, cost, savings and environmental impact.
3. Seafood Watch (iOS and Android—Free)
The Seafood Watch (created by Monterey Bay Aquarium) app allows you to sort seafood by "Best Choice," "Good Alternative" or "Avoid" rankings. The app also highlights a list of "Super Green" seafood that's good for you and the oceans. There are additional features like a glossary, links to seafood recipes and news, and other things of interest to all seafood lovers. The app also allows you to share the locations of restaurants and markets where you've found sustainable seafood.
4. Fooducate (iOS and Android—$4.99)
This app empowers food shoppers everywhere to make healthy, informed decisions while at the supermarket. Scan your food and Fooducate generates a letter grade (A, B, C or D) for each product scanned, along with brief explanations and warnings about its nutrients and ingredients. There is also an option to enter the bar code manually. The app will recommend minimally processed, real foods which are naturally rich in nutrients and antioxidants.
5. Locavore (iOS and Android—Free)
If you're looking for the closest farmers market selling your favorite seasonal produce, then Locavore is the app for you. Locavore is a great app for those searching for local, in season, organic foods in your area. The app has one-click access to thousands of healthy, seasonal recipes and other information that can be shared with your friends and family. The app not only lets you know which fruits and veggies are in season—it also lets you know how long they'll be in season.
6. EPA AirNow (iOS and Android—Free)
The AirNow mobile app provides real time air quality information that you can use to protect your health throughout the day. Just enter the zip code of your location to get the current air quality index information and air quality forecasts for ozone and pollution.
7. ClimateCounts (iOS—Free)
The Climate Counts app for iPhone rates leading companies based on their climate impact and sustainability efforts, and then gives consumers a chance to voice their concerns either by email or on social sites such as Facebook or Twitter. You can search for climate ratings either by company or industry.
8. Zimride (iOS and Android—Free)
Ridesharing apps are all the rage. Zimride is a new spin on ridesharing, using social networks to enable real connections. Once you set up a profile you are able to book a ride in your area, or post a ride of your own. Drivers can charge for rides and Zimride doesn't take a cut. Rides seem to be reasonably priced and since profiles are linked with Facebook it's easy to check out your potential ride companions.
9. Dirty Dozen (iOS and Android—Free)
The Dirty Dozen app is a product of The Environmental Working Group's research and lists the 12 types of produce that are contain the most pesticides (Dirty Dozen) and the 15 (Clean 15) that can be purchased conventionally.
10. Toxic Baby App (iOS—coming summer 2014)
This app is coming soon to an iTunes store near you. Penelope Jagessar-Chaffer is the creator of the film Toxic Baby, and her new app will provide information to help keep our families safe and free of toxic chemicals.
With this type of knowledge just a tap away, there's no denying climate change is real and you've got the best shot at keeping your family and the planet safe and healthy.
Visit EcoWatch's CLIMATE CHANGE page for more related news on this topic.
———

The Brooks Range in the Arctic National Wildlife Refuge. Hillebrand / U.S. Fish and Wildlife Service
By Andy Rowell
"Disruption" is one of the buzzwords of the energy market right now as plummeting costs of renewables is changing the way we heat our homes and drive our automobiles.
Some of the biggest names in the energy business spoke Wednesday on that very topic in London at the Financial Times' Energy Transition Strategies Summit, at the panel Rethinking Energy in a Time of Disruption.
Keep reading...
Show less
Chris Kick / Twitter
Keep reading...
Show less
Shaahina Ali
Keep reading...
Show less
The federal government is providing extensive support for fossil fuel production on public lands and waters offshore, through a combination of direct subsidies, enforcement loopholes, lax royalty collection, stagnant lease rates and other advantages to the industry, a report released Wednesday found.
Keep reading...
Show less
Keep reading...
Show less
By Elgie Holstein
The federal budget that the president proposes annually and Congress votes on is more than a collection of numbers. It tells us who the president is, what he stands for and what he cares about.
Keep reading...
Show less
The U.S. Environmental Protection Agency (EPA) budget will still be slashed by nearly a third, from $8.2 billion to $5.65 billion, under President Trump's fiscal 2018 budget proposal released Tuesday.
The EPA, which has long been targeted by the Trump administration, is the hardest hit federal agency under the new plan. Opponents say it "endangers Americans" and cripples an institution charged with protecting their health and safety.
Keep reading...
Show less
Frustrated by non-experts taking to the internet to dispute the science behind human-made climate change, North Carolina meteorologist Greg Fishel issued a challenge to climate deniers, urging them to "put up or shut up" and "submit your work the way real scientists do, and see where it takes you."
Keep reading...
Show less


Get EcoWatch in your inbox