This website uses cookies to ensure you get the best experience while browsing it. By clicking 'Got It' you're accepting these terms.


The best of EcoWatch, right in your inbox. Sign up for our email newsletter!
These 10 States Account for a Whopping 78% in Sales of Organic Food
Oct. 04, 2015 10:35AM EST
Food
Love the organic lifestyle? Chances are you live in these 10 states, and most likely in California.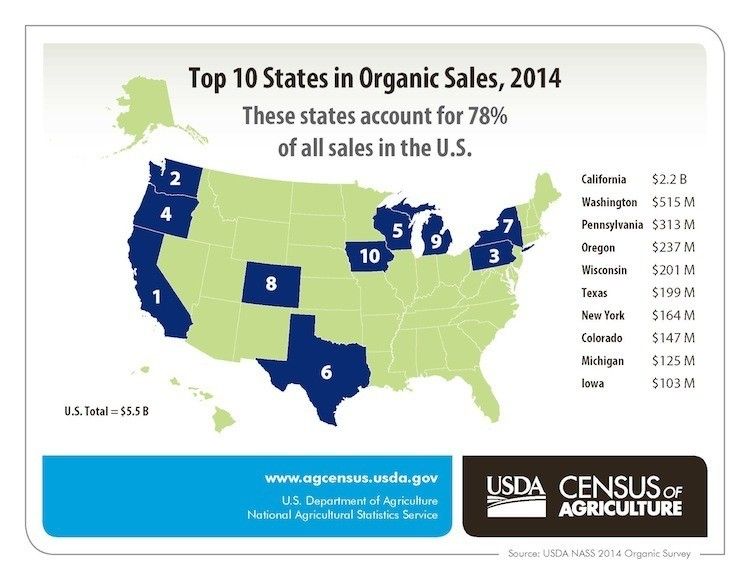 California makes up the biggest slice of the country's organic market with a stunning $2.2 billion in sales (41 percent of the national total), trouncing second place Washington's $515 million in sales, according to the latest Organic Survey from the USDA's National Agricultural Statistics Service (NASS).
These 10 states alone represent a whopping 78 percent of U.S. organic sales in 2014, according to the NASS.
It's unsurprising that California dominates the green food market. Of the 14,093 organic farms tallied in the survey, 2,805 (about 20 percent) were based in the Golden State. The only other state to have more than 1,000 organic farms is Wisconsin, with 1,228.
Organic food aside, California's farmers feed a large part of the country. According to the latest statistics compiled by the California Department of Food and Agriculture, the state produces almost half of all the fruits, nuts and vegetables grown in the country, as well as a whopping share of the livestock and dairy," the Los Angeles Times reported.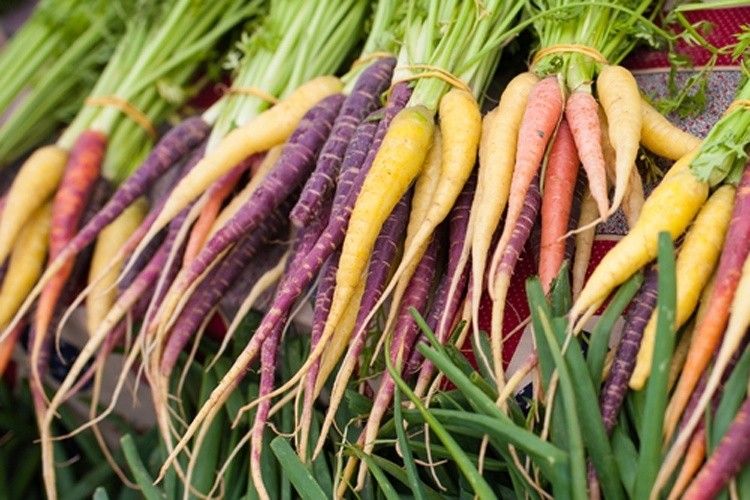 Photo credit: Shutterstock
Outside of the top 10 states, the survey shows that the country's green food movement is a trend, not a fad. As it turns out, sales from organic farms across the country boomed last year, with consumer spending up 72 percent since 2008.
More people are also eating organic locally, reducing the miles that it takes for food to get to forks. The NASS found that the first point of sale for 80 percent of all U.S. organic products was less than 500 miles from the farm, compared to 74 percent in 2008.
Local markets are also adding more organic fare to their shelves. Sixty-three percent of organic farms in the U.S. reported selling products to wholesale markets, accounting for 78 percent of U.S. organic farm sales, the NASS found.
"Producers reported in the 2014 Organic Survey that they expect to expand U.S. organic production in the coming years, making the data even more important for policy and programs," said NASS administrator Joseph T. Reilly.
The report "shows that organic producers are providing a wide variety of products to customers and are getting those items from farm to table more efficiently," Reilly added.
Even if organic products tends to be more expensive, these latest statistics show that America's taste buds are slowly shifting away from heavily processed or factory farmed foods and people are increasingly more aware of the environmental impacts of industrial agriculture.
Perhaps the growing backlash against genetically modified organisms (GMOs) is driving the growth in organic food sales. Surveys show that the vast majority of Americans—as much as 93 percent, according to a New York Times—want their food labeled.
YOU MIGHT ALSO LIKE
10 Foods That Help Fight Cancer
Venus and Serena Williams: Raw Vegan Powerhouses
Wales and Bulgaria Latest to Join Massive EU Wave of GMO Bans
EcoWatch Daily Newsletter
jenifoto / iStock / Getty Images
Many people consider granola bars a convenient and healthy snack and enjoy their flavor and versatility.
A common green darners (Anax junius). Judy Gallagher / Flickr
By Jason Bittel
It's that time of year again: Right now, monarch butterflies are taking wing in the mountains of northwestern Mexico and starting to flap their way across the United States.
fstop123 / iStock / Getty Images Plus
At EcoWatch, our team knows that changing personal habits and taking actions that contribute to a better planet is an ongoing journey. Earth Day, happening on April 22, is a great reminder for all of us to learn more about the environmental costs of our behaviors like food waste or fast fashion.
To offer readers some inspiration this Earth Day, our team rounded up their top picks for films to watch. So, sit back and take in one of these documentary films this Earth Day. Maybe it will spark a small change you can make in your own life.
Denali national park. Domen Jakus / Flickr / CC BY-NC 2.0
By Stephanie Gagnon
Happy National Parks Week! This year, between April 20 and 28, escape to the beautiful national parks — either in person or in your imagination — and celebrate the amazing wildlife that calls these spaces home.
Sesame, three months old, at Seal Rescue Irleand.
Screenshot / Seal Rescue Ireland Instagram
On Friday, Seal Rescue Ireland released Sesame the seal into the ocean after five months of rehabilitation at the Seal Rescue Ireland facility. Watch the release on EcoWatch's Facebook.

Beer packs of Guinness will now come in a cardboard box. Diageo

By Jordan Davidson
Guinness is joining the fight against single use plastic. The brewer has seen enough hapless turtles and marine life suffering from the scourge of plastic.
Maskot / Getty Images
People of all ages are spending more of their day looking at their phones, computers and television screens, but parents now have another reason for limiting how much screen time their children get — it could lead to behavioral problems.