These 10 States Account for a Whopping 78% in Sales of Organic Food
Love the organic lifestyle? Chances are you live in these 10 states, and most likely in California.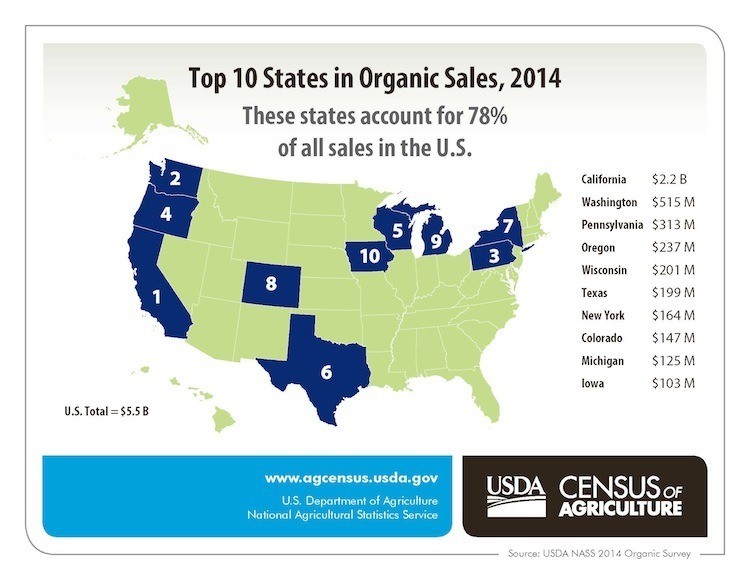 California makes up the biggest slice of the country's organic market with a stunning $2.2 billion in sales (41 percent of the national total), trouncing second place Washington's $515 million in sales, according to the latest Organic Survey from the USDA's National Agricultural Statistics Service (NASS).
These 10 states alone represent a whopping 78 percent of U.S. organic sales in 2014, according to the NASS.
It's unsurprising that California dominates the green food market. Of the 14,093 organic farms tallied in the survey, 2,805 (about 20 percent) were based in the Golden State. The only other state to have more than 1,000 organic farms is Wisconsin, with 1,228.
Organic food aside, California's farmers feed a large part of the country. According to the latest statistics compiled by the California Department of Food and Agriculture, the state produces almost half of all the fruits, nuts and vegetables grown in the country, as well as a whopping share of the livestock and dairy," the Los Angeles Times reported.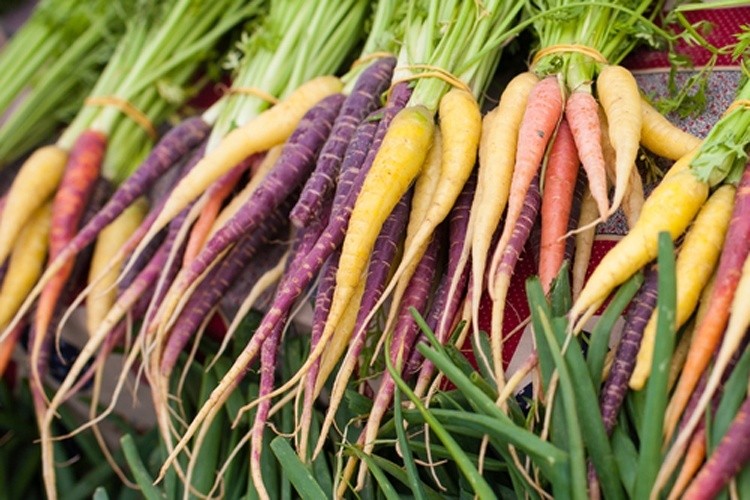 Photo credit: Shutterstock
Outside of the top 10 states, the survey shows that the country's green food movement is a trend, not a fad. As it turns out, sales from organic farms across the country boomed last year, with consumer spending up 72 percent since 2008.
More people are also eating organic locally, reducing the miles that it takes for food to get to forks. The NASS found that the first point of sale for 80 percent of all U.S. organic products was less than 500 miles from the farm, compared to 74 percent in 2008.
Local markets are also adding more organic fare to their shelves. Sixty-three percent of organic farms in the U.S. reported selling products to wholesale markets, accounting for 78 percent of U.S. organic farm sales, the NASS found.
"Producers reported in the 2014 Organic Survey that they expect to expand U.S. organic production in the coming years, making the data even more important for policy and programs," said NASS administrator Joseph T. Reilly.
The report "shows that organic producers are providing a wide variety of products to customers and are getting those items from farm to table more efficiently," Reilly added.
Even if organic products tends to be more expensive, these latest statistics show that America's taste buds are slowly shifting away from heavily processed or factory farmed foods and people are increasingly more aware of the environmental impacts of industrial agriculture.
Perhaps the growing backlash against genetically modified organisms (GMOs) is driving the growth in organic food sales. Surveys show that the vast majority of Americans—as much as 93 percent, according to a New York Times—want their food labeled.
YOU MIGHT ALSO LIKE
10 Foods That Help Fight Cancer
Venus and Serena Williams: Raw Vegan Powerhouses
Wales and Bulgaria Latest to Join Massive EU Wave of GMO Bans
Wikimedia Commons
By Stacy Malkan
Neil deGrasse Tyson has inspired millions of people to care about science and imagine themselves as participants in the scientific process. What a hopeful sign it is to see young girls wearing t-shirts emblazoned with the words, "Forget princess, I want to be an astrophysicist."
Keep reading...
Show less
www.youtube.com
By Andy Rowell
Any day now we will truly witness climate change in action. Within days at worst, maybe weeks at best, scientists predict that a huge section of the Larsen C ice shelf in Antarctica will break off into the ocean, in what is called a major "carving" event.
Keep reading...
Show less
www.youtube.com
President Trump visited Cedar Rapids, Iowa on June 21 to speak to a large crowd in the U.S. Cellular Center at a political rally organized by his campaign.
As Trevor Noah noted during The Daily Show episode last night (starts at 2:25), the real reason Trump has these rallies is to "get back in front of his loyal crowds and feed of their energy." Noah believes that "Trump supporters are so on board with their dude he can say anything and they'll come along for the ride."
Keep reading...
Show less
The Kamuthi solar plant in the southern Indian state of Tamil Nadu.
The rapid growth in renewable energy continues to put a dent in the demand for coal.
Coal India, the world's biggest coal mining company and producer of 82 percent of the country's coal, announced the closure of 37 mines that are financially "unviable."
Keep reading...
Show less
www.youtube.com
By Katie O'Reilly
Two years ago—long before coal became one of the most dominant and controversial symbols of the 2016 presidential election—Bloomberg Philanthropies approached production company RadicalMedia with the idea of creating a documentary exploring the U.S. coal mining industry. Last spring, they brought on Emmy-nominated director Michael Bonfiglio, tasked with forging a compelling story out of the multitudes of facts, statistics and narratives underlying the declining industry.
Keep reading...
Show less
Mayors for 100% Clean Energy
Keep reading...
Show less
www.youtube.com
Thanks to Newsy for their coverage on Thursday's news that the U.S. Fish and Wildlife Service removed grizzly bears in the Greater Yellowstone region from the Endangered Species List.
Watch above as Newsy explains that the decision comes despite serious concerns from the environmental and scientific community, and Tribal Nations about a declining, isolated grizzly bear population with diminishing food resources and record-high mortalities.
Keep reading...
Show less
www.facebook.com
By Francine Kershaw
Seismic airguns exploding in the ocean in search for oil and gas have devastating impacts on zooplankton, which are critical food sources for marine mammals, according to a new study in Nature. The blasting decimates one of the ocean's most vital groups of organisms over huge areas and may disrupt entire ecosystems.
And this devastating news comes on the heels of the National Marine Fisheries Service's proposal to authorize more than 90,000 miles of active seismic blasting. Based on the results of this study, the affected area would be approximately 135,000 square miles.
Keep reading...
Show less
By Jill Richardson
Is coconut oil:
good for you
bad for you
neither good nor bad
scientists don't know
The subject of this question is the source of a disagreement. Initially, the question was thought to be settled decades ago, when scientist Ancel Keys declared all saturated fats unhealthy. Coconut oil, which is solid at room temperature, is a saturated fat.
Keep reading...
Show less


Get EcoWatch in your inbox