This website uses cookies to ensure you get the best experience while browsing it. By clicking 'Got It' you're accepting these terms.
The United States of Monsanto?
Mar. 12, 2016 11:33AM EST
Food
This week thousands of Americans took time out of their busy days to call their Senators to demand that they vote against the DARK Act, a bill sponsored by Kansas Sen. Pat Roberts, which would prevent consumers from knowing if the food they eat and feed their families contains genetically engineered (GMO) ingredients. Their support for GMO labeling was echoed by more than 600 organizations, including farming and fishing groups and food companies, representing tens of millions of members and customers who this week also urged the Senate to reject this troubling bill.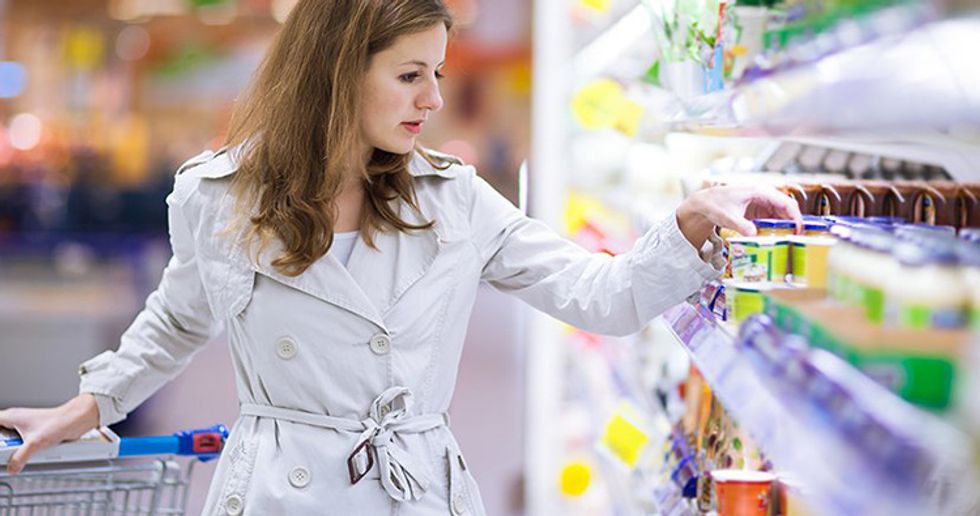 GMO crops are created by transferring genetic material from one organism into another to create specific traits, such as resistance to treatment with herbicides or to make a plant produce its own pesticide to repel insects. Unlike traditional plant and animal breeding, which tries to develop better varieties by selecting traits from the same species, genetic engineering techniques can insert specific genes from any plant, animal or microorganism into the DNA of a different species.
The DARK Act passed out of committee last week by a 14-6 vote and is expected to hit the Senate floor any day now. The House already passed a similar bill in July. If passed in the Senate, it will block state laws that require labeling of GMOs, instruct the U.S. Department of Agriculture (USDA) to implement a voluntary labeling program and kick off a USDA propaganda program to sell the public on GMOs.
But an overwhelming majority of Americans—more than 90 percent in many polls—support GMO labeling. Three states— Vermont, Connecticut and Maine—have passed laws to that effect. Now, some in the Senate want to thwart these efforts. Why is it that so many politicians are all about letting states make decisions on controversial issues—until some states want to do something that Big Food companies oppose?
As with most battles brewing inside the Beltway, the answer can be found at the end of a paper trail—a green paper trail. Monsanto, a leading manufacturer of GMO seeds (and the herbicides used with them) has spent millions of dollars over the past several years to block GMO labeling efforts, most notably state and local ballot initiatives in California, Colorado, Hawaii and Oregon that failed.
Follow the Money
Since 1999, the fifty largest agricultural and food patent-holding companies and two of the largest biotech and agrochemical trade associations have spent more than U.S. $572 million in campaign contributions and lobbying expenditures, much of it to create a favorable political context to allow GMOs to proliferate. The Grocery Manufacturers Association, which represents food companies like Kraft and Pepsi, has spent millions of dollars lobbying in favor of the DARK Act too. Washington's Attorney General recently accused the Grocery Manufacturers Association of maintaining an "egregious" plot to conceal the identity of the corporate donors behind its $11 million campaign to defeat that state's 2013 food-labeling initiative.
What's happening here is painfully obvious. The public is rejecting GMOs, a dubious technology upon which Big Food has built its empire and now it's pulling out all the stops to protect its market shares and its profit margins.
The public is rightfully suspicious of GMOs. We simply don't know enough about their long-term effects, so it's logical that consumers would want to know whether or not they are eating them. Support for GMO labeling is so strong in fact that Campbell's recently announced it would label GMOs in its products and even withdrew its support for anti-labeling efforts. But we can't rely on individual corporations to decide these matters for us.
And "voluntary" labeling is not the answer, either, since it effectively upholds the status quo and translates to very little, if any, labeling at all. While there is talk of amending the DARK Act to include an amendment to encourage voluntary labeling, it's crucial to note that this so-called "compromise" will do little to help consumers know if the food they're eating contains GMOs. This clearly won't do.
Reclaiming Democracy
Industry's attempt to block GMO labeling laws is yet another symptom of a democracy hijacked by corporate interests. We the people have elected our leaders to Congress to represent our interests, because we live in a democracy—not a nation controlled by a corporate oligarchy. At least, that's the way it should be. That's why we're urging the Senate to reject the DARK Act and any compromise that results in anything less than on-package labeling that tells consumers if a product contains GMO ingredients.
This piece was originally featured on Food & Water Watch.
YOU MIGHT ALSO LIKE
California Widow Sues Monsanto Alleging Roundup Caused Her Husband's Cancer
7 Reasons Why the U.S. Government Must Label GMOs
France, Sweden, Italy and the Netherlands Rebel Against Relicensing of Monsanto's Glyphosate
EcoWatch Daily Newsletter
Investing in grid infrastructure would enable utilities to incorporate modern technology, making the grid more resilient and flexible. STRATMAN2 / FLICKR
By Elliott Negin
The Royal Swedish Academy of Sciences' recent decision to award the 2019 Nobel Prize in Chemistry to scientists who developed rechargeable lithium-ion batteries reminded the world just how transformative they have been. Without them, we wouldn't have smartphones or electric cars. But it's their potential to store electricity generated by the sun and the wind at their peak that promises to be even more revolutionary, reducing our dependence on fossil fuels and protecting the planet from the worst consequences of climate change.
Two Javan rhinos deep in the forests of Ujung Kulon National Park, the species' last habitat on Earth. Sugeng Hendratno / WWF
The global population of the critically endangered Javan rhinoceros has increased to 72 after four new calves were spotted in the past several months.
A tiger looks out from its cage at a new resort and zoo in the eastern Lao town of Tha Bak on Dec. 5, 2018. Karl Ammann believes the "zoo" is really a front for selling tigers. Terrence McCoy / The Washington Post / Getty Images
Are tigers extinct in Laos?
That's the conclusion of a detailed new study that found no evidence wild tigers still exist in the country.
A group of scientists is warning that livestock production must not expand after 2030 for the world to stave off ecological disaster.
The largest wetland in Africa is in the South Sudan. George Steinmetz / Corbis Documentary / Getty Images Plus
Methane emissions are a far more powerful greenhouse gas than carbon dioxide – about 28 times more powerful. And they have been rising steadily since 2007. Now, a new study has pinpointed the African tropics as a hot spot responsible for one-third of the global methane surge, as Newsweek reported.