This website uses cookies to ensure you get the best experience while browsing it. By clicking 'Got It' you're accepting these terms.
The Superbug Doctors Have Been Dreading Is Now in the U.S.
Jun. 01, 2016 08:32AM EST
Food
A team of scientists at the Walter Reed National Military Medical Center and Army Institute of Research in Washington, DC has discovered the first instance of a person living in the U.S. infected with a feared antibiotic-resistant microbe, according to a research report published Thursday in the journal Antimicrobial Agents and Chemotherapy.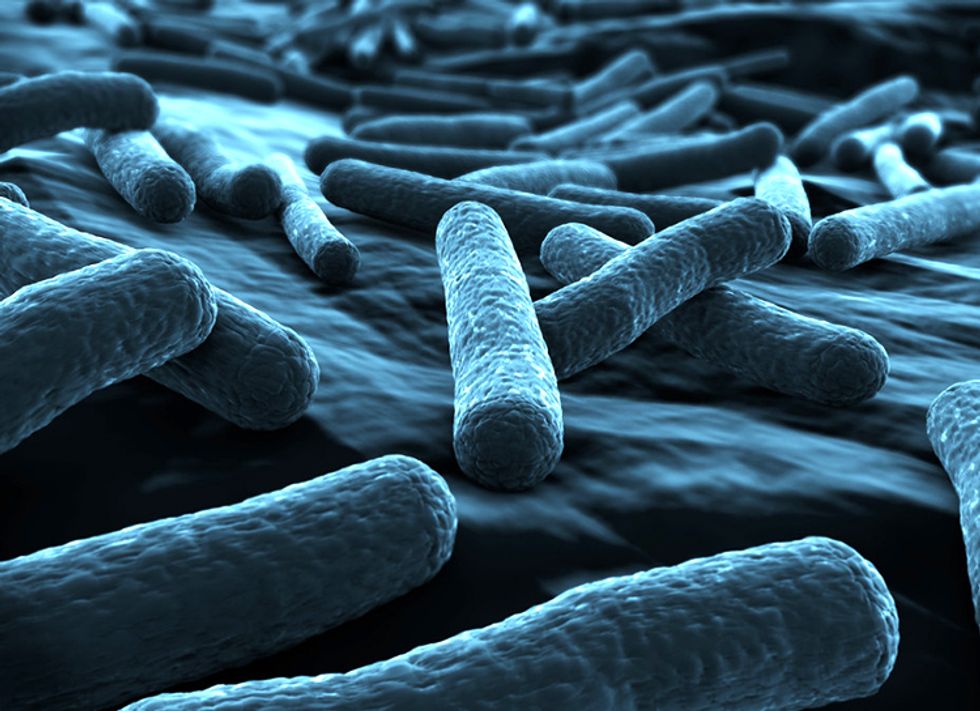 An E. coli bacterium taken from a Pennsylvania woman suffering from a urinary tract infection contained the mcr-1 gene that conveys resistance to colistin, which physicians consider the antibiotic of last resort.
"We risk living in a post-antibiotic world," said Thomas Frieden, director of the federal Centers for Disease Control and Prevention (CDC).
The continued over-use of antibiotics may lead to infections that no drugs can cure.
Until very recently, no bacterial strains had evolved resistance to colistin. But this medically essential drug is used in Chinese and European livestock production. China is one of the world's top consumers of colistin for veterinary use. Late last year, an international team of scientists working in China found the mcr-1 gene in colistin-resistant bacteria in people and animals.
Why would we risk an antibiotic so vital to human health by dosing well animals with it?
About 70 percent of the antibiotics used in the U.S. are deployed in livestock production. But most of these animals aren't sick. In fact, most veterinary antibiotics go to animals to encourage faster growth or to prevent illnesses associated with confined living conditions.
Microbes that have developed resistance to antibiotics are sometimes found on meat sold in supermarkets. A 2013 Environmental Working Group (EWG) analysis of U.S. government reports showed that antibiotic resistant bacteria had been detected in 81 percent of raw turkey meat and 69 percent of raw pork tested by federal scientists.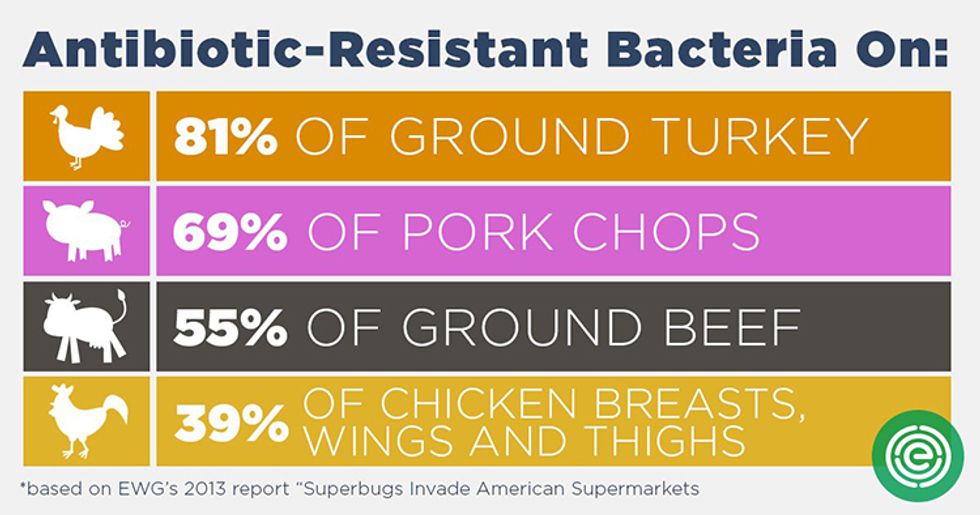 Each year 23,000 Americans die from infections of antibiotic resistant bacteria, according to the CDC. Continued overuse of medically important antibiotics could dramatically increase the death toll. But so far the federal Food and Drug Administration (FDA) has taken a strictly voluntary approach to reducing overuse of antibiotics. The FDA's efforts have had little impact.
In contrast, regulators in the European Union have called for a reduction by two thirds of colistin use in livestock. Sen. Dianne Feinstein (D-Calif.) has introduced a bill that would restrict the use of medically important antibiotics in livestock.
Unless we take dramatic measures now to transform animal agriculture, we risk a world where antibiotics don't work, more incurable bacterial infections in people and a rising death toll.
As a consumer, you can opt for organic meat and poultry that are raised without unnecessary antibiotics. Check out EWG's Food Scores to learn about meat and poultry raised without these critical medicines.
YOU MIGHT ALSO LIKE
Landmark Federal Study Links Cell Phone Radiation to Brain Cancer
Glyphosate Found in Urine of 93 percent of Americans Tested
Monsanto Ordered to Pay $46.5 Million in PCB Lawsuit in Rare Win for Plaintiffs
EcoWatch Daily Newsletter
Aerial view of Ruropolis, Para state, northen Brazil, on Sept. 6, 2019. Tthe world's biggest rainforest is under threat from wildfires and rampant deforestation. JOHANNES MYBURGH / AFP via Getty Images
By Kate Martyr
Deforestation in Brazil's Amazon rainforest last month jumped to the highest level since records began in 2015, according to government data.
A total of 563 square kilometers (217.38 square miles) of the world's largest rainforest was destroyed in November, 103% more than in the same month last year, according to Brazil's space research agency.
From January to November this year an area almost the size of the Caribbean island of Puerto Rico was destroyed — an 83% overall increase in destruction when compared with the same period last year.
The figures were released on Friday by the National Institute for Space Research (INPE), and collected through the DETER database, which uses satellite images to monitor forest fires, forest destruction and other developments affecting the rainforest.
What's Behind the Rise?
Overall, deforestation in 2019 has jumped 30% compared to last year — 9,762 square kilometers (approximately 3769 square miles) have been destroyed, despite deforestation usually slowing during November and December.
Environmental groups, researchers and activists blamed the policies of Brazil's president Jair Bolsonaro for the increase.
They say that Bolosonaro's calls for the Amazon to be developed and his weakening support for Ibama, the government's environmental agency, have led to loggers and ranchers feeling safer and braver in destroying the expansive rainforest.
His government hit back at these claims, pointing out that previous governments also cut budgets to environment agencies such as Ibama.
The report comes as Brazil came to loggerheads with the Association of Small Island States (AOSIS) over climate goals during the UN climate conference in Madrid.
AOSIS blasted Brazil, among other nations, for "a lack of ambition that also undermines ours."
Last month, a group of Brazilian lawyers called for Bolsonaro to be investigated by the International Criminal Court over his environmental policies.
Reposted with permission from DW.
The Carolina parakeet went extinct in 1918. James St. John /
CC BY 2.0
The Carolina parakeet, the only parrot species native to the U.S., went extinct in 1918 when the last bird died at the Cincinnati Zoo. Now, a little more than 100 years later, researchers have determined that humans were entirely to blame.
Pexels
Vitamin C is a very important nutrient that's abundant in many fruits and vegetables.
BLM drill seeders work to restore native grasses after wildfire on the Bowden Hills Wilderness Study Area in southeast Oregon, Dec. 14, 2018. Marcus Johnson / BLM / CC BY 2.0
By Tara Lohan
In 2017 the Thomas fire raged through 281,893 acres in Ventura and Santa Barbara counties, California, leaving in its wake a blackened expanse of land, burned vegetation, and more than 1,000 destroyed buildings.