This website uses cookies to ensure you get the best experience while browsing it. By clicking 'Got It' you're accepting these terms.


The best of EcoWatch, right in your inbox. Sign up for our email newsletter!
The Giant Methane Monster Is Lurking
Jul. 07, 2014 07:22AM EST
Climate
There's something lurking deep under the frozen Arctic Ocean, and if it gets released, it could spell disaster for our planet.
That something is methane.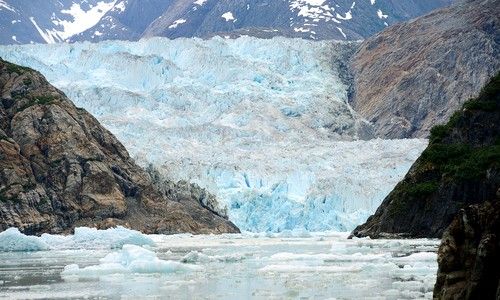 Photo credit: Shutterstock
Methane is one of the strongest of the natural greenhouse gases, about 80 times more potent than CO2, and while it may not get as much attention as its cousin CO2, it certainly can do as much, if not more, damage to our planet.
That's because methane is a far more potent greenhouse gas than carbon dioxide, and there are trillions of tons of it embedded in a kind of ice slurry called methane hydrate or methane clathrate crystals in the Arctic and in the seas around the continental shelves all around the world.
If enough of this methane is released quickly enough, it won't just produce the same old global warming.
It could produce an extinction of species on a wide scale, an extinction that could even include the human race.
If there is a "ticking time bomb" on our planet that could lead to a global warming so rapid and sudden that we would have no way of dealing with it, it's methane.
Right now, estimates suggest that there's more than 1,000 gigatons—that's a thousand billion tons—of carbon in methane form trapped just under the Arctic ice. And if stays trapped under the ice, we might have a chance.
But, thanks to the global warming that's already occurring, Arctic sea ice is melting at unprecedented rates.
In fact, as Gaius Publius points out over at America Blog, just about every reputable projection on the loss of Arctic sea ice has been wrong in a very, very bad way.
The lack of sea ice cover in the Arctic that we're seeing today wasn't supposed to happen for 20+ more years according to 13 of the most accurate models.
As all that sea ice melts, the Arctic ice which once reflected sunlight and prevented global warming, becomes a very blue ocean that absorbs heat and causes even more melting.
And this all means that more and more methane is being released into the atmosphere much faster than expected, speeding up the process of global warming and climate change.
It's all one big and vicious cycle, called a "positive feedback loop," something that can spiral out of balance and control very quickly.
But here's where it gets really scary.
Researchers at the University of Alaska Fairbanks International Arctic Research Center have found that Arctic methane is leaking out from the ocean floor nearly twice as fast as was previously thought.
The researchers found that the East Siberian Arctic Shelf is releasing at least 17 million tons of methane into the atmosphere each year.
Natalia Shakhova, one of the lead researchers on the study, said methane releases from the Arctic seafloor are, "now on par with the methane being released from the arctic tundra, which is considered to be one of the major sources of methane in the Northern Hemisphere."
To put this in perspective, just seven years ago, estimates suggested that only 500,000 tons of methane were being released into Earth's atmosphere each year. Now we're measuring 17 million tons of it. Just in the Arctic.
Now, we can't directly stop Arctic sea ice from melting and releasing methane into the atmosphere, but we can help stop what's contributing to that melting in the first place: fossil fuel extraction.
Every day, the fossil fuel industry extracts more and more fossil fuels from the ground, releasing tons and tons of carbon dioxide into the atmosphere.
That carbon dioxide warms our atmosphere, which hastens the melting of Arctic sea ice, and the release of even more dangerous methane into our atmosphere.
We need to be keeping the remaining methane right where it is, buried deep under a thick sheet of ice.
And a great way to accomplish that goal is by introducing a carbon tax.
Putting a price on the amount of carbon that the fossil fuel industry takes out of the ground would encourage less fossil fuel extraction, and more reliance on clean and green energy.
With a carbon tax, fossil fuels would become more expensive than renewables.
For every day that America's fossil fuel industry pumps carbon pollution into our skies, our environment is deteriorating quicker, more and more Arctic sea ice is melting, and climate change and global warming are speeding up.
We have a chance right now to keep the giant methane monster that's lurking under the Arctic Ocean right where it is, and save our planet in the process.
The time for a carbon tax in America is now!
EcoWatch Daily Newsletter
An artist's rendering of the recomposition facility. MOLT Studios
Washington became the first U.S. state to legalize human composting Tuesday, offering residents a more environmentally friendly way to dispose of their remains, AFP reported.
Mr.TinDC / Flickr / CC BY-ND 2.0
Many nutrients are essential for good health.
By Pat Thomas
Throughout the U.S., major food brands are trying to get rid of GMO ingredients — not necessarily for the right reasons, but because nearly half of consumers say they avoid them in their food, primarily for health reasons.
But the CEO of Impossible Foods, purveyor of the Impossible Burger, is bucking that trend.
People in more than 100 countries are expected to take part in well over 1,000 strikes on May 24 to demand climate action from their governments. @ExtinctionR / Twitter
DoneGood
By Cullen Schwarz
Ethical shopping is a somewhat new phenomenon. We're far more familiar with the "tried and tested" methods of doing good, like donating our money or time.
Asian elephants frolic in Kaudulla Wewa at Kaudulla National Park in central Sri Lanka.
David Stanley /
CC BY 2.0
When it comes to saving some of the planet's largest animals, a group of researchers says that old methods of conservation just won't cut it anymore.
smcgee / Flickr / CC BY-NC 2.0
Several New York City Starbucks exposed customers to a potentially deadly pesticide, two lawsuits filed Tuesday allege.