The Climate Survival Toolkit for High School Graduates
Jun. 24, 2013 12:53PM EST
Climate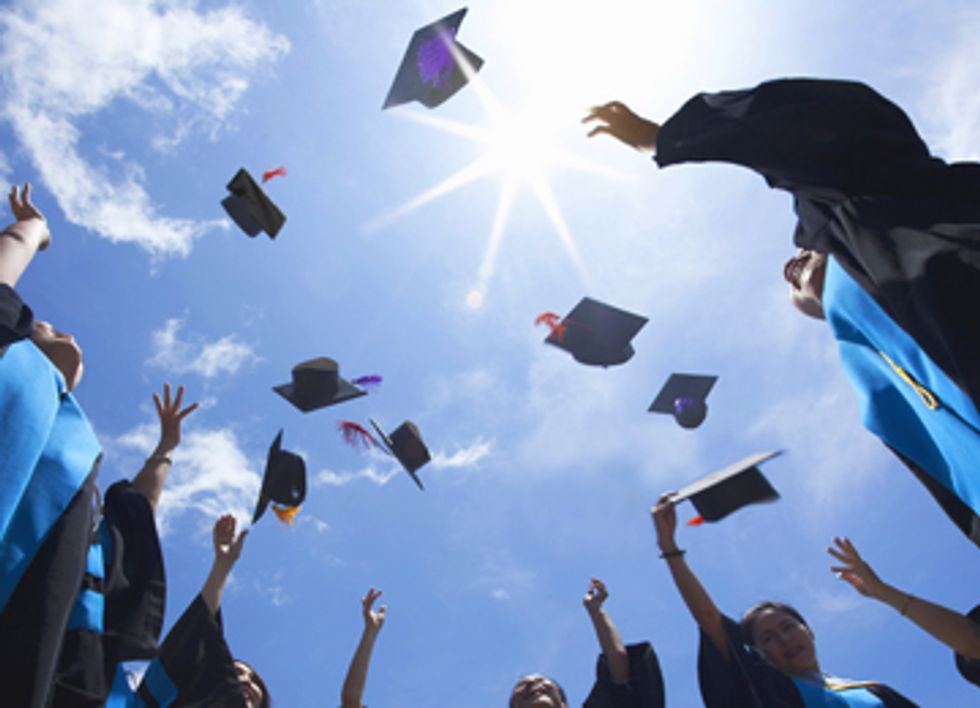 [Editor's note: These are the prepared remarks for the commencement keynote on June 22 by John Armstrong from Frack Action to the New Roots Charter School in Ithaca, NY.]
What an honor and a privilege to be here with you all. I am blown away by the magnificent idea of New Roots to combine rigorous academics with the vision of empowering young people to create just, democratic and equitable communities powered by green, sustainable economies.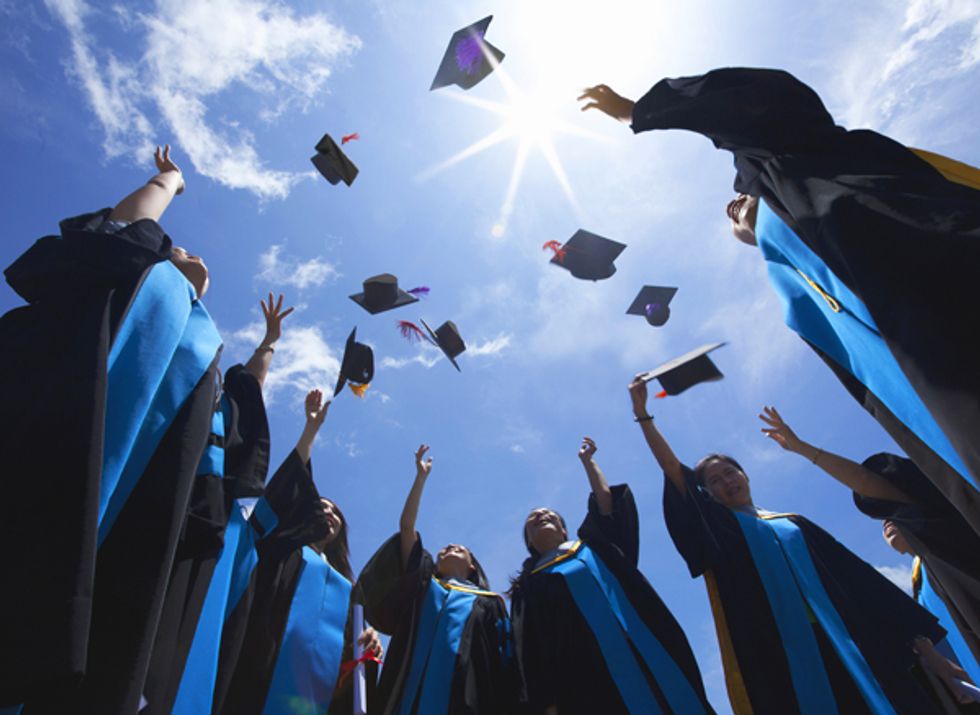 Photo courtesy of Shutterstock
Yours is no ordinary graduation. Today's rightful celebration marks the deployment of a force for good into a world that desperately needs your vision, energy and your convictions. Your class might not be the largest to graduate on this day, but mark my words, you could change the world.  
And you must. Right now the course of our future is being set by the fossil fuel industry, the most powerful corporations in the history of the world, and they're steering us off a cliff into a raging inferno. They fight each day to blow up more mountains for coal, demolish more land and oceans for oil and shatter more of the ground beneath our feet by fracking for oil and gas with a cocktail of the most toxic chemicals known to humankind. With each passing day that these interests set our course, with every additional ton of greenhouse gases emitted like a poison in our atmosphere, the drier the ink becomes on the bleak future written by the fossil fuel industry.
That future is one where oceans drown our coastal homes and cities, where biodiversity is diminished. It's a future where droughts will parch our agricultural fields and allow wildfires to run rampant. It's a future where clean, freshwater will be among the world's scarcest resources, and where smog and pollution suffocate our lungs and the planet's.
Given the fossil fuel industry's seemingly unlimited money and political influence, changing their course and taking control of our future is a tall order. But again, we must. And all of you, yes at your young ages, can make the choices that lead you to seize that control.
I turned 24 last month, and I can tell you how significant a difference each of us can make, how important the choices we make can be and the power we have as youth in this country.
I've made some of those choices. I studied ecology at Cornell, following my love of scientific research. After my undergraduate, I planned to pursue a doctorate and launch a career in research. I was particularly interested in studying high-elevation, mountainous ecosystems and how climate change would affect them. One example I worked on stands out. There's a bird in New York's Catskill Mountains called the Bicknell's Thrush, a threatened species that only lives in ecosystems unique to the highest 600 feet of the tallest mountains.
To cut to the chase of a lot of data, detailed spreadsheets and a great deal of literature, climate change is bad news for the Bicknell's Thrush. As the climate warms, ecosystems and other species' ranges will shift and those 600 feet of habitat will become 400, 200 and eventually none. The appropriate conditions for the Bicknell's Thrush will be above the top of the highest mountains. In other words, no more Bicknell's Thrushes in the Catskills.
My research was essentially projecting the effects of climate change over time, which are mostly negative, often disastrous, and in this case meant projecting the demise of the Bicknell's Thrush in the Catskills over the next 50 years or so. It hit me that I would ultimately be judging my success by how well I had predicted the demise of a species and an ecosystem I cherished.
How's that for a career and your life's work?
Around the same time, a professor pointed me to an opportunity to work for a year in environmental advocacy after graduating. I didn't really know what that was, but as I looked into it more and more, I realized it was a chance to directly affect our future, to campaign for laws that reduce greenhouse gas emissions, safeguard important environmental protections and build a movement to stop the worst impacts of climate change and environmental destruction. On this path, in 50 years I could judge my success not by how well I predicted the demise of species and ecosystems, but by how well they are doing.
I guess you know what choice I made. In that year, I was part of a successful campaign to save our nation's best climate laws in California from a couple of Texas oil companies; I worked in Maine to protect the Clean Air Act from extreme special interests; and I worked on Power Shift in our nation's capital to build the youth climate movement.
After Washington DC, I had another job lined up in New Hampshire. But I'd been learning more and more about fracking. I saw the disaster that was taking place in Pennsylvania, the research showing that fracking is one of the worst things we could do for the climate, and that widespread fracking was on the verge of being allowed in New York State. Worse yet, I saw that fracking was pushing out renewable energy, falsely being sold as a clean transition fuel, and was on track to expand exponentially across the country and the world.
I knew that the oil and gas industry had set a course for a future dominated by fracked oil and gas. If we were going to stop them, we would have to make a stand in New York.
With that conviction, I chose not to take the job in New Hampshire and instead committed myself 100 percent to stopping fracking. I moved back to New York and joined up with a couple of young women who had recently started an organization called Frack Action with the mission to stop fracking outright.
We believed that if we could stop it in New York, that would send shockwaves across the country and the world and we could also stop it elsewhere. It's a lofty goal, but one we must reach to prevent the worst impacts of climate change and to create a renewable energy future.
Given the political landscape, we saw an urgent need to better coordinate the growing grassroots movement and leverage its power across the state, in Albany and in the media. As it stood, the grassroots weren't being heard in our capital, where an army of gas industry lobbyists and a sophisticated propaganda campaign were drowning out our voices and the science.
At that point, Frack Action had a terrible website, a few hundred likes on Facebook and Twitter, and no funding. But the group of us all had some good political experience and an abundance of determination. We worked tirelessly off savings, loans and some small contributions. Frack Action organized the first major rally for a ban in Albany with a record breaking 500 people. With many allies, we went on to build out the movement, educating businesses, farmers, elected officials and combating the gas industry's lies with science and facts. Countless rallies and press conferences got the truth out and helped build the movement across the state.
And the movement was growing like wildfire, with each grassroots group inspiring another and each local action igniting the next.
Our work with the media began to change the discussion from when and how fracking would take place to whether it would take place. And today, the call for a full statewide ban is the prevailing demand. Our voices would go on to carry across the state, nation and even the world in thousands of news stories, informing the public and the national debate while also pressuring our elected officials.   
Ultimately, our vision of a coordinated movement that could effectively leverage its influence turned into what is now the mighty New Yorkers Against Fracking coalition of over 200 organizations.
This past Monday, two years and a month after that first rally for a ban in Albany, over 3,000 people descended on Governor Cuomo's doorstep to demand a frack free future powered by renewable energy. We made the case, and we made it loudly and forcefully, for a better future. Our voices resonated throughout the capitol and across the state and the nation in well over a hundred news outlets. The same morning, a poll showed statewide opposition to fracking significantly ahead of support.
By keeping fracking out this long, we've all done what many political insiders, elected officials and mainstream environmental organizations promised us was impossible. But this isn't a fight for what seems possible—it's a fight for what's necessary. We haven't won yet, but we've certainly changed the playing field. And our growth is exponential, not linear.
Meanwhile, the world is watching us in New York and similar coalitions and actions are popping up everywhere. We've helped empower a serious national and international movement against fracking.
In leaked documents, the gas industry notes how effective we are and the danger we pose. In other words, they're worried that we are changing the course they've set for a future dominated by fracked oil and gas.
We must.
Our movement is broad and diverse. But that's a result of the choices a relatively small number of individuals have made to dedicate ourselves to this cause, with the belief that we can change the course of our future. If not for those choices, we would have had fracking years ago and that future would loom darker. What I've come to know, and I know this for certain, is the incredible difference regular, individual people can make if they choose to.
They always have. An hour north of here in the town of Seneca Falls in 1848, one such individual named Elizabeth Cady Stanton led a group of 68 women and 32 men in signing the Declaration of Sentiments. Modeled after the Declaration of Independence, it asserted the equality and rights of women. A small group of women's vision, choices and action thus marked the beginning of the women's rights movement in the United States. From Seneca Falls they went forward with stalwart determination, and today we all benefit greatly from their resolve and their action.
Those women weren't so different than you and I.
One of the men who signed the Declaration of Sentiments was Frederick Douglass, who escaped slavery and became a leader of the abolitionist movement. He had the courage to fight the establishment for what was right in the face extraordinary odds and very personal attacks. Yet his words and his convictions inspired a movement and broad support ranging from everyday people to President Abraham Lincoln. He knew that you have to fight for the change you want to see in the world.
In his words, "If there is no struggle there is no progress. Power concedes nothing without a demand. It never did and it never will."
These powerful words ring true in the environmental movement as well. In 1962, marine biologist and author Rachel Carson challenged the powerful chemical and pesticides industry with her book Silent Spring. Industry fiercely opposed her work, but Caron's powerful voice carried the science and rang true, leading to a reversal of national pesticide policy and a ban on DDT. As pollution ran rampant, her uncompromising voice also inspired a grassroots environmental movement.
In 1970, Wisconsin Senator Gaylord Nelson created Earth Day, which marked a pivotal turning point away from a future of unchecked pollution and toxic chemicals. Twenty-six year old Dennis Hayes coordinated the event nationally with a team of 85 people, turning out a shocking 20 million Americans demanding environmental reform. Later that year, as a result of the public outcry, Congress created the U.S. Environmental Protection Agency and enacted the Clean Air Act. The Clean Water Act would follow in 1972.
Isn't that amazing?
Today we face climate change, perhaps the greatest challenge humankind has ever faced.
Yet as hard as it will be to meet, this is a moment of hope, not despair. If history is any guide, don't doubt the power of individuals and small groups of people to change the course of our future.
We are those people.
Can you imagine if 20 million people took to the streets tomorrow to demand action on climate change?
We have the science showing we have to take serious action. We have the technology to makes the changes. We need the political will.
That's up to us. As youth, our voices can carry far. Both the Democratic and Republican parties recognize that youth played a major role in the last two presidential elections. Corporations know that the purchasing habits we make now last for life, and as a result listen to us intently. But most importantly, we have a vision for a better world, and we can make that vision a reality with the right determination and action. It's our future, and it's time we take ownership of it.
Recall the words of Frederick Douglass, "Power concedes nothing without a demand."
Uncompromising, let's make that demand. Let's give science the force of 20 million people pushing it forward. With love and resolve, let's take control of our future.
In closing, I implore you all: give your convictions the power of action. Wherever you go from here, make the choices to make a difference.
Visit EcoWatch's FRACKING and CLIMATE CHANGE pages for more related news on this topic.
——–
Sign the petition today, telling President Obama to enact an immediate fracking moratorium:

EcoWatch Daily Newsletter