This website uses cookies to ensure you get the best experience while browsing it. By clicking 'Got It' you're accepting these terms.


The best of EcoWatch, right in your inbox. Sign up for our email newsletter!
Underwater picture of humpback whale mother and calf. Picture taken off Brazil in September 2009. L. Candisani / Courtesy Instituto Aqualie
New research finds that the western South Atlantic humpback population is well on its way to recovering from the devastating impacts of commercial whaling.
An adult and sub-adult Minke whale dragged aboard the Nisshin Maru, a Japanese whaling vessel. Australian Customs and Border Protection Service
Despite a global ban on commercial whaling more than 30 years ago, Japan has caught about 200-1,200 whales every year since 1987—including pregnant and juvenile ones—under the exception of "scientific research." Opponents have fiercely criticized this research program as just a cover so the whales can be killed for human consumption.
Now, the national broadcaster NHK reports that the Japanese government wants to fully resume commercial whaling by pulling out of the International Whaling Commission (IWC). Commercial whaling was paused in 1986 by the IWC because some whales were hunted to near extinction.
EcoWatch Daily Newsletter
Minke whales dragged aboard the Japanese whaling vessel Nisshin Maru. Customs and Border Protection Service, Commonwealth of Australia
For years, the Japanese government has hunted whales under the name of "scientific research." Now officials are angling to resume commercial whaling at the International Whaling Commission (IWC) meeting this September in Brazil.
At the meeting, officials "will propose setting a catch quota for species whose stocks are recognized as healthy by the IWC scientific committee," Hideki Moronuki, an official in charge of whaling at Japan's fisheries agency, told Agence France-Presse.
More than 120 pregnant female minke whales were killed this year in the Antarctic Ocean as part of Japan's controversial "scientific whaling" program.
The numbers were revealed in a newly released report presented earlier this month at the International Whaling Commission (IWC) Scientific Committee meeting in Bled, Slovenia.
Photo credit: Sea Shepherd Global
Japan's whaling vessels returned to port with 333 minke whales on Friday after its months-long Antarctic hunt.

The Fisheries Ministry said the whales were killed in the name of science.
Ninety percent of the minke whales hunted and killed each year in Norwegian waters are female and " almost all" of them are pregnant, according to a documentary aired earlier this month on NRK, a government-owned public broadcasting company.
The documentary, Slaget om kvalen ("Battle of Agony"), shows grisly footage of Norway's whaling industry, including one bloody scene where a fisherman cuts open a whale and removes its fetus.
You can always expect to see Captain Paul Watson on the front lines of the battle to conserve and protect marine ecosystems for wildlife. He and his Sea Shepherd Conservation Society have been doing it for nearly 40 years.
In a stunning victory for the whales, the International Court of Justice (ICJ) in The Hague announced their binding decision today in the landmark case of Australia v. Japan, ruling that Japan's JARPA II whaling program in the Antarctic is not for scientific purposes and ordering that all permits given under JARPA II be revoked. The news was applauded and celebrated by Sea Shepherd Conservation Society USA and Sea Shepherd Australia, both of which have directly intervened against Japanese whalers in the Southern Ocean.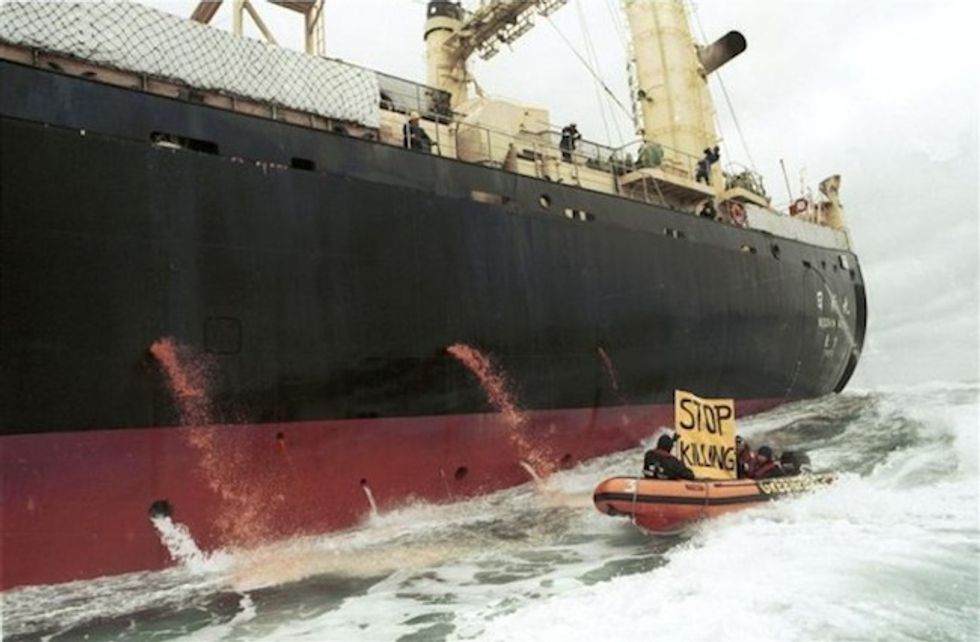 Greenpeace International
is another organization that has been campaigning against whaling for more than 30 years. In this 1992 photo Greenpeace protested against the factory ship Nisshin Maru in the Southern Ocean. © Greenpeace / Robin Culley
Representing Sea Shepherd in the courtroom to hear the historic verdict were Captain Alex Cornelissen, executive director of Sea Shepherd Global and Geert Vons, director of Sea Shepherd Netherlands. They were accompanied by Sea Shepherd Global's Dutch legal counsel.
The case against Japan was heard by the ICJ in July of last year to decide whether Japan is in breach of its international obligations in implementing the JARPA II "research" program in the Southern Ocean, and to demand that Japan cease implementation of JARPA II and revoke any related permits until Japan can make assurances that their operations conform with international law.
In a vote of 12 to four, the ICJ ruled that the scientific permits granted by Japan for its whaling program were not scientific research as defined under International Whaling Commission regulations. It ordered that Japan revoke the scientific permits given under JARPA II and refrain from granting any further permits under that program.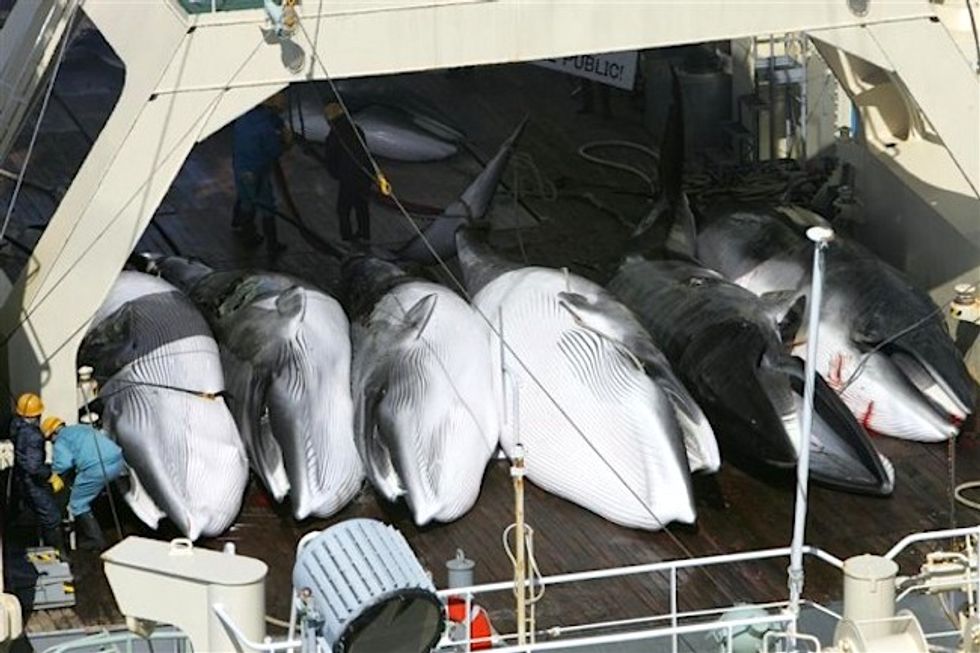 Prior to the verdict, there had been some speculation that the ICJ would not permit the hunting of endangered fin and humpback whales, but it would compromise and allow the hunting of minke whales. However, it has been Sea Shepherd's contention all along that—no matter the species—no whales should be killed, especially in a sanctuary. Sanctuary means "a place of refuge or safety; a nature reserve" where animals are protected. To allow killing in an internationally designated sanctuary is to make a mockery of international agreements made by those countries who established the sanctuary in 1994. At that time, 23 countries supported the agreement and Japan was the only International Whaling Commission (IWC) member to oppose it.
Even the Ambassador from Japan to the U.S., Kenichiro Sasae, during a public meeting in Los Angeles in Dec. 2013 attended by representatives of Sea Shepherd USA, had this to say about whales and whaling: "As an individual, I like whales and if you go out and see the whales, there is no reason for us to kill this lovely animal. But it's history and it's politics, I would say. There are a small number of Japanese people still trying to get this won. But mainstream Japanese are not eating whale anymore." At the same meeting, Ambassador Sasae stated that Japan will abide by the ICJ ruling.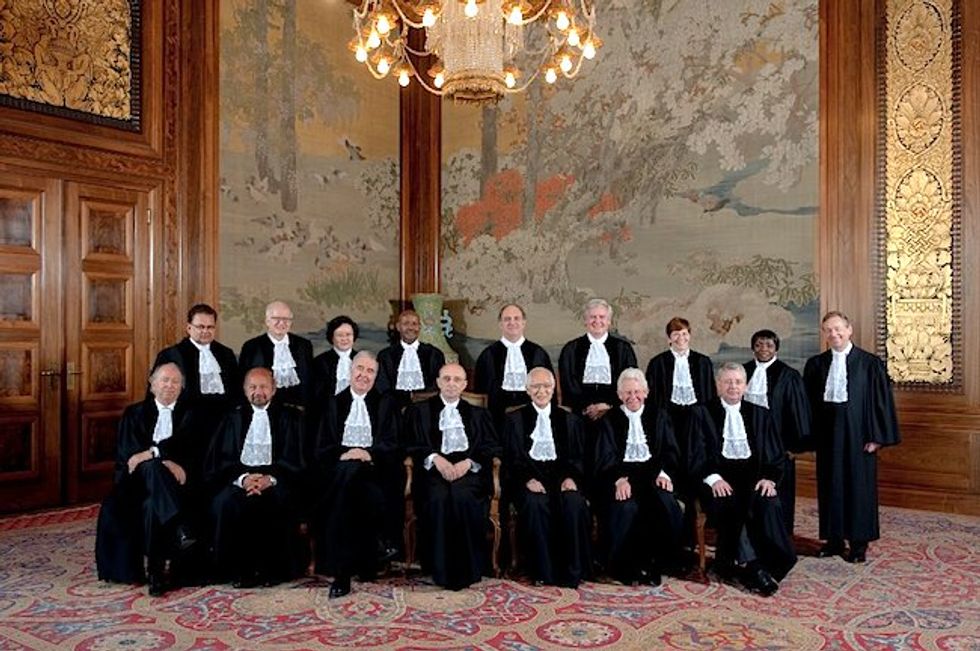 "With today's ruling, the ICJ has taken a fair and just stance on the right side of history by protecting the whales of the Southern Ocean Whale Sanctuary and the vital marine ecosystem of Antarctica, a decision that impacts the international community and future generations," said Captain Alex Cornelissen of Sea Shepherd Global.
Sea Shepherd Conservation Society's international volunteer crew stood on the frontlines in the hostile and remote waters of Antarctica for eight years and then Sea Shepherd Australia took up that gauntlet for the last two years and will keep confronting Japanese whalers in Antarctica until we can once and for all bring an end to the killing in this internationally designated "safety zone" for whales.
Over the years, Sea Shepherd has been the only organization to directly intervene against Japan's illegal commercial whaling conducted under the guise of research, with their claims of research globally questioned. Indeed, Sea Shepherd has been the only thing standing between majestic whales and the whalers' harpoons, as these internationally protected species—many of them pregnant—migrate through Antarctic waters each year.
"Though Japan's unrelenting harpoons have continued to drive many species of whales toward extinction, Sea Shepherd is hopeful that in the wake of the ICJ's ruling, it is whaling that will be driven into the pages of the history books," Cornelissen said.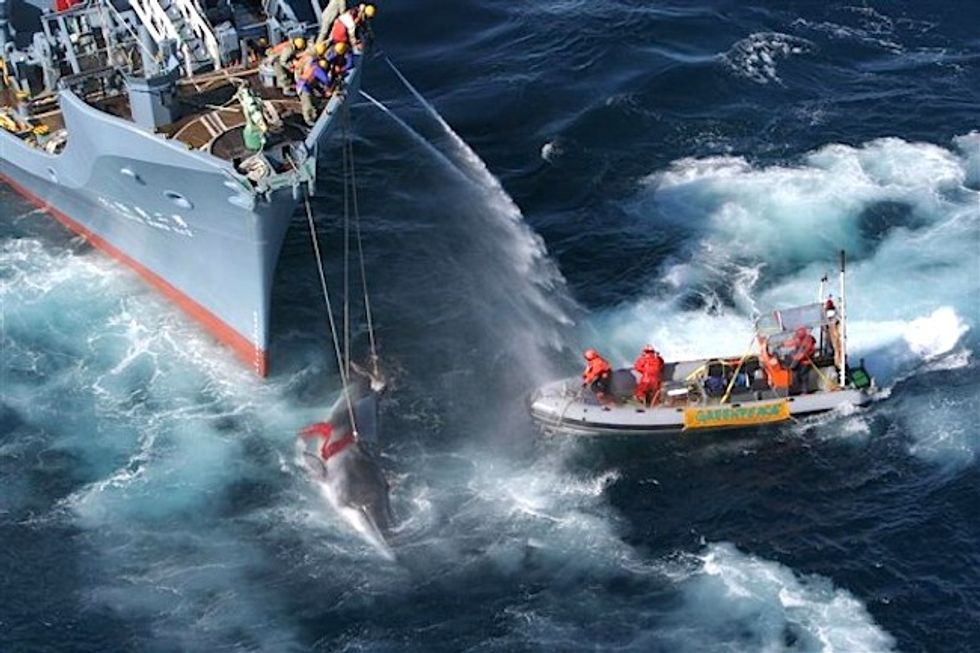 "Despite the moratorium on commercial whaling, Japan has continued to claim the lives of thousands of the gentle giants of the sea in a place that should be their safe haven," said Sea Shepherd Founder, Captain Paul Watson. "Sea Shepherd and I, along with millions of concerned people around the world, certainly hope that Japan will honor this ruling by the international court and leave the whales in peace."
Sea Shepherd Global will have the ships prepared to return to the Southern Ocean in Dec. 2014 should Japan choose to ignore this ruling. If the Japanese whaling fleet returns, Sea Shepherd crew will be there to uphold this ruling against the pirate whalers of Japan.
--------
YOU ALSO MIGHT LIKE
Report Exposes Products Driving International Killing and Trade of Whales
Iceland Violates Global Trade Ban on Whale Products, U.S. Considering Sanctions
U.S. to Allow Seismic Airgun Testing for Offshore Drilling Exploration, Will Threaten Marine Life
--------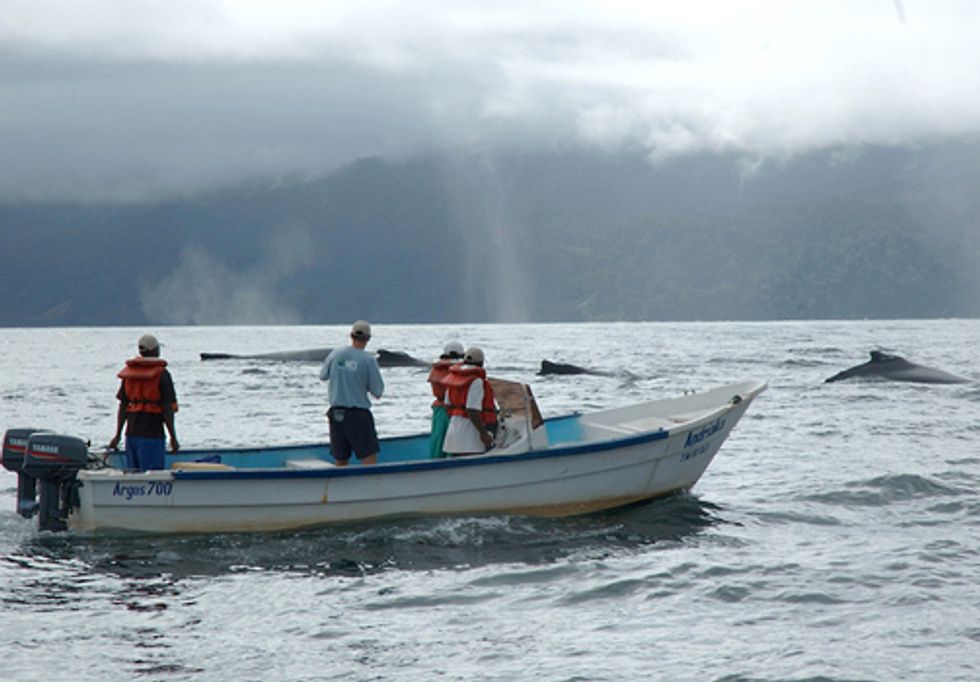 The fate of the world's great whale species commands global attention as a result of heated debate between pro and anti-whaling advocates, but the fate of smaller marine mammals is less understood, specifically because the deliberate and accidental harvesting of dolphins, porpoises, manatees and other warm-blooded aquatic denizens is rarely studied or monitored.
To shed more light on the issue, researchers from the Wildlife Conservation Society (WCS) and Okapi Wildlife Associates have conducted an exhaustive global study of human consumption of marine mammals using approximately 900 sources of information. The main finding—since 1990, people in at least 114 countries have consumed one or more of at least 87 marine mammal species. In addition to this global review, Wildlife Conservation Society scientists work in remote countries around the world to assess and actively address the threat to dolphin populations with localized, applied conservation efforts.
The new global study appears in the most recent edition of Biological Conservation. The authors include Dr. Martin D. Robards of the Wildlife Conservation Society, and Dr. Randall R. Reeves of Okapi Wildlife Associates.
"International bodies such as the International Whaling Commission were formed specifically to gauge the status of whale populations and regulate the hunting of these giants," said Robards, lead author of the new study. "These species, however, represent only a fraction of the world's diversity of marine mammals, many of which are being accidentally netted, trapped, and—in some instances—directly hunted without any means of tracking as to whether these harvests are sustainable."
In order to build a statistically robust picture of human consumption rates of marine mammals around the world, Robards and Reeves started with records on small fisheries focused on small whales (i.e. pilot whales), dolphins, and porpoises from 1975 and records of global marine mammal catches between 1966 and 1975. From there, the authors consulted some 900 other sources and consulted with numerous researchers and environmental managers, an exhaustive investigation that took three years to complete. The team only counted information with actual evidence of human consumption of marine mammals, omitting instances where marine mammals were caught (either intentionally or not) for fishing bait, feed for other animals, medicines, and other uses.
The list of marine mammals killed for human consumption includes obscure species such as the pygmy beaked whale, the South Asian river dolphin, the narwhal, the Chilean dolphin, the long-finned pilot whale, and Burmeister's porpoise. Seals and sea lions are on the list as well, including species such as the California sea lion and lesser known species such as the Baikal seal. The polar bear (a bear that is considered a marine mammal) also makes the list. Three species of manatee and its close relative the dugong, considered a delicacy in some parts of the world, are also widespread targets of human consumption.
Overall, the historical review reveals an escalation in the utilization of smaller cetaceans, particularly coastal and estuarine species since 1970, often caught as accidental "bycatch" in nets meant for fish and other species. Once caught, however, small cetaceans are being increasingly utilized as food in areas of food insecurity and/or poverty, what the authors call "fishing up the food chain."
"Obviously, there is a need for improved monitoring of species such as the Atlantic and Indo-Pacific humpback dolphins and other species," said Dr. Howard Rosenbaum, director of WCS's Ocean Giants Program. "In more remote areas and a number of countries, a greater immediate need is to understand the motivations behind the consumption of marine mammals and use these insights to develop solutions to protect these iconic species that lead to more effective management and conservation."
WCS's Ocean Giants Program works in a number of seascapes of critical importance to small cetaceans in particular. These efforts are focused on the local level to address local impacts on coastal dolphin populations, providing on-the-ground practical conservation actions to compliment the global investigative work highlighted above.
In Congo, Gabon, and Madagascar, WCS conservation scientists Dr. Salvatore Cerchio and Tim Collins are conducting scientific studies to assess the status of impacted dolphin populations, and work with local communities of traditional fishermen to reduce accidental bycatch and deliberate hunting of dolphins. In these regions, the scientists are documenting a worrying trend in increased captures and use of dolphins for food, and they are sometimes also being sold in markets better known for their association with terrestrial bushmeat.
In response, Cerchio and the WCS Madagascar team have worked with local communities to establish a local conservation association composed of fishermen, local traditional laws protecting dolphins, and development of community-based whale and dolphin watching as an alternative livelihood. On the other side of the African continent, the coasts of Gabon and Congo represent one of the last strongholds for the rare Atlantic humpback dolphin. Catches by fishermen in Gabon are extremely rare, but groups of dolphins that cross the border (a finding of recent WCS work) risk capture in coastal gillnets set by artisanal fisherman. "The Atlantic humpback dolphin may well be the rarest mammal in the Congo basin region," said Tim Collins. "Unfortunately, few have ever heard of it, least of all the fisherman eating them out of existence."
For more information, click here.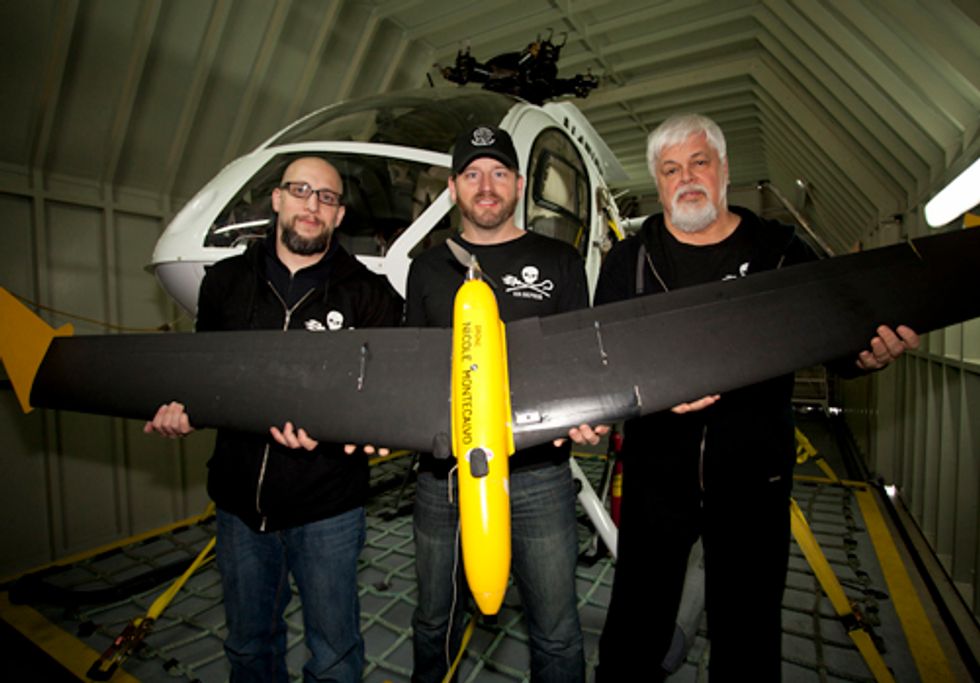 Early morning Jan. 4, Sea Shepherd's vessel the Bob Barker moved in amongst the Japanese whaling fleet 190 miles north of the French Antarctic base of Dumont D'Urville.
While on the look-out for the Japanese factory ship the Nisshin Maru, the Bob Barker ran into one of the three harpoon vessels, the Yushin Maru 3. It appears that the Yushin Maru 3 has not begun whaling activities as its harpoon is still covered.
The whaling fleet has been desperately trying to avoid being caught by Sea Shepherd detection and has fled more than 1,500 miles to the southeast of where they were first detected by a drone reconnaissance deployed by the Steve Irwin.
The Bob Barker continues to travel east in pursuit of the Japanese factory ship, now followed at close range by the Yushin Maru 3. The whaling fleet has left the French Exclusive Economic Zone (EEZ). Sea Shepherd can confirm that the Japanese whaling fleet is now in Australian Antarctic Territorial waters.
The Steve Irwin and the Brigitte Bardot continue to make progress towards Fremantle with the Shonan Maru #2 tailing both vessels. The Shonan Maru #2 is now 65 miles inside the Australian continental EEZ.
Because the Nisshin Maru and the harpoon vessels have been moving continuously since first located by Sea Shepherd, they do not appear to have had any time to kill whales. They know that if they slow down or stop, the Bob Barker will close the gap and will be on them.
The Steve Irwin will quickly refuel in Fremantle and will return to the Southern Ocean to assist the Bob Barker in intervening against the illegal activities of the Japanese whaling fleet in the Southern Ocean Whale Sanctuary, inside Australian Antarctic Territorial waters.
About the Sea Shepherd Drone
Bayshore Recycling Corp's (Bayshore) donated drone Nicole Montecalvo helped the Sea Shepherd Conservation Society (SSCS) catch a Japanese whaling fleet Dec. 25, 2011 before any whales were killed. The drone, released by the Sea Shepherd ship the Steve Irwin, will help track and follow the Japanese factory ship, the Nisshin Maru, which was able to escape the ships' interception on Christmas Day. This drone will also assist in helping protect the fleet, its crew and alert them to potential dangers during the chase.
Bayshore President Valerie Montecalvo and her team are thrilled to hear of the impact their donated drone is making on marine wildlife protection.
"Bayshore Recycling Corp's mission is to help preserve the planet and its precious natural resources through conservation, recycling and maximum use of renewable energy," Montecalvo said. "It is our honor to assist noteworthy organizations such as the Sea Shepherd Conservation Society in their endeavor to save wildlife and endangered habitats for future generations. To quote Steve Irwin, 'I am a wildlife warrior…..my job, my mission and the reason I have been put on this planet, is to save wildlife.' In some small but meaningful way, we hope that our company can help carry on his mission."
To promote and encourage Bayshore's conservation efforts, Bayshore's owners donated the drone Nicole Montecalvo to the SSCS vessel the Steve Irwin in May 2011 to aid and assist in locating Japanese whaling fleets in protected sanctuaries and bluefin tuna poaching operations off the coast of Libya as a part of the Operation Divine Wind campaign to protect the world's oceans.
Bayshore's long-range drone, which is defined as an unmanned aerial vehicle that can fly independently or be operated remotely, is fitted with cameras and detection equipment to support SSCS's mission in marine wildlife conservation. The donated drone was delivered on board by the vessel security officer during transit to Antarctica to search for the Japanese flagship Nisshin Maru, which was found Christmas Day and will be followed by the drone Nicole Montecalvo.
Bayshore stresses the importance of conserving our planet's natural habitats. Whether it is saving natural resources, conserving energy, preserving endangered wildlife or recycling household debris, Bayshore rises to the challenge. Together, Bayshore and the SSCS will continue to fight to save the ocean and its vulnerable inhabitants.
For more information about Bayshore Recycling, click here.
For more information about Sea Shepherd, click here.
—————
Bayshore Recycling Corp (Bayshore) currently operates six different recycling businesses in Woodbridge Township, N.J. making the company one of the most innovative and vertically integrated in the Northeast. A seventh operation to accept and process Class A curbside recyclables is planned for start-up in 2012. For more information, click here.
Sea Shepherd Conservation Society (SSCS) is an international nonprofit, marine wildlife conservation organization. Their mission is to end the destruction of habitat and slaughter of wildlife in the world's oceans in order to conserve and protect ecosystems and species. Sea Shepherd uses innovative direct-action tactics to investigate, document and take action when necessary to expose and confront illegal activities on the high seas. For more information, click here