This website uses cookies to ensure you get the best experience while browsing it. By clicking 'Got It' you're accepting these terms.


The best of EcoWatch, right in your inbox. Sign up for our email newsletter!
The world's largest privately-owned giant sequoia grove — home to the fifth largest tree on Earth — is now safe from development.
By Carla Ruas
A brand new year is upon us and the future is full of possibilities. We have the chance to do better — especially when it comes to tackling the climate crisis.
EcoWatch Daily Newsletter
Paulo Paulino Guajajara was 26 years old and was shot in the face. A partner with him was injured but escaped. euronews / YouTube screenshot
Brown bear fishing for salmon in creek at Pavlof Harbor in Tongass National Forest, Alaska. Wolfgang Kaehler / LightRocket / Getty Images
The Trump administration has moved one step closer to opening Earth's largest intact temperate rainforest to logging.
Princess Louisa Inlet on the British Columbia Coast.
Wikipedia /
CC BY 3.0
A Canadian charity has successfully crowdfunded $3 million to save 800 hectares (approximately 1,977 acres) of wilderness from development. Instead, the property on British Columbia's Princess Louisa Inlet will now be one of the first crowdfunded parks in the country, CBC News reported.
A sow and her cubs at Tongass National Forest in Alaska, the planet's largest intact temperate rainforest. Forest Service Alaska
By Jake Johnson
President Donald Trump has reportedly ordered the U.S. Department of Agriculture to open Alaska's 16.7 million-acre Tongass National Forest — the planet's largest intact temperate rainforest — to logging and other corporate development projects, a move that comes as thousands of fires are ripping through the Amazon rainforest and putting the "lungs of the world" in grave danger.
Interior Secretary Ryan Zinke talks to journalists outside the White House West Wing before attending a Trump cabinet meeting on Aug. 16. Chip Somodevilla / Getty Images
The Trump administration announced a new plan Thursday to fight ongoing wildfires with more logging, and with no mention of additional funding or climate change.
Indigenous inhabitants of one of the floating islands in Lake Titicaca greet a tour group from Puno, Peru.
David Stanley / CC BY 2.0
By Peter Veit
Much of the world's land is occupied and used by Indigenous Peoples and communities—about 50 percent of it, involving more than 2.5 billion people. But these groups are increasingly losing their ancestral lands—their primary source of livelihood, income and social identity.
The Alexander Archipelago wolf is widely considered to be a subspecies of gray wolf genetically distinct from other North American populations. The wolf faces threats from logging and trapping on Prince of Wales Island in southeast Alaska.
Alaska Department of Fish and Game
By Faith Rudebusch
For 12,000 years, wolves have roamed Southeast Alaska's rugged Alexander Archipelago—a 300-mile stretch of more than 1,000 islands mostly within the Tongass National Forest. Now, their old-growth forest habitat is rapidly disappearing, putting the wolves at risk. As the region's logging policies garner controversy, a new study examines what the wolves need in order to survive.
Though the Rim Fire of 2013 was the third largest conflagration in California's history, it has improved the ecological health of the forest, while the majority of the iconic landscapes of Yosemite National Park remain unscathed. However, a salvage logging plan now under review by the U.S. Forest Service puts in danger the regenerating effects of the fire and long-term health of the Yosemite ecosystem. Scientists, conservation groups, local businesses and activists have instead called upon the Forest Service to create a Rim Fire National Monument to protect the biodiversity and scenic values of the region for generations to come.
[slideshow_deploy id='346895']
With the California drought continuing and the Sierra Nevada snowpack limited to a foreboding 18 percent this winter, the mountain communities remain on edge. Of course, last year's Rim Fire, ignited by a hunter's illegal campfire in mid-August, was the biggest to hit the Sierra in more than a century of record keeping. It burned for more than two months, spreading more than 154,430 acres of chaparral and timberland in the Stanislaus National Forest, about 24,000 acres of private land and roughly 77,000 acres in neighboring Yosemite National Park.
On the plus side, Yosemite remains open for the 37 million people who visit every year, with the majority of its spectacular granite cliffs, waterfalls, clear streams, Giant Sequoia groves and biological diversity unscathed. Moreover, thousands of acres affected from the fire have been reopened already, including trails through Hetch Hetchy and the Tuolumne Grove of Giant Sequoias. A recent outing with the Outdoor Writers of Association of California (OWAC) confirmed the magic of Yosemite shines bright in the wild high places, the somnolent green meadows of the valley and the [albeit historically low] spring flows of the waterfalls.
Wildfires, Climate Change and Mountain Ecology
Climate change is increasing the frequency and intensity of expansive, wildland fires in a warming and drying world. In fact, this year's broiling temperatures and almost non-existent precipitation have created a tinder-box out of the west, and the scale of the blazes, like the Rim Fire, is changing the landscape, as wildlife and plants struggle to adapt. Yet, fire has always been an important aspect of forest ecology, and one of its biggest challenges is how institutions and managers react in its aftermath.
"There is no ecological reason to fear or lament fires like the Rim fire, especially in an era of ongoing fire deficit." —Chad Hansen, from the John Muir Project.
Wildfires can promote ecosystem health and survival of many plant and wildlife communities, despite the intense heat and scale of the blazes. According to a recent article by three scientists specializing in fire ecology, large conflagrations create the best habitat. In fact, the ecosystem depends upon them.
Essentially, the Rim fire created 50,000 acres of what is known as complex early seral forest habitat, a rare and critically important post-fire landscape, with some of the highest levels of species diversity in the Sierra Nevada.
Wood-boring beetles arrive first to the standing dead trees (snags), which attract the rare and imperiled Black-backed woodpeckers, followed by cavity-nesting birds and wildlife. Various shrubs and trees have evolved the ability re-sprout from their burned roots and trunks, and some have seeds that germinate best only after intense fire. Many fire-following shrubs like Ceanothus fix nitrogen in soils, allowing nitrogen-hungry conifers and other plants to flourish during natural regeneration. Even the iconic Spotted Owl, synonymous with old-growth forests, takes advantage of burned forests to hunt for gophers and woodrats.
The naturally regenerated complex early seral habitat areas are more resilient to climate disruption than those logged or artificially replanted. Yet, decades of fire suppression and post-fire logging have made scarce or decimated this most important habitat.
Salvage Logging in the Stanislaus: Fire Means Profit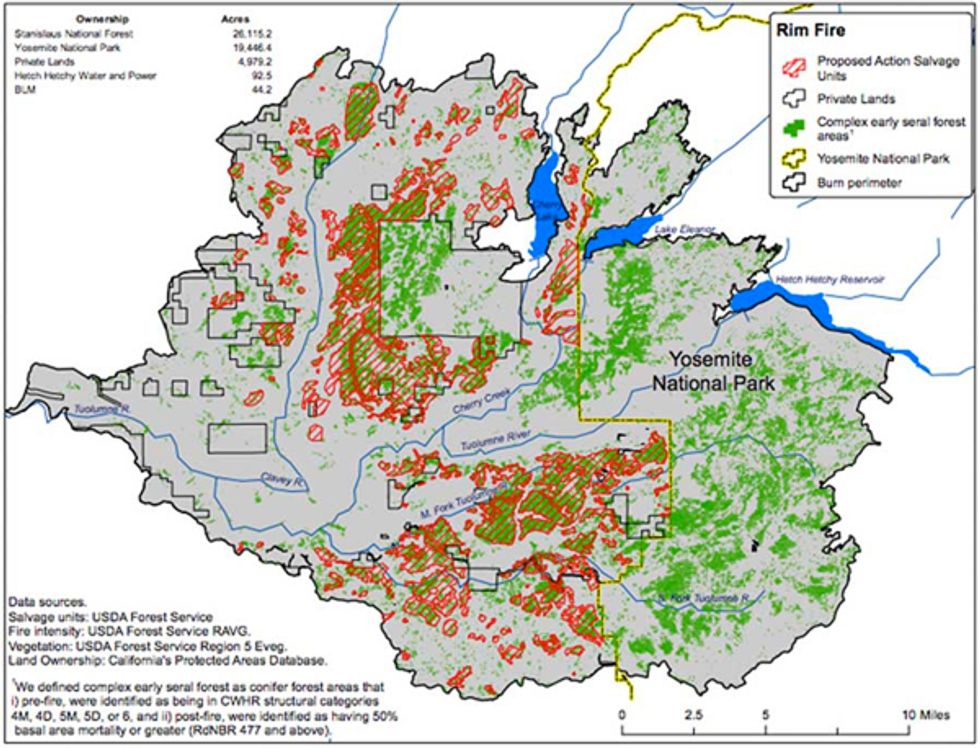 Unfortunately for the mountains, logging is proposed as a solution to future fire risk, called fuel reduction and salvage logging. In fact, the Forest Service recently issued a "recovery and rehabilitation" proposal that includes logging approximately 30,000 acres of the roughly 103,000 acres of Stanislaus timberland burned, in areas where public safety is not an issue. If approved, it could yield more lumber than the combined annual output of all the national forests in the state. It would open up about a fifth of the National Forest's burned acres to the road building, industrial machinery, and soil compaction that industrial logging brings with it.
"… the Forest Service salvage logging plans for the Rim Fire would cause real and tangible harm to the ecologically important habitats created by the fire as well as the future biological diversity of the region." —Center for Biological Diversity and John Muir Project
So-called "fuels" are trees and shrubs that stabilize soils and provide shelter and food for a host of forest-dwelling creatures. Because climate and weather drive fire behavior and frequency, logging trees and clearing shrubs in "fuels reduction" does little to influence the behavior of large fires during extreme weather events. Science does not support this policy, but the U.S. Forest Service has a substantial interest in harvesting National Forest timber, also benefitting from hundreds of millions of dollars in annual taxpayer subsidies for fuel reduction programs.
Moreover, salvage harvests often focus on more economically attractive large old growth standing trees, some of which have survived the fires that prompt the harvests and ordinarily would be protected. Smaller-diameter trees are often left behind in "slash piles" that increase the risk of later fires.
Logging all of the burned areas outside of Yosemite National Park would have another unintended consequence by creating a hard edge across the landscape. In other words, it will create an abrupt transition between landscape features that prevents plants and animals from moving upslope or downslope in response to climate change or to the seasons. Hard edges are the reason that populations of plants and animals go extinct. The Targhee National Forest made this same mistake along the western boundary of Yellowstone National Park, when they logged a "hard edge" so extreme one can see it in satellite photos of the park.
Rim Fire National Monument?
A recent study by the Center for Biological Diversity and the John Muir Project recommended rather than industrial scale salvage logging, post-fire management should focus on activities that benefit forest health, water quality and the many species that depend upon fire for their very existence. In fact, local groups have been rallying that instead of logging, the forest service should create a Rim Fire National Monument, based on the highly successful model established at Mt. St. Helens National Monument.
Unfortunately, several local environmental groups have formed a coalition in support of the salvage logging plan. It is also supported by U.S. Rep. Tom McClintock (R-CA), whose district covers Tuolumne County, and who introduced a bill to exempt the plan from the usual environmental review. This ill-conceived move would shut down the voice of the 200 scientists who wrote Congress opposing the salvage logging plan.
John Buckley, executive director of one of those supporting environmental groups, Central Sierra Environmental Resource Center, said: "It is far more logical to have the industry remove dead trees with a return for taxpayers than to let the wood deteriorate so it loses saw log value. In that case, taxpayers would end up having to pay huge amounts of money to remove the dead wood to reduce unsafe fuel levels. Delay makes no sense."
Yet Buckley to his credit expressed several concerns in an LA Times report, including opposition to plans to build permanent new roads in the burn area, including a segment that would punch into a wild portion of the Clavey River canyon that he said harbors one of the last surviving blocks of low-elevation, old-growth trees in the Stanislaus.
He worried that logging 1,300 steep acres using a cable system—in which logs are suspended from cables and hauled to roads—would accelerate erosion. And he questioned whether the U.S. Forest Service would leave enough large, dead trees that birds and other wildlife use for nesting and foraging. "It just doesn't make sense to debate salvage logging in sensitive areas or to build controversial new roads when there are hundreds of millions of board feet of salvage trees that can be logged on noncontroversial sites," Buckley said.
It makes no sense, however, that the Central Sierra Environmental Resource Center supports a plan that will cause the very impacts that they warn against.
Though the Environmental Assessment for salvage logging along the region's highways has already been approved, the Environmental Impact Statement for the Rim Fire Recovery Plan comment period ends on June 16 and can be accessed here.
You can submit comments directly to the Forest Service at comments-pacificsouthwest-stanislaus@fs.fed.us (put "Rim Recovery" in the subject line) or through the Center for Biological Diversity action alert.
The plan is not expected to move forward until at least August of this year.
——–
Jack Eidt, founder and publisher of WilderUtopia, is a novelist, urban planner and environmental advocate. In addition to writing regular articles for WilderUtopia, he has published opinion/editorials in various periodicals, including the Los Angeles Times, Orange County Register, Common Dreams, Voice of OC, LA Progressive, CityWatch LA, Win:Win Journal and CounterPunch, and has been featured on Pacifica Radio, NPR and public television.
——–
YOU MIGHT ALSO LIKE
How Acidification, Overfishing and Plastics Threaten the World's Oceans
Historic Federal Decision Finds West Virginia Mountaintop Removal Coal Mining Companies Guilty of Damaging Streams
Extinction of Oregon Starfish Expected Due to Sea Star Wasting Epidemic
——–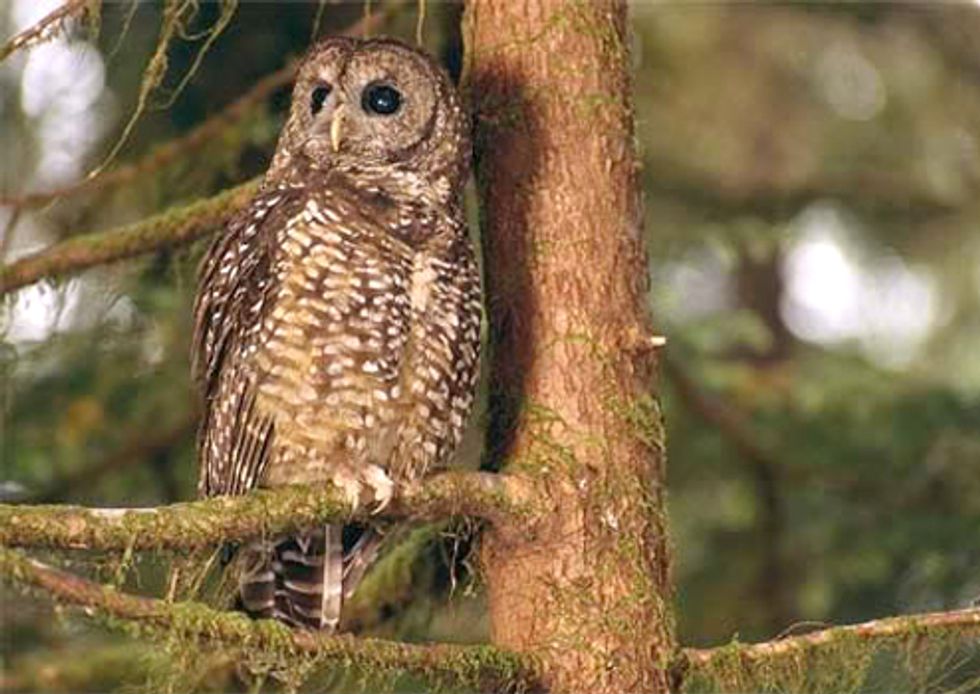 The Wilderness Committee is joining local residents to sound the alarm about cutting permits which could be issued any day for logging near Chilliwack Lake Provincial Park, in a Wildlife Habitat Area (WHA) that is supposed to be set aside for the critically endangered spotted owl.
"I'm horrified that the provincial government is considering allowing logging to proceed in the habitat of a critically endangered species," said Gwen Barlee, policy director with the Wilderness Committee. "We join with concerned local residents in saying that this logging must not proceed—there must be no cutting in this spotted owl habitat."
Nearby residents were surprised to find out that Tamihi Logging applied for a logging permit late last week. Tamihi had previously told people logging wouldn't happen until May 2012. But now the permits, according to staff at the Chilliwack Forest District, are set to be issued this week. The area was set aside as a WHA in 2011 to protect it as spotted owl habitat.
There are now thought to be less than 10 spotted owls in the wild in British Columbia (BC). Both the BC and federal governments have pledged to bring the Canadian population of spotted owls back from the brink of elimination. "This is how you log a species into extinction, not bring it back from the edge. It's incredibly irresponsible to even consider allowing logging of habitat that was specifically set aside for the protection of the spotted owl," said Barlee.
"If this logging goes ahead, it will further fragment spotted owl habitat," said Barlee. "The provincial government has committed to restoring spotted owl populations, and the only way they can honour their own policy is by putting a halt to this logging—now."
Local residents are monitoring the situation, watching for activity in the cutblocks.
For more information, click here.